Stay on trend with our favourite influential individuals
In 2018, we have welcomed an era of challenging the status quo. From how we act to what we wear, this theme of rebellion has reverberated into the lives of the fashion industry's most influential players. As a result, this shift has paved the way for vintage yet innovative styles to be reborn. We are no longer afraid to try something new and the team at Sunglass Hut are here to remind you that they aren't either.
There's a great satisfaction in finding that perfect pair of sunglasses that compliment any look. However, trends come and go, so how do you know what's here to stay? Sunglass Hut's exploration of versatile designs is a defining feature of their new season range. Just in case you don't believe us, we sat down with two of this season's biggest influencers to discuss their summer. From jet-setting around the world to laying poolside, we got the low down on how to stay on trend no matter where you are.
RACHEL WINTER
Her name may be Winter but her disposition is far from cold... Rachel Winter's entrepreneurial expeditions have put her at the forefront of the fashion industry. Starting as a commercial model for all things modish, her personal brand has been solidified through her ability to capture the essence of what makes things iconic. Throughout Rachel's career, she has delved into the world of social media and public relations, resulting in some of the industry's most up-to-date yet diverse fashion experience. Rachel has worked with the likes of Trelise Cooper, before moving to work for the largest shopping centres in the country, Westfield. We got the opportunity to sit down with her to find out how she spent her summer and what pair of sunglasses she deemed must-haves along the way...
Your summer wardrobe has been enviable – what has been your fave item this summer?
My fave item has by far been a few of my new throw on summer dresses. I love an easy effortless outfit that still looks cute. So, my go-to has definitely been my summer swing dresses!
If we dived into your beach bag right now what would we find?
Tanning oil (with SPF of course!), my camera or go pro, my go-to pair of Miu Miu sunglasses, a cute beach throw-over and bikini, lip balm and some yummy snacks!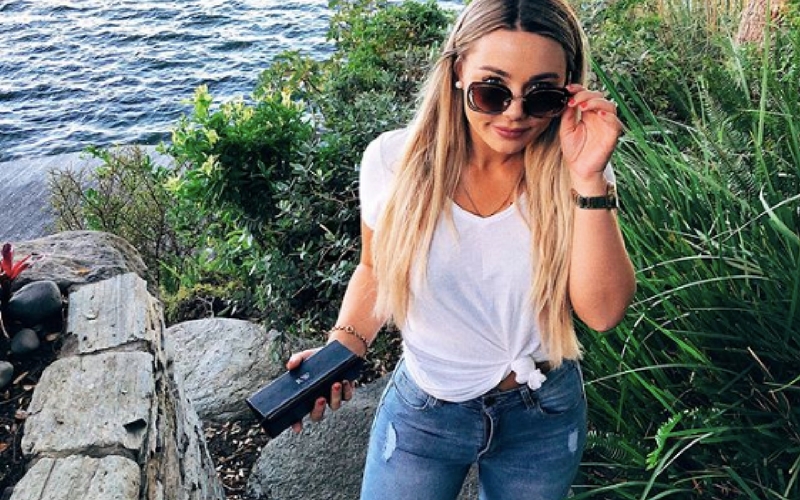 You went to Bali this summer – what is your best travel tip for those who are yet to visit Bali?
Don't drink the water! Don't even brush your teeth with it. My partner and I were so good and didn't get sick because of this! Don't eat street food either. Stick to the places that look busy and are well reviewed and you won't get sick!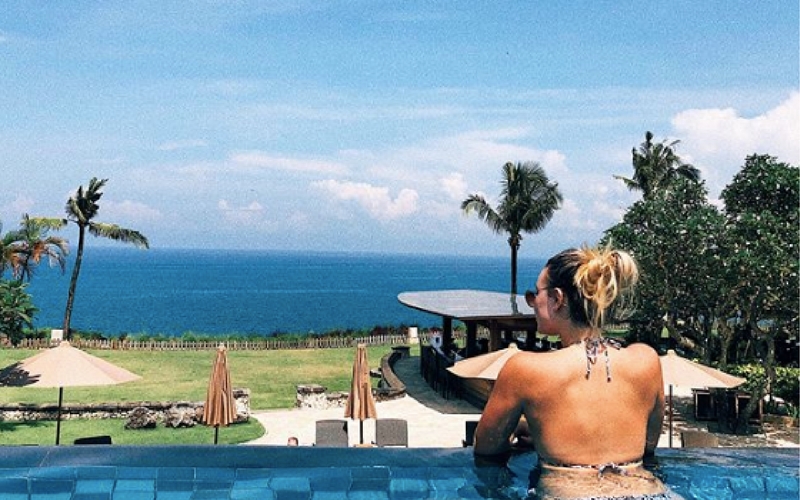 What has been your guilty summer pleasure?
Laying in the sun too long. I love getting super brown but I know it's not all that good for you!
What has been a highlight of your summer?
My trip to Bali with my partner. It was beautiful!
Quickfire round!
Beach bum or dedicated yogi? Beach bum but I want to get more into Yoga like I used to!
Last night's festival outfit or togs all day? Togs all day everyday please!
Sticky ice cream hands or sand in your sunscreen? Sand in your sunscreen - there is nothing worse than sticky hands!
Bad selfies or bad hair day? Bad hair day, you can always chuck it up in a bun or messy pony.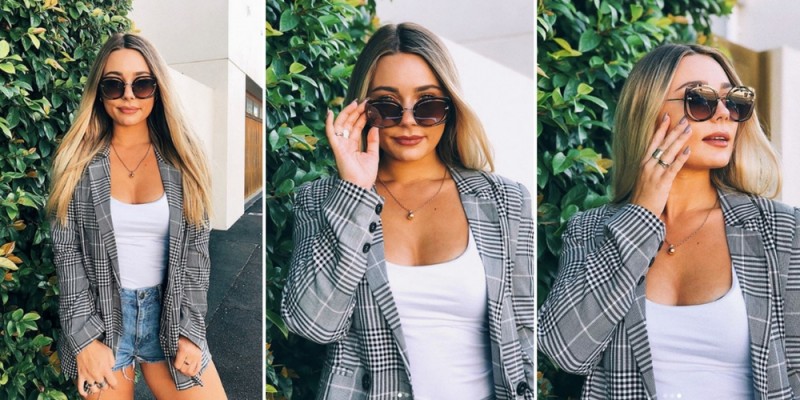 BEN MIKHA
We can't think of a more lucrative career than being paid to travel to the world's hottest destinations. Jet-setting alumni Ben Mihka has the enviable role of being Discovery Channel's new intern. Possibly the most awe-inspiring internship on the market, Ben has already ticked off activities that would be reserved for anyone else's bucket list. We don't even need to speak to him, to gather that his summer was filled with jaw-dropping adventures. However, we sat down with Ben Mihka to hear first-hand what summer through his Ray Bans entailed…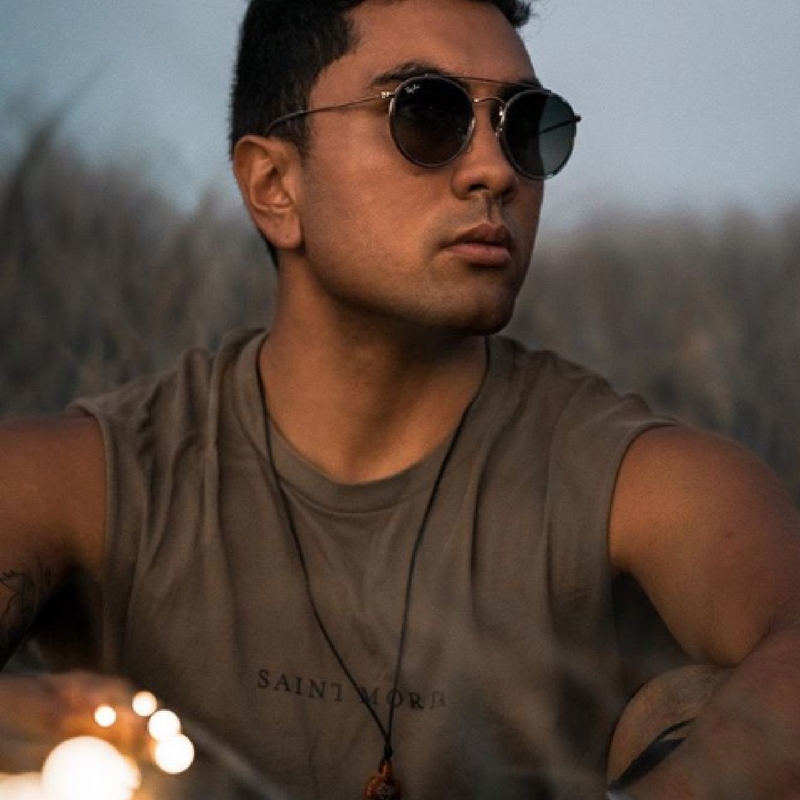 You attended lots of great festivals this summer – which one has been your fave?
My favourite festival would have to be Tomorrowland. I've attended the super fest with 400,000 people two years in a row, in Belgium. To me, it's the pinnacle of all festivals; full of good music, food, camping and people from around the world. It brings together people from all walks of life!
What has been your must-have essential this summer?
My camera, a pair of Ray-Bans, some fairy lights and my phone for the five alarms I have to set every morning!
Between December and March, how many destinations did you tick off?
I've ticked off three since then. The highlight being the beautiful Tahitian Islands. Bora Bora and Moorea exceeded my expectations and made for some amazing memories... and content!
What has been your most notable adventure this summer?
My most notable adventure would have to be doing a worldwide trip. I cheated last year's winter and escaped to the Northern hemisphere early June, where summer had just begun. I travelled as a global intern to LA, NYC, DC, Iceland, the UK and Italy. I was lucky enough to do this for 2 months straight, creating content for their social media platforms while establishing Discovery's blog site. From here I travelled with my partner around western Europe and ended at Tomorrowland in Belgium. I came home, went straight to Rarotonga for a wedding and then to Bali with one of my best mates, LOL! It was a huge milestone in my life and one that has sparked the journey I am on today, travelling the world and creating visual and written content. Though summer has ended, I am actually looking forward to winter and the change of scenery it has to offer.
What has been your favourite destination to photograph/video this summer?
I think home (Auckland) weird I know, but as I progress as a creative, I find it's less about the destination and more about the artist and the subject. You can make anyone or anything look good with a bit of creativity. There's so much beauty here in this city and there's so much I've missed having my focus set abroad.
Quickfire round!
Streaking on the beach at midnight or skinny dipping at the bottom of a waterfall? Streaking at midnight. I may or may not have already done the above...
Road trip with no air con or waking up in a hot tent? Road trip with the windows down, sunglasses on!
Finding glitter in your hair for weeks after a festival or explaining hard to remove body paint to your colleagues after a long weekend? Body paint, makes for a good story!
48 hours in Vegas with a bottomless bank account or a week on a deserted island? Vegas! I've done the islands many times.
Spontaneous adventures or meticulously planned getaways? Spontaneous all the way!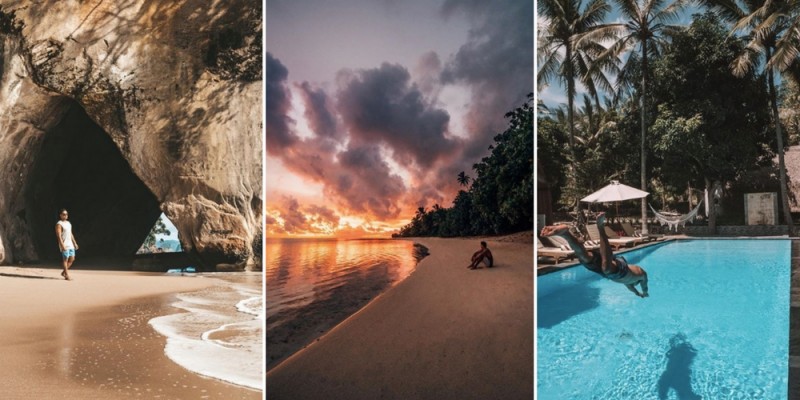 Wherever this season may take you, whether it's travelling around the world like Ben and Rachel, or creating adventures of your own at home, Sunglass Hut's coveted new season styles will be a must-have along the way. The range caters to round, heart-shaped, square or oval face shapes. So, there's something for everyone! Head to Sunglass Hut if you're ready to start your own fashion adventure. Who knows, with such a lavish collection of designer sunglasses at your fingertips, you could be in the running for next season's most-influential personality!