So Fancy with IGGY AZALEA: The Remix Magazine Beauty & Luxe Edition with reverse DIPLO cover!
Iggy Azalea talks to Remix Magazine about life in the limelight and new beginnings!


Remix Magazine is proud to unveil global hip-hop superstar IGGY AZALEA as the cover of the Autumn 2016 Beauty & Luxe Edition.
The number one selling 'Fancy' singer poses half naked on the cover of Remix in one of her most racy photoshoots to date. Ditching her street style in favour of sexy fashion, Iggy poses topless for the first time ever and wears New Zealand labels Helen Cherry, Kate Sylvester and Zambesi.
In our exclusive cover story Iggy opens up about her bitchy reputation, her beginnings, who she loves, who she hates and her career comeback.
We also interview superstars ARIANA GRANDE, RIHANNA and HEIDI KLUM, as well as Kiwi ladies ZOE BELL and HOLLIE SMITH.
BUT THAT'S NOT ALL... Flip your Remix upside for our FIRST EVER reverse cover! On the cover of our dedicated Men's Edit is Grammy Award winning DJ and producer DIPLO, wearing suits from New Zealand brands Working Styling, Workshop and WORLD.
Our men's section also has interviews with legendary director QUENTIN TARANTINO and rising star MAALA, as well as the first ever fashion shoot with LIAM STEWART, son of Rod Stewart and Rachel Hunter!
The Remix Beauty & Luxe Edition has an expanded Beauty section, with researched product reviews and cosmetic news for all the makeup enthusiasts. Seek inspiration from our beauty shoots, photographed both in NZ and around the globe.
The fashion section includes our top 10 New Zealand designers for the season in our Autumn/Winter collections shoot, as well as photo shoots by James K Lowe, Steve Tilley and Karen Ishiguro.
Our dedicated food section covers off the latest foodie news and restaurant reviews and turns its back on the healthy eating trends in 'Gluttonous Gastronomy', instead pairing delicious wines with delectable dishes.
Luxury is a running theme throughout the issue; singer SANTIGOLD talks about her most luxurious items, we take a look at luxe living in our interiors spread and we profile some of the most beautiful accessories from designer brands around the world.
PLUS all the fashion, beauty, lifestyle and culture inspiration to see you through the Autumn!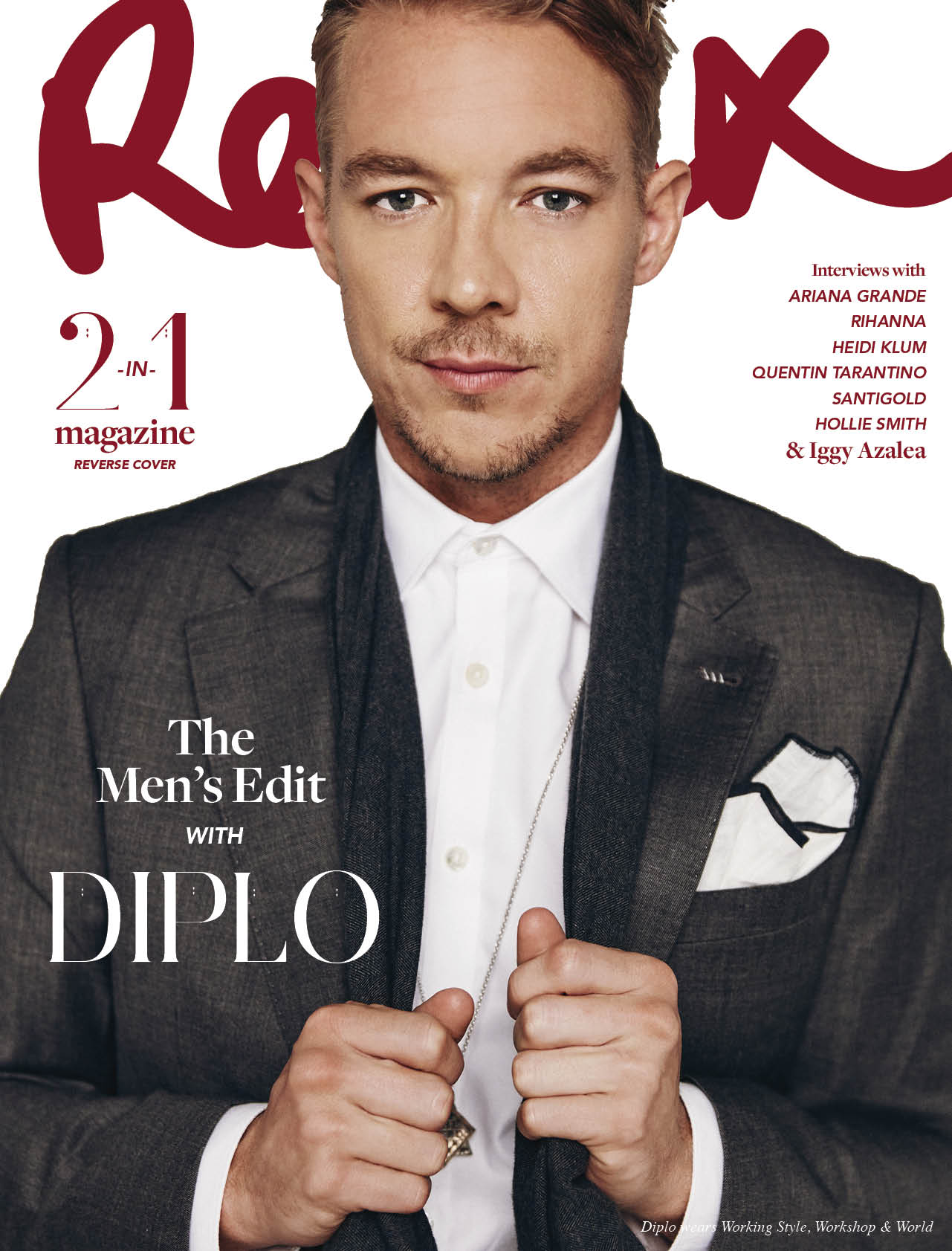 IN THIS ISSUE OF REMIX...
"I think a lot of times people don't understand my humour over here and people think it's me being bitchy. You would understand as a New Zealander, having a very dry sense of humour. I'm usually not that worked up when people think I am..."
- IGGY AZALEA ON HER CHILLY REPUTATION, PAGE 76
"I'm just lucky she's such a fucking cool girl. She's so down to earth and at the end of the day she doesn't see all the bullshit involved in being a pop star. She still comes from a very underground place. We just did something fun and I became a really good friend of hers and I cherish my involvement with her."
- DIPLO ON MADONNA, PAGE 21
"I'm used to it. I see my mum as a hockey mum, taking me to practice when I was younger, and my dad always being there to support. He obviously had a way busier job touring and stuff, but he was always calling me."
-LIAM STEWART ON HIS FAMOUS FAMILY, PAGE 29
"I was really excited to bring him home, but to be honest I don't think I'd prepared myself for how big a deal it was. Firstly, how big a deal it was for kiwis and also how big a deal it was for me to be bringing my work life home in such a forceful way. It was just happy tears for three weeks!"
- ZOE BELL ON BRINGING QUENTIN TARANTINO TO NZ