Remix Magazine Beauty & Luxe Edition with KYLIE JENNER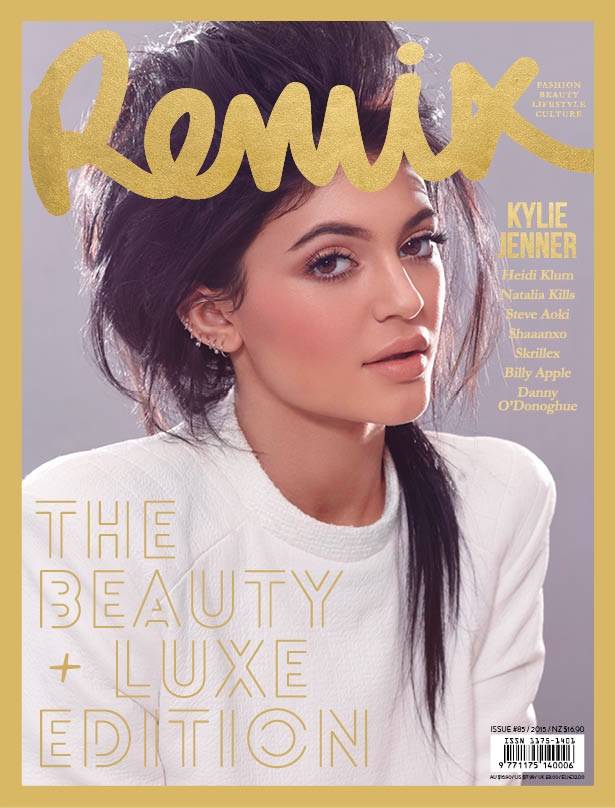 Remix
magazine is proud to unveil its latest cover star and perhaps the greatest coup in New Zealand magazine history; American reality TV star and social media sensation
KYLIE JENNER
. 'We always get asked how much we pay to put talent on our cover and the answer is: nothing. International celebrities know Remix and they want to be on it. It's our job to make them shine in the best of Kiwi fashion,' says
Remix
owner and founder Tim Phin.
The lips on everybody's lips… KYLIE JENNER
As the youngest member of pop culture royalty, the Kardashian family, Kylie Jenner is one of the most rapidly rising stars on the planet, one of the top ten most followed Instagram personalities and a beauty icon in her own right. She has the lips on everybody's lips and we get the scoop on them in our exclusive interview.
Remix
flew to Los Angeles to photograph Kylie, styling her in a mixture of international and New Zealand fashion labels, including WORLD, Kate Sylvester and Helen Cherry. Our photoshoot and interview was filmed as part of an episode of
Keeping Up the with Kardashians.
Inside the mind of a killer… NATALIA KILLS
Also in the issue disgraced former judge of
The X Factor NZ
NATALIA KILLS
in her final New Zealand photoshoot and interview. She opens up about her infamous relationship with husband and fellow exiled judge Willy Moon, her thoughts on the show and her friendship with Madonna.
Confessions of a runway icon… HEIDI KLUM
Remix
sits down with
Project Runway
host, iconic supermodel and international superstar
HEIDI KLUM
. Having recently guest judged an episode of
Germany's Next Top Model
,
Remix
editors Tim Phin and Josie Steenhart spend the day to talk with Heidi about her time down under, her business and her family.
On tour with SKRILLEX & STEVE AOKI
DJ superstars
SKRILLEX
and
STEVE AOKI
take a stop on their world tours for an exclusive photoshoot and interview each with
Remix.
Steve Aoki wears New Zealand labels Crane Brothers, WORLD, Federation and Nick Von K in the epic menswear shoot.
The best in beauty and luxury…
The Autumn '15 edition of
Remix
presents the latest and greatest inspiration in both New Zealand and international fashion. Trends for the Autumn and Winter seasons are presented in cutting-edge photoshoots, produced by some of the most respected photographers and stylists, both locally and abroad. Our beauty section is packed to the brim with inspiration from industry experts, including YouTube make-up guru
SHAAANXO
. We've researched and tested all the latest beauty products, giving you the lowdown on what you need to be wearing (and how to wear it) this coming season. +
Remix
reviews the latest restaurants, interiors, films, art and music, speaking exclusively to
BILLY APPLE, DANNY O'DONOGHUE, GINNY BLACKMORE
and
TALI
.
This is, quite simply, the greatest edition of Remix ever made.
Pick up your copy at remixmagazine.wpengine.com for the latest dose of fashion, beauty, culture and lifestyle inspiration from around the globe!