Remix from inside Coachella's hottest party
Remix editor Steven Fernandez was on the ground for the money-can't-buy event thrown by Levi's at Coachella Valley Music and Arts Festival.
I'm not going to lie, it's taken me several days to recover from Coachella, which is just about the same amount of time it's taken me to process the celebratory brunch Levi's threw out at Palm Springs last Saturday.
Now, I know a good brunch when I see one, but let me tell you that Levi's brought a whole other level of brunch game when they put on a pool party last weekend at the Colony Palms Hotel in Indio, California. In fact, forget absolutely everything you know about a traditional brunch and throw in absolutely everything you imagine about a seriously wild pool party – that was the Levi's Coachella Brunch.
Unlike most of the after parties during the evenings of Coachella weekend, the day parties are much less stuffy. Everyone's relaxed, hanging out, a little jaded from the night before but equally ready to get the party started.
Forget the VIP areas or private cabanas; at the Levi's Coachella Brunch celebrities like Joan Smalls, Brooklyn Beckham and Bella Hadid roamed around freely, with the latter supermodel simultaneously juggling a takeover for the Levi's Instagram account. I arrived mid-afternoon to discover a poolside paradise of great food, drinks and music.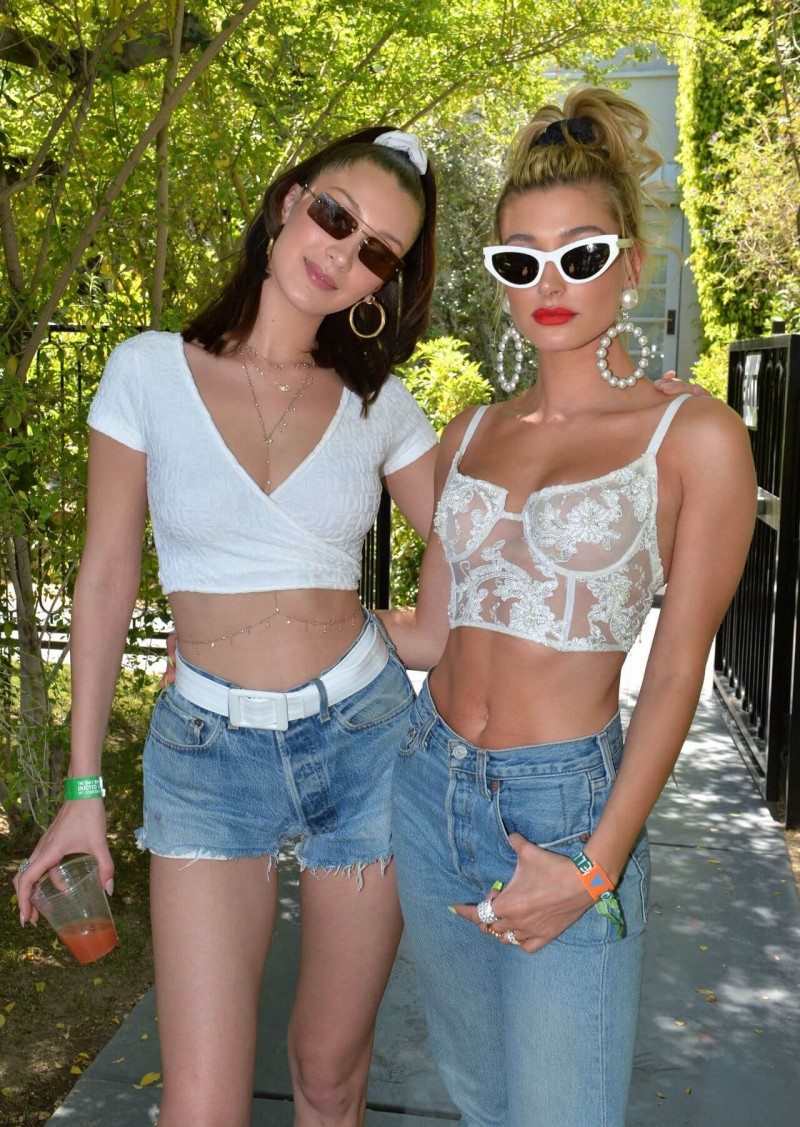 Heron Preston was on the decks around the same time I arrived, which is when I managed to catch a moment with one of my favourite former cover stars, Hailey Baldwin. Yes, a 'catch up' with Hailey Baldwin… to my point, this was no ordinary party.
As the afternoon desert heat picked up I took a wander around the complex with my lovely Coachella partner-in-crime Jaime Ridge, checking out the customisation stations where guests were having their denim and T-shirts customised. The line was a little long for me to dabble with my jacket, but that's probably a good thing given how indecisive I can be.
The line for another cocktail was much shorter…
As the late afternoon sun started to take a dip behind some very welcome cloud cover, guests leapt out of the pool to jam to the sounds of Snoop Dogg. Not Snoop Dogg on the speakers... the actual Snoop Dogg performing exclusively for the party.
The man himself spun all the hits – including a rowdy rendition of 'California Love' – and even came out from behind the decks to dance among the crowd, take selfies and just be an all-round legend. Snoop Dogg's set went way longer than even the organisers thought, taking party-goers well towards sundown and Saturday night's headliner Beyonce.
Check out more photos from the Levi's Coachella Brunch in our gallery and visit the legends at Levi's here for more of their epic denim inspiration.