NZFW x Converse One Stars: What a week!
Happy Fashion Week Friday! We've learnt from previous years and decided to save our feet from a weeks worth of pain in sky-high heels while jumping between shows and events, and instead opted for the fun new range of Converse One Stars. If you need some inspo to style your own sneaks, look no further! We've rounded up the rest of our favourite One Star wearers of the week to chat shows, style and obviously, sneakers.
Gracie Taylor @gracie_taylor_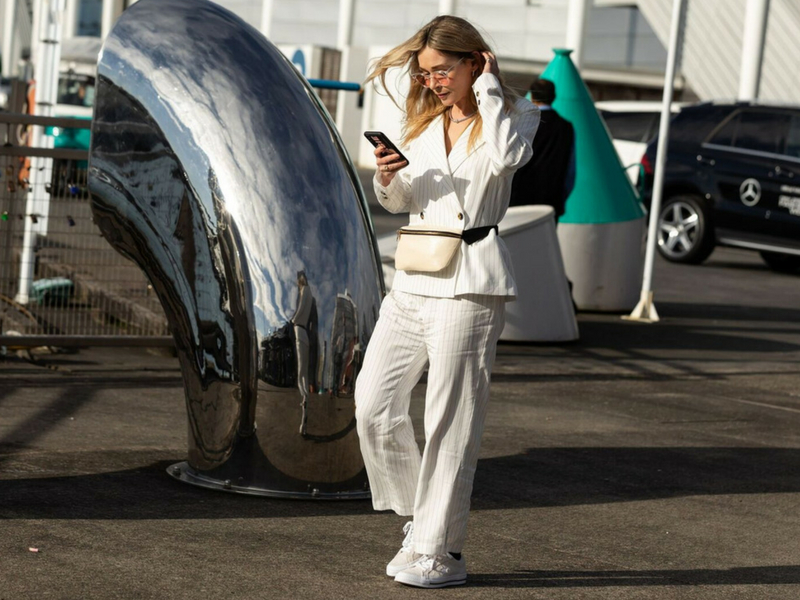 What are the beauty trends you are seeing at Fashion Week/Spring?
"I am seeing a comeback of the puffy sleeves chic princess look as well as a strong 80s power suit vibe."

How are you styling your Converse One Stars this week?
"With the white pinstripe 'Vince' blazer and pant from Ruby, Converse suede One Stars, Cream Ruby bumbag , 'Peachy Pink' sunglasses by Ella Jane."

What has been your highlight of NZ Fashion Week so far?
"Definitely seeing Matilda, Jess and Lana rock the Jockey runway!"
Maddy Walker @thetwentiesclub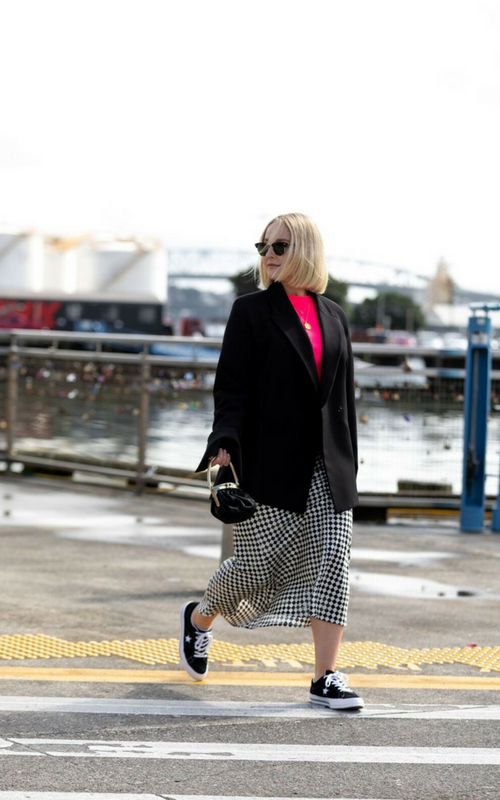 What show are you most looking forward to this week?
"The Wynn Hamlyn Resort 2019 show!"
What are your readers most engaged with this fashion week?
"Mostly behind the scenes, so anything to do with backstage, the stylists, the makeup artists, doing their final touches. How it kind of all comes together before it hits the runway."
How have you styled your One Stars today?
"I have dressed them up with Georgia Alice pieces and a blazer, to make it a bit dressier."
Patrick Parades @patrickjparades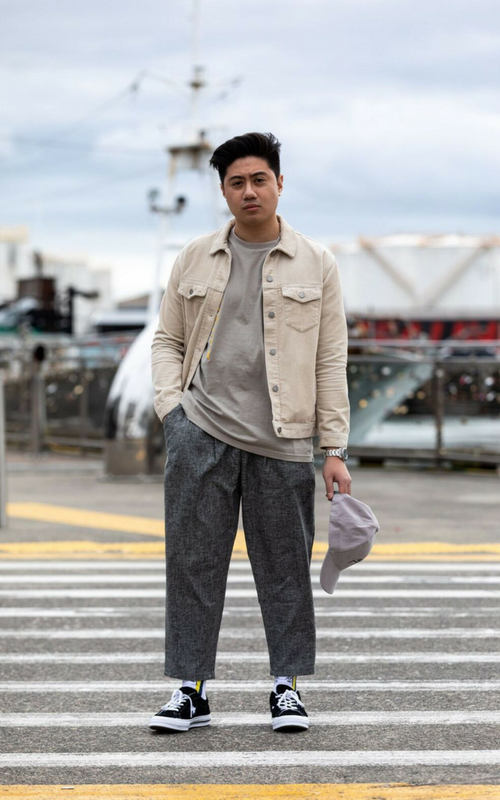 How do you define your style?
"In general, I wear whatever's comfortable and I just wear what's me. I stay true to myself. I feel like because of my job, I just wear what I want. It doesn't matter where the event is, I want to be me."
What has been your highlight of NZ Fashion Week so far?
"I loved Stolen Girlfriends Club. I just love to support all the designers and clients that I've worked with before. It's amazing, I love this week."
How are you styling your Converse One Stars today?
"I'm wearing my Converse black and whites; they're the comfiest shoes. I'm just wearing the comfiest outfit possible. My pants are from Yohji Yamamoto. I'm also wearing A-Cold-Wall tee, Cold-Wall hat, Cold-Wall socks, Dr. Denim and a Rolex watch."
Kendra Jefferey @kendraalexandra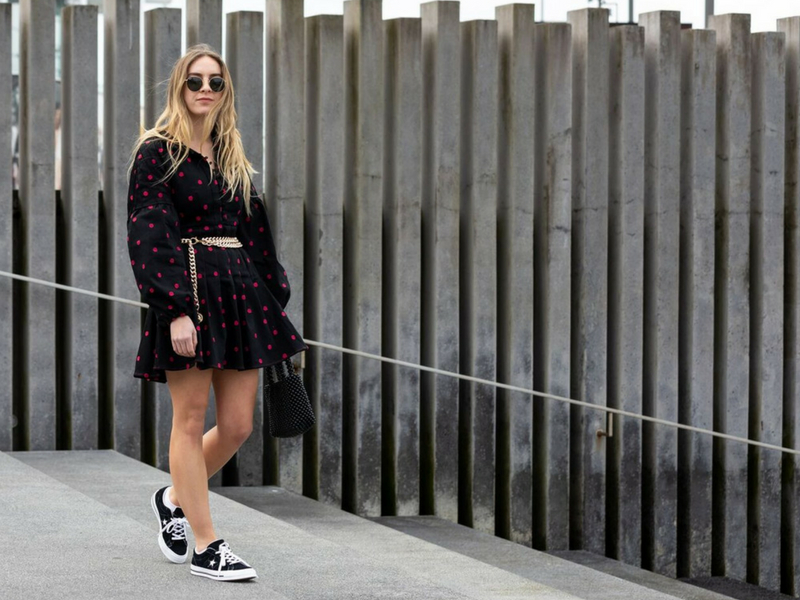 What's your piece of styling advice for Spring?
"Lots of layers because Auckland is so unpredictable. I think that anything goes in Spring; lots of pastels."
What has been your highlight of NZ Fashion Week so far?
"The Stolen Girlfriends Club show from last night was so cool!"
How are you styling your Converse One Stars today?
"Today I have an exaggerated silk dress on from Mio, a gold-chain belt, a beaded bag, and a Zara jacket; alongside my black and white Converse."
Kobi Bracken @kobibrackenfromthelakers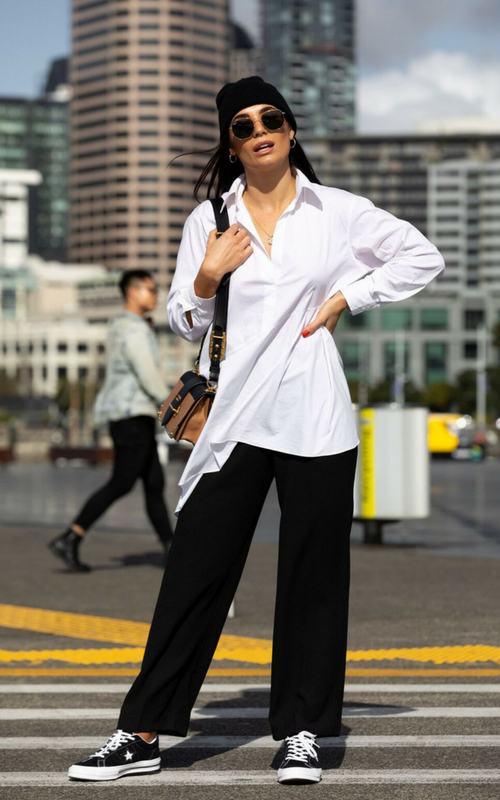 How do you define your style?
"Edgy, street, tom-boy, with a touch of girl."
What do you enjoy most about NZ Fashion Week?
"Catching up with everyone and seeing what the designers have come out with for the year."
How are you styling your Converse One Stars this week?
"Wearing the black and white Converse with some black vintage straight high waist pants, with a white flowing Zara top, a Playboy Beanie and Ray Bans."
Nikki Allwood @nikkiallwood_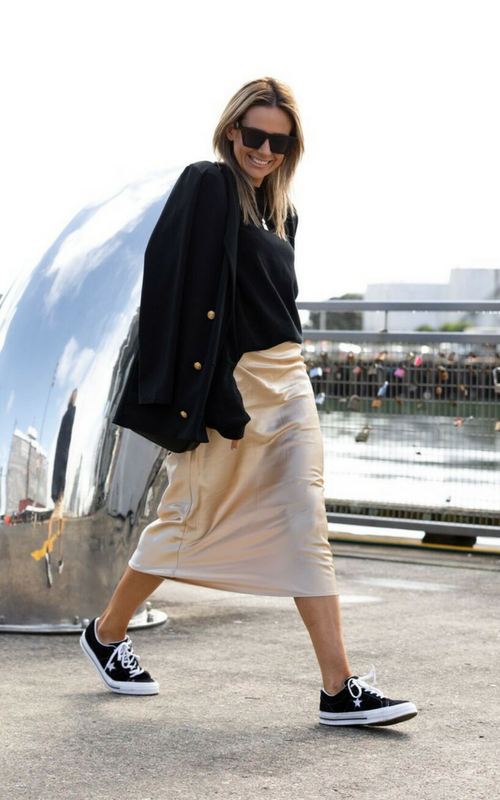 How do you define your style?
"Something I'm comfortable in or something similar to what I've seen on Elle Fergusons Instagram to be honest!"
What do you enjoy most about NZFW?
I love getting style inspiration from other people at NZFW. It's also fun to dress a little different to how I usually would."
How are you styling your Converse One Stars today?
"With a slinky skirt from Ellis and Friends. I wear them with pretty much anything!"
Tim Phin @timphin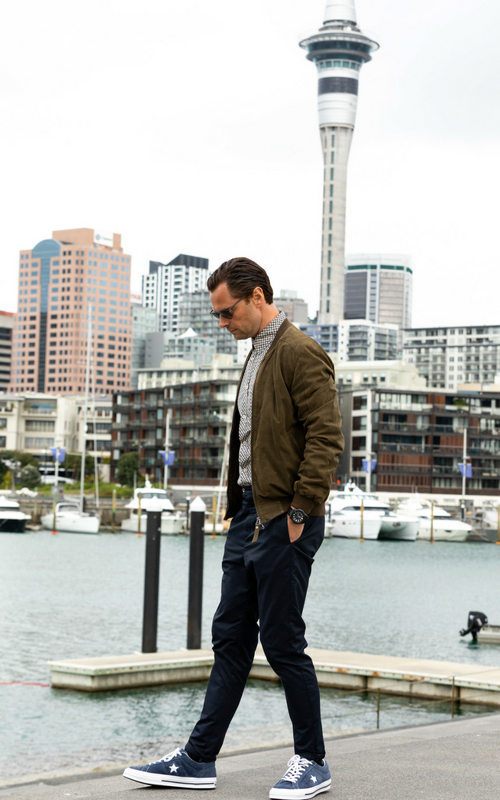 What has been the highlight of NZFW so far for you?
Definitely the Stolen Girlfriends Club show.
How do you define your style?
Fashion but not too crazy.
What are you pairing your One Stars with?
Zanerobe pants, Gucci bomber, Workshop shirt.
Chloe Hill @chloechill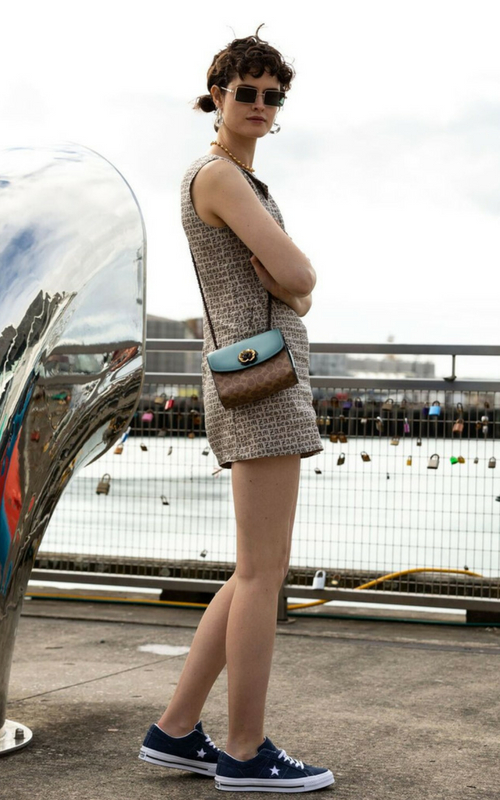 What trends are you seeing emerge for spring this NZ Fashion Week?
"There has been a lot of colour, which I'm really excited about because New Zealand, internationally, is traditionally known for lots of black and white. I just went into a street-wear show and they had heaps of fluoros, still mixed back with the black, but I think it's really cool that people are embracing colour."
What do you look forward to most during NZ Fashion Week?
"There's so many things, I look forward to seeing Kiwi designers because I don't get to see a lot of them overseas. I love catching up with all my sweet Kiwi friends over here."
What are you styling your One Stars with?
"I'm wearing the blue and navy Converse, with a printed mini-dress with Zambesi logos all over it- so kiwi! I have a mini shoulder bag by Coach and some retro Karen Walker sunnies. My earrings are MARS, Meadowlark and Jasmin Sparrow; all Kiwi!"
Donielle Brooke (of Designer Wardrobe) @doniellebrooke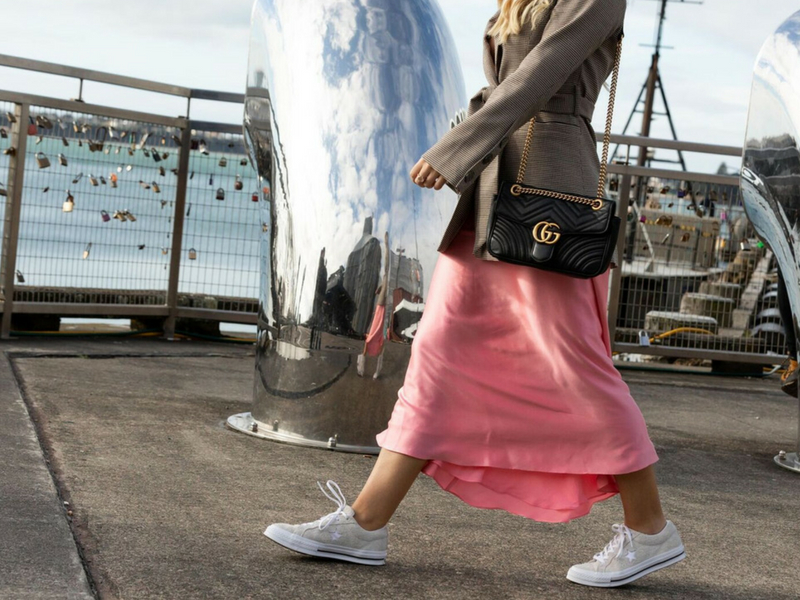 Has Designer Wardrobe been very busy this week with hires for NZ Fashion Week?
"It has been really busy, there are lots of people flooding through for Fashion Week."
What do you enjoy most about NZ Fashion Week? Do you look at the designers to get stuff in-store or just enjoy attending and watching shows?
"I personally just love seeing all of the latest collections and what's coming out in New Zealand Fashion Week."
What are you wearing your white suede Converse One Stars with?
"I'm wearing them with a new Bec & Bridge pink silk skirt and a new Ruby jacket that is coming out tomorrow. I also have on a Gucci bag and some Beau & River Earrings."
Corey Lupton @coreylupton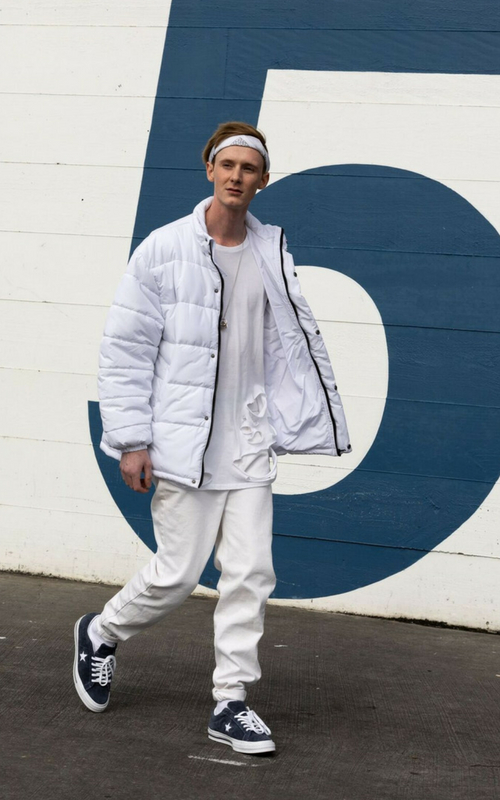 What do you think your readers look forward to about New Zealand Fashion Week?
"As far as NZ Fashion Week, it's the homegrown talent. I guess the readers look forward to lots of the industrial aesthetics coming up from new, younger designers; they're really feeling that. Stolen is always the highlight of the week, every year. Not For You has been pretty good over the last few years. I was also surprised yesterday by Jarrad Godman, I really liked the whole industrial, creative vibe going on in his last show. I was over at Coachella this year and they had the exact sort of vibe; the whole bulletproof vest style, so that was good to see."
Describe NZ Fashion Week in three words?
"Busy, cold, inspirational. You get a lot more time watching the shows in New Zealand, as opposed to in Aussie, where you have to go back and forth all day. It's good to sit down, watch the designers and actually talk to them. I guess that's where the inspiration comes from."
What are you pairing your navy One Stars with today?
"Just my all-white outfit, which the jeans and tee I made myself. Then I'm wearing my Calvins and my Stolen necklace. "
Skye Ross @skye_ross_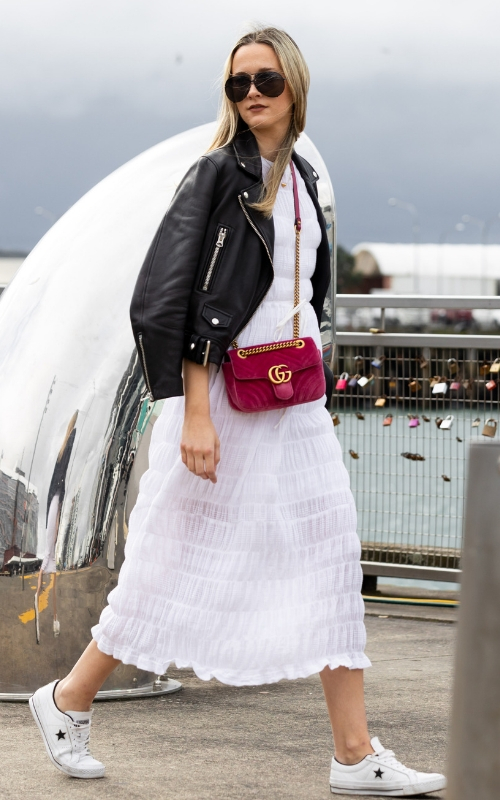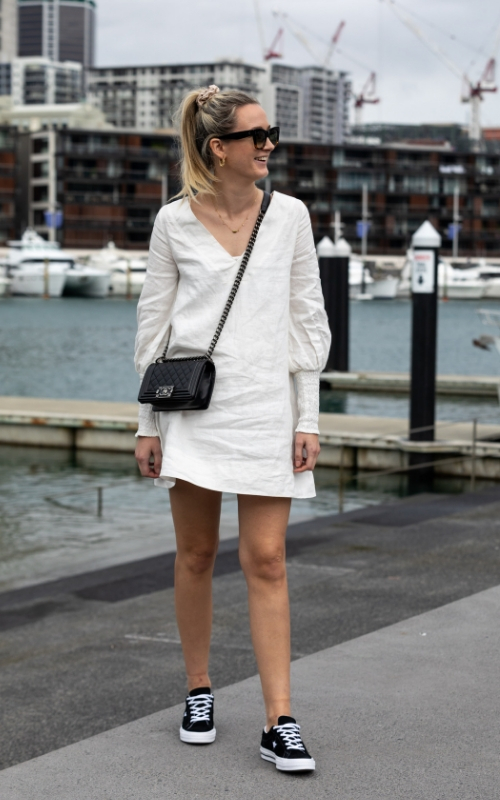 What shows are you attending today?
"I'm attending everything as I'm managing the NZFW social media channels this week!"
What was your highlight from XYZ Show?
"I loved the NZFW Graduate and New Generation shows – I'm obsessed with Caitlin Crisp's garments and I think Olli will be one to watch as well."
What overarching themes are you seeing for Spring from the shows & those attending this year?
"Colour! Gone are the days of Kiwi fashion designers being famed for black draped garments only, we're seeing an eclectic mix of hues, textures and patterns this year and I definitely have my eye on a few bright pieces."
How are you styling your Converse One Stars this week?
"I've kept it monochrome this year – ironic given my answer to the previous question, I know. I love mixing designer pieces like this Marle dress and my Chanel handbag with the streetwear aesthetic of the One Stars."