Milan Fashion Week 2023 welcomes luxurious new collections
The dreamy city of Milan welcomed some of the world's most influential and luxurious fashion houses such as; Giorgio Armani, Gucci, Prada, and Versace, to unveil their extravagent Spring-Summer 2024 collections at Milan Fashion Week.
Situated between Milan's most prepossessing outdoor venues, such as the remarkable Piazza del Duomo and the imposing courtyard of 15th-century Castello Sforzesco, upwards of sixty-two brands were showcased. As expected, Milan Fashion Week transcended the mere catwalks, providing a fabulous carnival of exclusive events, graced with celebrities, models, and fashion icons.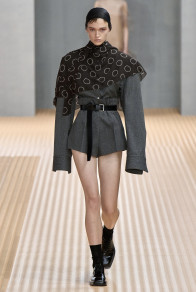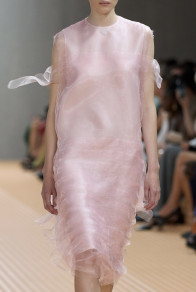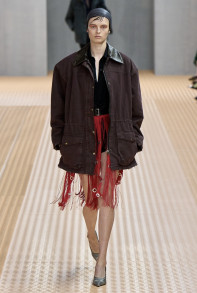 Prada
Prada made a dramatic entrance on the second day of Milan Fashion Week, with suspenseful violins causing a riveting atmosphere. Exploring the realm of utility, the first model stormed the catwalk in a dark grey suit, featuring pleated shorts, and an accentuated cinched waist, complimented by an elegantly draped patterned scarf.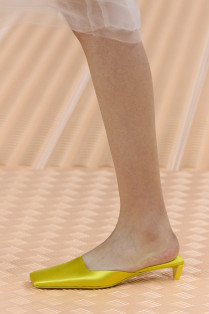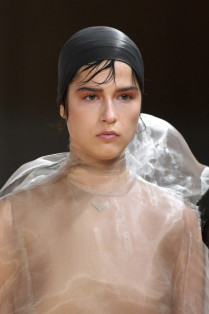 Following, sheer organza looks graced the catwalk, featuring brightly coloured mules and flowing fabric enhanced by the wind. These effortlessly flowing dresses were spotlighted repeatedly, positioned between oversized workwear jackets and paired with skintight head caps. Throughout, gold foiled skirts, layered tassels, bronze hardware and leather collars blended seamlessly, creating a dynamic impression left by the collection.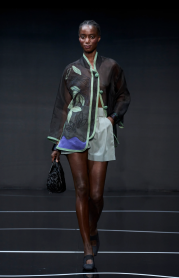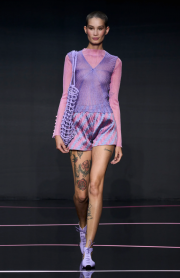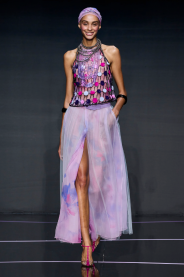 Emporio Armani
Emporio Armani brought joy to the runway, with models seen smiling and twirling down the catwalk. Expressing the Maison's theme of lightness, Emporio Armani's jubilant collection was crafted from delicate fabrics in an array of colours.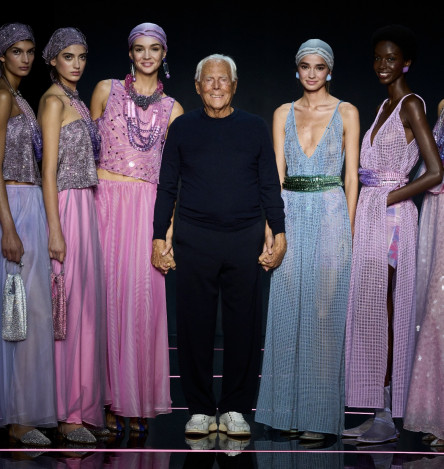 Grounded in femininity and awakening the summer spirit, this collection featured breezy, weightless separates intentionally accentuated by hints of iridescent, metallic, woven and embroidered attributes.
Coloured jackets were paired with crop tops and shorts, with bare skin veiled by translucent fabrics. Garments were predominantly loose and often semi-sheer, enhanced by striking black accessories such as belts, bags, sunglasses, and necklaces. The colour palette extended from beige to chartreuse, to a vibrant range of purple and pink.
Closing the show with playful energy, long flowing skirts, shimmering bodices, and dresses with exaggerated necklines took the final walk around the circular runway.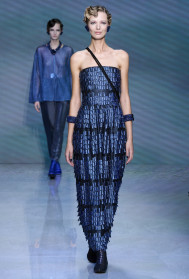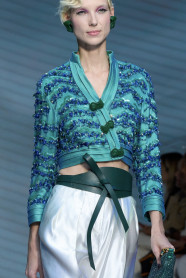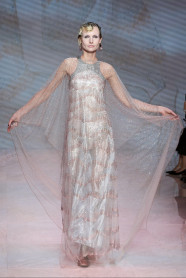 Giorgio Armani
Closing Milan Fashion Week, Giorgio Armani showcased their collection, "Vibes", which endeavoured to reflect the shifting colours of the sky and light at dusk. This was expressed using a projection of swirling waves against the back wall of the showroom.
A delicate shift in lighting worked to fragment Armani's collection, with the first segment centred around a harmony between bronze metallic textiles and dusky shades of greyish blue. Armani's collection expressed elegance and functionality, with models sporting a late '20s finger-wave style hairdo and often wearing satin-like trousers and leather belts to cinch the look.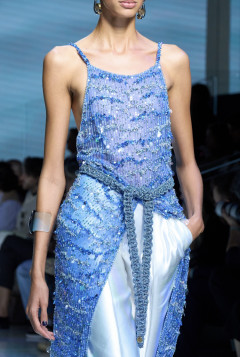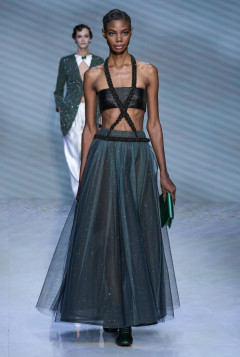 Shifting to blue, Armani's second segment featured a variety of dresses, including a strapless dress adorned with an intricate grid pattern of woven blue rectangles. Dresses were accompanied by satin trouser looks, accessorised with extravagant belts, overstated jewellery and hand-held clutches.
Moving from blue to marine green, the third segment showcased a sparkling wave-buttoned kimono jacket paired with satin-like pearl trousers.
The final wave of dusky pink showcased collarless jackets and long tulip skirts, with the last model twirling across the catwalk in a loosely fitted dress, draped with a shimmering sheer shawl.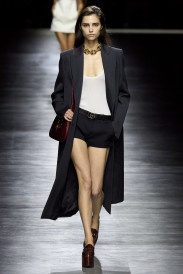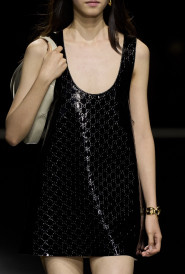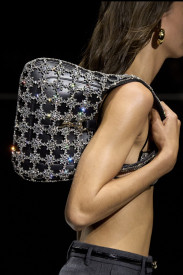 Gucci
Making his highly anticipated entrance, Sabato De Sarno unveiled his first collection for the world-renowned Italian fashion house. Unfolding with a crimson-hued space that seamlessly faded to black, the catwalk became a pathway of light, illuminating only the models as they crossed the runway.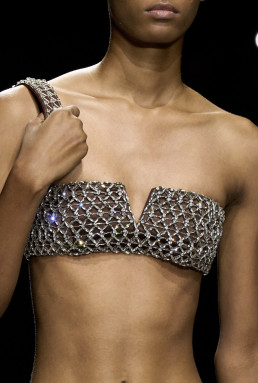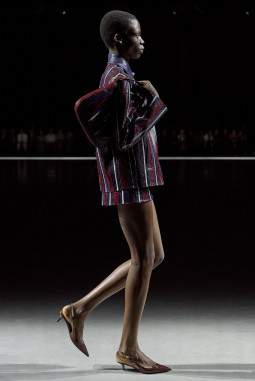 A sequence of ensembles that focused on everyday must-haves and ultra-minimalist tailoring, opened the show. Traditional suit components were reimagined, featuring white t-shirts and tank tops, platform loafers, crisp white dresses accentuated by darts, and simple blazers paired with petite shorts. The collection featured embossed monogram rompers, edgy leather jackets featuring silver hardware, sparkling crystal bras paired with dazzling shoulder bags, and oversized tailored vests.
Exclusive to the new Gucci collection and a discernible element of this season's collection were blazers and suits with bare skin beneath.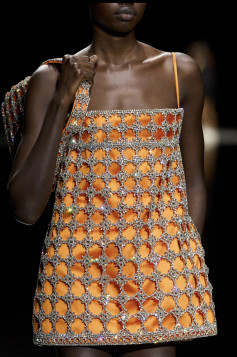 De Sarno strived to re-tell the authentic essence of Gucci, rooted in compelling storytelling and liberating assertiveness. He created a narrative that embodied the exuberance of life, the essence of humanity and the authenticity of everyday existence. The collection encapsulated a tale of opulence and lust, painted using hints of red, blue, and green. Expressing vibrancy, euphoria and spontaneity, each model and their ensemble added to De Sarno's diverse narrative, helping to celebrate the theme of inclusivity and joy in life's simplicity.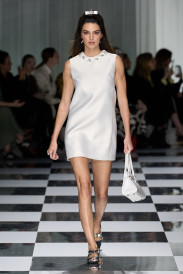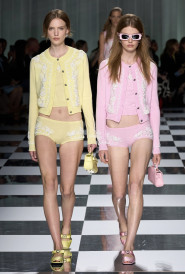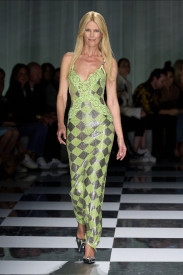 Versace
Versace took an iconic step back in time as an array of '60s-inspired ensembles took the catwalk, with models, featuring Kendall Jenner and Gigi Hadid, saturated in an exuberant colour palette of candy colours and pearl white.
Paying homage to two timeless Gianni Versace collections from 1995, the legendary German supermodel from the 90s, Claudia Schiffer, made her return to the runway. Dressed in a lime green slinky bustier dress, Schiffer oozed grace and appeared unchanged.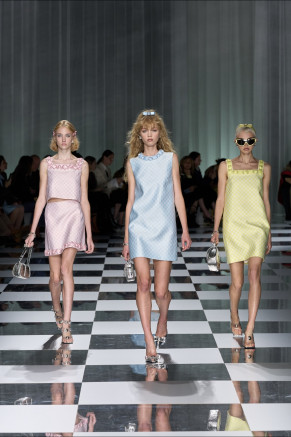 Sleeveless mini dresses, knee-high boots, flared frocks, and bouffant hairstyles adorned with headbands, captured the essence of Versace's vintage aesthetic, while contemporary fabrics infused a modern twist. Versace also added fire to the industry's latest infatuation with coordinated ensembles, showcasing models walking in pairs and groups, parading matching crochet floral garments and chic two-piece sets.
This season, Versace victoriously depicted the fashion world of the '60s, transforming Milan Fashion Week into the reminiscent time of 1960s Milan. The collection effortlessly combined tasteful matching outfits with relaxed tailoring, striking a harmonious balance between the spirit of the '60s and Versace's hallmark luxurious essence.