In conversation with snowboarding enthusiast Jesse Cassrels on Japan
International fashion retailer, Superdry, launched its annual snow collection this year featuring some familiar local faces. Auckland-based sports and travel enthusiasts Jesse Cassrels and Logan Dodds hit the slopes of Nozawa Onsen, Japan, the inspirational birth place of Superdry.
Over a two week period the boys cut through the iconic snow in Nagano Prefecture, venturing up to the peak of Mount Kenashi armed with nothing but their boards and their Superdry Snow gear. With temperatures dropping to -2.9*C, the region is popular amongst skiers and boarders in addition to being recognized for its historical hosting of the 1998 Winter Olympics.
Remix caught up with Jesse to relive the epic experience!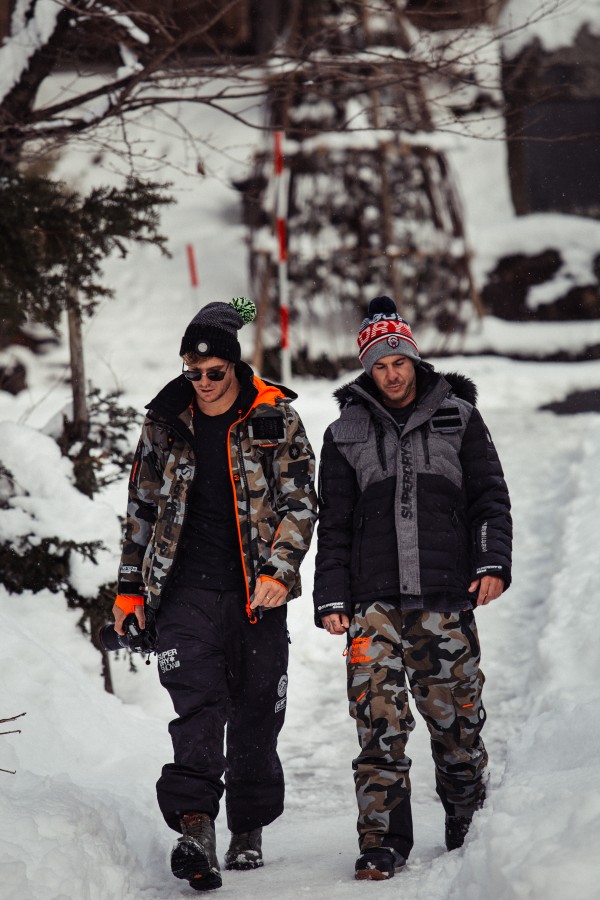 Tell me about Japan... what'd you guys get up to?
So right before Covid hit, like before it was even a thing, Logan, myself and Jaime Baron planned a trip to Japan. We were supposed to do like four or five nights in Nozawa and then go to Harcuba, but once we got to Nozawa we met some awesome Aussies and we were having such a good time, and the snow was fantastic that we actually ended up just staying there.
Nozawa is this really beautiful old town, it's called Nozawa onsen because it's built on like all these thermal pools and all the hot water runs through the town to help melt the snow on the paths, it's super cool.
What was the snow like?
It had been the worst snow season they've had in 20 years but as we arrived it started dumping with snow. We couldn't believe our luck. We waxed our boards, changed all our camera gear and hardly slept. We woke to snow covered trees and mountain crew digging the snow from the chair lifts.
We geared up with Logan wearing the bright red jacket from Superdry and myself head to toe in their camo gear. As per with most Superdry Snow jackets, ours featured a RECCO reflector embedded within the product. This enables rescue professionals to locate us snowboarders with RECCO detectors in the event of an avalanche accident or when lost in the outdoors!
We met some epic Aussies at the hotel we were staying at and they couldn't wait to snow the boys around. We all became friends really quick and they not only showed us the best powder runs on the hill but took us to a couple of incredible local restaurants and bars.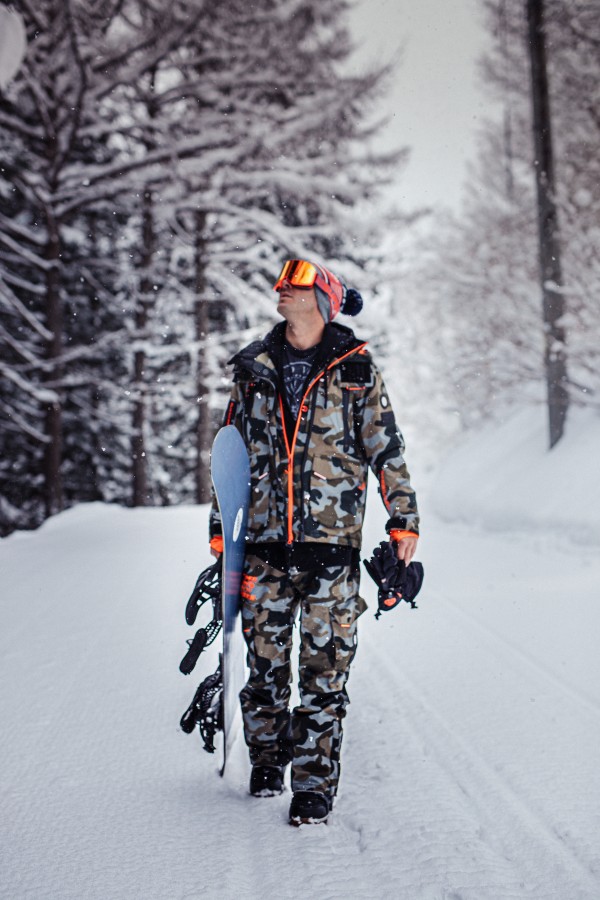 Where were you? Had you ever been there before?
When we flew in, we landed in Tokyo and went straight to Sinjuku which is like the main part of Tokyo, we checked into our hotel and we went out and we didn't get back until 5.30am in the morning we just partied with all these Japanese locals, drinking Sake, singing karaoke - we immersed ourselves in the Japanese culture we were loving it. We then caught the Shinkansen (the bullet train) the next day and tried to navigate ourselves through Tokyo station, a little bit hungover but it wasn't hard.
We then got to our place in Nozawa which was up on the mountain so it was like ski in ski out that we had to catch a shuttle up to. You step out of your hotel and jump on to the ski lift, it's insane, once we finally got there, it was like heaven and paradise. Our room looked over the whole ski field, the place is just so beautiful, it's incredible I can not recommend it enough and it's only my second time there, I would obviously go next year if we could.
What surprised you about Japan?
Just how amazing and genuine and kind the people are, the people in Japan are incredibly kind - it's unbelievable. They go out of their way for you, you could leave your wallet full of cash on the middle of the road or in a cafe and come back hours later and it would still be there, no one would've touched it. Everyone says that about Japan, and the people being so honest, massively respectful.
Then obviously the food... you know how amazing Japanese food is here... but the food's just even better over there. Especially on the mountain when its really cold, you'll get like ramen noodle soup, Japanese curries, rice and something we loved and as well as all the Aussies is little fried chicken with mayo.
We also had a lot of raw fish when eating out at restaurants and we even had raw chicken one night. Apparently the thing is with the raw chicken, is if it's killed that day it's fine to eat straight away as the salmonella and bacteria only starts to produce on the chicken after a couple of days. I had a couple of pieces and I just couldn't get my head around it cause you're told your whole life not to eat raw chicken.
We also went to Kyoto which is there like old traditional part of Japan with all their old temples. We went to this beautiful old golden temple, that was cool to do a bit more of the touristy sightseeing stuff.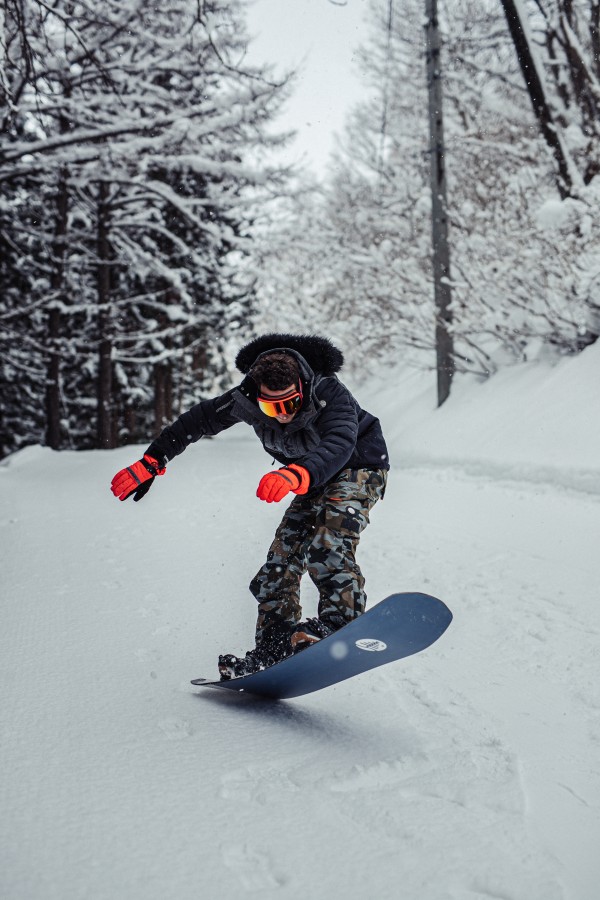 How many hours a day were you on the slopes?
Like six hours a day. After a day on the slopes, we'd come back to our hotel and edit heaps of photos from the day while sitting round the fire enjoying a beer. We'd be in bed at around eight or nine o'clock most nights and then up at seven again ready to go.
How cold was it??
It was freezing, but it's not like New Zealand where it's wet and horrible, over there it's so dry and cold - it's not so bad, it's a different kind of cold. Temperatures in Japan get so cold you have to be prepared. We can't thank Superdry enough for keeping us warm while taking some of the most incredible snow lines of our lives!
Why do you love wearing Superdry in the snow?
I love wearing Superdry in the snow because it's super durable. It looks super cool, it's really warm and it keeps you super dry [laughs] their stuff is really built for those freezing cold temperatures.
Perfect for wearing on the slopes, Superdry Snow is designed with 100% recycled polyester padding, essential for keeping you warm. Superdry jackets feature a zip fastening, removable drawstring hood, removable ski skirt, four external zip pockets, a key pocket below the skirt and one internal zip pocket with headphone routing perfect for listening to tunes whilst you board.