How to Wear Cropped Pants
Before we start I would just like to point out that we are talking about cropped pants, not, I repeat not, capris. We do not want to look mumsy!
The best pant length at the moment that is both fashionable and flattering is just above the ankle, at the smallest part of your lower leg. This means that if the pants are straight or even slightly flared rather than slim, you will see a contrast between the pant and your leg (avoiding that 'you-just-have-two-giant-thighs-that-go-all-the-way-down-to-your-ankle' look).
It is super à la mode to be wearing cropped pants at the moment, but it is not always easy to pull off without looking like an old lady (no offence intended to old ladies).
The most important thing is to get the shape of the pants right. This means working with your body type. Try on a few different styles, including the slim, tapered cropped pant, the slightly flared, and the straight up and down. Trust me, you will find one that looks great on you!
So next comes, what do I wear with it? I have very kindly taken care of that for you. Here are five ways to look uber-awesome in cropped pants. You're welcome.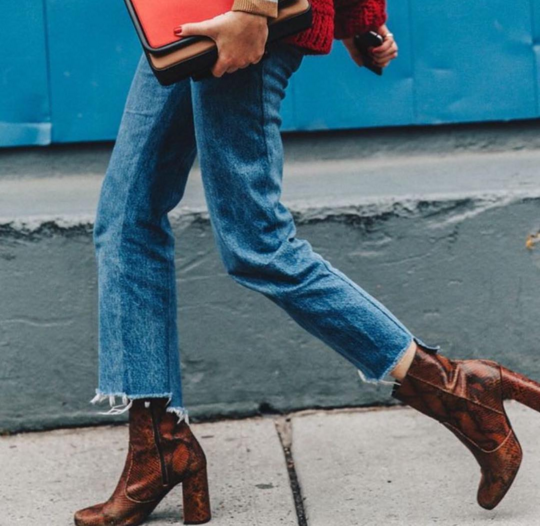 1) The easiest and most casual way to wear cropped pants is with a simple linen or cotton t-shirt and slide sandals. Often, when people who are not super-duper slim (let's face it, most of us), wear sneakers or other shoes that cut right at the ankle with cropped pants, it is rather unflattering. Instead, wearing slides will allow you to look a wee bit longer.
2) For a work-friendly look, pair the pants with loafers and a blazer. A simple button-up shirt will do the trick underneath. Loafers again won't cut you off in a bad way, but it still means that you can wear flats, if that's your kind of jam.
3) Instant coolness recipe: 1 oversized shirt, 1 pair of cropped pants and 1 pair of pointy stilettos. Wear simultaneously. That's all it takes! Choose a crisp white shirt that you stole from your boy (or one that is pretending to look that way). Just make sure that the pants are more of a slim fit to balance out the oversized top.
4) My favourite look with cropped pants is pairing them with heeled ankle boots. There is a danger here of making your legs look short and stubby but follow my advice and you will look like a goddess: choose boots that are fitted to your ankle (i.e. ones that do not gape) and that start where the pants finish. Chuck on a fitted jumper and a luscious, long-line coat and you are good to go.
5) A final option is to team a high-waisted pair of cropped pants with a cropped top. If you aren't keen on midriff, simply wear a top that comes at the same length or slightly longer than the pants. If you really can't bear it, tuck in a tight-fitting top. With this option, you can also try some different patterns of pants, such as checked or polka-dotted. Have some fun!