Gucci's newest store opening is a must-see
When we think of Melbourne, we think of good coffee, out-of-this-world street art, creativity and of course, fashion. As far as favourite cities go, Melbourne is close to the top of our list. With a city as moving as Melbourne, it can be difficult to keep up with the fashion comings and goings. But despite this, no one could miss the opening of Gucci's newly renovated Melbourne store. With elegance, decorative patterns and eccentricity pouring out from every corner of the store, it's no wonder we're booking our next flight over ASAP.
The space has been expanded and completely redecorated, in fitting with the House's new direction under Creative Director, Alessandro Michele. Self-expression and individuality are leading Gucci's creative decisions, and it's only fitting that they've created a space to encourage this. The store will be showcasing the complete Ready To Wear Gucci collection; including their shoes, accessories and jewellery. One of the first collections available in the new space will be the highly anticipated Gucci Pre-Fall 2017 Collection, featuring many of our favourite pieces.
[rev_slider alias="GucciNewStore"]
The fashion House has included its Gucci DIY service in the new store. This enables customers to inject Gucci products with their own personalisations. Symbols, such as bees or daggered hearts, can be embroidered onto different garments, and initials can be appliquéd onto leather jackets and shoes. Gucci takes their DIY ideas from the British Punk movement of the 70's, which focused on self-exploration and being whoever you want to be. The movement championed the ideal that with a little personality and punk-creativity, anything was possible.
[rev_slider alias="GucciNewStore2"]
The aim of the decor is to encourage curiosity; to create a feeling of exploration - in both customers' personal style, and in the elements of the new store. The theme of the store stays close to this ideal, with references to the expansive history of the fashion House throughout. From luggage trunks, to vintage oriental rugs, and plush armchairs to sit and admire the collections all day, Gucci are presenting people with an experience, rather than a shopping trip.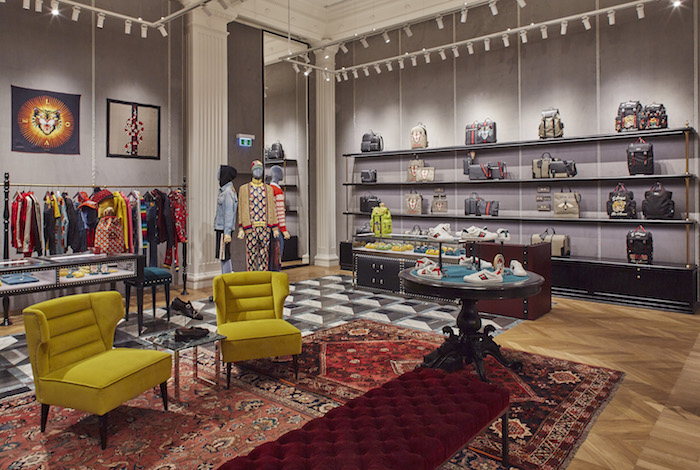 In a space so intrinsically Gucci, it's difficult to not feel as if you've stepped into another world; one of a nostalgia for a time we haven't really lived in; one of luxury, innovation, and personality.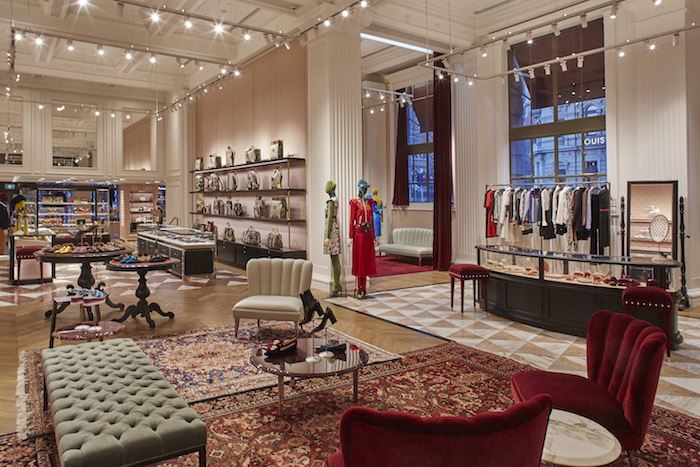 To see for yourself, head into Gucci's Collins Street Store - 161 Collins Street.
Imagery courtesy of Gucci.