Dress à la mode with these revival styles on '22s fashion forecast
Trends evolve and circulate in bizarre ways, with the most fearless of fashionistas daring to revive seemingly forgotten styles on a quest to push the envelope. Although some women would never dream of travelling back to the noughties when low-rise jeans were a day-to-day wardrobe essential, it's no question that with a new-age lick of paint, these bygone styles are becoming ever-present in the modern-day. Throwback trends are nothing new to the nostalgic fashion world, with outmoded looks being rescued and reconceptualised around the clock as decades tick by. Think wooden dutch clogs turned suede platforms, mod-style hats turned furry bucket hats, or mini turned micro-mini skirts. Dress à la mode with these comeback styles to swoon over, as you piece together your newly refreshed 2022 wardrobe.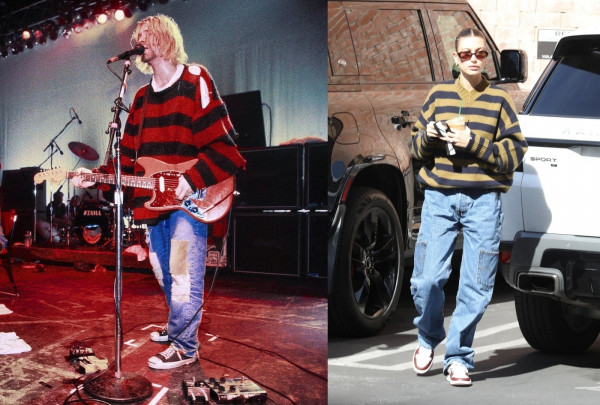 90s grunge
Nothing screams nineties grunge like baggy patchwork jeans, oversized shirts and a pair of Jackie O shades. Rocked and revolutionised by style icon, Kurt Cobain of Nirvana, this rough around the edges rebellion against the crazy eighties became synonymous with grunge-culture, and boy are these thrifty threads back with a vengeance!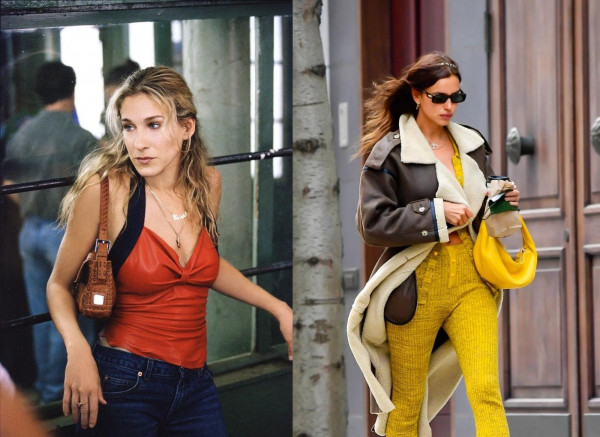 Mini crescent bags
The '00s micro-mini bags have had a modern-day makeover this year, with the crescent silhouette confidently stepping up to the plate. Half-moon baguettes are now being seen to reign supreme, so make room in your wardrobe and add a touch of chic to your petite purse collection.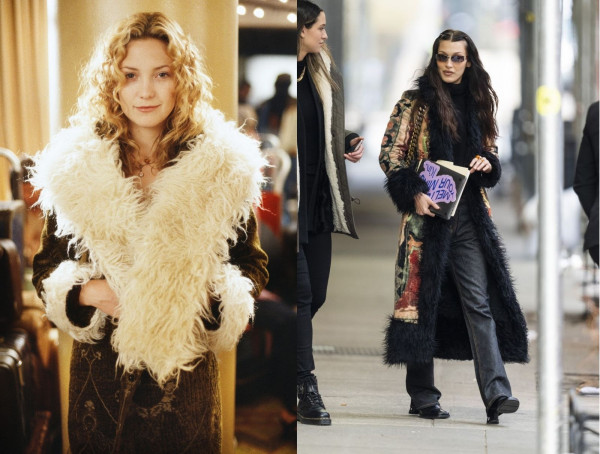 Penny Lane coats
Born out of the sixties counterculture and worn by rock legends like Jimi Hendrix, the afghan coat has now evolved into a fully-fledged pop-culture favourite. Gaining its 'Penny Lane' name from the hippy heroine herself in the film 'Almost Famous', the shearling trimmed cuffs and collars received a bright remodel when Y2K hit, and their recent rebirth shows no sign of slowing down!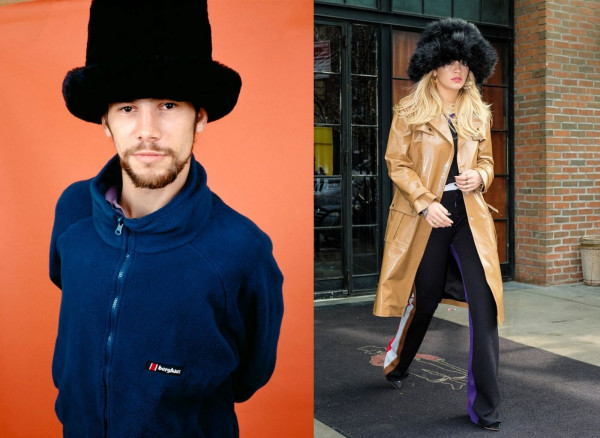 Furry bucket hats
In true Jamiroquai fashion, fuzzy bucket hats are rearing their head once again and serving up nineties nostalgia like no other. Returning from retirement just in time to keep your dome cosy this winter, these statement lids can effortlessly liven up any look at the drop of a hat, and we're totally here for it!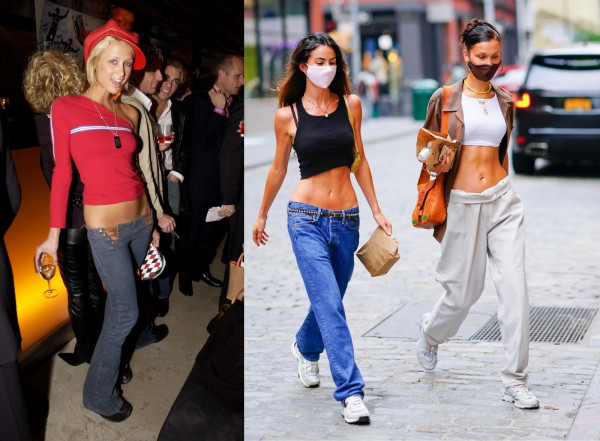 Low-rise jeans
Express from the 'Simple-Life'-era, low-rise jeans are back and Paris Hilton couldn't be prouder. Donned with a Von Dutch cap, Dior saddlebag, and a flip-phone in hand, the controversial low-rise nineties trend was bound to make a brave comeback and 2022 is the year.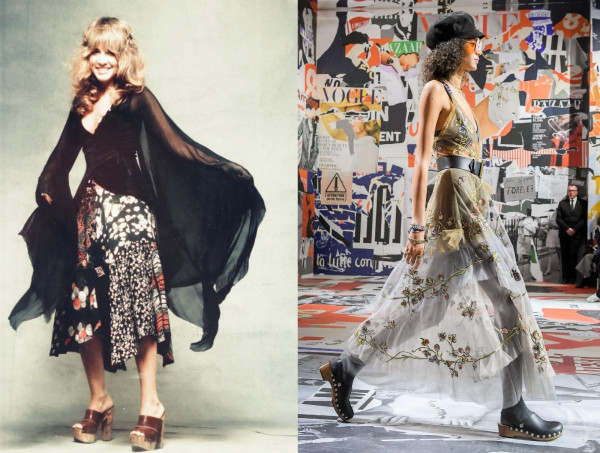 Platform clogs
Groovy seventies styles have wriggled their way back into the fashion landscape in recent years, with platform clogs being the latest trans-seasonal staple. First designed by the Dutch as protective factory footwear, clog heels soon became a high-fashion requisite of the seventies silhouette and have now morphed into a wardrobe must-have!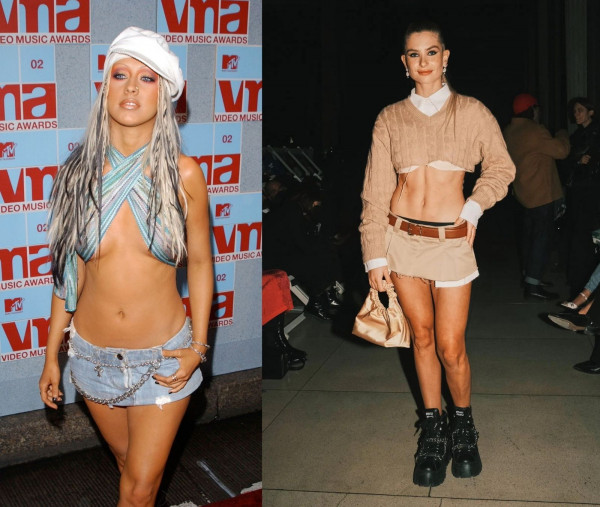 Micro mini skirts
Popularised by Mary Quant back in the sixties, the then daring hemlines of mini skirts were later redefined when Y2K rolled around, with micro-mini skirts becoming the new, more risqué kid on the block. Flash-forward to now and these reinvented relics are back in Vogue once again, who would've guessed?
Rimless clear sunglasses
Clear and colourful rimless shades became a trademark trend of the 2000s, with the chic neon sunglasses starring in music videos galore throughout the era. Much to our surprise these signature wrap-around specs have yet again crept their way back into the forefront of the fashion world, watch out J Lo!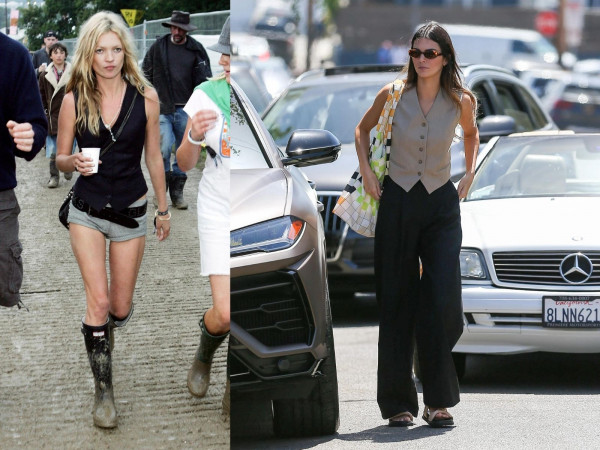 Waistcoats - trends to watch
Whiffs of a possible waistcoat renaissance are in the air, and we're absolutely on board! Evolving from a nineteenth-century menswear essential to a sophisticated womenswear staple, the elegant appearance and clean lines of a latter-day tailored vest are guaranteed to level up any look.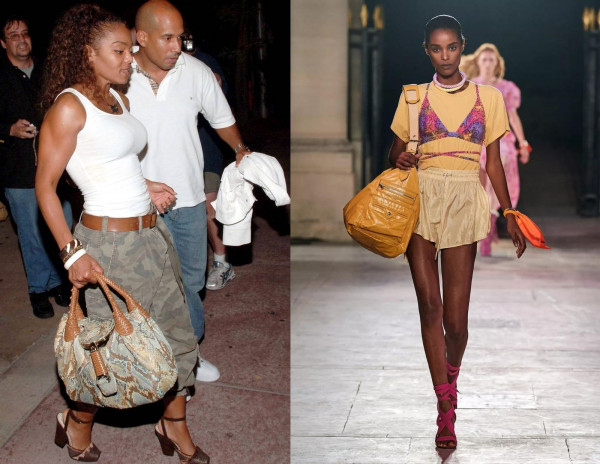 Big bags - trends to watch
The supersized shopper trend is travelling up the ranks, and the ever-so-practical Mary Poppins in us all couldn't be more relieved. Hailing from the aughts, the carryall maxi bag puts the fun in functional and is without doubt one to watch this year.