Fashion on a phone: Our spring issue fashion shoot photographed on the new Samsung Galaxy S6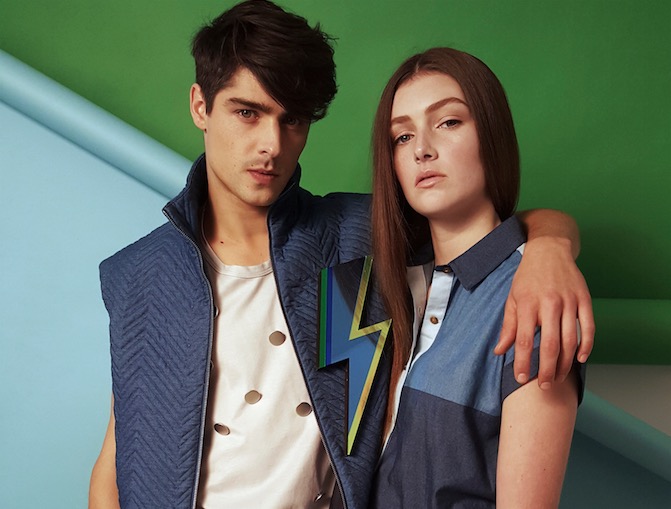 We recently set ourselves a little challenge… Since more and more people seem to be photographing themselves and staging photoshoots on their phones, we set out to see if we could do an actual fashion shoot using only mobile phones! The challenge was more than just taking 'good photos'. We set out to take print worthy images, the best of which will appear in the next edition of
Remix
magazine. We brought in the dream team, which included photographer extraordinaire Karen Ishiguro to shoot the pics and stylish fashion editor Amber Peebles to dress the mods. Then we had to pick an equally dreamy mobile phone. We decided to go with the brand new
Samsung Galaxy S6
and
Samsung Galaxy S6 edge
, which have just been released in a beautiful blue topaz and gorgeous green emerald respectively.
We didn't choose the mobile phones just because of their colours (even though they are soooooo pretty). We chose them because they have cameras capable of shooting print quality images – high-resolution shots suitable for publication in
Remix
magazine!
The Samsung S6 and S6 edge feature an improved front camera, which now offers a 5MP resolution and 43% more pixels than the S5, offering amazing picture quality for the all-important selfie . For our photographer Karen (and you budding photographers out there), the camera also has a Pro mode, which offers a range of manual controls, including ISO, exposure compensation and white balance. The camera features real-time HDR and multi-frame low light modes, so your photos will look effortlessly perfect and professional under any light.
As you can see, it was a no brainer! Find out more about the Samsung S6 and S6 Edge capabilities
here
. Then without further ado, check out our fashion shoot below! As you can see we stuck to a blue and green colour palette, perfect for spring and also matching the two new phones we shot them on.
Tell us your favourite images in the caption below, because we'll selecting four to make the pages of our September issue of Remix.
If your four pics make the pages of the magazine you might just find yourself with a brand new Samsung S6 or S6 Edge yourself!
Fashion On A Phone: A Remix Editorial
Photograher: KAREN ISHIGURO
Fashion Editor: AMBER PEEBLES
Styling Assistant: ISABELLE TRUMAN
Photography Assistant: BEN BLAIR
Hair: SARA ALLSOP @ DHARMA
Make-up: SHARON NGEN @ MAC Cosmetics
Special thanks to Samsung and Kingsize Studios.
Fashion credits beneath each gallery.
[gallery link="file" ids="6243,6244,6245"]
Left: Sophie wears KAREN WALKER headband (worn as necklace), CAMILLA AND MARC crop top, STAPLE AND CLOTH pants, stylist's own belt, ZOE & MORGAN bracelet & ring, KAREN WALKER JEWELLERY ring
Stuart wears WORLD jumper
Middle: Sophie wears KAREN WALKER scarf, KAREN WALKER eyewear, STOLEN GIRLFRIENDS CLUB top
Right: KAREN WALKER boots, BENAH FOR KAREN WALKER bag
[gallery link="file" ids="6246,6247,6248"]
Left: Stuart wears COCURATA vest, WORLD badge, ZAMBESI tank, WORKSHOP pants
Sophie wears VANISHING ELEPHANT shirt & skirt, LEVI'S shirt, TOPSHOP bracelets, ZOE & MORGAN ring, BENAH FOR KAREN WALKER bag
Middle: Stuart wears COCURATA vest, WORLD badge, ZAMBESI tank
Right: Stuart wears HOUSE OF HOLLAND eyewear, COCURATA top
[gallery link="file" ids="6250,6249,6251"]
Left: Stuart wears PREEN eyewear, ZAMBESI shirt
Middle: DEADLY PONIES bag, MI PIACI heels
Right: Sophie wears ZAMBESI top, STOLEN GIRLFRIENDS CLUB top, KAREN WALKER pants & boots
[gallery link="file" ids="6255,6253,6254"]
Left: Stuart wears WORLD cap, NEUW DENIM shirt, NEWU DENIM pants
Middle: Sophie wears ZAMBESI top, STOLEN GIRLFRIENDS CLUB top
Right: Stuart wears WORLD jumper, ZAMBESI pants, VANISHING ELEPHANT boots