Doing it for the people: London Fashion Week's way of connecting to fashion lovers worldwide
While bloggers, buyers and the Anna Wintours of the world have now moved on to Milan Fashion Week, we couldn't let London Fashion Week slip out from under us just yet. While it had a lot to compete with from last week, with various New York Fashion Week stunts, including Givenchy giving 800 tickets to the public for its first showing in New York City, Brit designers haven't forgotten the most important component in all of this: the people. Some became more hip'n'cool by connecting with the young-ins of the social media world, some continued making London Fashion Week pieces more accessible and others just give us exactly what we wanted...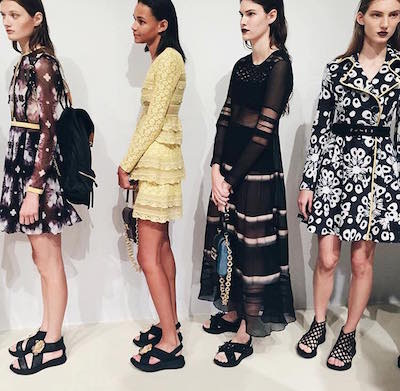 Burberry Snaps
The brand known for the classic trench and signature plaid print, took notes from Snapchat's young digital native community by showcasing the Burberry SS16 collection on the photo and video sharing app, ahead of its London Fashion Week show. Broadening its audience far beyond the international buyers and media that have forever been the only ones with access to the show, Snapchatters had an all-access pass; being privy to front row action, backstage madness and the all-important new collection. We are assuming however, that his sadly didn't actually secure an IRL all-access pass if you were in fact in London and attempting to enter Kensington Gardens on Monday the 21st...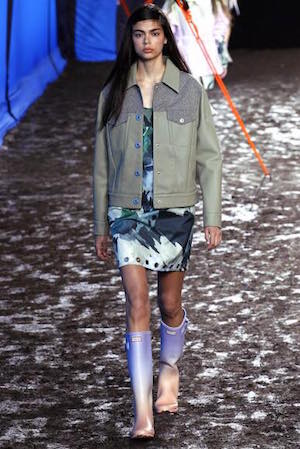 Glasto Forever
The likelihood of Alasdhair Willis, husband to Stella McCartney and Hunter Original Creative Director, being cast out onto the couch for the night, increased significantly after giving his wife a run for her money at the brand's second London Fashion Week showing. Hunter once again cemented its position as the staple footwear item of Glastonbury specifically, typically burdened by grey, rainy days (the reliance on this weather has never been higher so punters can wear said boot). However, this time they've given us something different. Ombre Wellingtons, heeled gumboots, ponchos with guy ropes, nylon anoraks and patched bomber jackets were among the ultimate festival uniform Hunter presented us with on a muddy, tent-peg ridden runway. Three guesses for what Cara and her #girlsquad will be wearing at next year's festival.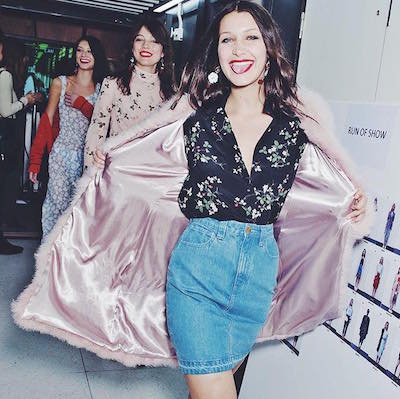 Accessible AND aspirational.
Brit cult label TOPSHOP, not only work with the British Fashion Council to support new designers with showing their collections at London Fashion Week, but also are as accessible as they are aspirational, with their premium catwalk collection TOPSHOP Unique. TOPSHOP Unique makes it possible for the everyday shopper to shop the runway on the High Street, or Queen Street, in our neck of the woods. The collection known for celebrating individuality and an nonchalant, eclectic British spirit and style, also saw an impressive front row for its SS16 showcase. Brit girls Alexa Chung, Suki Waterhouse and Poppy Delevingne wore coveted Unique pieces that we are eagerly awaiting to touch down in stores in the infamous Unique front row.
Words by Claire Blakely
Images: @burberry, oliviapalermo.com, @topshop