We Chat To Black Grace's Thomas Funua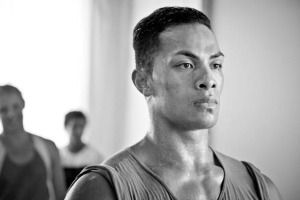 Black Grace have just kicked off their New Zealand tour of their new work WAKA. Touring New Zealand from now until the 29th August, you can catch a beautiful performance at a town near you. Click
here
to find out more and where to pick up tickets. We catch up with one of Black Grace's youngest members, Thomas Fonua, who began dancing with the company after he auditioned for their youth dance project UrbanYOUTHMovement for the 2009 production of 'You Better Run Boy!' Since then Thomas has performed with the company in Switzerland, Germany and North America and was a 2011 grad of the Black Grace Dancer Development Programme. And...before his Black Grace days...while Thomas attended ballet classes he also played on the field for Onehunga High School rugby team and competing in track & field events!
Tell me a bit about how you came to start dancing?
I've always loved to dance and I started dancing at quite a young age. Mum got me into the standard: ballet, jazz and hip hop as an attempt to get me exercising, due to the fact that I was quite a big kid. Slowly but surely it worked!
How did you come to dance with Black Grace?
In 2009 while I was still at high school, I participated in Black Grace's UrbanYOUTHMovement project, which is a mentoring programme. During the process I was offered an apprenticeship with the Company and I haven't looked back since.
It sounds like you were super athletic in high school, did you find it hard juggling all your commitments?
Definitely, juggling sports, dance and my studies was really hard. But it helped me to develop a good work ethic and a drive to make me fight for what I want.
What is one skill that most people don't know you have?
I can play the piano.
What is the best part of performing for you?
At the risk of sounding really cliché, I really enjoy being able to share my passion and stories with people. There's just something about being on stage that I can't explain. It's the rush, as well as the nerves and fear and every other feeling I get when I have the chance to perform.
Tell me what resonates with you the most about your new show WAKA?
Without giving too much away, I really enjoy the emotional and mental journey we go through both individually and as an ensemble during the piece. There's a sense of accomplishment afterwards for me as a dancer, it makes me feel quite emotional.
You guys have toured all over the world, how do you think foreigners receive a performance from Black Grace?
My experience with touring and our audiences overseas have been very positive. The work is really well received and on our last tour to Germany we had sell out shows and standing ovations at just about every venue we performed in. I think it's a testament to the strength of the work and the talent of our Artistic Director/Choreographer Neil Ieremia. The work speaks for itself.