Auckland Art Gallery's new exhibition
With the Remix team having just returned from Argentina, we were delighted to discover some of the magic of South American creativity at Auckland Art Gallery Toi o Tāmaki in its latest exhibition Space to Dream: Recent Art from South America, which features 41 artists and nearly 100 works from across the continent. Dr Zara Stanhope, principal curator of the exhibition, shares with us some insights into her three years establishing this multisensory experience of art.
WHAT IS SPACE TO DREAM?
This exhibition is an opportunity to see how artists from Argentina, Bolivia, Brazil, Chile, Colombia, Paraguay and Uruguay have responded to their worlds. It includes a range of art from photography to large scale installation and highlights a number of themes in art from this region such as resistance and revolution, origins and intersections, memories and new horizons. Artists are seen as change makers and their work also reflects their distinct contexts.
WHY DID YOU CHOOSE TO CURATE AN EXHIBITION OF ART FROM SOUTH AMERICA? WHY THAT REGION?
A country like Chile is New Zealand's neighbour looking east across the Pacific, as much as Australia is our neighbour when looking West. Yet, we have little connection with Chile or its neighbours. Space to Dream is an opportunity to immerse yourself in art from countries across the South who share similarities with New Zealand but also many differences.
WHAT HAS BEEN YOUR ROLE IN THE CURATION OF THIS EXHIBITION?
I worked with Chilean independent curator, Beatriz Bustos Oyanedel, to research and curate this exhibition. I also worked with the team at Auckland Art Gallery to produce the exhibition and its visitor programme.
WHAT WAS YOUR FAVOURITE PART OF THE PROCESS?
So many favourites – working with the artists, getting to know my co-curator and ways of working in the Americas, meeting artists during the research in South America and getting to understand more different histories and cultures, having the artworks arrive and installing them here, and especially seeing visitors of all ages enjoying the show. Having the opportunity to look at and experience these works repeatedly. And putting together the first Spanish/English bilingual publication the gallery has produced with a great team of writers and editors.

Bernardo Oyarzun, Ekeko, 2014, Courtesy of the Artist, Chile
HOW LONG HAVE YOU BEEN WORKING ON IT FOR?
Three years, on and off.
WHAT ARE SOME HURDLES YOU'VE HAD TO JUMP TO MAKE THIS EXHIBITION HAPPEN?
Narrowing down the final group of artists and works from the tremendously wide population of artists in South America, juggling budgets and fundraising, extracting works from Brazilian customs, rewiring homemade electronics to pass New Zealand requirements at the last minute, several 'lost in translation moments, and many more. However, there have been more memorable moments than hurdles: having artists here to do residencies with Massey University, Elam School of Fine Arts and Whitecliffe College of Art and Design, Alfredo Jaar's keynote lecture, launching a great film programme, and the strong interest in the artists and the exhibition.
HOW DID YOU SELECT THE COUNTRIES FROM SOUTH AMERICA THAT ARE FEATURED IN THE EXHIBITION?
We decided not to extend the exhibition to the whole of Latin America but to focus on art in South America, as we wanted the exhibition to be rich in having a depth of work from fewer countries. Then we surveyed the many possible artists and made tough decisions about which artists had, and continued to, push the boundaries with their art and included as many as possible. There are 41 artists represented and nearly 100 works.
DO YOU HAVE A FAVOURITE ARTWORK WITHIN THE SHOW, PERSONALLY?
It is difficult to choose! I love the work of Lygia Clark for breaking so many conventions in art. It's a special experience to participate in works in the exhibition: the movable bicho sculptures, the sensorial masks that take you to another world when you put them on and her amazing suits for two people that you have to try on to even begin to imagine!
WHAT LASTING IMPRESSIONS DO YOU HOPE SPACE TO DREAM WILL HAVE ON VISITORS?
Beyond raising awareness of the histories and cultures of South America, our hopes are that the art in Space to Dream takes you on a journey from tragedy to humour and shows how creativity is a space for opening up new possibilities.
WHY SHOULD WE COME TO SEE THE SHOW?
There are many universal connections to be made in the exhibition as around the world we all experience many of the same events. However, Space to Dream reveals some of the specific contexts that are distinct to South America (in terms of, say, the histories of dictatorships and indigenous peoples) and how artists have responded in personal ways. Their works offer unique perspectives on place and people and how we might face our futures through creative forms that have not been seen before in New Zealand.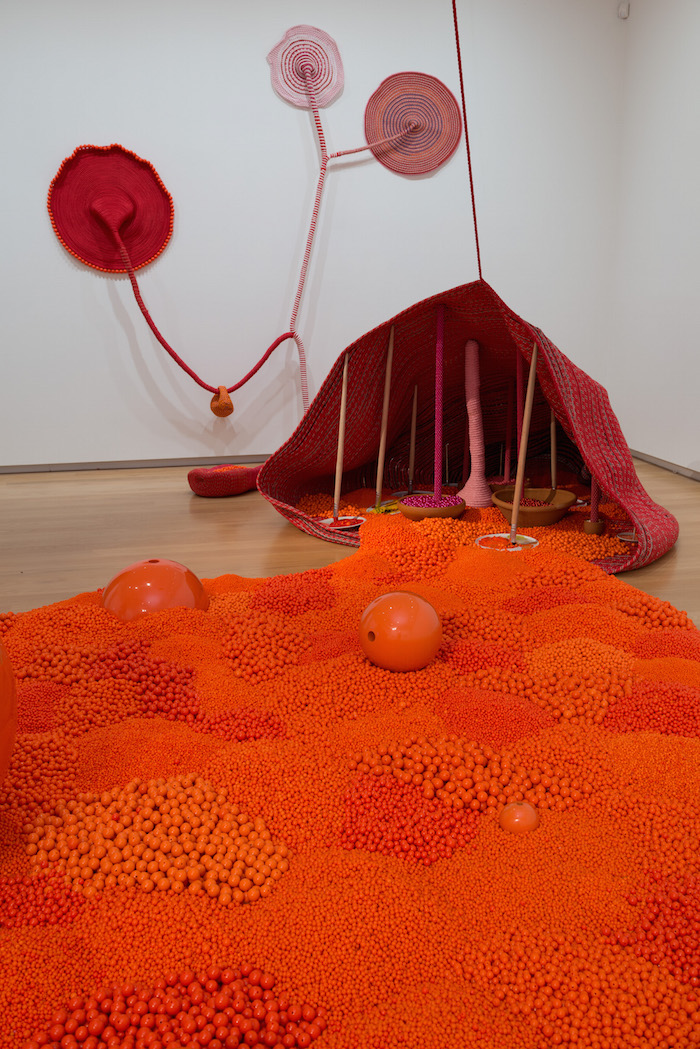 Maria Nepomuceno, Grand Boca, 2013, Courtesy of the Artist and Victoria Miro, London