Get to know the new Bond Girl, Ana De Armas, and discover the high fashion in the film
Nothing quite matches the energy of a James Bond film. Thrilling car chases through exotic locations, shaken-not-stirred martinis in dimly-lit bars, jaw dropping wardrobes that leave our own looking barren and tasteless and, of course, the bombshell. The ultimate femme fatales of the big screen, Bond Girls have a way of being both beautiful yet brave, sensual yet sophisticated and, of course, irresistible to the oh-so-dangerous 007. Remix got the inside scoop on the new Bond Girl - and she's like nothing we've ever seen before.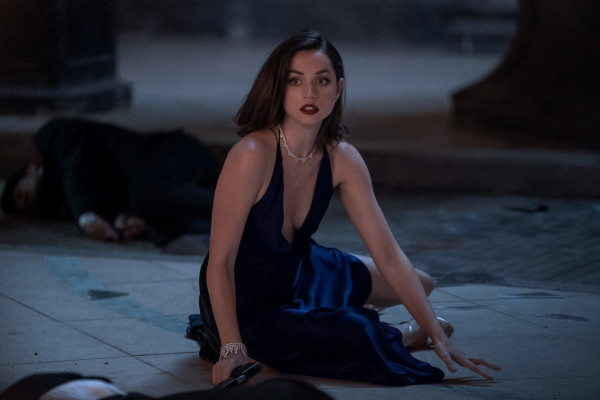 Ana wearing Chopard in No Time To Die
Who is Ana De Armas?
Ana de Armas is a Cuban actress who moved to Madrid at 18 to pursue an acting career, where she starred in the hit Spanish TV series El Internado for six seasons. She then moved to America not being able to speak a word of English. Learning the language in four months, the actress has been unstoppable since, starring in a variety of movies, including Blade Runner, Knock Knock and Knives Out. More excitingly, she is due to appear as Marilyn Monroe in the up-and-coming biographical film Blonde.
How did Ana get the role?
De Armas's character was specifically created for her last minute by the film's director Cary Joji Fukunaga. Part of the Bond film was set in Cuba and he wanted to write something for her in the movie due to her Cuban heritage and outstanding filmic presence. Her character was written by Fleabag creator Phoebe Waller-Bridge, who brought a fresh female perspective to the film. 'You could also tell that Phoebe was in there', Ana says, 'my character feels like a real woman.'
The Chopard Green Carpet Collection on Ana De Armas
Who is Paloma in No Time To Die?
Paloma is a Cuban CIA agent who meets Bond and assists him in completing his action-packed mission. Ana describes her character as having a 'sense of humour to her', claiming she is 'fresh' and 'unexpected' when comparing her to Bond Girls that have appeared in previous movies.'She's a lot of fun – very active, very badass!'
What to expect from the highly-anticipated Bond movie?
Five years after the capture of Ernst Stavro Blofeld, seen in the previous film, James Bond has left the secret service for a simpler life. Approached by CIA agent Felix Leiter, he is enlisted to help in the search for Valdo Obruchev, a missing scientist. When it becomes clear that Obruchev has been abducted, Bond must confront a villain who threatens the lives and safety of millions. Filled with danger, drama and decadence, the movie is sure to have us sitting on the edge of our seats - exactly what we expect from our favourite spy series.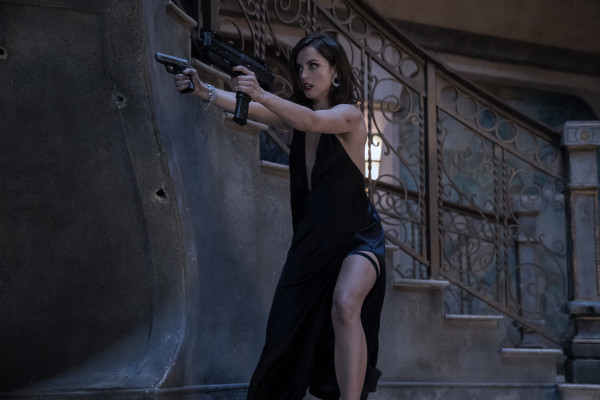 Ana's 'Paloma' wearing Chopard in No Time To Die
The fashion of the film
Paloma's wardrobe is elegant, but simple. Due to the intense action scenes that every Bond-fan eagerly anticipates, Ana's character needed a wardrobe that was practical for the actress, yet still lived up to the glamorous Bond Girl image. She is most notably dressed in a navy blue Michael Lo Sordo dress with a low open back and plunging neckline. As for Bond, this is the fourth consecutive year that Daniel Craig's character is dressed by Tom Ford, so think elegant cuts, exclusive fabrics and hand-finished details.
And, of course, the jewellery
Having a large array of Chopard pieces to choose from, the costume designers ultimately decided on a stunning set of pear cut and brilliant shaped diamond creations from Chopard's Green Carpet Collection, consisting of a necklace, bracelet and earrings. 'Simple with the right amount of sparkle', these pieces display the perfect balance of elegance and thrill that we expect from the Bond film genre.
Chopard is available at Partridge Jewellers in Auckland and Queenstown