Meet the Carrie Bradshaw of New York's design world...
This self-taught interior enthusiast is anything but boring. She's already designed for Versace Home, styled spaces for New York's eccentric elite residents, and is now creating her very own lavish furniture, fabric and decor collections. Remix Ed Amber Baker spoke with the Greenwich creative about her extravagant aesthetic and discovered the key to the future of interior design lies in the past.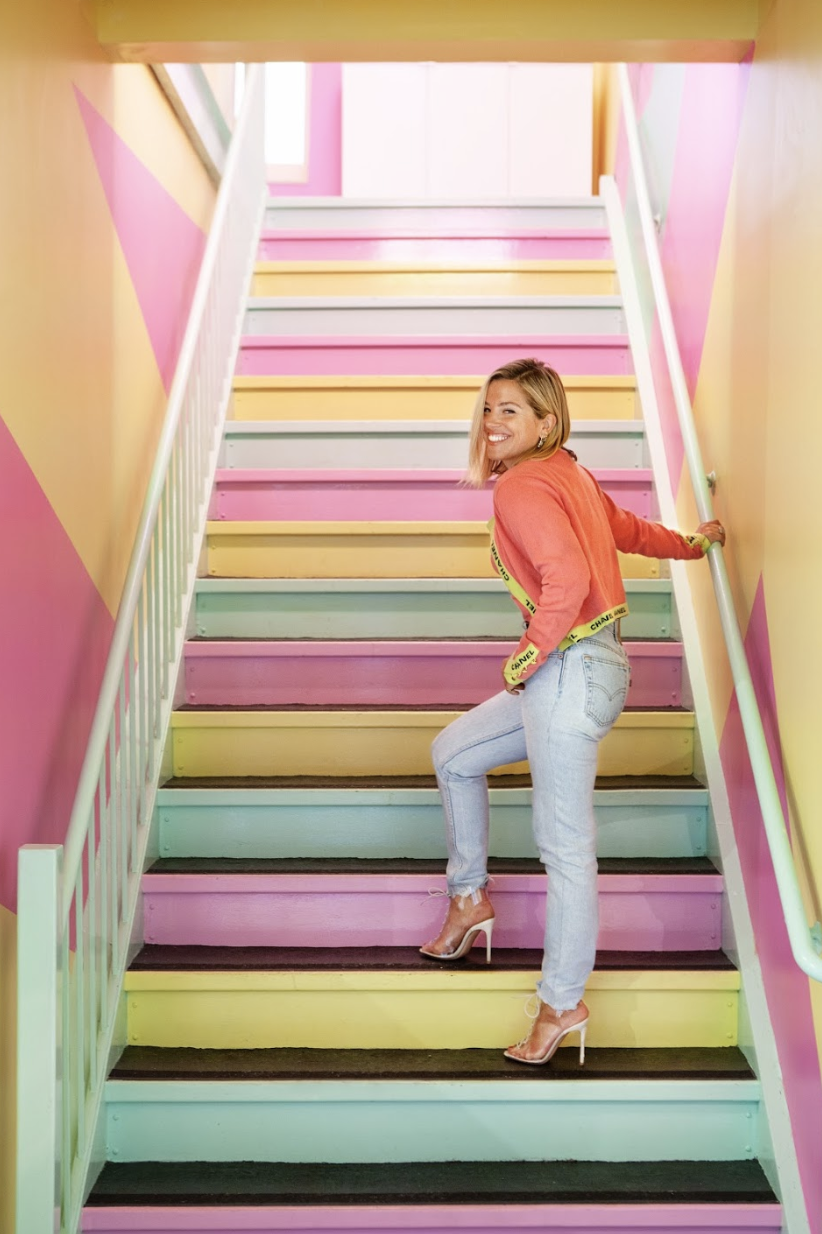 Dubbed the "interior designer for the young & wealthy" by the New York Times, Sasha Bikoff is fast making her mark on the world. With a style that's far from conservative she stands out from the sea of mediocre and safe interior design. Known for her over-the-top fashion aesthetic that highlights the best of the Hamptons, New York City, Palm Springs and Miami, Bikoff is no stranger to the bold, bright and beautiful. She credits her unique creative courage that has made her the mover and shaker she is today to her surrounding environments - from New York to Miami, to Paris and back.
"My grandmother always had the most vibrant over-the-top homes with my grandfather. Their home in long island was French antiques mixed with silk Persian rugs, mixed with 80s' glamour and then their apartment in Miami was filled with Versace. Then the New York apartment I grew up in with my mother was super 90s' and minimalist. Everything was white growing up - even my bedroom."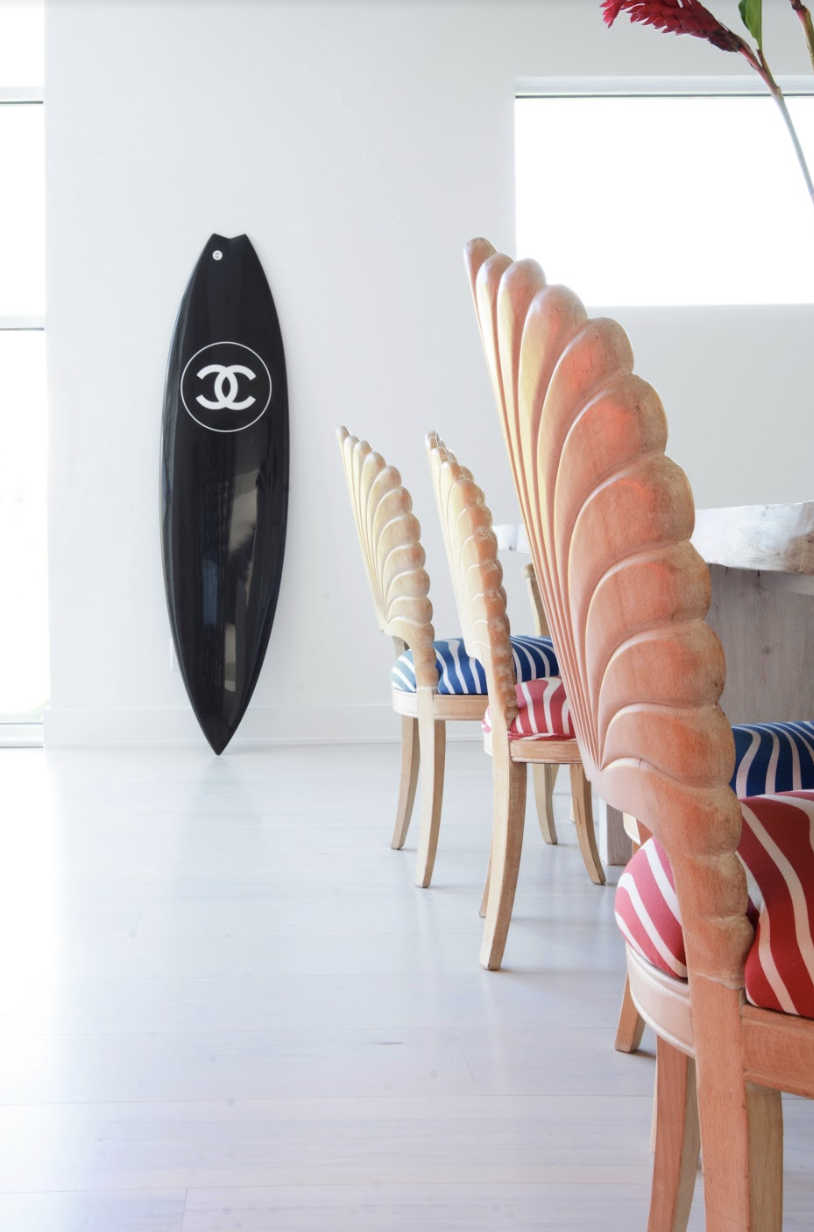 As you might guess, it didn't take long for the white to go. "When I was 12, I went to the paint store and I brought three different pink paints. I painted love quotes in all these different fonts. I was very creative growing up, I always painted. I never studied interior design and I never worked for an interior designer… everything I have learned has been through trial and error - I've taught myself."
With an eccentric Persian grandmother, a minimalist mother and a Parisian adolescence, the blend of different artistic philosophies has heavily influenced her aesthetic that we can see today in her work, including her recent Versace Home collaboration. "That was a dream for me. If there was ever a brand I connected with, it's Versace. My whole life my grandparents were huge fans. I grew up spending weekends in Miami with my grandfather wearing Versace silk shirts and my grandmother in the dresses. So when I got the call that Versace wanted to work with me it was meant to be - the stars truly aligned. I decorate through color and pattern, my designs are both destructive and confident.. it's the same feeling you get when you wear a Versace dress. With this collection, I wanted to create this fantasy, but I also wanted to stay very true to Versace, so I went into the archives and picked up all these old Versace motifs - the mermaids, Hibiscus flowers and pineapples. I'm so excited for all the future work I'm am going to be doing for them."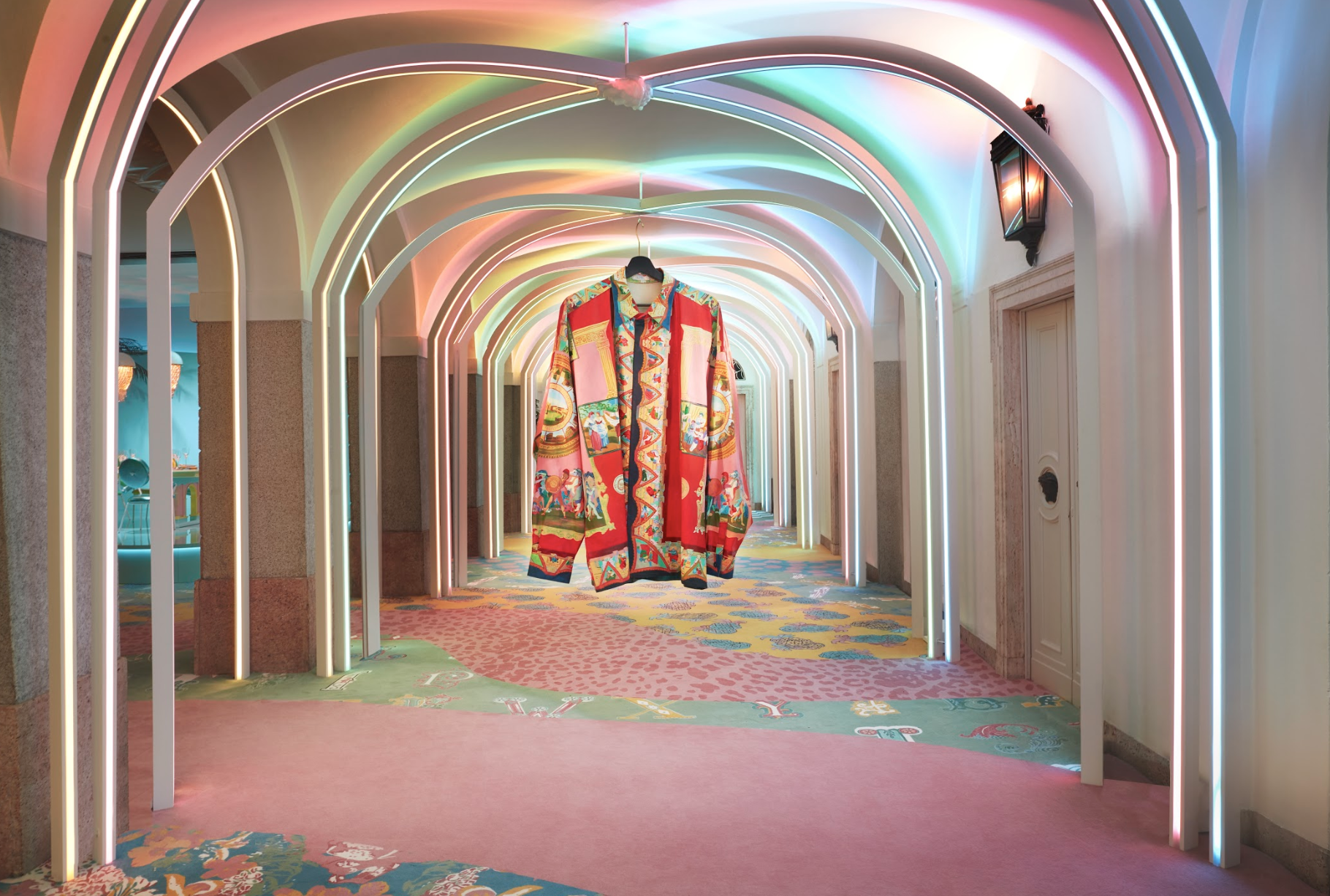 Bikoff's creative work on the iconic Italian brand's collection garnered worldwide interest and reactions from design aficionados alike for its distinctly 'camp' attitude, a sensibility the designer knows all too well. With a long reputable list of Manhattanites and wealthy millennial clientele in New York City, she has been transforming private residential spaces to better reflect their idiosyncratic owners for over six years now. "The way I decorate starts with finding out what inspires my clients. I ask where they love to travel... I like to see what's in their closet. They should feel excited about me getting to know their tastes and then amplifying them."
While Bikoff boasts an elaborate and extravagant style, she somehow always knows where to draw the line. "With every client I try to see how far I can push them. I test their boundaries with colors and fabrics. Some clients let me do whatever I want and others I need to pull back a little. But at the end of the day, I'll never do something that I don't believe in myself or doesn't inspire me. It goes both ways, it's a relationship, and my best projects are when there's a mutual trust between both parties."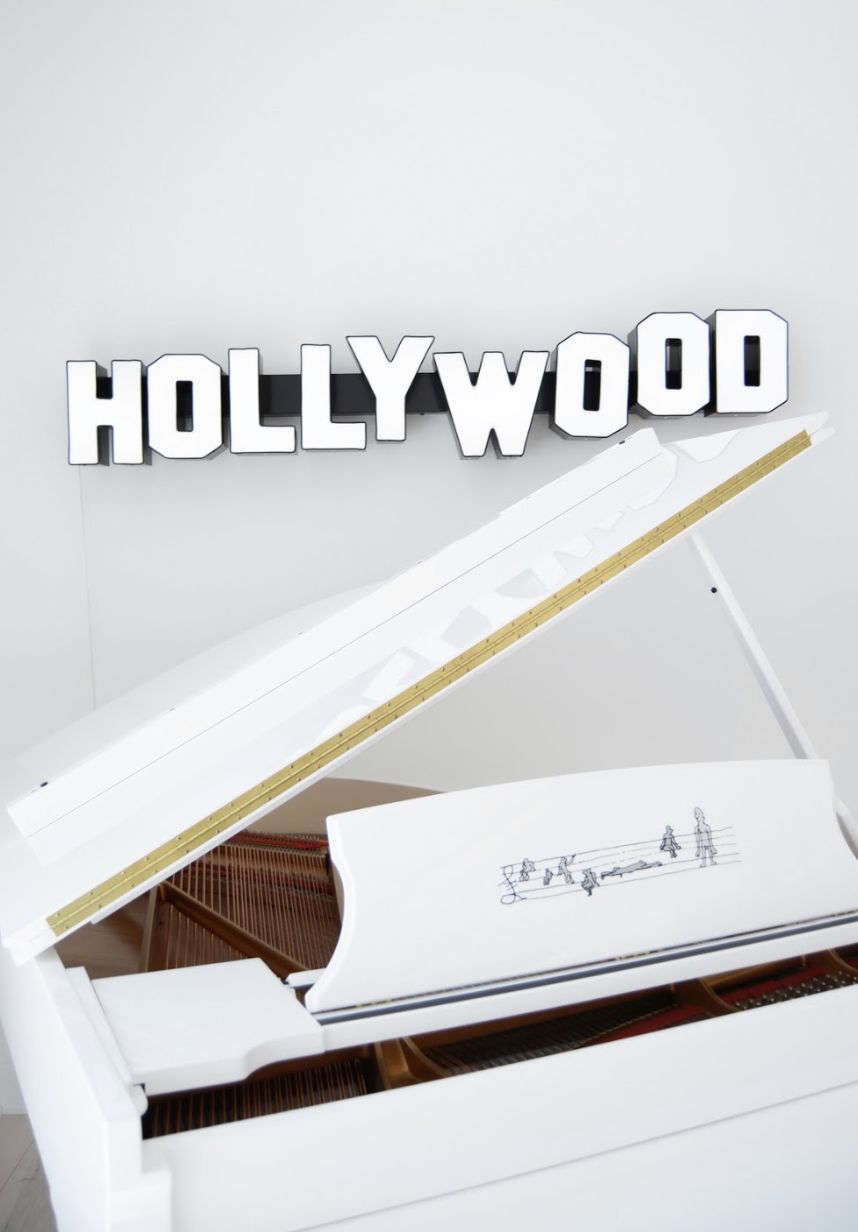 One working relationship the designer would love to develop is with singer and fellow lover of the OTT, Mariah Carey. "She would be my dream celebrity home to work on. I feel like she wouldn't say no to much… working with another creative is so interesting because you're so inspired by their work." The designer has already ticked off many bucket-list projects and experiences, but her ambitions only continue to broaden and none seem out of her reach. The designer is currently working on a Mars-like apartment fit-out inside the new Zaha Hadid residence in NYC, a tropical restoration and decoration of an old museum in Florida and a new collection for Versace Home, out this December.
A successful big city girl by occupation, her weekend alter ego is anything but. "Before anything else I'm inspired by nature - I'm a surfer, I love to paddleboard and I love to fish. In my downtime I'm always heading to the beach." Unsurprisingly, she also loves to spend downtime in her own home, which much like her creative direction is constantly changing. Her Greenwich apartment is the one space where there are absolutely no rules.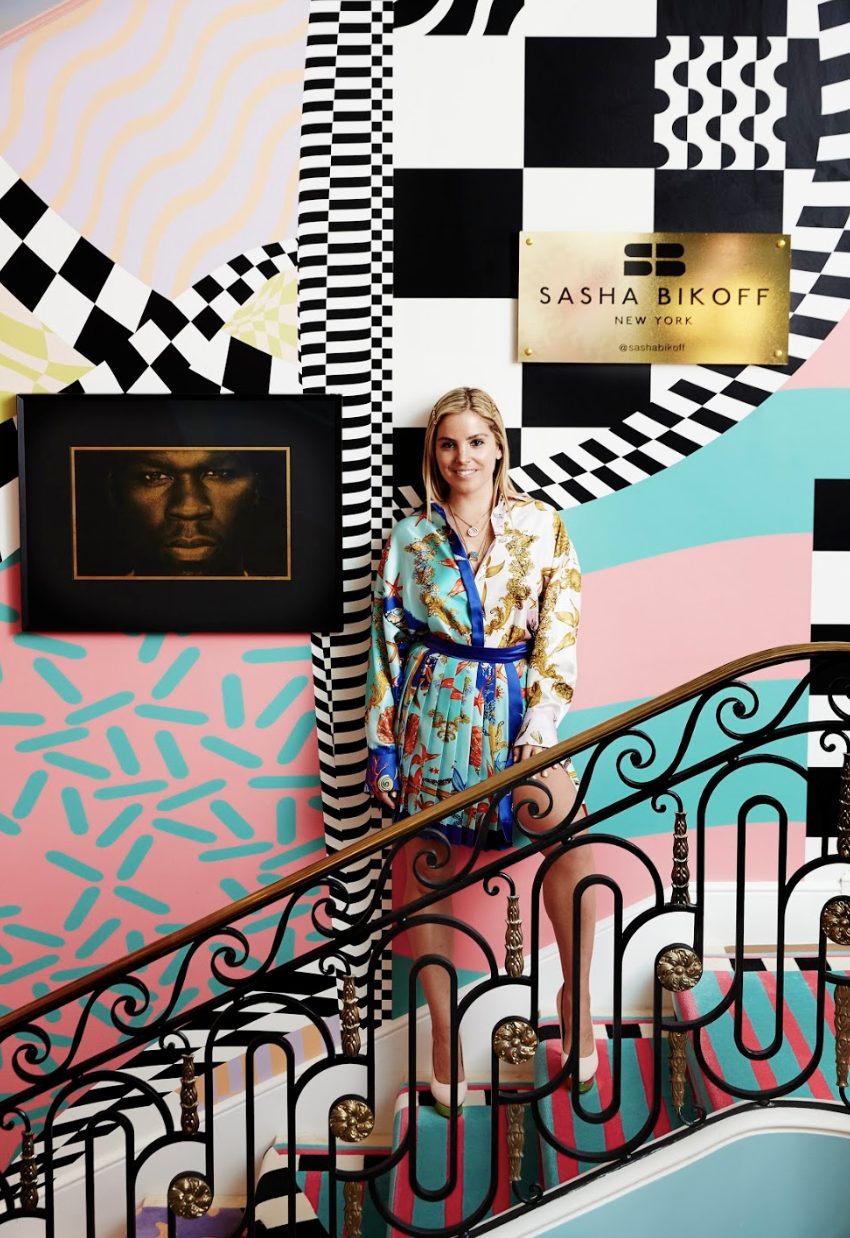 "It's just a mishmash. What I do for myself is not normally what normal people would like to live in and I understand that, because I live in this off-limit universe... when people walk into my home they are over-stimulated by the crazy objects and colors. Downstairs my walls are all painted pink, the kitchen is painted cream and I have different types of antiques and vintage from different time periods. But somehow it has this 80s' undertone to it. Then upstairs my bedroom and closet is very French, with soft lavender walls."
Living in a city of excess, Bikoff understands the need to incorporate sustainability into her work. "Antiques and vintage is my favorite part of decorating. I love sourcing amazing things from the past, be it tabletops, furniture, lighting, and then refurbishing them. I've started buying left-over fabrics from Gucci that they no longer want and repurposing them. I think that the future design is going to be more about the history of design. People will look to the past for inspiration, simply making it fresh and new in a sustainable way."
A true definition of a mover and shaker, Sasha Bikoff embodies the creative millennial spirit of not playing it safe and bringing joy into the everyday - something everyone can benefit from, regardless of style. On her own personal crusade to open up the world's eyes to a more whimsical, happy and fun approach to life, her aesthetic proves a much-needed shift from the roots of mundane design. Design should take you to another place, and it certainly doesn't have to be serious.