Opinion: Why Lily Allen Showed Us Girls Why It Was Okay To Be A Bit F**ked up
I found Lily Allen when I most needed her. As a confused sixteen year old in 2006 who'd (up until then) only ever heard the voices of the weedy weeping guys of Taking Back Sunday, My Chemical Romance and Blink 182.
Head banging and singing vaguely mysogynistic lyrics to release teenage angst, we were cast in these songs as the unattainable, silent or hated girl. We didn't like 'mainstream' pop, hence we got emotional release in Emo: music was exclusively made by boys. Ironically, alternative had no female alternative (name me one female Emo band - no Avril Lavine doesn't count). But something felt wrong. It wasn't until I read a piece about in 2014 on Pitchfork that I understood: the nougties was all about hearing sad boys cry about the same mute girl. Enter the Lily.
When Lily Allen appeared before us all, riding in on the BMX on the cover of her debt, we knew all about it. A generation of MySpace lovers, on the cusp of the age of social media, had a Queen. My love affair with Lily Allen started by accident. One day, while mooning around in my black Lee Supertubes on my family computer, I stumbled upon a girl, not much older than me, who'd been uploading her music online. It wasn't quite pop, it wasn't quite indie. It had flavour and positivity, and resonated, spitting in the way I did about ne'er-do-well lads (even though I hadn't ever had an ACTUAL boyfriend) "When you first left me, I was wanting more - But you were fucking that girl next door. What'd you do that for? (what'd you do that for?)" From then on - I was obsessed.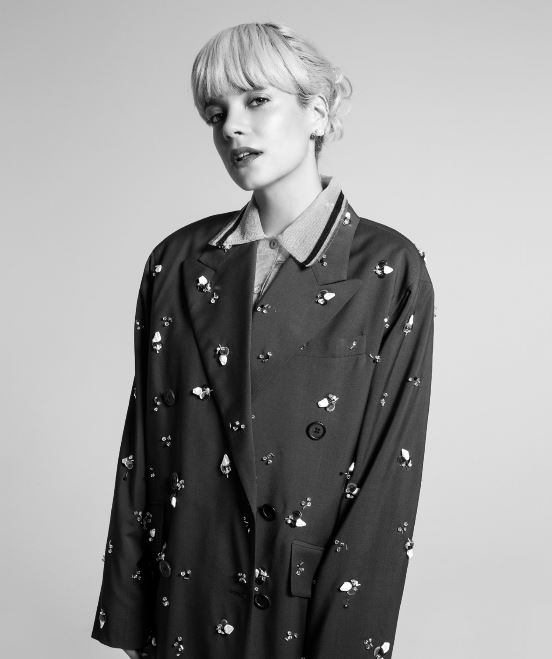 From her personal style with ball gowns and sneakers, to her witty lyricism and lemon-sour cutting jabs at the boys who'd wronged her, I didn't simply want to be Lily. Give the choice, I REALLY wanted to have her as my friend. Lily presented something I'd not seen since the Spice Girls (with hindsight, a manufactured version at best): a woman with a voice, but not just a jolly voice, full of banger hits: she was angry and frustrated, and with something to say. "If I buy those jeans, I could look like Kate Moss" she sings on 'Everything's Just Wonderful'. Vulnerability connected us. She was fucked up. I was fucked up. It was if I was having a discussion as she shared that SHE TOO felt bad for eating spag bol "for days and days and days." It was as if a big breeze had been let into my life.
Her persona and her unashamed big mouth stood her apart from her contemporaries. While I admired Jenny Lewis and Cat Power, they always had a far awayfaraway look in their eye, and a softer croon. Lily might not have been the finest singer, but it was her lyrics that won us over, her humour and her carefree demeanourdemeanour. I saw Lily play live in 2007 at Big Day Out. Aged 17, in the boiler room, wearing official merch saved up from our Summer jobs. W, we danced and sang along as she appeared before us, a bit more off centrecenter than expected but mighty just the same (Lily has admitted to being drunk for three weeks while this was going on). It was the best gig of the night.
Over the years, the admiration and connection I have come to feel for Lily via her clever lyrics is such that I've defended her in my head like an old mate. Each time I saw a negative article about her online I've rationalised it, the way you would: The reason the Daily Mail has given her so much crap is because she threatens their social hierarchy, based on titillation or subjugation of women (it's either 'Kim flaunts her assets' or 'Samantha Cameron at home'). An outspoken woman who isn't afraid to call out social injustice or be herself, whether that's drunk, pissed off or high. Her voice cannot be ignored and is just as valid as Piers Morgan (bloody twat). In particular, her calling out of the travesty of Grenfeld tower has proven that Lily isn't just a one tweet 'Hearts and prayers' kind celeb. She was down on the ground, on her hands and knees. I even overlooked Sheezus.
Somehow, all these years on, we're still running parallel emotional lives. Trigger Bang, her single off the latest albums confirms that after 12 years Lily's crafting of words and honesty will cut through to my bones. It could be the anthem for any diligent or creative twenty something, coming out of the slipstream and into a different chapter of life. "And it fuels my addiction, hanging out in this whirlwind...That's why I can't hang with the cool kids, everyone's a trigger bang, bang, bang." As always, it's like she wrote the song for me, for all the friends I left behind, even as I started out my own blog, tried to forge my own path, and grow into myself as an adult. That's what Lily does best. She told us she wasn't perfect. She exposed her flaws. She gave us permission, as women, to be exactly who we were and continue to be - a beautiful work in progress.
www.theresidents.co.nz
@theresidents.nz