Introducing Five Mile Town
Auckland locals Louis McDonald, Adam Quigley and Levi Heeringa make up new blues folk trio Five Mile Town. After independently releasing their debut EP in March this year the 17-18 year olds have found themselves an instant following. Sophie Donovan chats to Adam Quigley about what's next on the cards for Five Mile Town...
How did you guys meet and how did you come together to start making music?
Louis and I met through a mutual friend in early 2011 and starting playing music together after we realised we had similar taste in the recent artists coming out of the UK. Levi was one of Louis' earliest childhood friends and owned a double bass so after jamming with him in late 2011 we realised it was a perfect fit.
What do you all do when you are not making music?
We spend a lot of time making music. We're writing a lot at the moment for upcoming releases and shows. Levi and Louis are in their final year of high school, so they do that! We go to quite a few local shows too.
Tell me about your first single 'Saturated?' '
Saturated' was a song we wrote on my lawn around a campfire at our second ever band practice with Levi last year and it just felt right shooting a video for it. The lyrics are like a story and really visual which we think worked well with the video. Ben Forman, Levi's cousin, who's only 22 shot the video for us down in Wellington and we're really happy with the way it turned out. We put it up on Youtube with no marketing plan and woke the next morning to find it had 20,000 views which was a completely unexpected. We're just happy some people liked it and told their friends.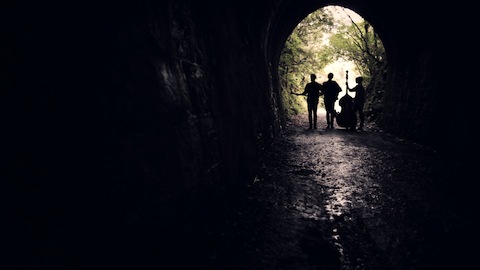 Still from the Saturated video
When did you release your EP, tell me about how it has been received so far?
We released the EP on March 31
st
a week after the 'Saturated' music video came out online and the response was pretty awesome. We weren't expecting it at all. Our EP release concert, which was our first ever headlining show, sold out a 200 capacity venue with no advertising or posters which was a real suprise. The EP also spent two weeks in the NZ albums chart at #15 and #11 which was great, we're just happy that people liked the music enough to pay for it and support us.
How would you describe your sound?
I think we sound pretty minimal because that's how we write. We don't have a drummer and don't produce our recordings with instruments that we can't play live which puts a lot of limitations on us, but I think it pays off creatively as we have to work harder when writing. I guess we're folk/blues sounding with more blues influence than folk in our newer material, but the songs aren't traditional blues or folk. If we had a drummer some of our songs would probably sound like rock songs.
What music are you guys listening to at the moment?
Locally there's some amazing music around right now, The Checks, The Peasants, Banglade$h (formerly The Good Fun) and Alaska come to mind. The Naked And Famous and Brooke Fraser look like they're killing it overseas too. From Australia Set Sail, Last Dinosaurs, The Paper Kites and Boy And Bear seem to be doing awesome things abroad. Fleet Foxes was an amazing show I saw recently and I'd love to see Arcade Fire live sometime.
What is on the cards for Five Mile Town over the next year?
We really want to be playing live as much as we can because the songs were written to be played live. We'll be venturing outside of Auckland for the first time in June to play in Wellington, Carterton and even Sydney with Set Sail. Then we'll be thinking about a more comprehensive tour later in the year. We've been writing a lot over the last few months and are hoping to get in the studio again before the end of the year. Also we're going to start focusing on another music video soon which will be really cool to shoot.