In conversation with Blair Tuke and Dan Bernasconi on the America's Cup
Emirates Team New Zealand, sponsored by the official timekeeper Omega, are a close-knit family all striving for one goal - to win the 36th America's Cup. Being surrounded by homeland supporters there's no question that race day will be a proud day for New Zealand, regardless of the outcome. Remix sat down with sailor Blair Tuke and engineer Dan Bernasconi to discuss what it's like out there on the water, the steps it takes to get team New Zealand race-ready and why they think they have the best boat on the water.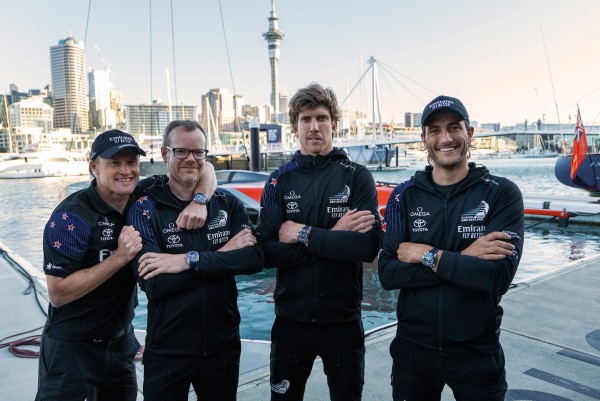 There are only days or so to go, how are you guys feeling?
Blair
You know, it's been three and a half years in the making. So yeah, you wouldn't say you're ready now because you're on a time run for the end.
Dan
I'd say the designers are pretty tired. Hopefully, the sailers have a bit more energy. I mean, from our point of view, it's very much the end of a long road and although most of the parts of the boat are out there and design, there's still right up until the last few days with plenty of opportunities to tweak and if we don't continue improving, right until the end, then that will be our own doing. So yeah, we're still going hard.
Do you speak solely from what you see? Or is it from watching other races as well? Or is it changes you see from training?
Dan
A bit of both I think. Now the Americans are out and we know it'll be either INEOS or LUNA ROSSA that we're racing, you're starting to focus a bit more on those two boats. And you know, there are quite big differences between the teams. Luna Rossa probably particularly good in the light hour. So I guess, just sort of looking at your weaknesses compared to their strengths and thinking how you might be able to change.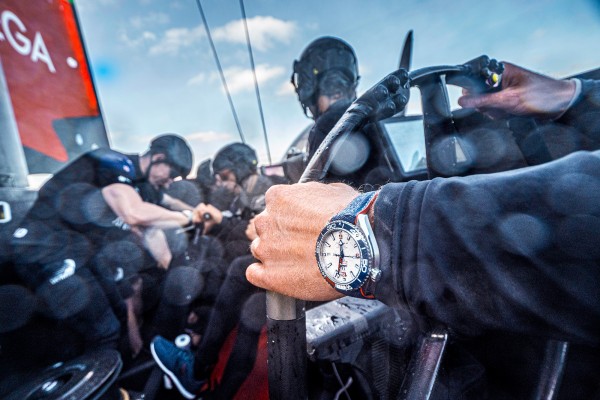 And then do you guys strategise from that as well?
Blair
As Dan said, it's a bit of both, but you very much still have to keep putting your best foot forward and getting the most prepared to get our boat going as fast as we can. But, you've also got to understand what your opposition is and whichever one of those two teams, we're gonna be racing in the match, we need to be as best prepared as we can for them. Concentrating mainly on ourselves and being the best prepared that we can at this stage.
How does it feel for both of you? At home in New Zealand, representing our country?
Dan
Oh, it's great to be at home this time around. It's cool in a lot of ways, going around the world to different venues, and most of the places that have sailing regattas are pretty nice places in the world, Bermuda was certainly no exception. But, you can't beat being at home and having your friends and family around to watch the racing. And just the massive support from people all around, there's so much interest in what we're doing. Yeah, and it's great to have nearly everyone pushing for our team, a bit unusual for us. Bermuda and San Francisco were pretty heavily American supporters so it's nice to have a really strong Kiwi contingent.
Blair
I think we couldn't be prouder to be racing it at home. It's been cool to see the atmosphere that's been building up already, with the race before Christmas and the Prada Cup, we're just super excited. It's an awesome place to sail, pretty lucky that the Hauraki Gulf is such a beautiful place that we get to call home and we're just looking forward to giving it our best shot in front of the Kiwi support.
Yeah, it's crazy to see how sailing crazy New Zealand gets, almost overnight. They probably don't watch any regattas in the three years in between, but then it just goes mental. Like it's pretty cool.
Blair
Yeah, it's awesome! You know, all of us have got memories of 2000, or 1995 overseas. Down here in the viaduct and out in the Gulf was pretty amazing. We're just looking forward to having that similar feeling and giving it our best, it's going to be awesome. And that helps boost the team.
How would you describe the feeling when you're out on the water?
Blair
It's an amazing feeling. The boats now, and as they get more and more advanced, with Dan and his team, the innovation that goes into the engineering, the boats are pretty amazing. The speeds we're doing in not that much wind is incredible. So, you know, to be lucky enough to be one of the people on board the boat that gets to sail is cool. We are sailing towards the edge a lot of the time because you need to do that if you want to keep being faster. Just knowing where that is, and pushing up to it the whole way through training, like we have been the last couple of years. It's great to do and being a sailor you enjoy those challenges. The sensation of foiling itself which has been around probably for the last 10 years or so is amazing. I've been lucky enough in my career to come in as it's developed and come into mainstream sailing.
Am I right in saying we were the first America's Cup team to innovate with the foils?
Dan
Yeah, definitely. In the San Francisco campaign, we were the first to get up on foiling. There was quite a lot of disbelief, from the other teams. I remember the first day that there were photos out there, one of the designers from the other team was convinced it was photoshopped. We probably peaked a little bit too early in that campaign. If we'd sort of kept that one to ourselves for another six months, the outcome might have been quite different.
There are quite a few challenges with designing things to go at such high speeds.
Dan
I think going back to San Francisco, we got foiling, and the speeds were a lot higher than we were used to, but they're nothing like they are now. And as you get to a point where the norm is to be over 40 knots and you're touching 50 knots and above, then you're into quite a different regime. And sort of the equivalent of the sound barrier, which is something called cavitation, which is without getting too technical, It's a phenomenon where the drag on the foils just increases quickly. So a lot of our efforts in designing those foils are now around trying to delay cavitation and push those top speeds to 50 plus while we can.
Back to you Blair, kind of a controversial question. I know what you're gonna say, but what's the better feeling, taking out gold at the Olympics, Or winning the cup last time around?
Blair
You know, two very different things, obviously, immensely proud of both of them, but they are quite different. In the Olympics, It's just Pete and I, and a small team around us. We sort of run the whole campaign through with just a few of us and then here I'm just one of 120 or more people that are involved and play a key role, so it's very different. Bringing the cup home from Burmuda was an amazing thing to be part of. There's a lot of people on the team that had tried for a long time to do that. So, to see the joy on their faces when we achieved it was pretty special and seeing how it touched Kiwi's up and down the country was awesome.
What's the team camaraderie like? You've been in camp for ages now, spending all this time together, working for three years on it. Do you guys feel a bit like a family?
Dan
Well, I'm glad I'm not related to them, but yeah there's a really good team spirit, good team culture, and I think that's what's made us successful in Bermuda and hopefully make the difference for us this time. There's very, very little politics in the team, and everyone has just got the goal of making the boat as fast as possible and winning the cup. Ideas can come from anywhere, it's not a top-heavy organization, no egos are pushing their own agenda's. Everyone's working hard but we all respect each other's roles and have a good time along the way. It's a great place to work and we're all pretty proud to be part of it.
Is there quite a bit of continuity in the team from last time? Did most people stick around?
Dan
The majority stuck around, there are some new faces, definitely on the younger end. In the design team we generally take younger graduates rather than people from other teams so I mean, the team has got bigger, the design teams got quite a lot bigger. And that's partly because this time around we're designing for more. In Bermuda a lot of the boat was one design, it was provided to us and your boat had to look like this. Whereas this time, it's far more open, so we need more people and the majority of those people are new graduates.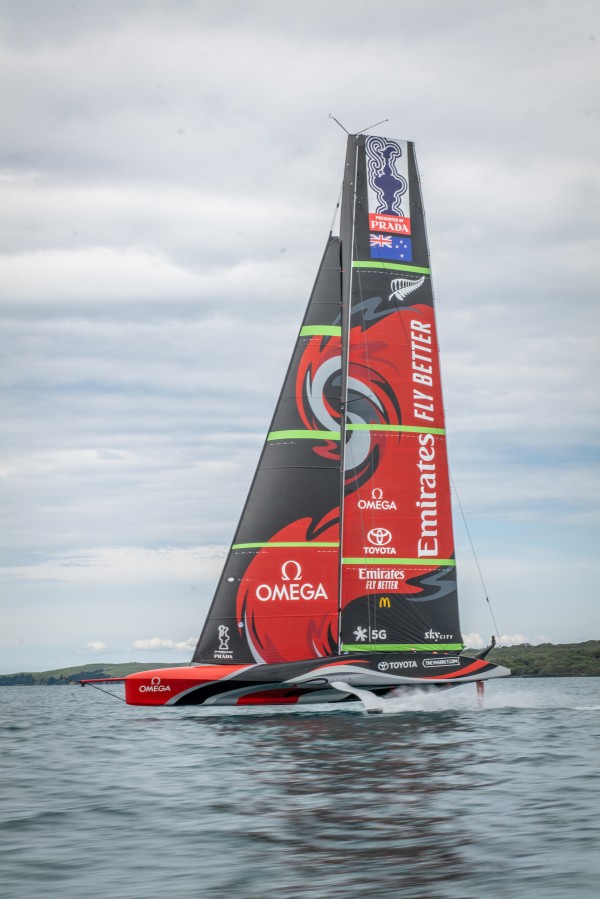 With the team on the boat, what's that like? I mean you must be hanging out quite a bit?
Blair
I think Dan summed up the whole team pretty well, there's no real difference between the guys on the boat and the rest of the team. Everyone knows they've got an important role to get the boat as fast as they can, whether you're sailing on it, building it, or designing it. We've got a lot of new faces, the sailing teams bigger, going from six people on the boat to 11. Our wider sailing teams at 15 now, and we use all of those people in a training day or race day. We've got a good mix of youth that have experience with a lot of different sports, different backgrounds have come into the sailing team. Some of the roles on the boat, which are predominantly power for the grinding guys, that can mean that you don't have to have a huge amount of sailing experience coming into it but, your ability to create power is whats important.
Can you give me some examples of the backgrounds some of the grinders have?
Blair
So we've still got Simon Lyndale, who was with us last time, he's from a cycling background, but he's transferred into power now and Joe Settlement's with us, Olympic gold medalist, Steve Ferguson, who's a swimmer/kayaker, Mike Lee's from a rugby/ surf lifesaving background, and then Marius is from the Army.
So what's your bet for what will be the top speed reached in the cup?
Blair
I think already in the semi-final American Magic got up to 53knots. I mean, if it was all about setting a top speed, then we'd design the boat quite differently. For sure if we put everything into it, we could go a bit faster. But you've got to be fast upwind and downwind, in light winds and heavy winds so it's about designing a competitive boat that's quick around a lap. But I think 53knots is about fast enough for us, I think we'd start to get into trouble if we went quicker than that.
Time is the key factor when racing in the water. Omega is the official timekeeper, how do you keep track of your time on the water during a race and who's in charge of this?
Blair
It's all about efficiency, right from the checks that get done on the boat in the morning, on the water, when sailing, and then racing. Across the board, different people have different responsibilities the whole way through. It's great to have Omega on board as an official timekeeper for us, they have a long affiliation with the team. That history is pretty awesome, and even to be apart of that now. But yeah, obviously times critically important for us and what we do.
Omega has also got some amazing innovation and high tech products. So, how does that align with your innovation tech on the boat and your strategy? And why do you feel like you've got the best boat on the water season?
Dan
I think there's a lot of parallels between Omegas drive and strive to be the best at technology and you know, looking for innovation, for absolute precision in all of the components that they're developing. So, there's a lot of similarities between their niche and our niche which makes it great to have them on board as a sponsor. The America's Cup is a race about technology. It's about being one step ahead of your competitors and you've got to keep pushing that all the way. Right from the beginning of the campaign through to the end. We've got a lot of really smart people in the team with that singular goal of making the boat first in all conditions. You say how do we know that we've got the best boat? It's hard to know. I think that will be judged on the day. I guess, I personally feel we've put absolutely everything into it that we can and we've got the best boat that we could have produced. The race will be the judge of whether we've succeeded in that or not.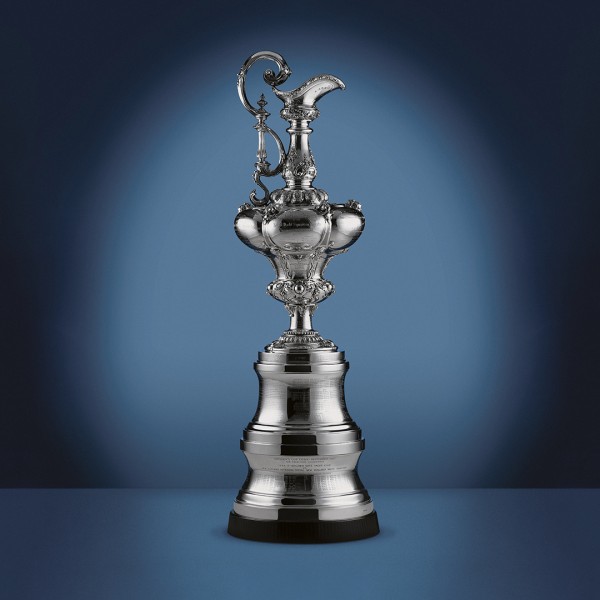 Blair, you're an official Omega ambassador. What do you love the most about the Omega timepiece that you wear?
Blair
They're just amazing timepieces, like Dan mentioned before, just what they do and what we do here, there's a lot of parallels. To be involved as an official ambassador with a company that's always striving to be better, the precision they go to, the technology, and a company that has so much history is something I'm really proud of. For us, what we do when sailing time is critically important. So to be able to wear this incredible timepiece on the water is great.
What's the best feature of the timepiece you wear on the water, as opposed to your everyday one?
Blair
Nice, slim, light, black on black actually, It's pretty cool.
When you were young, what did your friends think of you being an avid sailor?
Blair
I wasn't just into sailing when I was young. I didn't get into sailing until I was about 12 or something, 11 or 12. A little bit later than most people but pretty fortunate to grow up in the far north, in Keri Keri. All my early years were around the water with my brothers and my friends and we were all into different watersports. But, as I got more and more into sailing, I gave up some of the other sports I was doing. You don't know where it's gonna go at that stage right? You're just doing your best. It's pretty cool that I've got a profession that lets me do what I love every day.
You mentioned your profession, but you're also a qualified electrician. At what point did you become a full-time athlete?
Blair
Yeah, That gets a few laughs around here because I think I lost my tool belt about the same day that I qualified as an electrician. It was great to do an apprenticeship, I left school when I was 16, or 17, and did an electrical apprenticeship, which was great. I think for me, what I enjoyed the most was just getting into the real world, straight into work and working while you're learning. So it was neat. But even at that time, I was saving a lot and I was fortunate to have had a boss that let me have a lot of time off to keep sailing. It's good to have that tribe behind me, and all the skills I learned there, but you know, it's been probably 10 or 12 years now, maybe longer since I've done it so I don't call myself an electrician anymore.
And Dan, you've also got a pretty impressive resume. Cambridge on there, but also, vehicle modelling for McLaren, Formula One? So what made you want to switch to yacht design?
Dan
McLaren was a really cool place to work. Interesting from a technology point of view and a great bunch of guys, but I was never actually that much into cars. I've always enjoyed sailing, just as a hobby. I left McLaren to get into yacht design because partly I wanted to do something a bit more artistic. And I completely screwed up because I ended up in the America's Cup, which has got nothing to do with the architectural side. I guess when I was at McLaren, people always used to talk about the good old days when it was a much smaller team, and a real team spirit, people working out of the back of a garage. When I left McLaren, there were 500 people in the team, and then another 500 in the engine team, just to put one or two cars on a grid every couple of weekends. It was a good place to work but, you're a pretty small cog in a giant, giant organization and it felt more like being in a company than a team. I think coming here, it's 10 times smaller and everybody knows everybody, and everybody can look at their contribution to the team and say that they've made a big difference and I think that really creates that team culture, and it's a much more rewarding place to work because of that.
This is for both of you, what advice would you give to anyone wanting to either be a professional sailor or get into the industry?
Blair
Dan sort of talked about it before with a lot of the people that work here, across so many different areas that you've really got to enjoy what you do if you want to do something well, so we're lucky and everyone here would say they enjoy what they do for a job. That joy enables them to really give it their all, to be better, and keep striving to be better every day. If you're a youngster trying to get into sailing or anything that you're passionate about, just always strive to be better each day. There's always smarter ways to do things, more efficient ways to do things, to improve. Don't settle for where you're at, or where the bars at now, just keep striving to be better. And make sure you enjoy the journey. Because that's why you do these things, to enjoy the ride.
Dan
Yeah, from a design point of view, pretty much every discipline of engineering within the team is present. From structural design, materials, electronics, hydraulics, mechanical engineering, fluid dynamics. So, you know, there's a lot of opportunities to get in as an engineer, whatever your sort of direction is, I think the one thing in common with the guys here is that they're all very, very driven. They all worked hard at school and uni, strong in math, strong in physics, computer and science. Computer programming as well is a pretty valuable skill for most of the designers here. But it's just about motivation and wanting to work hard.
Would most people have PhDs or a level of higher education?
Dan
I'd say within our team, there are 34 Designers. There's probably about five or six with PhDs. Pretty much everyone we take on now would have an engineering degree of some sort. Some have higher degrees. We have taken some people from other industries, for instance, Guy, who programs our PLC that controls all the hydraulics, he came from the packaging industry, developing machines that do packaging for Fonterra. Our structural engineer was a former chief structural engineer at Rocket Lab. So I think we've grown the team by pulling experience from outside.