Our interview with Kim Cattrall
Best known for her role as Samantha Jones off Sex and the City, Kim Cattrall is this year's star judge and ambassador for the Spectacle Wearer of the Year competition. Hosted and presented by Specsavers, Cattrall has landed in New Zealand to launch the competition. We sat down to chat with Kim about her style, her thoughts on New Zealand and more.
Once upon a time, you filmed a car commercial that was banned in New Zealand- have your thoughts on New Zealand changed since coming here to launch the 2016 Spectacle Wearer of the Year competition?
Yes, the commercial! Can you imagine? I was very surprised because it was very very tame. I went over some speed bumps in the commercial and went 'oo!' – it was literally that! I spent about four weeks in New Zealand in the middle 90's so I did a lot of exploring then and I just think it's absolutely beautiful. My father originally immigrated to New Zealand before I was born. He originally immigrated to Wellington as an officer in the British army. Unfortunately, his mum became ill so he went back to Liverpool and that's where he met my mum! He wanted to come back to New Zealand but they compromised with Canada because she had very young babies. I've gotten to know a little bit about New Zealand from that four week shooting spell in the 90's but I've also gotten to know it through photography and for its films. It's truly extraordinary.
What are three things you are looking for in the contestant's photos for this competition?
Individuality, a style that works with that individuality and hopefully a sense of humour!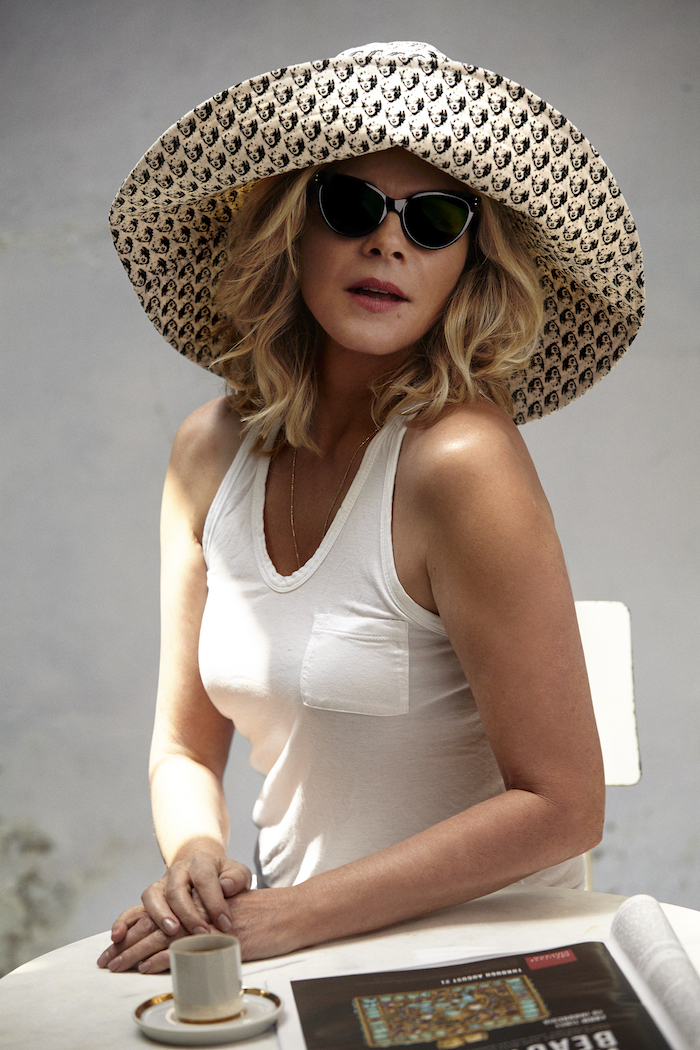 Just like how your character Samantha Jones inspired many fans, how do you think your role as the star judge and ambassador for the Specsavers' competition will impact spec wearers?
My message with spec wearers is about functionality and also about encouraging women to try something they haven't tried before. There's a narrow view of what women think they look like with glasses and we need to step out of that. We need glasses- I mean I do because I can't see very well- and we need to turn that from a disadvantage into a creative advantage.
The roles you play in Sensitive Skin and Sex and the City are very different - how has each role contributed to your confidence?
I think that both shows, Sensitive Skin in particular, has provided and can provide a platform for me to really take on taboos about women on what is possible and what is acceptable - not just from men but from other women. In Sex and the City, it was more of a sexual nature of course, specifically for Samantha. In Sensitive Skin it is about getting older, ageing and being viable and still learning and growing. I feel very fortunate that I have been involved in two projects that are about change- a change of understanding what it means to be human but most importantly what it means to be female.
Since you're here to judge specs and their wearers, let's throw some shade - what is your least favourite style of glasses?
I'm not really great with rounded frames. I'm not great with big bars across the top- I find that very hard to pull off. I like a little rock and roll but I also like conservative styles. I try to accentuate what I like about my face and try to eliminate what I don't like about it! I like my cheek bones and eyes!
Who is your style icon?
I have so many! I think working so many years with Patricia Field, she really opened up my eyes to the many different ways of expressing myself. What I really love about her is that she would take a really fantastic conservative jacket and pair it with something like a cool t-shirt. She's mixing and matching styles- she's irreverent. She takes her inspiration from the street as well as the runway. I love that. There's a sense of freedom in that which develops a style that is uniquely yours.
If you could invent an alter ego of yourself, what would her style be like?
Well… I feel like I do that already with my work! Especially for my role Davina in Sensitive Skin, I borrowed heavily from my personal wardrobe. Our show didn't have a huge budget so if I wanted to wear a fabulous Hermes coat, it would have to be something I bought a long time ago! I think that inhabiting somebody else's skin for my job has already taken care of my alter ego!
You're stuck on an island- what are three fashion musts that you would bring?
Cashmere… Definitely cashmere! A fantastic sunhat and most importantly a pair of fabulous glasses!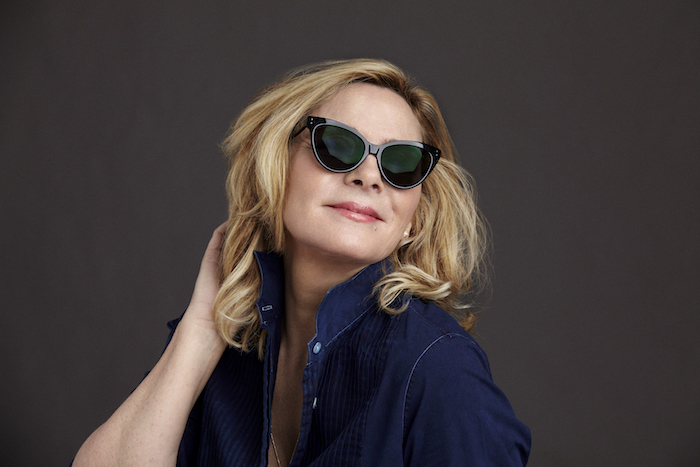 If I gave you a million pairs of specs, what would you do with them?
I'd wear them! I would also share them because that's a lot of glasses I'm not going to wear. What I really love doing is sharing the wealth- not just with my family but with my friends. If there's something that I bought that no longer suits me or that I can no longer get into, there's a lot of people whom I love and are close to me that are more than happy to take them off my hands.
What is your favourite style-related quote?
At an awards ceremony, where I was wearing a very tight Herve Leger dress, which was impossible to wear very much of anything underneath it, a reporter asked me 'what do you wear under a dress like that?' I looked at him and said, 'confidence.' That was a good moment.
You're giving your 20-year-old-self advice, what would you say to her?
Be good to yourself and also it's going to be okay. There's a part of me that I have grown into and really encouraged, is a big sister inside my head saying it's going to be okay and I'm going to take care of you. I think there's a part of us that will always hopefully be young and vulnerable and there should also be a part of us which demonstrates self-parenting. It's your conscious telling you to breath in your most stressful times! It's like a relationship with yourself.
To enter the competition and go in the draw to win a trip to New York for two, spending money and the opportunity to meet Kim Cattrall, head here.