Danish supermodel Nina Agdal slams body shamers
Nina Agdal is no stranger to social media, with 1.7 million followers and an average of 30k likes per post, her influencer status is nothing new.
However, Agdal recently made waves by posting a photo in nothing but jeans, firing back at body shaming within the modelling industry.
The post, which includes an extensive and brutally honest caption detailing a recent experience in which she was turned away from a job for not fitting into the samples, which Nina debunked in the post, calling the allegations "completely untrue." And the model's message must have resonated with fans, earning her a total of 138k likes and over three thousand comments.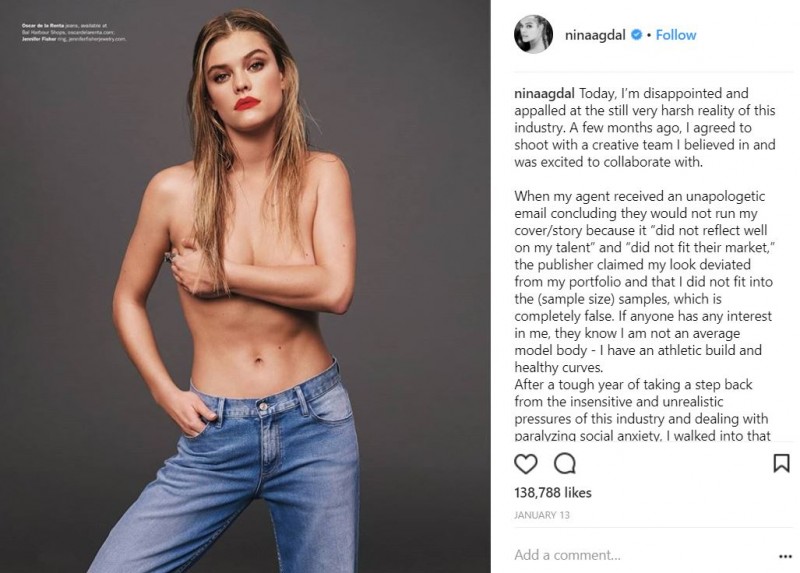 Nina talked to W about what inspired her to share this message, telling the magazine; "I've been holding this in for a while. This is what a lot of girls go through, whether you are a zero or a six or a twelve. We all have insecurities that can just take over your life. It gave me incredible anxiety. It was not a good year for me, but I finally got myself back and I went into this shoot. Then after going through all of this, and finally being back to happy Nina, the response comes back and it is, "You are not good enough."
At that point, this was not my first rodeo. I started modeling almost ten years ago. I was just like, "I have to say something." There are so many girls that see this and it is such a perception game that I'm not going to support anymore. There are so many ways to make yourself look better or like your life is perfect. My life is not perfect, I'm going through it too. Instagram is such an easy tool to create this perception that their life is perfect, and I was just not going to do it anymore."
The post comes at a time where more and more people are becoming fed up with the unrealistic standards that models are held to and changes are beginning to be made.
More and more people and publications are calling out the fashion industry for using plus size models who don't look plus size at all, and for exclusively casting women who are unhealthily slim.
Is this another thing to call #TimesUp on?! We think so.