Cara Delevingne opens up about Paper Towns and her passion for acting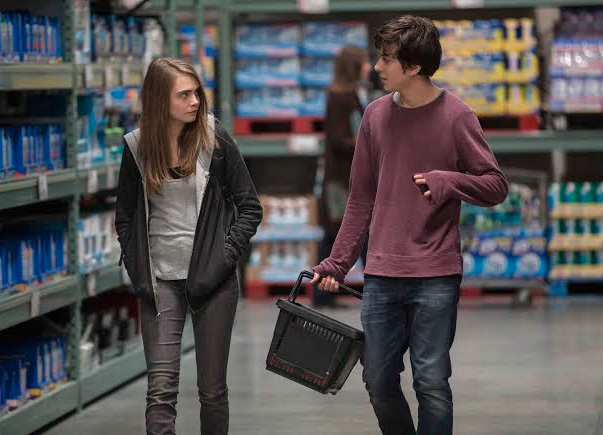 Cara Delevingne
may be better known as being one of the world's top supermodels but lately she's been taking a break from the runway and instead, focussing on her original passion acting. Cara stars opposite Nat Wolff in the coming-of-age mystery
PAPER TOWNS
, which hits our big screens this week. Adapted from the bestselling novel by John Green, Quentin (known as Q) played by Wolff, is besotted with Margo - Cara's character and Q's beautiful and enigmatic neighbour. After Margo takes Q on a crazy day-long adventure, she completely disappears and the love-struck Q is left to figure out what has happened to this mysterious girl. Read the interview with Cara below on her role and her acting career and then go see
Paper Towns,
which is in cinemas nationwide from this Thursday.
What was it like when you found out you had won the role of Margo?
I can't explain to you how excited I was. I was in love with the book by John Green and with the character of Margo. I auditioned and it was a dream role for me; it meant so much to me. But I didn't ever think I would get it. I doubt myself constantly. I don't like to expect anything out of life because then I'm never disappointed. So when I got the call saying I had the part, I freaked out. It was one of the best days of my life and I didn't stop ranting about it for a long time. I was actually by myself in a hotel room and I ran around the room throwing things up in the air and screaming into pillows. Someone from the hotel called to check if I was okay (laughs). It was pretty funny. Then I worried that I wouldn't do the role well enough.
What do you like about John's writing?
I love John. I think he's amazing and his writing is genius. He is so sincere and hysterically funny. He captures the spirit of a teenager so well; his interpretation of teenagers is very real and he writes from their point of view. His stories are also intelligent and the way he sees things is different. All his characters are three-dimensional.
What was it like working with Nat Wolff?
Nat is an absolute dreamboat and it is a dream working with him. When Nat and I first met, we had great chemistry. I think we have similar energy. We are both always making jokes about ourselves and laughing and neither of us can stop moving. Most of our scenes are together and we had so much fun with each other. He is going to be my friend for life and it was so nice having that relationship, because I think it will come across on screen. He taught me a lot about being on a film set and enjoying myself, instead of being scared and worried about everything. He advised me to go at it head first and just have a good time, which I think is where the best performances come from, when you are relaxed and having fun. He said: 'don't be nervous because you'll shine through.'
Margo is an intriguing character, how did you envisage her?
She is an extremely free spirit. She cannot be caged in by her parents or by anyone. She creates explosions without realizing the damage she is doing. Like an animal, she survives on instinct, goes with what she knows and hopes for the best.
Do you identify with Margo?
Yes of course. I was nothing like her at the age that she is in the story; she is a lot more mature than I was. But I do identify with Margo a lot; in terms of the way she is living in the present and not really thinking about the future and just doing what seems right at the time. I also identify with the way she is having fun and causing chaos (laughs). I never try to cause chaos and nor does Margo. She creates a strong reaction all around her without even meaning to do that. She is very opinionated and so am I. She's a bit of a leader and an individual, who is on her own wavelength and isn't following anyone else's rules. Margo doesn't know who she is and that's the best bit about her; she is on a road of discovery trying to figure out who she is. She's not about to let anyone stop her from doing that.
Can you describe her relationship with Q?
She doesn't really see who Q is. She's the opposite of him, because he plans everything and she lives in the moment. She can see that he is doing everything for his life in the future, which she thinks is stupid. He is not enjoying himself right now. She has known Q for a long time, since they were children, but she has no real reason to get him back in her life … until she needs his help. Then when they get together, she wants to change him and make him realize that he does not have to act like an old man. She wants him to see that he is a teenager. Doing this film reminded me how young I am and that I am still a kid at heart, we all are.
Can you discuss your experience of working with your director, Jake Schreier?
Jake is a consummate sweetie. He really understood Margo. His mother was a feminist and inspired him, so he was good at coming to the role from the girl's point of view and seeing everything from both sides. He understood the book very well. He also listened to Nat and I when we had suggestions. He is a great director and has an amazing eye for things most people don't see. Some of the shots in the film are absolutely beautiful.
You are a hugely successful model, how fulfilling are you finding your acting career?
Look, modeling wasn't something that I was doing for my soul, it wasn't a passion. It didn't make my heart beat. Acting has been something that I've wanted to do forever and it really is a true passion of mine. I put my blood, sweat and tears into my acting and I dedicate my life to it.
You are so charismatic on screen. Does acting come naturally?
I don't try to have charisma. When I am acting, it's not something I am forcing. I am just being Margo.. I have always been very over dramatic! I know that when I look at myself on the screen I do not like what I see. I can't watch myself, I am my own biggest critic.
Returning to PAPER TOWNS, what do audiences have to look forward to?
I think in so many ways it's going to be one of those films like THE BREAKFAST CLUB (the 1995 John Hughes film) that will turn into a real cult classic, because it's so realistic and the characters are lovable. It's got the full range of emotions without any sugar coating: happiness, sadness, anger, mystery, friendship and love.
Paper Towns is in cinemas nationwide from this Thursday.