Runaway with Galantis: Remix talks to the electronic duo ahead of their Our:House Festival performance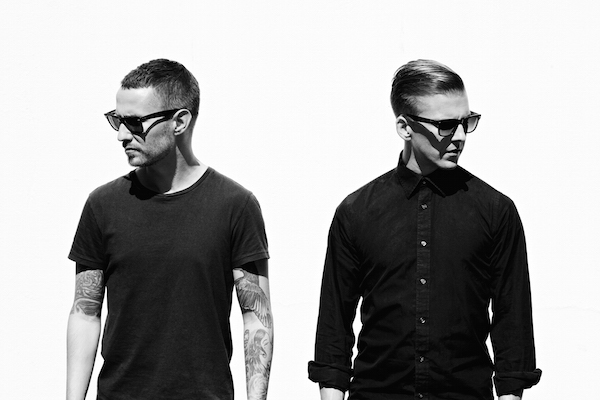 Swedish electronic duo, Galantis have been on constant radio rotation this year, first with their huge hit 'Runaway (U & I)', and now with their second single, 'Peanut Butter Jelly'. The group will be performing live for their first ever show on our shores at Our:House Festival, this November. Named this year's Best Breakthrough Artist at the 30th International Dance Music Awards, and voted by the people as the best dance act at this year's Coachella festival, they're an act not to be missed. Remix talks to Galantis about Peanut Butter Jelly on toast, their first album & what we can look forward to at Our:House...
You guys have just released your debut studio album, Pharmacy what can people expect from it?
Christian: They can expect some feel good dance music [laughs]. It's very hard to talk about your own music because you're so close to it, so it's very hard to put it into words. I guess you'll just have to hear it!
'Runaway' has been such a massive hit, it's on constant rotation on the radio here. Did you guys know it was going to be a big track when you were making it?
We believed in it - strongly, and there were some people that didn't really believe in it so we had to push hard for it because we really wanted to put it out, and finally we got to do it. We felt like it sounded really Galantis and the few fans we had from the EP would probably enjoy it, so that's why we really wanted to put it out, but we didn't know it was going to be that much of a crossover and get like hundreds or millions of streams; it's really amazing.
And your new single is called 'Peanut Butter Jelly'. Is that because you guys love peanut butter and jelly on toast?
Linus: Of course! We eat peanut butter jelly all the time, just to stay happy.
That's your go to spread?
[Laughs] - It's our go to spread for sure. Is there any other spread?
What about Nutella? Do you have Nutella over there?
Christian: Yeah, we mix it with peanut butter jelly!
So, will Our House Festival in November be your first time in New Zealand?
Linus: It actually is!
What are you guys expecting from our country?
Christian: I don't know, everything we've seen and heard is that it's a really beautiful place. Every movie and show that's shot in New Zealand is beautiful. So, we really want to go.
You're playing live at Our:House and I've seen amazing reviews of your live sets- what can people expect from your show?
Linus: Well, we do something a little bit different with our live performance; we kind of bring our studio to life on stage and do a lot of live production - producing on the fly. Producers and writers will come from the studio and then we mix it up with the DJing that we've been doing for a long time. We try to bring as much gear as possible, sometimes people won't let us, sometimes they do, so it's a little bit different every time. We like to try to keep it creative, we want to be spontaneous and have fun.
You're playing alongside Major Lazer, Oliver Heldens, and Duke Dumont. Who are you guys most looking forward to seeing and hanging out with at the festival?
Christian: That's a frickin' amazing lineup! We are absolutely huge fans of all of them! We know Oliver and we kind of know Diplo as well. We've never played with Duke Dumont but we're huge fans, so it's bound to be great fun.
Who are your biggest inspirations? Who do you listen to when you're just listening to your iPods?
Linus: We try to go back a lot. Our daily lives are so filled with new music and new beats because we're DJs and producers, so when we're home and not working we get inspiration from going back in time to the 60's and 70's. Arrangements and everything sounded different and people thought a little bit different when they were creating music in that time. It's really inspiring.
What's the inspiration behind your 'Seafox' mascot that I've seen everywhere?
Christian: We worked really hard on trying to get something that was going to be a visual for Galantis. We had the idea for a half jellyfish, half fox and we were working on that for a long time. We found a guy to help us out, Matt Maitland, he's an amazing artist. He actually helped us get the idea together in reality, because it was kind of hard. Now that Seafox is born we're really happy.
So, when you're performing do you guys wear Seafox masks on stage?
Linus: We bring her with us! She literally comes on tour with us, flying around. She's with us all the time and is pretty much the third member of the band.
You've just released your album but what's next for you guys?
Christian: We're touring, like 100%, there's not many days off. Just touring, which is great. There's always a festival somewhere. It's a very long festival season for us, which has been fun. And we've stopped to do some club shows too, so both clubs and festivals all through the year.
What festivals have stood out from the rest for you guys?
Linus: Lollapalooza was amazing. And EDT in Vegas was insane. There's been a lot of great festivals. We just did one in Sweden actually, it was our first gig in Sweden, which is where we come from, so that was pretty high pressure for us and it was unbelievable. The festival's called Way Out West and it was really fun.
Do you guys know whether you get some down time in NZ?
Christian: I don't think so, maybe if we get in the day before we'll get a half a day or something but I think we're playing in Australia the day after. We would love to see a bit of your country! Catch Galantis at Our:House Festival in Auckland on November 27th. Head
here
for more info and tickets.