Here are 2018's best beauty launches so far
2018 has been kind to beauty junkies. Thus far, we've seen an influx of beauty must-haves reach our shelves, and very quickly our make-up bags. With a year so full of newness, it can be difficult to determine which ones truly are deserving of our time and money. At Remix we have devised the ultimate list of 2018's best beauty launches so far, taking the fund-consuming and time-extensive labour out of your next beauty haul.
1. GLO, Bondi Sands
Bondi Sands are leaders of the self-tanning industry. Taking the danger out of tanning, and giving those after an extra layer, a healthy natural glow. Bondi Sands have again revolutionised the tanning game with their latest launch, GLO, which sparks a new era for the brand as they venture into the make up world. GLO is an instant colour product, giving instant colour and a shimmering finish without the semi-permanence and awful streakiness that comes with a tan left on for a little too long. GLO washes off easily at the end of the night. The new GLO range features three new instant tan products, including GLO Matte One Day Tan. This gives an instant matte colour, and amazingly can also be used as a contour. GLO Shimmer One Day Tan works as a highlight and bronzer; best used on the cheekbones, collarbone and eyelids. GLO Gloss Finishing Glow works to give an extra measure of radiant glow to finish your beauty look by accentuating the face and body.
GLO by Bondi Sands will be available from August 2018 at Unichem, Life Pharmacy and Farmers.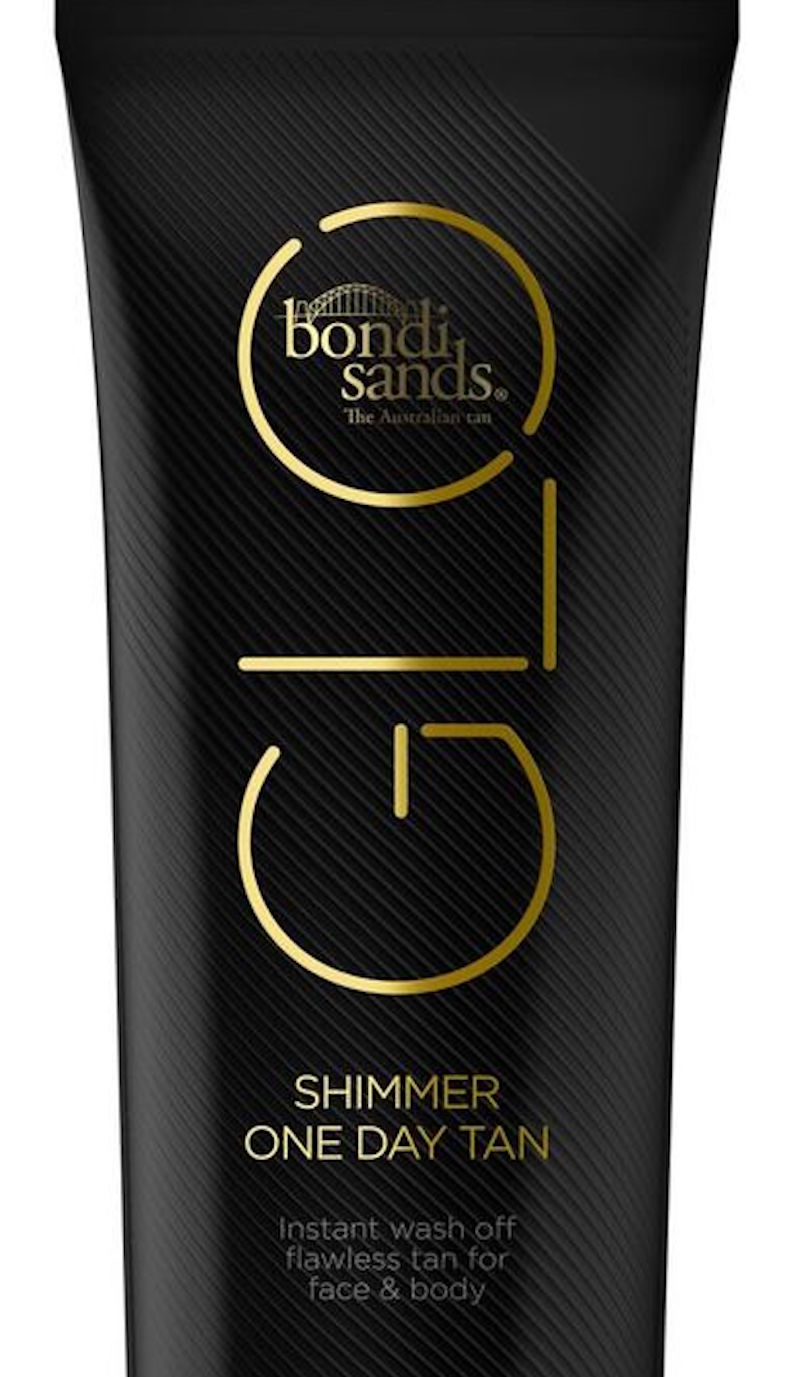 (Imagery by Bondi Sands)
2.
Primer Plus Collection, Bobbi Brown
Bobbi Brown's attention to detail and their focus on natural beauty has always elevated the brand into our favourites lists. Their latest launch again focuses on enhancing natural beauty and ensuring make up stays primed and poised throughout the day. Bobbi Brown's Primer Plus collection features four new products, primed to be your new favourites too.
The Primer Plus Mattifier works to blur pesky pores and absorb excess oil. Foundation is prevented from slipping out of place during the cold snap, and prevented from drying out over the work heater, which is currently working in overdrive. The Primer Plus Mattifier lengthens the quality of your foundation by using sebum-absorbing powders, so it lasts the day.
The Primer Plus Radiance SPF 35 is fitted with UVA/UVB protection, to prevent damage and to protect skin from the sun's harsh rays. The primer's ultra-fine pearl pigments helps to even-out skin tone, moisturise and illuminate complexion.
The Primer Plus SPF 50 also helps to prevent sun damage and early signs of ageing, with an extra layer of protection. The primer plumps and smooths complexion, whilst using Sodium Hyaluronate to balance the skin's moisture.
Finally, the Primer Plus Hydrating 3-in-1 Setting Spray is the perfect finish to your make-up routine, keeping everything in place for the entire day.
Avaialble from Bobbi Brown stores and online.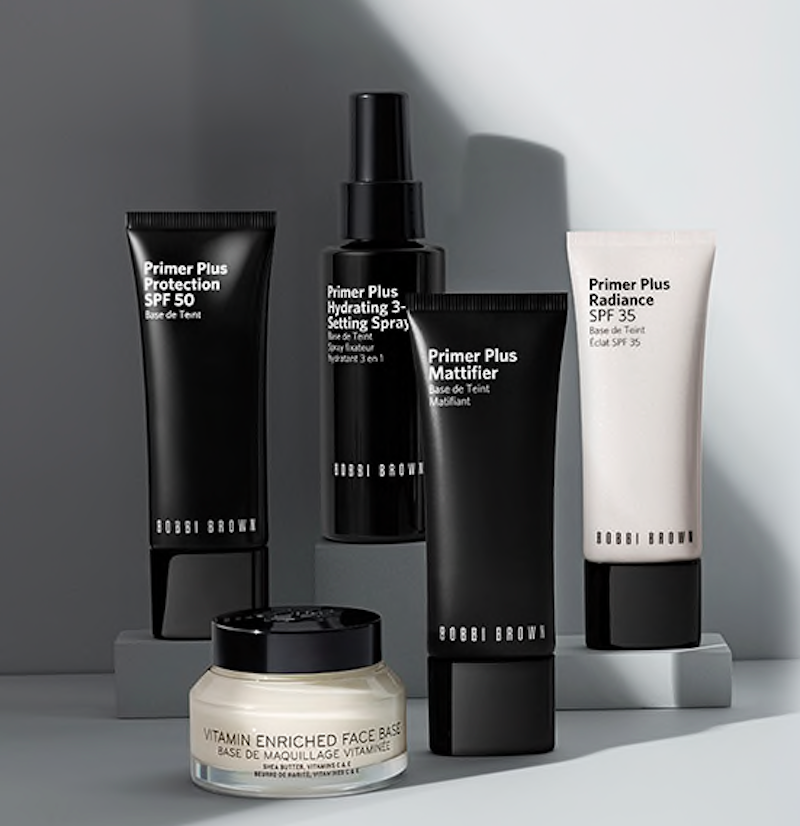 (Imagery by Bobbi Brown)
3.
Australian Pink Clay Mask, Alya Skin
It was the talk of the beauty sphere earlier this year, when two Melbourne friends created a pink, vegan-friendly and cruelty-free clay mask to rival their international competitors. The pink clay masks quickly amassed a cult following and ever since, the brand has been on the Instagrams of almost every beauty influencer worldwide.
Available from Alya Skin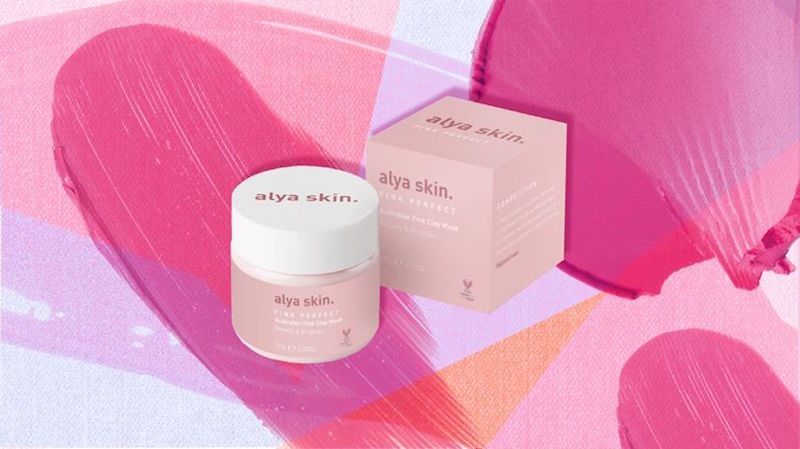 (Imagery by Glamour UK)
4.
Clinique Dramatically Different Hydrating Jelly
No skin care routine is complete without a Clinique product or two. Clinique's newest launch has the beauty-obsessed among us overly excited, and we can't wait to get our hands on a bottle ourselves. The Clinique Dramatically Different Hydrating Jelly is an oil-free water-jelly, which works to hydrate and repair the moisture barrier within skin. The light-weight formula has heavy duty benefits, moisturising and giving skin a healthy glow. The Jelly has been proven to make skin 87% less vulnerable to pollution, through their innovative Clean-Shield Technology. The formula uses a careful combination of Barley Extract, Cucumber Fruit Extract and Sunflower Seed Cake, to build the skin's barrier, giving you stronger and healthier skin.
Available from Clinique stores and online.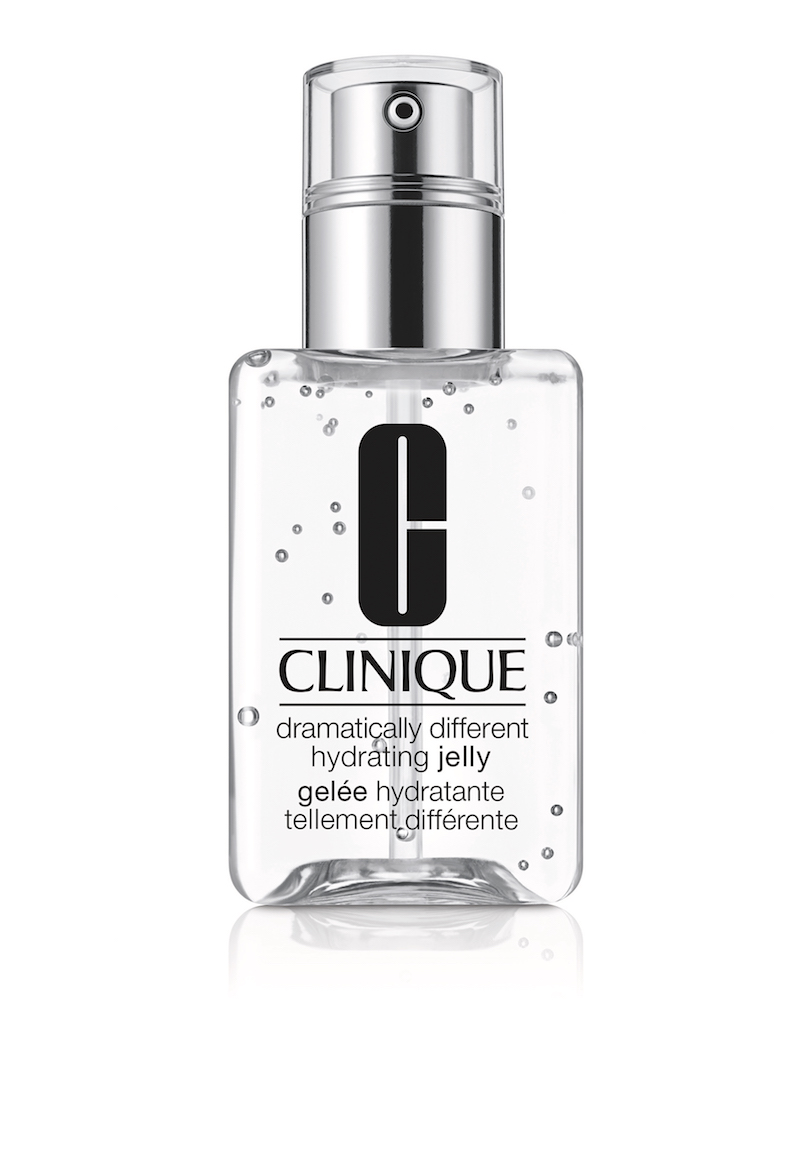 (Imagery by Clinique)
5. OUAI Air Dry Foam
If Jen Atkin, hair stylist to the stars, talks – we listen. Her insider knowledge and wealth of experience, has seen Atkin become the go-to hair guru. With her practical experience and natural beauty in mind, Jen Atkin and her team set to work to deliver the market with a range of new products fit for every occasion. This year saw the release of OUAI Air Dry Foam. Perfect for curly hair, the product is a new step in the dry shampoo game. Fighting frizz and preventing the effects of humidity, the Foam can be used on damp or dry hair to unlock soft and luscious bouncy waves.
Available online.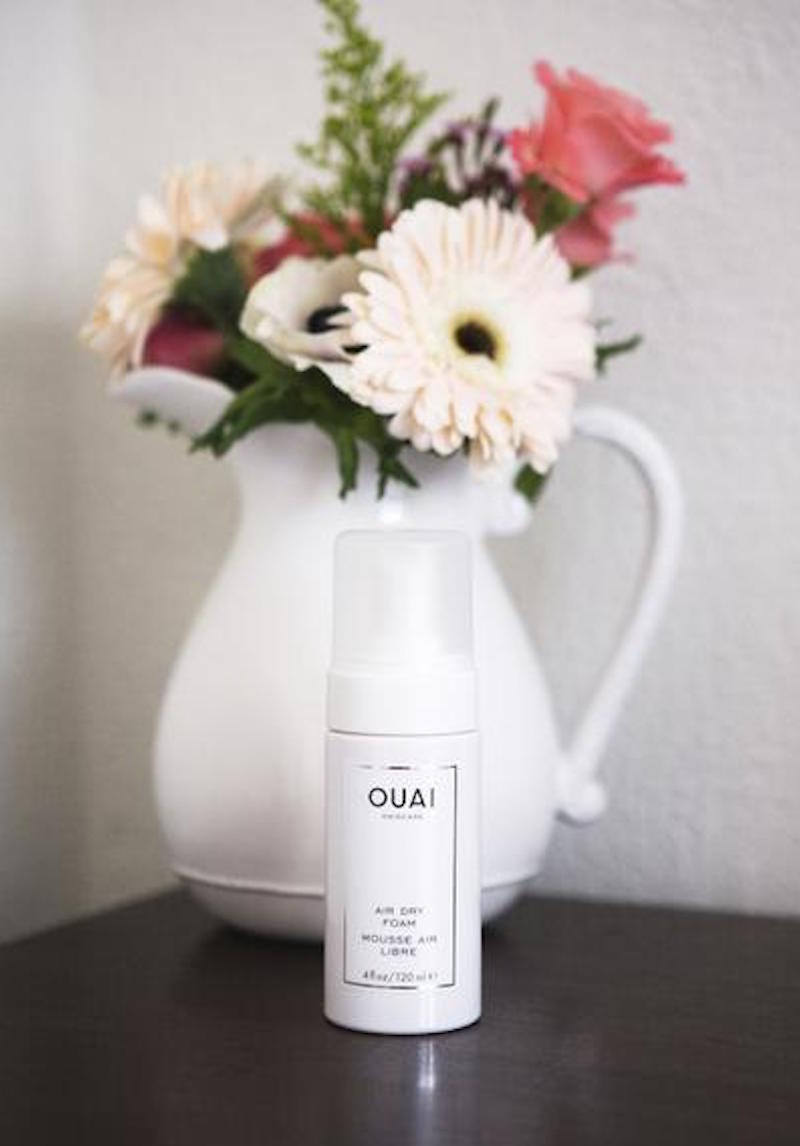 (Imagery by OUAI)
6.
Eye and Lip Crayon Trio
Social media was sent into a stir recently when Crayola released their range of beauty products. Our inner child and latent nostalgia couldn't help but force our hands onto these colourful creations. Shaped like the colouring pens we all used to love, the Crayola Colour Crayons are taking our obsessions with colour into our adult lives. Aside from their funky packaging, the products actually work well and are loved by many who are willing to let their hidden child run wild.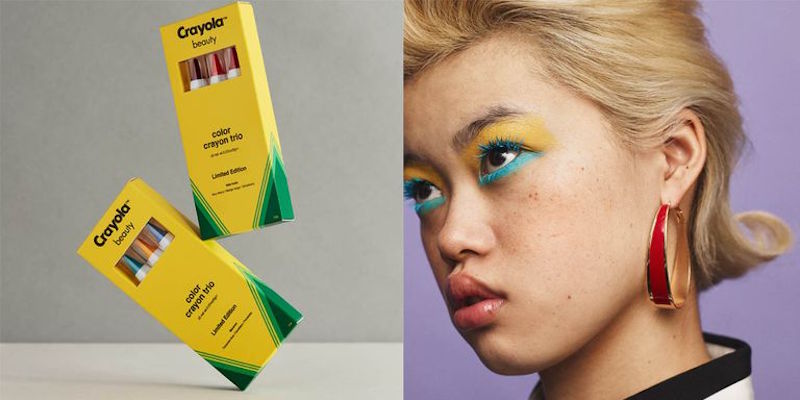 (Imagery by Elle)
7.
Dior Face and Body Foundation
With six undertones and forty shades, Dior's latest step into the beauty domain is ensuring every woman can get the perfect shade. Described by Dior as their backstage "secret weapon", the foundation works as a buildable coverage for all ranges of skin types.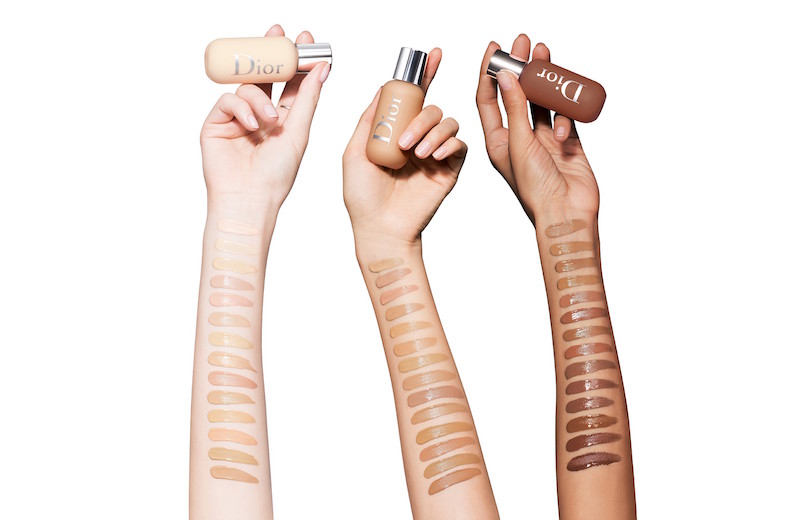 (Imagery by Dior)
8. Born To Run Eyeshadow Palette, Urban Decay
Urban Decay's 21-shade Born To Run provides a durable and easy-wear eyeshadow palette. Designed to be an all-in-one, and perfect for any look at any time. With perfect nude shades, bursts of colour and the necessary amount of glitter, every eyeshadow look is covered. So while this may mean that we never need any other palette again, we know ourselves too well for that, and this is why we have number 9.
Available online.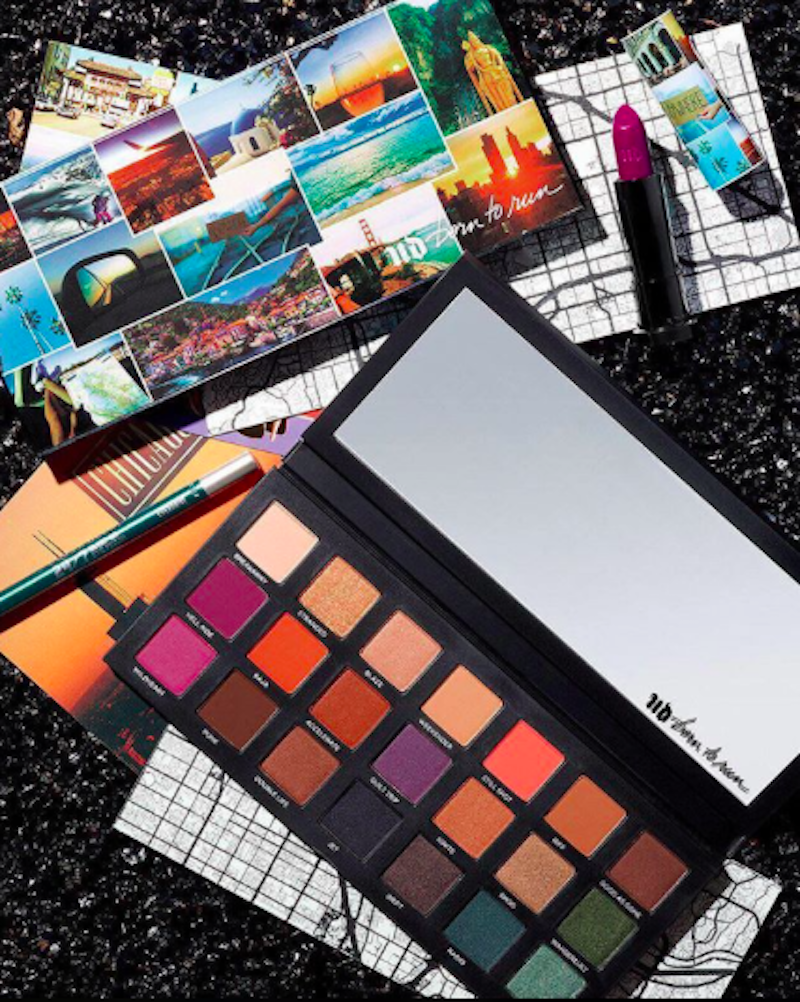 (Imagery by Urban Decay)
9. Backtalk Palette, Urban Decay
This handy palette has quickly become our travel go-to. With perfect feminine pink hues and colours such as CURVE, WTF and BARE, this palette serves up day and night looks seamlessly. With the 8-shade eyeshadow palette on one side, and four colour-coordinated blush and highlight shades on the other, Backtalk has quickly become the talk of the beauty world.
Available online.
(Imagery by Urban Decay)
10.
Goop Bath Salts
Gwyneth Paltrow seems to be living her best wellness life. From her foray into health cookbooks and her lifestyle brand, Goop, the Oscar-winning actress has entered the world of beauty and wellness. Under her brand Goop, Paltrow has focused on the power of the mind, body and spirit. This year, Goop launched five Bath Soaks. These Bath Soaks are a range of different salts, dedicated to mending the body and mind in different ways. Our favourites include "The Martini", which works as an emotional detox bath soak, using himalyan salt and chia seed oil. The "Phys. Ed" soak combines turmeric, apple cider vinegal and arnica to give a recovery bath soak, perfect for post-workout relaxation. The "Nurse!" soak helps when you're feeling under the weather; using eucalyptus, mustard powder and manuka.
Available online.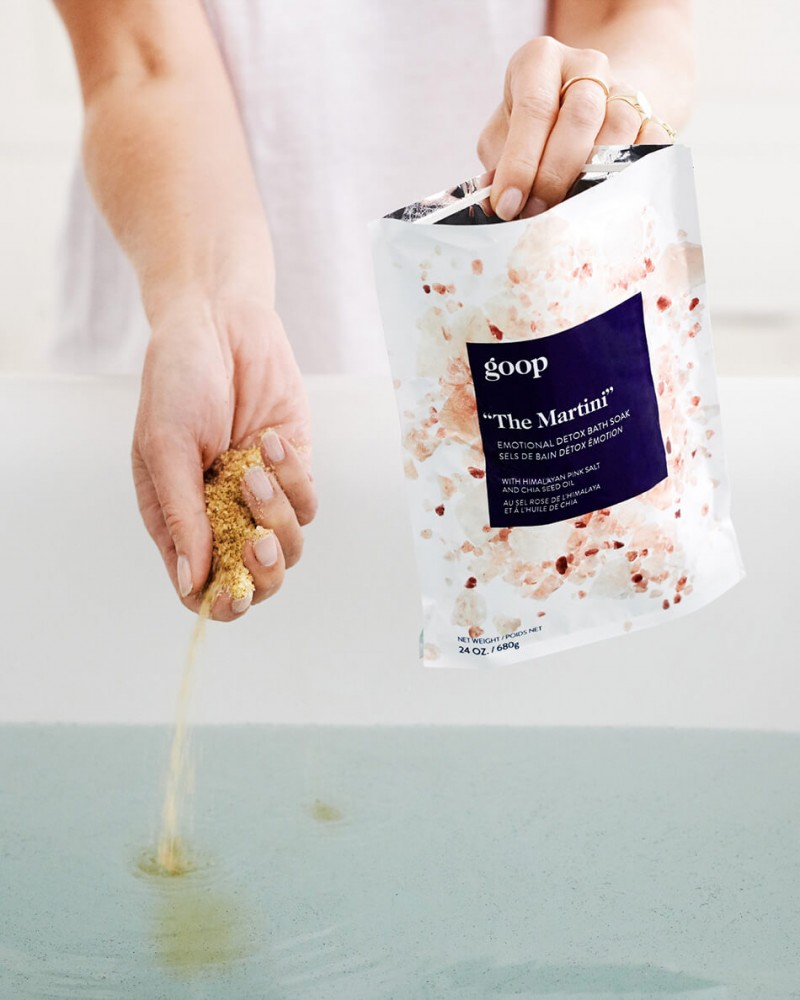 (Imagery by Goop)
11.
Basil & Mandarin Body & Hair Oil, Jo Malone
Jo Malone are favourites in the beauty game. Their products always exude luxury and elegance, with carefully crafted scents and lively products. Jo Malone's latest release is ushering in a new era for the brand. Their Body & Hair Oil conditions the hair and body top to toe, while giving wearers their signature Jo Malone scents. Using macadamia seed oils and sweet almond, and infused with Lime Basil & Mandarin, the oil is fragrant and easy to wear.
Available at Jo Malone stores across the country and online.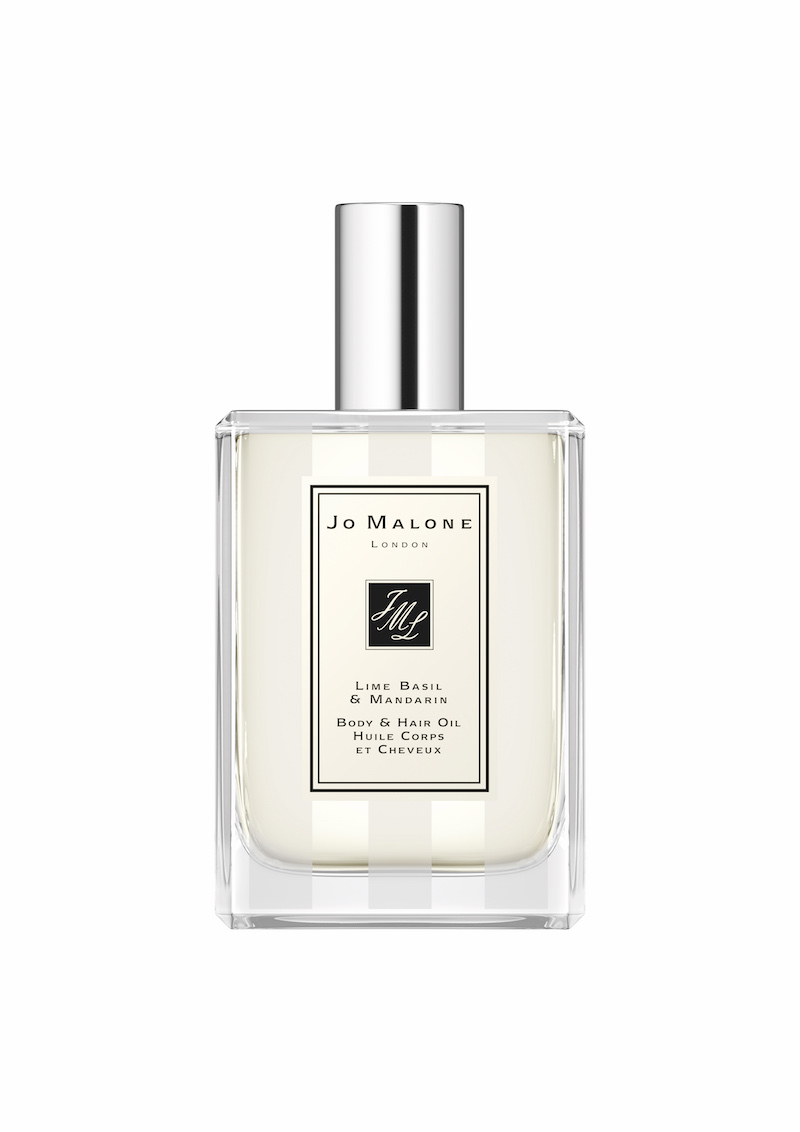 (Imagery by Jo Malone)
12.
Melted Matte-tallic Liquified Lipsticks, Too Faced
Too Faced embodies the sassy feminine feelings we aspire to have when doing our make-up. From their oh-so delicious chocolate palettes to their super sweet Peach collection, Too Faced like to keep beauty junkies on their toes. Too Faced's latest launch of liquefied lipsticks are a glittery addition to every make up bag. With versatile colours such as Bitch, I'm Too Faced's pop of bright red, and Pillow Talk's nude with a sparkly twist, the lip colours are perfect for every occasion in need of a little colour.
Available from Mecca.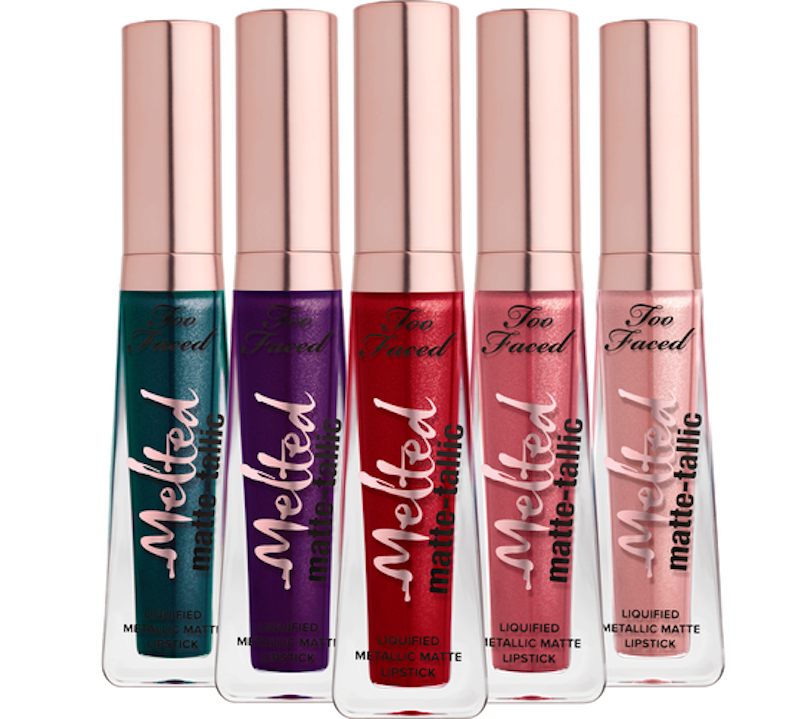 (Imagery by Too Faced)