Tips For The Ultimate Bubble Bath
Words by Flora Cheng.
After a long day at work, there is nothing more rewarding than a warm and relaxing soak in the tub. Winter is in full force so there's no better time to turn your bath from ordinary to extraordinary. Here are my top five secrets to drawing the ultimate winter bath that's guaranteed to rejuvenate your body, mind and soul.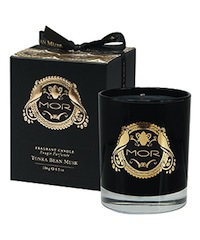 Temperature and Time
If it's too cold you could get sick, too hot you could get dizzy, so the ideal temperature for a warm bath is between 33°C to 40°C. When testing the water use your wrist as opposed to your hand because your wrist is a better indicator of what the water would be like once you are fully submerged. Try stay in the bath for at least 20 minutes but no more than 30 minutes, because you don't want to fall asleep in the bath (that could be disastrous).
Set the mood
If your bathroom is too bright your body thinks it's 'go time' rather than 'down time', so turn the lights down low or soft. Better yet, why not scatter some sweet scented candles around you and the rim of the bath to add to the ambience? The scents of jasmine, lavender, rose and iris are the perfect relaxing blend. I love MOR cosmetics Tonka Bean Musk Candle with the deliciously, decadent notes of Jasmine, Bergamot and Lily of the Valley.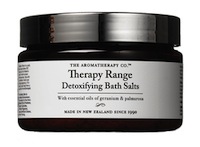 Bathroom to spa-room
Carry on the theme of relaxation by adding your favourite aromatherapy oils, salts, milks, foams, bombs or infusions into your bath when it is half full. Steer clear from anything artificial though as you don't want to irritate the skin. I love the Therapy Range by The Aromatherapy Co because their products only use 100% pure and natural botanical extracts and essential oils. My pick is the lush Lavender, Manuka and Wild Chamomile Body and Bath Oil with a generous sprinkling of Detoxifying Bath Salts (the little wooden scoop that comes with this is too cute for words!) to help detoxify skin, relax muscles and increase circulation.
Music is Life
Make a playlist or go old school and pop in a CD of your favourite songs to relax to. Apparently these are the top ten most relaxing songs to listen to in the bath…

'Weightless' – Macroni Union
'Electra' – Airstream
'Mellomaniac (Chill Out Mix)' – DJ Shah
'Watermark' – Enya
'Strawberry Swing' – Coldplay
'Please Don't Go' – Barcelona
'Pure Shores' – All Saints
'Someone Like You' – Adele
'Cazonetta Sull'aria' – Mozart
'Can We Fly' – Café Del Mar
I personally prefer a mixture of roots and reggae with blues and R&B. Some James Blunt, Ed Sheeran, Adele and Amy Winehouse.
5. Pampering and Treats
Deep condition your tresses and pop on a facial! I particularly love the Restorative Hair Mask by Moroccan Oil and the Honey & Oat 3 in 1 Scrub Mask by The Body Shop. Finally, place a selection fruits like strawberries and grapes with dark chocolate within reaching distance, pour yourself a big glass of pinot noir or brew a pot of chamomile tea, grab the latest issue of Remix magazine, lie back and indulge let your worries drift away!