The beauty boys of Instagram
Society today is more open and accepting to people of all shapes and sizes, with movements of self-love, transgender, and power of individuality; 'The Beauty Boys of Instagram' are one of the new trends taking over social media.
With hundreds of thousands of followers each, these males in makeup talk about their passion and what it means to be a beauty boy...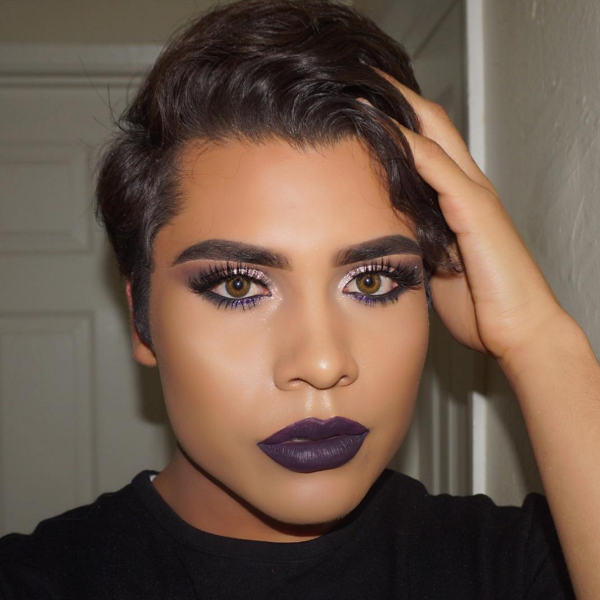 Alan Macias, 18, known by his Instagram @Alannized told Marie Claire 'I'm a boy in makeup. I'm not trans. I'm not a drag queen.' Smashing stereotypes and embracing his passion Alan talks to us with makeup better than most of us could manage or bother with: Sculpted brows, shimmery cheeks, and full false lashes framing his bright doe eyes.
'I just really enjoy the art of makeup,' he asserts, 'and being a boy who does it.' With over 200,000 followers, Alannized is revered for his beauty tutorials and glamorous looks: elaborate smoky eyes, bold lip colours, and intricate contouring—all on his own face.
While boundary-pushing in his own right, Alannized is part of a larger beauty movement—an expanding community of male-identified digital stars who showcase their expertise on themselves.
This movement is rapidly growing in followers, totalling in the millions, evidence the power of their influence, from Instagram to YouTube channels where fans of all genders can watch them transform.
Patrick Simondac (@PatrickStarrr), 26, arguably one of the most influential men in the movement with 1.7 million followers on both Instagram and YouTube, also got his start as a teen furtively experimenting with makeup, stealing his mother's foundation when she wasn't looking.
Patrick's best friend and fellow beauty boy superstar, Manny Gutierrez (@MannyMua733), 25, recalls an even earlier love for makeup: As a little boy, his mother caught him playing with her lipstick. Raised in a Mormon household—'liberal Mormons,' he specifies, given that he grew up in Southern California—he quickly learned to hide his interest in beauty.
'I wanted to play with eyeliner and makeup while other boys were playing with G.I. Joes,' Manny remembers. 'So it was kind of tough for me because I didn't really understand why I wanted to play with the 'girl' things rather than the 'boy' things.'
After starting in their boyhood bedrooms where they discovered their talents in secret, their craft has now has touched millions around the world. Coming together for the first time in 2014 at PHAMExpo, a conference for beauty professionals the boys were able to grow and help each other.
There they also connected with Alex Faction who shared their interests. With now over 3 million Instagram followers and over 2 million YouTube channel subscribers between them they have certainly evolved and challenged beauty ideals.
Although they are informed by the tradition and power of drag, the boys of beauty consider themselves and their passion to be worlds apart. They aren't trying to appropriate a performative female identity nor push a female character. They are more than just pretty faces, they know their queer history and the profound drag legacy that has made their male-anchored presentation possible.
'Drag queens were really the trailblazers that led individuality and art,' observes Alex. 'I really do feel that the current movement of men in makeup, whether it be masculine or feminine, does derive from drag makeup.'
For Manny it's not the look of drag but the motivation behind it that he emulates. 'It's about transforming your face to make it look a different way,' he explains. 'It's just giving you creative freedom.'
They have really started to open up the doors into the world of makeup for males – even being approached by makeup brands for partnerships, there is definitely a future here for these amazing boys.
Original Interview: Marie Claire / By Koa Beck, with Lauren Valenti
Feature Image from Marie Claire / Photographed by Ryan Pfluger