Our interview with Gigi Hadid & the competition to live like her for a day!
Gigi Hadid is currently undoubtedly the world's biggest model, alongside her BFF Kendall Jenner, of course. At the sweet age of 21, Gigi has already graced the cover of Vogue USA, walked for Victoria's Secret, and most recently, created her own clothing range with Tommy Hilfiger – which was just showcased at New York Fashion Week - alongside becoming the face of their new perfume The Girl.

To celebrate Gigi's collab with the iconic brand, Tommy Hilfiger have created a competition which allows you to live like Gigi for a day! Sounds dreamy to us!
The prize consists of return flights for you and a friend to Auckland and 2 nights' accommodation at a luxury hotel. Then, your choice of either a luxury trip to Waiheke Island and gourmet lunch for 2, or a shopping spree in Parnell with $1000 spending money, lunch and a chauffeur car for a day for 2. Both options feature your very own photographer. Truly a five-star experience!!
To enter, just buy any size Tommy Hilfiger The Girl fragrance from any participating Life Pharmacy and swipe your Living Rewards card to go into the draw to win! Head here for more details and check out our interview with The Girl herself below…
WHAT DO YOU LOVE ABOUT THE GIRL BY TOMMY HILFIGER?

I love the fragrance's clean and fresh feel.
I like a scent that doesn't overwhelm and keeps everything light and airy. It's a really fun and flirty fragrance to go out at night but also versatile enough to wear during the day.
HOW DOES THE FRAGRANCE MAKE YOU FEEL?

The Girl makes me feel the same way it smells, lively and fun. It's a great finishing touch right before you walk out the door.
WHAT HAS BEEN THE MOST MEMORABLE PART OF WORKING ON THE CAMPAIGN SO FAR?

The mood of the shoot was fun and sexy. We created a nautical scene using huge ropes that brought an element of exaggeration. The set design was definitely very memorable.
WHAT'S YOUR BEAUTY ROUTINE?
I'm pretty easygoing. My hair is usually in a ponytail or a bun and makeup is simple.
 I stick to bronzer, mascara and a spritz of fragrance, and then I'm out the door. I like a simple routine when I have days off.
WHAT DO YOU BELIEVE MAKES A WOMAN BEAUTIFUL?

To me, women are beautiful when they are confident, warm and welcoming. I've been fortunate enough to meet some of the women I admired growing up and the ones that truly touch me and continue to inspire me are the ones that embrace these qualities.
HOW DO YOU PREPARE PHYSICALLY AND MENTALLY FOR A SHOOT LIKE THIS OR ONE OF THE CATWALK SHOWS?
I box all year round; it's how I keep my body in shape and a great way for me to not think about anything for an hour. It allows me to work things out without even realising it. And for this shoot specifically, I love the Tommy family and I've been working on my Capsule Collection with them, so to now be the face of the fragrance is really exciting. To come to the shoot is like seeing family again and I love working with them.
MODELLING IS OBVIOUSLY A REALLY TOUGH, COMPETITIVE WORLD. WHAT DO YOU SAY IS THE KEY TO SURVIVING? OR WHAT HAVE YOU FIND THE MOST HELPFUL TIPS SO FAR?
I think it's really important to be someone that people like to work with; people are not going to work with you if you're difficult.
 If they don't like working with you, they're not going to – there's always someone who's going to be prettier and nicer. More than when people say, 'I love that image!' I think what means the most is when they say, 'I talked to the hair stylist from the shoot and they said how kind you were.' That's what makes me feel good about the day. Be nice, be someone people like to work with.
SOCIAL MEDIA HAS OBVIOUSLY BECOME A SIGNIFICANT
PART OF BEING A MODEL IN TODAY'S WORLD. WAS THAT A CONSIDERATION FOR YOU WHEN YOU FIRST STARTED OUT? WHAT WAS YOUR VISION FOR THAT?
I was born in a generation in which social media is part of our everyday lives. It is something that has already made sense to me, and feels very natural. Timing is everything and I've been very lucky. I always knew social media was going to be important and it's really helped to push my career.
WHAT IS YOUR NUMBER ONE BEAUTY TIP?

Less is more. There are events or times to have a glamorous or statement look, but mostly I like to keep it natural.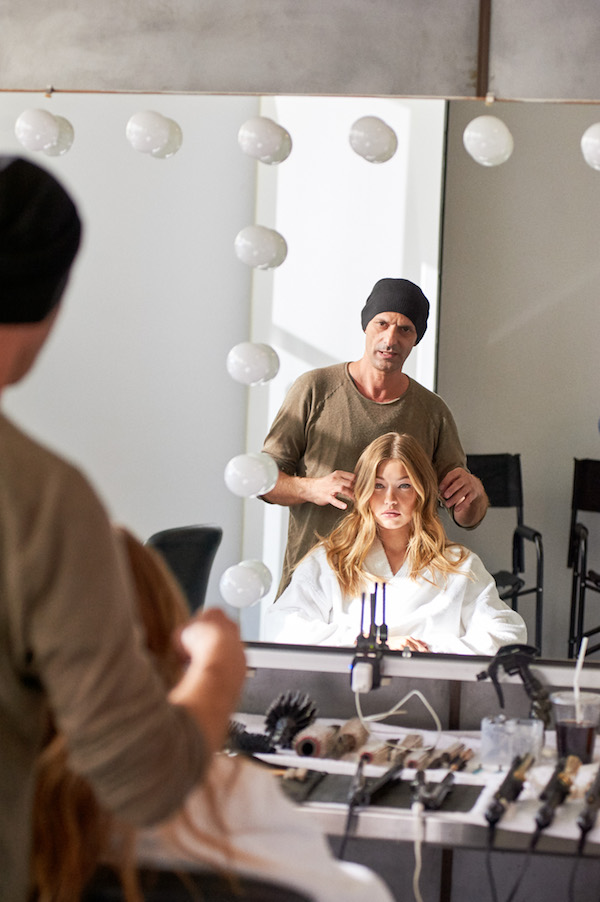 WHAT MAKEUP PRODUCTS CAN YOU NOT LIVE WITHOUT?

I can't live without nude lipstick. It's a great basic that goes with every outfit and look.
AFTER A LONG NIGHT, HOW DO YOU WAKE UP LOOKING FRESH?
I try to sleep as much as possible, but if I don't get enough sleep, coffee helps. On set, being around people that I love working with helps to give me a lot of energy.
MOST WOMEN HAVE BAD HAIR DAYS! DO YOU HAVE ANY TRICKS TO PREVENT A BAD HAIR DAY?
Put it in a bun! When I'm having a bad hair day, I just put it away and no one knows.
WHAT'S YOUR BEAUTY MANTRA?
Eat clean to stay fit, have a burger to stay sane.
DO YOU HAVE ANY FASHION OBSESSIONS? IF SO, WHAT ARE THEY?
It changes a lot but right now I like chokers a lot. Every couple of weeks I have a new obsession!
CAN YOU TELL US ONE THING THAT PEOPLE PROBABLY DON'T KNOW ABOUT YOU?

When I was 11, I sang back-up vocals on a Josh Groban Christmas album.
HOW DOES IT FEEL TO BE ONE OF THE ICONIC TOMMY HILFIGER GIRLS?
It feels great! I've loved the brand my whole life. It's a brand that I grew up looking
at; they were always the campaigns that
I wanted to be part of so to do it now is
so much fun. The energy on the set was everything I expected from a Tommy shoot. The feeling you get when you look at the campaign is the same feeling we had when we were shooting it, playful and spirited, so that's really cool.
WHAT DOES THE TOMMY HILFIGER BRAND MEAN TO YOU? WHEN YOU THINK OF TOMMY, WHAT DO YOU THINK?

I think of Tommy Hilfiger as an iconic American brand. It's a lifestyle that exudes happiness and fun.
WHAT DOES AN 'ALL-AMERICAN GIRL' MEAN TO YOU?
I think the essence of an all-American girl is someone who's easy to get along with. People like to be around her – she's easy to talk to and fun to hang out with.
WHAT DO YOU ADMIRE MOST ABOUT TOMMY?

He's one of the most warm and welcoming people I've ever met; he makes you feel like family the second you meet him. He is really supportive and loyal to the people that he works with.