Loco for coco: 10 reasons to add coconut oil to your beauty regimen
For years we've cluttered our bathrooms with all sorts of products ranging from body butters to hair oils to whitening toothpastes, when all we really needed was a giant jar of virgin coconut oil. Before you know it, coconut oil will become your holy grail and saviour for those days you need a pick me up from mother nature herself. What's even better, is it's 100% natural and cruelty free. Here are the ten top uses of this 'cure-all' product: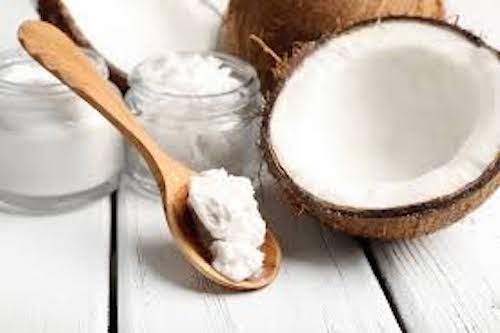 1. For smoother, silkier skin
Instead of using lotions and creams, try rubbing coconut oil on your body after showers on a daily basis. It will leave your skin glowing and smelling like you've just come back from a Hawaiian vacation. Bonus: Coconut oil is great for stretch marks and scars.
2. For luscious glowing hair
Coconut oil acts a deep conditioner which leaves your hair looking like a Pantene model. After shampooing, simply massage the oil into the mid-lengths and ends (avoiding the scalp as it can leave weigh it down and make it look greasy), leave it in for 1-2 hours then wash it out using shampoo. It can also be used as a hair oil to de-frizz and leave your hair with a natural shine.
3. For a natural sun kissed glow
Use it as tanning oil, sunblock and after sun oil. Coconut oil has a natural SPF and strong healing powers to recover you from looking like a lobster, to looking like a sun-kissed goddess.
4. For whiter teeth and healthier gums
Oil pulling has become a popular remedy for getting whiter teeth. Swish around a tablespoon of coconut oil in your mouth every morning for 20 minutes and watch your teeth become pearlier and whiter.
5. To stimulate hair growth
Too often we come back from the salon and the beautician has taken off too much eyebrow. Rub coconut oil onto your brows or any area you wish you have more hair.
6. For healthy cuticles
Massage into your cuticles for the perfect nails.
7. For plumper, softer lips
Use as a lip balm or mix with sugar grains for a homemade lip scrub.
8. For a disinfectant
As mentioned above, coconut oil has natural healing properties which are amazing for insect bites, infections, cuts and rashes.
9. For a cleaner shave
This miracle oil works better than shaving cream, leaving your freshly shaved legs feeling like a baby's bottom.
10. For a chemical free eye-makeup remover
Put coconut oil onto a cotton pad and use as you would with a regular makeup remover. Chemical free and tears free.
Smells heavenly, affordable and cures all!
Image: Huffington Post