Goodness me! We have your next pamper sesh covered
If you follow the same beauty-philosophy that we do, you'll know that face masks fix everything. Hailed the agony aunt of the beauty world, they have been the answer to all skin problems since the dawn of time (or something close). Like many beauty products, we have seen the trusty face mask go through phases. Whether this has been beneficial for us beauty-goddesses or arguably not, there have definitely been plenty of options!
We're sure you can recall delving into the world of bubble masks, sheet masks, gold masks (24K to be precise) and of course the somewhat painful peel away mask. As trends do, these came and went. But much like your best friend, there has been one mask that has stuck by our side. Through thick and thin, the clay mask has been a beauty go-to for years. Not only is the application a lot smoother than some of its counterparts, but the clay mask's natural powers cannot be paralleled!
Now we don't want to brag...but we have found the irrefutable answer to all your cleanse and glow needs. The team of beauty-geniuses at Goodness have created two clay mask sets that we just know are going to be our new faves! Unlike its predecessors, this pamper staple isn't going anywhere…we won't let it!
The brand new sets offer both detoxifying and balancing Goodness. Clear-the-Way and Glow-and-Go are ideal for the time poor, as the combo can be used simultaneously! Whether you're after a speedy glow-up or an end of weekend wind-down, the Goodness Face Mask range does it all!
Let the Glow-and-Go Multi-Masking Kit
solve all your problems!
Picture this, you've had a hellish week at work, you're carrying suitcase size bags under your eyes (even if they are Louis Vuitton) and you've got the party of the year to attend the next day. If you can't catch up on your beauty sleep, the Glow-and-Go's detoxifying goodness will revive you from the outside in! The tag-team remedy features a Paprika Target Mask that works on your T-Zone. This gives your skin a much-needed wake-up call by absorbing any excess oils, whilst reducing the appearance of pores. Meanwhile, the Green Tea Face Mask soothes with an antioxidant boost that tones, glows and refines. Oh la la!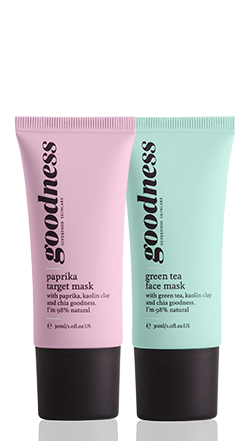 Revive your soul with the Clear-the-Way Multi-Masking Kit...
After your weekend of bliss (and a bit too much bubbly), it's about time to treat yourself again. The Clear-the-Way kit is the perfect excuse to have the girls round for a #multimasking sesh. The Tumeric Mask is custom made to remove all the excess troubles that your weekend activities have awoken. Unfortunately, this doesn't extend outside of your skin problems. However, the mask gives you such a good clean out, you won't be left worrying about anything else! Nothing pairs better with a deep clean than a hydration kicker, to restore all the Goodness to your skin. The Bilberry Face Mask offers an antioxidant fuelled glow that works wonders for a worn-out visage. As the masks can be applied together, you'll have plenty of time to catch up on your favourite shows. What bliss!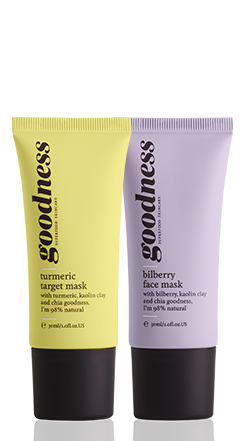 For more of what Goodness has to offer, head here.
Image Credit: Goodness Skincare