Get party-prepped with these BTS bold beauty looks
Go big or go home right?
We've been locked away in our towers for too long with the restrictions of Covid-19 and there's never been such anticipation for party season.
To celebrate the release of lockdown AND the relaunch of the beauty brand Prosperina Cosmetics' new website, local Makeup Artist & Ambassador Rachel Mackwood created a series of stunning party looks and we captured them in the making, behind the scenes.
But we know it's not good enough to just inspire, we need to educate. So Rachel has put together her steps on how to create some of these looks using the Prosperina range below...
BOLD BROWS
We're not talking your run of the mill filled in brows in a soft brown, we're talking colourful statement brows. Rach used the Prosperina eyeshadow palette to create this effect. The secret is in the build up of texture you apply before the shadow...
"Lots and lots of brow gel! This feathery brow is popular but the colour only stays on the hair for it to work. To make this look more fun I combed through the brows the yellow colour from the Colour Pop Palette. I found the pigment stuck nicely
to the Prosperina Brow Gel.
This colour palette has bold, highly pigmented colours in yellow, lime, blue and red that definitely shout colour loudly so it was perfect!"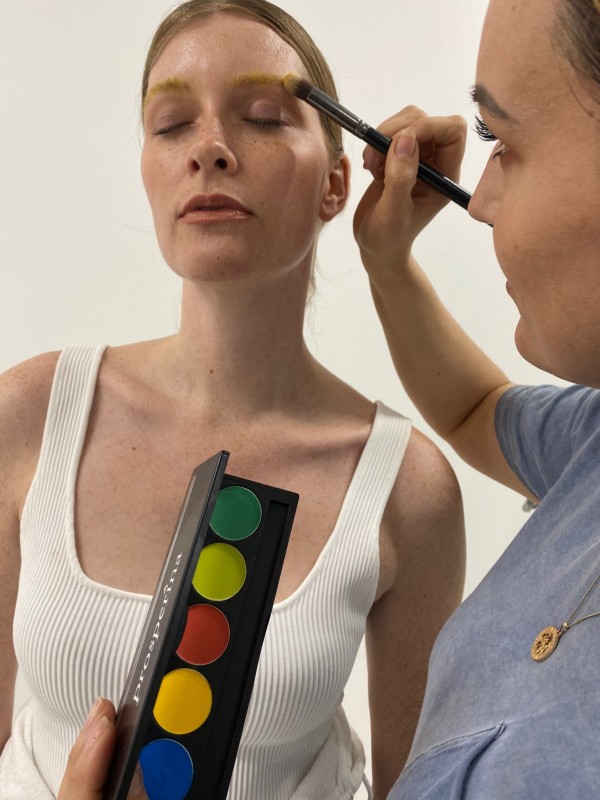 "I also used a lip gloss in colour Nude Shimmer on the lip."
SMOKEY WINGED EYES
"I first laid down the first base foundation primer on super clean skin. This light hydrating primer is a must-have this season to create the perfect base for flawless looking, plump healthy skin. I wanted a really clean, natural-looking skin for this look so I literally just used a concealer to correct under the eye around the nose creases and chin area. I use the N225 Cool Neutral Liquid Concealer and patted it on gently to only the areas required.
"The key product here was the M24 eyeshadow shade which is a beautiful shade that can be blended out to a softer shade or packed on to create a more intense look. I applied the HD black mascara to her lashes. I used the Havana lip glaze on the model to finish the look. 2020 has seen a massive come back on glossy lips and I find the Prosperina glazes give a subtle shade with a sheer finish with definitely no sticky feel."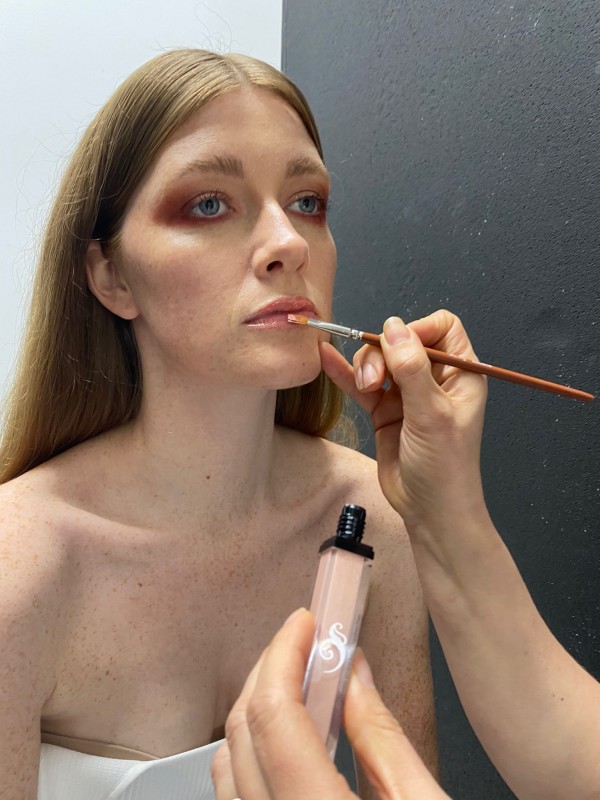 "For the fluffy, undone brows on this look I used the Prosperina brow gel combed through on a brow brush in a vertical direction. You could if your brows are patchy fill them in with the Prosperina brow palette which comes with a helpful brow brush.
"It contains five colours so can be mixed to create the perfect colour match to your brow hair. Also for unruly brows that you really want to hold in place you can use a little bit of clear soap or hairspray on a brow brush to ensure they stay in place all day or night."
FAUX FRECKLES
We've all wanted them, but we don't know quite how to achieve them in a natural way. Our beautiful model here Marijike had natural freckles but we wanted to amplify them.
"I added some Sheer Glow Illuminating Lotion (colour: Movie Star) to the skin. I wanted the model's gorgeous freckles to shine through, so I added just a few more over her nose to really catch attention with a soft eyeliner, dotted very lightly. I dusted the cheeks with blush in shade 5, a great shade for a girly flushed look."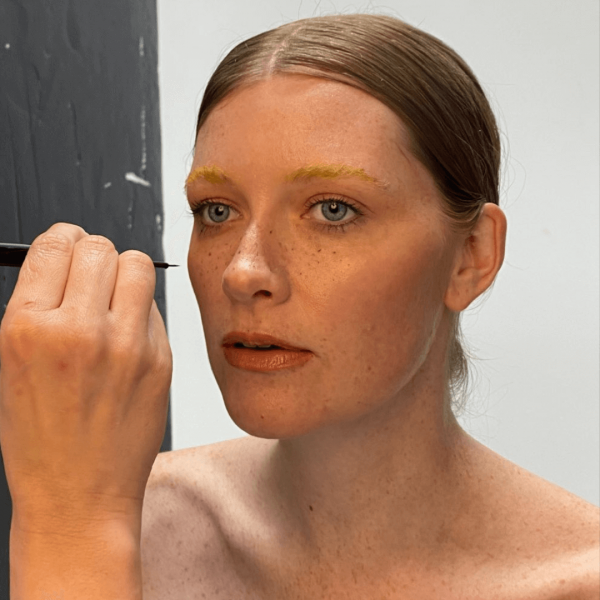 PLAYING WITH LINES
"For this Purple liner look, I used the Prosperina Eye Pencil in colour Magenta. I made sure the lid was completely clean before I patted on the 'touchup veil' concealer. This is a great product that replaces an eye primer and kicks out any dark veiny lines on the lid very well. I used the Eyeshadow in colour Malt all over the lid and then mapped out my lines with a white eyeliner softly."
"To keep the lines symmetrical on both eyes I traced over them with the Magenta pencil to breathe a floating liner look. I also intensified the colour lines by adding Eyeshadow colour 424 and for high impact hydration I added a clear gloss for a wet look lid."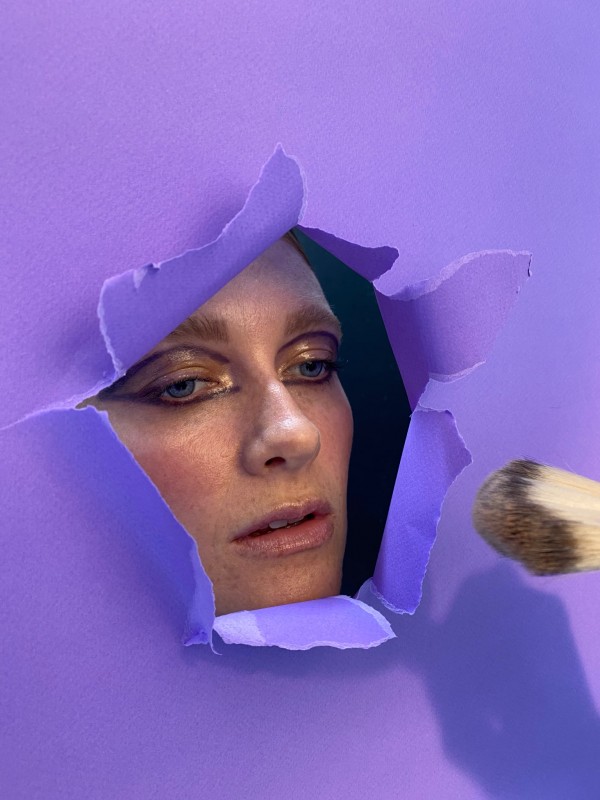 ART CANVAS INSPO
Step outside the square and go beyond the norm with a build-up of texture around the eyes for interest.
"For this arty canvas look, I used the Colour Pop palette again. I first used the colour highlight in the contour palette to give me a nice matte base to help build the coloured texture I needed. I used a little Vaseline Mixed with the pigment and I swelled it using a cotton bud through the colour around her eye.
This was a fun look that could be set if you applied the Invisible Blot Powder gently over the top (I would suggest dusting from a brush) and then use the Prosperina Setting Spray to hold it all in place. For this look, I also applied a Lip Lacquer in the colour 'Punchy'. This pink lacquer is definitely a neon lovers dream!"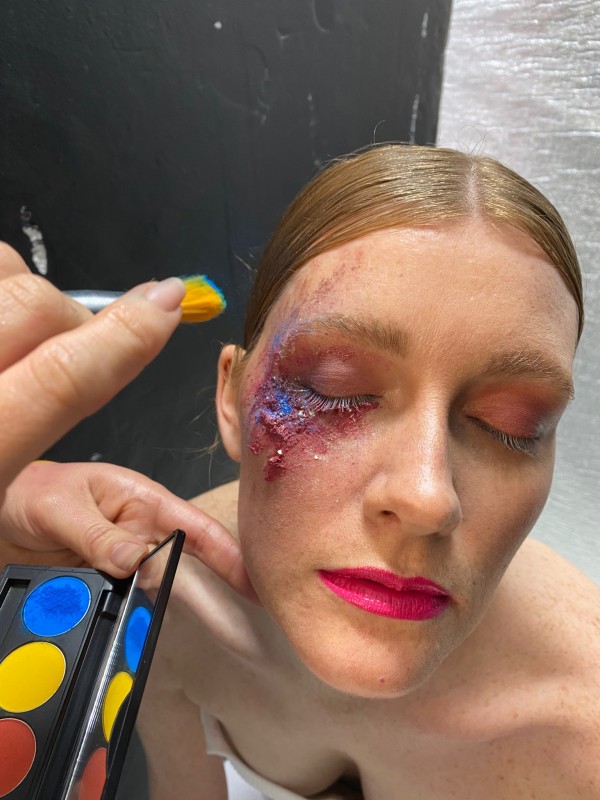 Some more tips from Rachel...
"As we approach spring and the makeup look on-trend is more of a dewy natural finish to the skin, it is important you get good prep laid down before you start your make up! The Prosperina range has a full skincare line to get your skin in tiptop condition.
Some of the products I love are:
- The Vitamin C Mandarin Cleanser from the Brightening Collection, literally visibly brightens your face after every cleanse.
- The Soothing Oatmeal Exfoliant from the Sensitive Collection gently exfoliates the skin to naturally brighten it. With removing all dead skin cells it creates a beautiful soft base for your make up application.
- I also love the Daily Moisture Quench Moisturiser from the Rejuvenating Collection, this makes skin so juicy and fresh looking."
Find out more about
Prosperina Cosmetics & Skincare
here