A chat with Versace's latest muse: Iris Law
Described by Donatella Versace herself as "gorgeous, smart and a little bit wild", Iris Law sits within the next generation of trailblazers and for reasons that need no further explanation, Versace's latest muse. The British beauty and daughter of Jude Law and Sadie Frost chats everything from being the face of Versace's newest fragrance Versace Pour Femme Dylan Purple, her mixed feelings on being a gen Z, and why a fragrance should be iconic, unforgettable, and unique.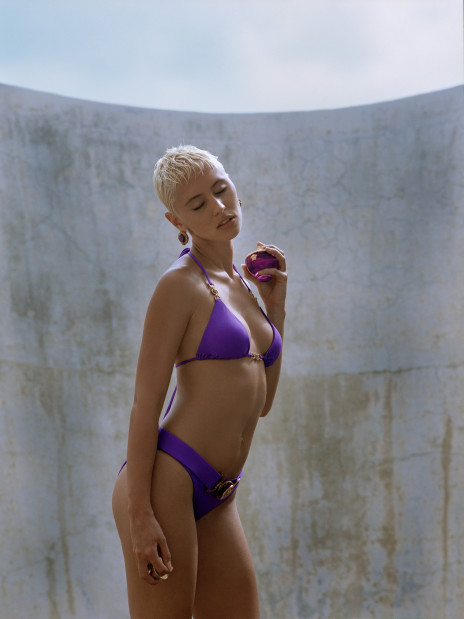 How do you feel about being the new muse for Versace Dylan Purple?
I'm so honoured to be one of Versace's muses. When I heard Donatella chose me to be the face of the newest fragrance for her, Dylan Purple, I totally fell in love with the project. A fresh, fruity, juicy scent with a hypnotic floral explosion at its heart and a seductive facet. The thing that I liked the most is that Dylan Purple perfectly reflects me and my personality, so I did not have to play that much on set, just had to be myself.


What does it mean today to choose a fragrance?
Today, more than ever, it is so important to choose the fragrance to wear. People want to express themselves in every way they can. Dylan Purple is perfect for me in this sense: a very distinctive fragrance, joyful with a young peppery facet.


How should your ideal fragrance be?
Iconic, unforgettable, and unique. Just like the Versace Dylan Purple.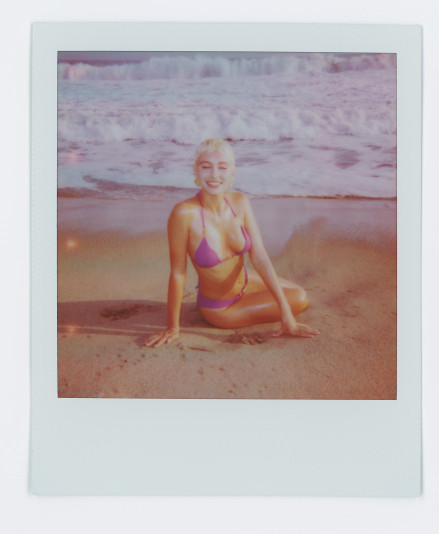 Donatella Versace defined you as gorgeous, smart and a little bit wild, let's say a true Versace girl. Do you identify yourself in this description?
Donatella's words are gospel.


The Versace Dylan Purple campaign is sensual but also playful and positive. What makes you feel sexy?
Versace as a brand makes you feel empowered as a woman, feeling sexy is a result of that as well as working with amazing people whose creativity is at the heart of what they do.


How does the Dylan Purple campaign represent you?
Never in my wildest dreams could I only imagine I would be a Versace woman! The way they perfectly balance the combination of sexy, playful and stylish. Seeing the campaign still feels surreal! I have so much respect for Donatella and the Versace House. I think Versace Dylan Purple represents all women and I feel this is represented in the campaign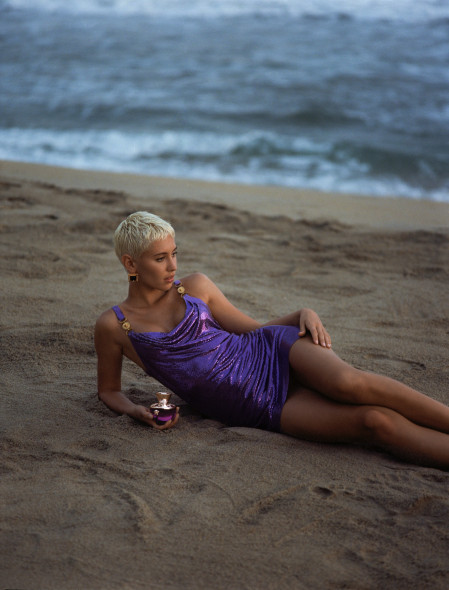 How was your experience on set?
The experience of the Dylan Purple campaign was so amazing and a memory I will cherish forever. We spent three days on set of the most beautiful beaches of Mexico with the most incredible and creative team. I have so much time and respect for these teams that work so hard to get things perfect. Seeing the creative vision come to life is always magic to me - I would love to do it all over again!


Can you tell us something about your future projects…
I am working on so many things I feel like it's hard to put into words and most of which I am not allowed to talk about. 2023 is a big year for me!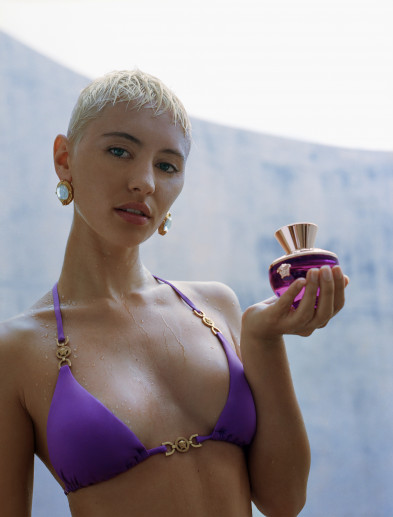 You belong to the Gen Z demographic. Do you feel to be part of it, or do you want to stand back?
I have mixed feelings about Gen Z. I feel we have so much responsibility for this world we live in and so much to prove! I am excited by change and championing it, however, I feel like there is an element of Gen Z which doesn't represent this, and I would hate to think people ever thought I didn't care!


You have joined Bella Hadid and Hailey Bieber as Versace faces. How does it feel to be in the same realm as these two icons?
I do not think that people can compare me, Bella and Hailey. We are three different women, each one with her personality expressing a different way of life and woman. I represent a generation, full of life and hope, Hailey represents the sophistication of women expressed by Versace Dylan Turquoise and Bella the elegance of women expressed by Versace Dylan Blue. Of course, Dylan Purple, Dylan Turquoise and Dylan Blue (and so, me, Hailey and Bella) have something in common: We represent the escape towards faraway islands!