A beauty editor's verdict: do you really need an eye cream?
If you love beauty products as much as I do, your bathroom cabinet is most likely overflowing with potions and lotions. Serums, moisturisers, masks, oils, spot treatments, you name it and I've probably got it sitting in there. Many ashamedly hardly used and probably expired now. However, there's one product I haven't added to my line-up: eye cream. I couldn't justify the dwindling counter space or effort of using one…until now.
I'd always put eye creams in the 'nice to have' but not 'necessary' basket. While true, the only product you really need is SPF, I recently discovered a new eye serum…and I'll go as far to say, it's now a must-have in my skincare regime.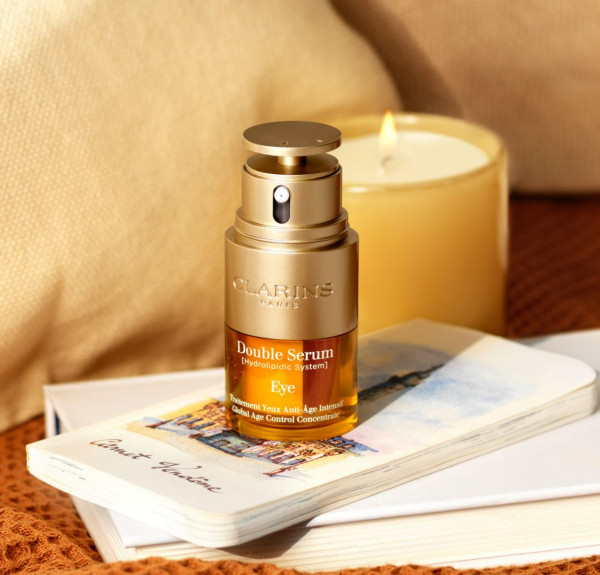 First things first, is 'eye skin' different to 'face skin'?
Skin is our largest organ, and it's a fair assumption to think skin is skin, it's all the same. Well, it's not that straight-forward. I don't use my body lotion on my face so why don't I treat my eyes with the same care?
The skin around the eye is far more delicate and thinner than the face. Not only is it more reactive to signs of ageing and fatigue, but it's also more prone to sensitivity and dehydration. The former is another reason I was hesitant to use one as I'm susceptible to milia—those little white bumps—which I get when I apply regular face cream around the eyes. Face formulas often include more potent ingredients like retinol or acids, which aren't kind to the eye area, so it makes sense I've experienced the odd reaction.
The new eye serum you need to know
The award-winning OG likely needs no introduction. Like all great icons, Clarins Double Serum has undergone many reformulations throughout its time to keep up with advances in technology. But, fast-forward 36 years, and it's still one of the most celebrated cult beauty products. Now, fans of the holy grail facial serum are rejoicing once more, with the news it now has an equally efficacious sidekick: Clarins Double Serum Eye.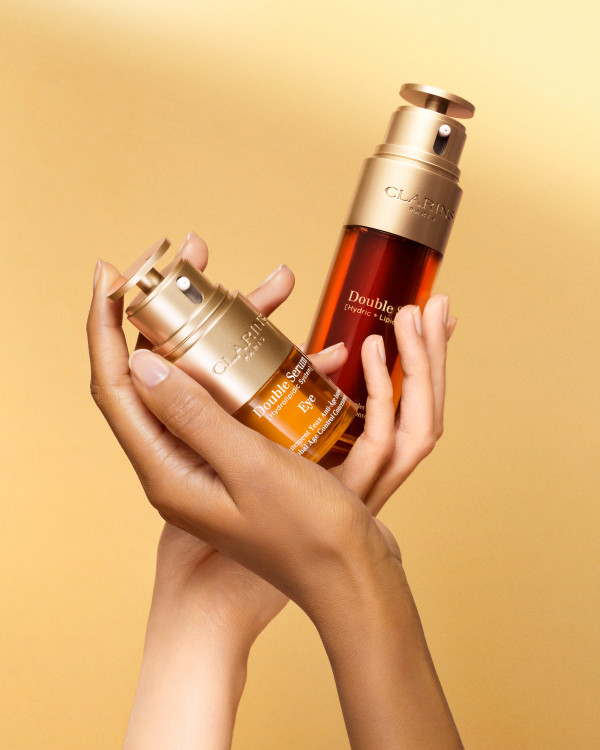 Encased in the same iconic golden, innovative dual chamber bottle, Clarins Double Serum Eye has been adapted specifically to deliver effective results and high tolerance around the eye contour.
I mentioned eye creams above because that's what eye formulations are most commonly marketed as. But, much like face creams and serums aren't the same, an eye serum (like this one) is fundamentally different. Clarins Double Serum Eye is brimming with a potent concentration of actives, but despite its thinner consistency it packs a punch – a little goes a looong way.
The lightweight texture absorbs quickly, making it ideal for those with sensitive skin. Like the original, Double Serum Eye is made up of two formulas — one being oil-based and the other water-based — that combine upon application.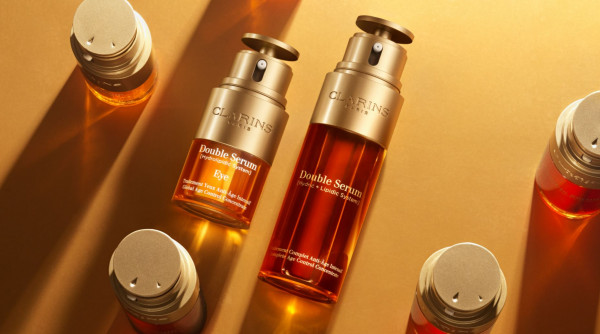 Made from 96 per cent natural ingredients, and 13 potent plant extracts, like handpicked and sustainably-harvested organic Wild Chervil extract to help strengthen delicate skin, plus Turmeric to assist preservation of cellular communication and limit ageing. You'll also find Caffeine extract, Oat, organic Kiwi and Horse Chestnut to firm, hydrate, de-puff and protect against pollution.
The benefits
Smooths the appearance of wrinkles.
Reduces the appearance of puffiness and dark circles.
Helps strengthen and protect the skin around the eye contour.
Eye area appears illuminated and more radiant.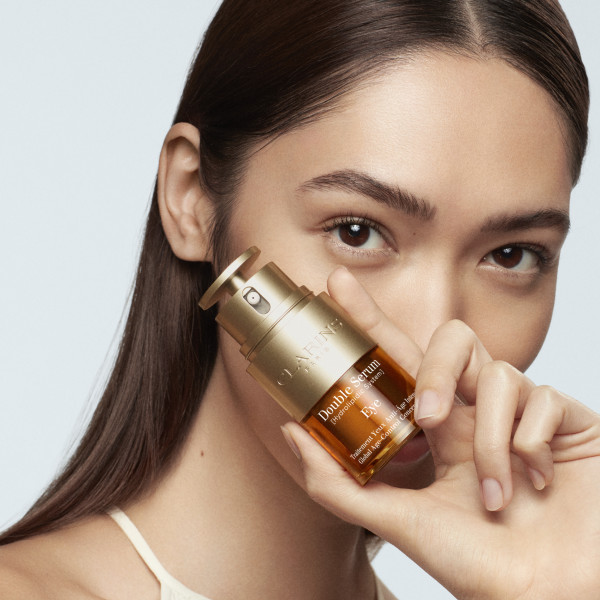 My verdict
I've been using Clarins Double Serum Eye morning and night for the past few weeks.
The skin around my eyes hasn't received much TLC over the years, and as a result the signs are creeping in, mainly fine lines, dehydration and dark circles (nothing to do with a very sporadic sleep schedule…promise).
While it's only been a short period of trialling, I've observed a difference already.
The instant difference I noticed was my make-up. Due to the lightweight formula and instant hit of hydration, I found my under-eye concealer didn't crease and had more staying power throughout the day.
At three weeks, I've even noticed a slight difference in lines around the eye contour. They look much softer, which I also put down to hydration. Disclaimer: movement around the eyes is natural (it's a sign you've had a good life!) so no skincare will completely eradicate lines, but they can certainly help reduce the appearance.
Overall, I'm very impressed with the new Double Serum Eye from Clarins. I was a sceptic to begin with but I definitely now see the merit in using a targeted eye serum. Double Serum Eye is designed to work in tandem with the OG, Double Serum, to improve the five vital functions of skin so I'll be trying both as a pair for sure.