10 common questions about collagen answered
It's near impossible to not have noticed the collagen revolution over the past year. From online articles (like this one) to A-lister endorsements to hundreds of tags for #collagen on the 'gram, it's everywhere. However, unlike other beauty trends and fads that come and go, the collagen hype is warranted.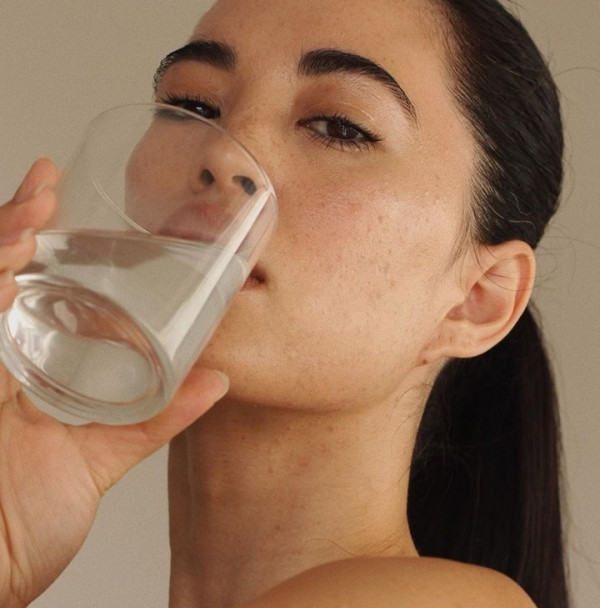 @nikkicruz for Dr. LeWinn's
Due to the surge in popularity, it can be difficult to discern the good from the not-so-good collagen. It's a fact: not all collagen is created equal. There are countless variations on the market - powders, liquids and capsules. Then, there's the types of collagen and how they're sourced. The list goes on.
One of the newest collagen ranges on the market is Dr. LeWinn's Marine Collagen Peptide+ Inner Beauty Powder and Marine Collagen Peptide+ Inner Beauty Liquid Shots. Below, we clear up your collagen confusion and unpack what sets the latest range from Dr. LeWinn's apart.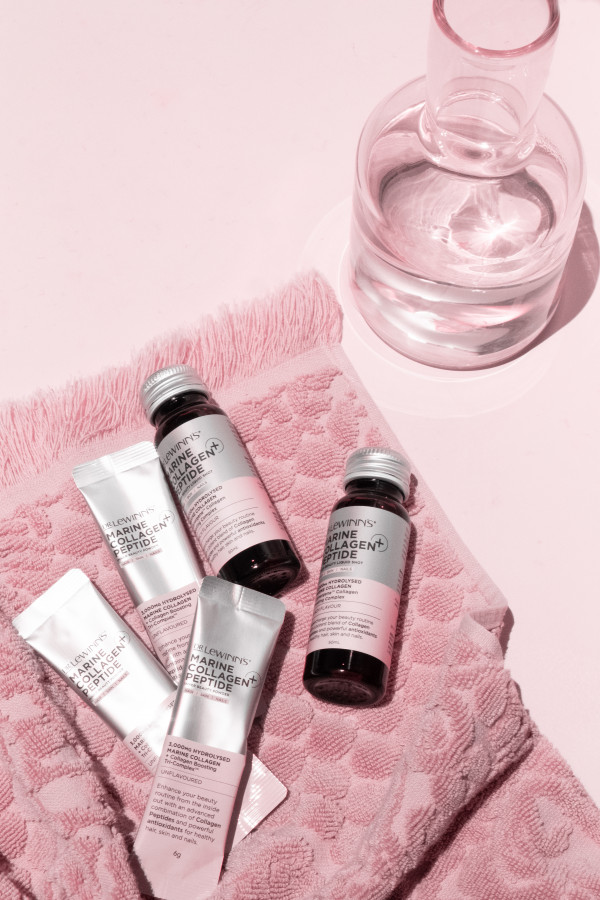 What is collagen?!
It's a fair question. We wouldn't be surprised if most people consuming it, didn't *actually* know what it was. Collagen is a naturally occurring structural protein in the body, forms the connective tissue in the skin, bones, muscles, tendons and ligaments. It's often referred to as, 'the glue that holds everything together'. We're born with an abundance of collagen, but the sad reality is, as we age, our collagen levels deplete and production plateaus. One of the visible signs of this is in your skin, which becomes less firm and supple.
What are the main benefits of collagen?
When taken daily, you can reap a myriad of rewards from collagen. Most notably, it will help boost skin hydration, increase skin firmness and smoothness, improve overall skin complexion and strengthen hair and nails.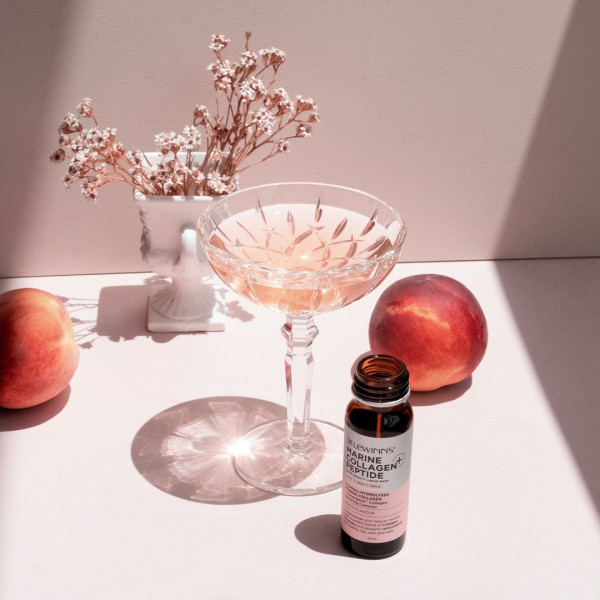 What are the main types of collagen?
There's a lot of terminology floating around with regards to collagen. Here we explain the differences between 'type', 'source' and 'form'.
There are 16 different types of collagen, the most researched being types 1, 2 and 3. Put simply;
Type 1 is the most common, accounting for 90 percent of your body's collagen. It provides structure to skin, bones, tendons, fibrous cartilage, connective tissue, and teeth.
Type 2 is found in elastic cartilage, which cushions your joints.
Type 3 supports the structure of muscles, organs, and arteries.
What's the best source of collagen?
To make navigating the world of collagen easier, experts recommend looking at where the collagen is sourced from as opposed to 'type', as all collagen essentially supports the same processes.
What's the difference between the sources of collagen?
The two main forms of collagen are marine and bovine. Marine collagen comes from fish, while bovine collagen comes from cows. Bovine is created from cow hides, and marine is made from fish skin and scales. Generally, marine collagen is regarded as more premium and most beneficial for skin health.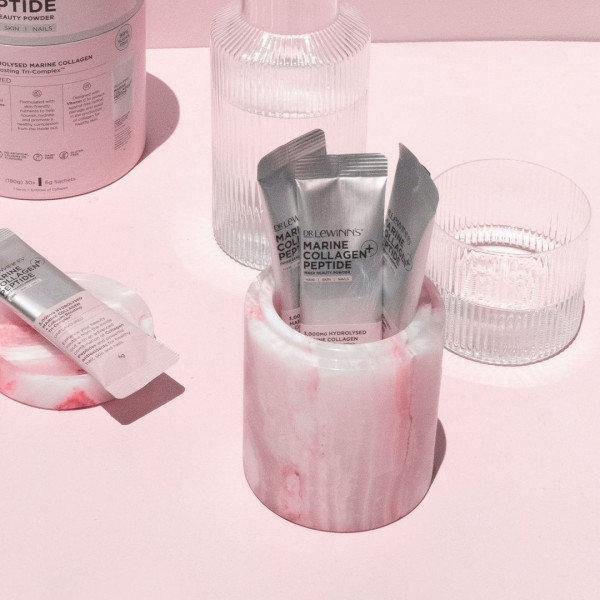 What does collagen 'peptides' and 'hyrdolysed' collagen mean?
Peptides and hydrolysed are interchangeable. Both essentially mean very small pieces of collagen. Hydrolysed collagen peptides are most easily absorbed and digested by the body and are also dissolvable, so can be added to drinks making it an effortless addition to your daily routine.
What's the best way to absorb collagen – powder, liquid or capsule?
When it comes to how you take your collagen, this is a matter of personal preference. The only real difference between the two is the delivery method.
How do I take collagen powder or liquid?
The best part about collagen powder and liquid is its versatility. Take Dr. LeWinn's Marine Collagen Peptide+ Inner Beauty Powder for example – its flavourless formulation makes it the perfect addition to your morning coffee, tea or breakfast smoothie. Better yet, you can even bake with collagen powder, infusing muffins, bliss balls, or banana bread for added health benefits.
Dr. LeWinn's Marine Collagen Peptide+ Inner Beauty Liquid Shot delivers a concentrated dose of collagen with a delicious peach taste. We recommend adding it to sparkling water or an antioxidant-rich spinach and avocado smoothie.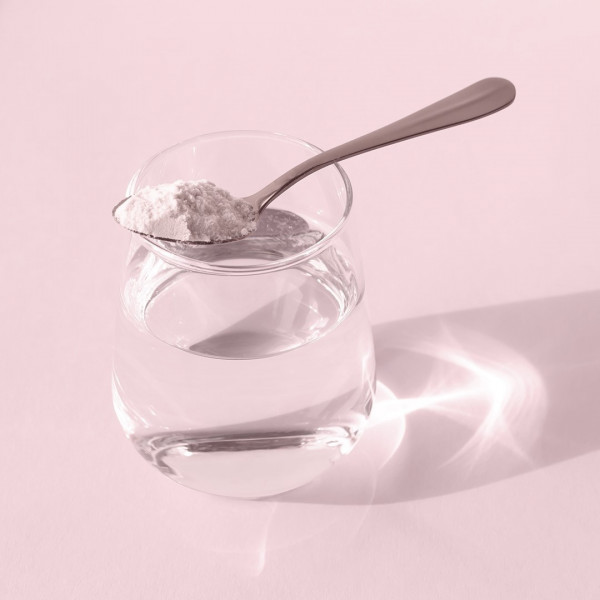 I'm gluten free – can I take collagen?
Yes absolutely! But…you'll need to look for gluten-free collagen like the Dr. LeWinn's range.
Is there anything I should be weary of when shopping for collagen?
To reiterate, not all collagen is created equal. Often the price is pretty telling – if it's super cheap, it's probably because it's super cheap quality too. The devil is also in the detail AKA the fine print. Make sure there are no nasty additives or fillers lurking there. Dr. LeWinn's collagen range is 97 percent sugar-free, with no artificial colours or flavours. Both the powder and liquid are also dairy and gluten-free. Double win!
The other thing to look out for is how it's sourced. If sustainability is a key consideration for you, Dr. LeWinn's marine collagen has minimal impact on the environment. It is sustainably sourced using fish skin or scales that would otherwise be thrown away.
The good additives
The Dr. LeWinn's collagen range features a Collagen Boosting Tri-Complex™ blend (in the powder) and Synergene™ Collagen Boosting Complex (in the liquid). These contain only the good stuff - a powerful antioxidant blend with Vitamin C, Blueberry Juice concentrate and Spinach Powder. Vitamin C in particular, has a close relationship with collagen, working together to provide maximum skin health benefits. Vitamin C is a necessary component of collagen synthesis – the process of collagen production.
About Dr. LeWinn's Marine Collagen Range
Marine Collagen Peptide+ Inner Beauty Powder
Containing thirty 6g easy-to-use sachets, the powder boasts 3000mg of sustainably sourced Hydrolysed Marine Collagen. A super convenient alternative to clunky jars, the sachets are perfect for travel – simply pop in your bag and you're away!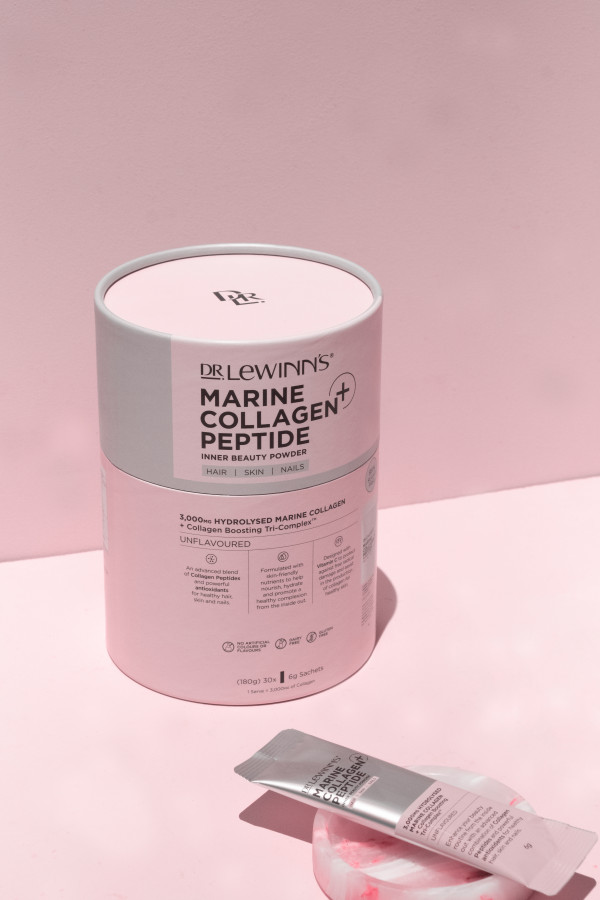 Marine Collagen Peptide+ Inner Beauty Liquid Shots
The liquid shots come with 10 concentrated 50ml shots that deliver an impressive 10,000mg of sustainably sourced Hydrolysed Marine Collagen.