Your Fashion Week essentials: Day Three
Heeeeey Fashion Week people!! Congratulations if you're still standing – you made it to Day Three!! Your handbag contents today are CRUCIAL to make sure all the details you worked so hard on for days one and two don't fall apart. Your feet are sore (statement heels am I right?), late nights and dehydration are beginning to show on your skin and hair… we've collected all the pick-me-ups you need to get through this rainy day in style and set up perfectly for the rest of this hectic, wonderful week!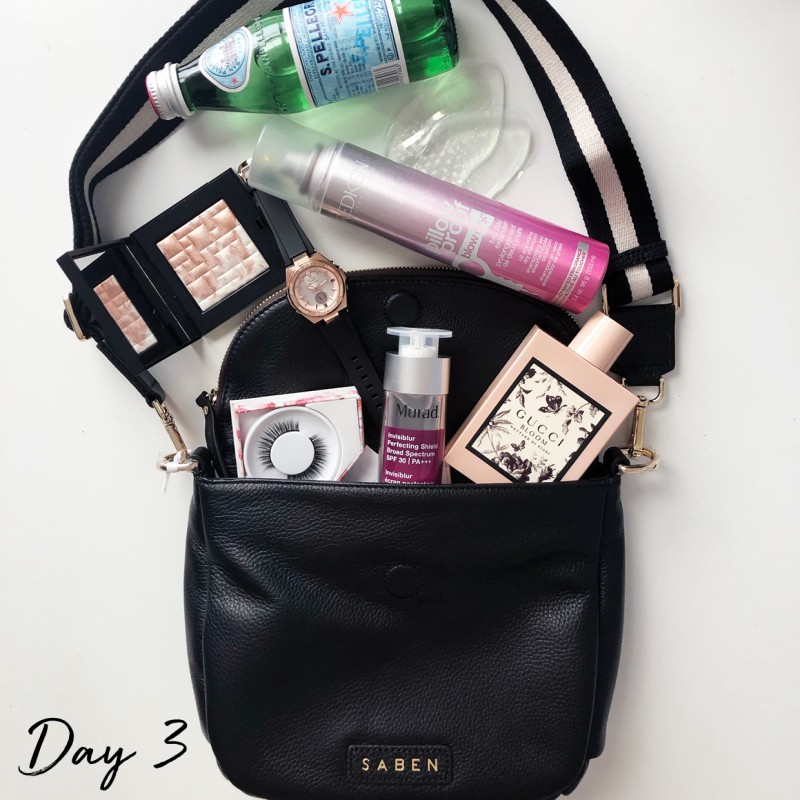 Remember those waters you should have been sipping during cocktail hour last night? NOW is the time to fix that. Get your hands on a San Pellegrino and, voila, clean slate. Give your feet the love they deserve with some cushion insoles, and give your sleepy morning eyes an instant lift with some Ashley Allen Lashes; seriously, these babies work wonders!
Everything in this bag is about perking you up today. Treat yourself to a blowdry using Redken Pillowproof to feel like you just dropped $200 at the salon for bouncy, full-of-life locks. Erase any blotches or spots resultant of too much fun in the past few days with Murad Invisiblur Protecting Shield under your makeup, and give your cheekbones an instant 'just slept for 10 hours' glow with Bobbi Brown. Along with a spritz of a gorgeous pick-me-up scent like Gucci Bloom, you'll be feeling fresh and ready to take on any Fashion Week madness.
There are SO MANY shows on today, so make sure you don't miss a beat with this super cute Baby-G watch!
And to hold all these essentials, and whatever goodies you grab during the day? None other than this classic Saben Fifi Bag, of course! The soft leather and super cute gold detailing will make this bag your go-to long after the curtains close on Fashion Week.
Let's do this! Fashion Week is definitely better than ever this year, and armed with all our essentials, we can't wait to see what the rest of the week has to offer!