We've rounded up the best Tik Tok recipes to make for you and your bubble
Whether you're on tik tok or not, the video sharing app has become immensely popular, especially among our Gen Z friends. However, the social media platform is not just all viral dance trends and good-looking people lip-syncing to hit songs.
Tik Tok saw an influx of viral recipes during the peak of the pandemic, all of which have been tried and true by millions of people all over the world under their various hashtags. What makes it even easier is that these recipes are given to you in bite-sized videos.
Going through the millions of recipes may seem daunting so we've made it easier by compiling our favourite viral recipes that are deliciously easy to whip up for you and your bubble.
10 MINUTE DONUT BALLS
This simple recipe will cure that pestering sweet tooth that's now more obvious than ever. Joshua Weissman aka @flakeysalt on tik tok shows you how to make these delicious treats here.
Ingredients:
2 cups all purpose flour
1 ½ tsp of salt
¼ cup sugar
1 Tbsp baking powder
¾ cup milk
¼ cup melted butter
Method:
Combine all of the dry ingredients in a bowl
Whisk melted butter into milk in a separate bowl
Mix wet into the dry ingredients
Knead until the mixture looks like dough
Fill a saucepan with about 1 inch of oil or enough to submerge the donut ball.
Heat on medium until the oil is 180 degrees Celsius
Shape the dough into balls
Add the balls to the pan and let them fry until golden brown. It normally takes 2-3 minutes per side.
Flip them all and wait until golden brown
Once cooked, toss in cinnamon sugar and serve.
WHIPPED ICED COFFEE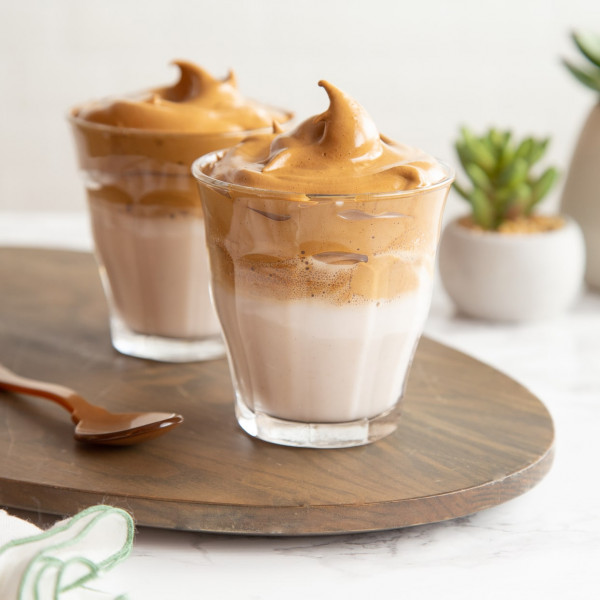 Whipped Coffee went viral last year during the first ever lockdown and has been tried and adapted by millions of people all over the world. It takes a bit longer than your average morning coffee but it's definitely nicer to look at. One of tik toks' big creators can be seen recreating the iconic trend here.
Ingredients:
2 Tbsp instant coffee
2 Tbsp white sugar
2 Tbsps hot water
Milk (of your choice)
Method:
Add the instant coffee, sugar and water to a small bowl
Use a hand mixer (with one beater) or whisk to whip mixture until it is thick and creamy
Fill a glass with your milk and ice cubes
Add the whipped coffee to the glass and stir before drinking
GIGI HADID'S SPICY VODKA PASTA
Never has a pasta recipe gone as viral as Gigi Hadid's easy-to-make spicy vodka pasta with the hashtag receiving 137.8 million views. This can be made with or without vodka. You can watch food-blogger Allie Tong's rendition of the trending pasta here.
Ingredients:
2 cups rigatoni or penne
1/2 cup olive oil
1 tablespoon fresh garlic, minced
2/3 cup tomato paste
1 Tbsp
1 1/3 cup heavy cream
2 teaspoons red pepper flakes, or to taste
2 teaspoons dried basil
salt and pepper to taste
1/2 cup freshly grated parmesan, more to taste
2 tablespoons unsalted butter
optional garnishes: finely chopped parsley and red pepper flakes
Method:
Bring a large pot of salted water to a boil. Throw in the pasta and cook according to package directions and then drain.
In a saucepan, add the olive oil over medium heat. Add the garlic and tomato paste and cook for about 4 to 5 minutes. The tomato paste will darken in color from a bright red to reddish brown. Then add the vodka.
Add heavy cream and mix. Let it simmer for about 2 to 3 minutes.
Add the red pepper flakes, dried basil, salt, and black pepper to taste and mix again.
Add the grated parmesan, butter. Mix until the sauce is smooth and creamy.
Toss in the cooked pasta and mix to coat evenly.
Top it off with more grated parmesan, chopped parsley, and chilli flakes and serve.
AIR FRYER PASTA CHIPS
The air fryer has almost become a tik tok star in its own right at this point. People everywhere are getting super creative with the kitchen appliance and frying just about anything, but the crunchy air fryer pasta chips is what has it trending as of late. Yumna from @feelgoodfoodie shows you how to make the interesting snack here.
Ingredients:
Pasta of your choice
Olive oil
Parmesan cheese
Spices: For an Italian twist, try garlic powder and Italian seasoning or oregano
Dips
Method:
Cook that pasta al dente in a pot of heavily salted water.
Drain the pasta and transfer it to a large mixing bowl or back into the pot.
Add olive oil, parmesan cheese and the spices you're using.
Toss well to combine to make sure the pasta is coated with the oil, cheese and spices.
Air fry until golden and crispy, shaking the basket a few times.
Remove from the air fryer and allow to cool slightly before enjoying!
PESTO EGGS
Wake up your taste buds with the flavour sensation that is pesto eggs. The trending breakfast recipe from Tik Tok is a great way to kickstart your day. Learn how to make this sensory feast here.
Ingredients:
2 tbsp. pesto
2 medium eggs
1 avocado, thinly sliced
2 slices of sourdough
1 tbsp. ricotta
1 tsp. runny honey
A pinch of chilli flakes
Method:
In a non-stick frying pan on medium heat, add your pesto and cook for about a minute until the pesto is warm, and you can see the oil in the pesto separate slightly.
Add your eggs, pop a lid on and cook for 3 minutes.
As your eggs are cooking, toast your sourdough, and spread ricotta over each slice, followed by some sliced avocado.
When the eggs are cooked to your desired taste, remove from the pan and add to the sourdough.
Drizzle over honey and season with salt, pepper and chilli flakes.