Try a fried chicken waffle cone at this FEASTival
La Zeppa, one of Auckland's hottest roof top bars is back yet again with another awesome weekend event that involves fried chicken in waffle cones and celebrates everything from the south of the USA! Yup you heard me heard me right, fried chicken waffles!
Orleans's and Oysters FEASTival is the southern bbq and music festival hitting Auckland on the 19th and 20th of May and it'll have you holding a drink in one hand and a fried chicken waffle cone in the other while you dance the night away to the epic-line up of live entertainment they have set for the event.
You might have gathered we're really excited about the fried chicken waffle cones but don't worry theres more on offer too. There'll be six different incredible vendors there serving up all sorts of treats throughout the FEASTival including tacos from Morepork, burgers from Crate Kitchen, pretzels from Popa's Pretzels and oysters of course from Clevedon Coast Oysters.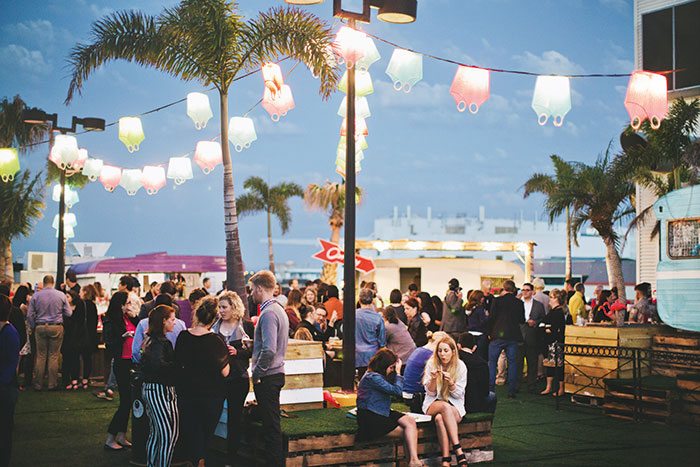 Now that the food is covered (which is the most important part right?!) lets talk about all the fun and entertainment La Zeppa have got planned. Alongside an epic line-up from George FM Dj's, there'll also be an afrofunk band and saxophone-shaker performing during the day.
While you listen to the sweet tunes or are taking a break from the dance floor why not get a tarot card reading or play some American bar games including shuffle board and for the lads, Boar & Blade barbershop will be on the scene to serve up the freshest fades.
Entry to this roof-top event is only $10 and you get a free drink on the way in (perfect)! There will be door sales on both days but it is advised that you make a booking if you're taking your group along with you, that way you're definitely secured! For more information visit here.
Image credit La Zeppa Orleans & Oysters event