Squeaky green cleaning with Simone Anderson
Published author, motivational speaker and wellness influencer, Simone Anderson, is the face and partner of a new range of eco-cleaning products. Nada was developed in New Zealand by Robert Coleman and James Hanafin, two entrepreneurs motivated to change how people clean their homes through concentrated cleaning tablets and reusable bottles. Simone opened up about her new role with Nada and her famous cleaning tips that helped us through lockdown!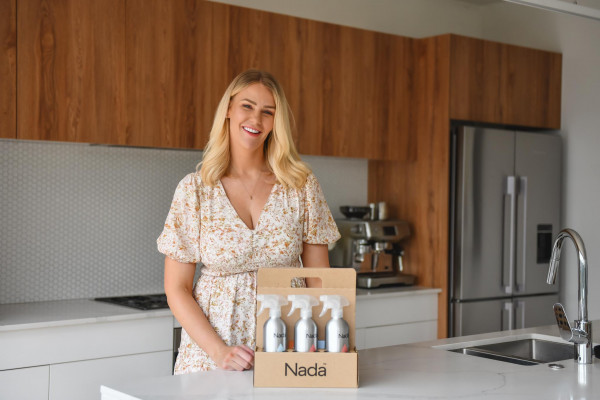 Tell us what made you initially want to work with the team at Nada?
Cleaning and organising is something that brings me so much joy in life. For the past few years I have been sharing more and more of my cleaning hacks and tips and tricks to audiences online. Nada is just such a natural fit for me and my audience, showing people that you can keep your home clean from top to bottom while also caring for the environment.
Just so people are aware, you're a business partner, not just a brand face, correct? What does that involve?
Correct! It's been an amazing opportunity to work alongside James and Robert the founders of Nada. We have so many exciting things in the pipeline and lots of new products in development.
What is it that makes Nada truly unique?
What I believe makes Nada stand out is the commitment to the environment every single step of the way - from packaging to shipping to every drop of cleaner. Then the Nada pledge to give 50% of all profits back to environmental charities here in New Zealand.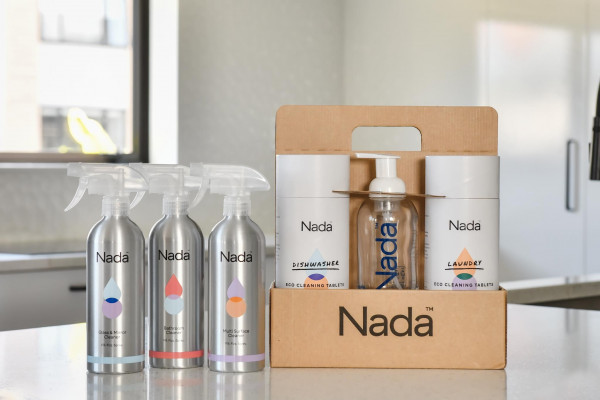 Your cleaning and housekeeping videos went viral during the pandemic. Why do you think that is?
I believe it was because for the first time ever people were stuck at home with no option to get out and about; they couldn't hide from things around the house they had been putting off. It motivated people to tackle one area at a time and my cleaning challenges helped keep people accountable.
Have you discovered any new cleaning or housekeeping hacks lately?
My all-time favourite hack is throwing a dishwashing tab into the drum of a washing machine, putting it on the longest wash and watching all the dirt and grime from the seals wash away!
Where did this originally come from? Were you always very particular and house proud or did that develop more since owning a home?
My mother and father. It was never questioned, it was just a given. Weekends were spent gardening with dad or folding washing with mum; it was never a chore or something I hated. They made it fun and just quality time spent together. My favourite activity at four years old was arranging my teddies in height order and books into colour coded sections. My best friend who lived four doors down got dragged into my quirky games. I remember our linen cupboard so vividly as a child, matching baskets all labeled and perfectly ordered, towels, sheets, medicine kit etc. guess it just stuck.
How did or do you handle chaos around the house having a little one?
I haven't found chaos…. Yet! I think this is because with systems in place and good organisation I manage to keep on top of everything each day. I break big jobs down into smaller jobs and just do little bits here and there when he sleeps. Organisation is a priority for me, I enjoy it, it keeps my life stress free and flowing smoothly. To-do lists are my best friend and I get a sense of accomplishment ticking tasks off!
Be honest, is there one area of your life that is a little disorganised or not as tidy as the rest? What is it?
Photos on my phone! I try my hardest to upload and date them into folders each week for easy reference but often this task falls further down the list! I take a lot of photos so this is probably the area of my life that gets most out of control.
What are your hopes and dreams for Nada?
To see Nada in households around New Zealand and hopefully around the world. For people to realise the huge impact they are making by switching to Nada cleaning tablets and ditching the plastic. I would love to see our product range and offering double within the first two years of business!
What else do you have in the works or in the pipeline for 2022?
My plate is overflowing at the moment so my ultimate goal is to manage to juggle all my different roles without dropping the ball! Mum life, wife life, family time, social, business and maybe some 'me' time in there too. At the end of the day my ultimate goal is to be the best mum my beautiful son deserves, so I will continue trying my hardest in 2022.
Discover more about Nada and pick up The Nada Starter pack of eco-cleaning products online now.