An insight into women in aviation with North Shore Aero Club
The world of aviation carries an element of mystery with it. Whether it's long-haul or short-haul, we're convinced everyone has, at some point, sat on the plane and wondered what it's like to fly something so extraordinary. We were lucky enough to speak to Angela Competente and Tegan Knightbridge of North Shore Aero Club on the mystique of being sky high and what it's like as women in aviation.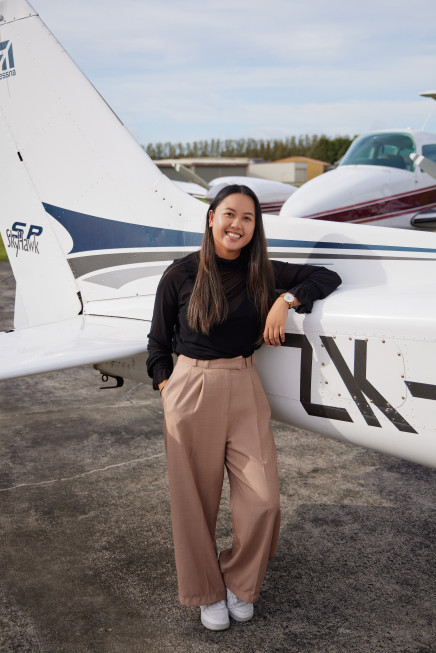 How did you get into the industry? What made you want to be a pilot?
Tegan: At school, I never really thought it was a possibility. I went to uni for a while until I realised I'm not interested in this - I went and did a trial flight here at North Shore Aero Club, and that just kickstarted it.
Angela: For me, it's surprisingly similar. I didn't consider it at all for myself in high school. I did a semester of engineering at UA and hated it [laughs]. I had a friend down in Massey who was doing a degree in aviation and he was already flying so I talked to him about it and he convinced me to do it. I applied, started, and the rest is history.
Shedding a light specifically on women in aviation - it does seem like such an anomaly. Why do we think there's such a low demand for female pilots or females in aviation roles in general?
Tegan: If you don't have any connections in the industry it's not really something that you think about. Because I'm quite an outdoorsy person, it was in the back of my mind, but other people may not be the same.

Angela: There are lots of different factors that come into play, but one thing is that it's not a well-known industry for females. It's one of those things that boys grow up into and something you expect them to be interested in, but it never really gets pushed on to girls as such, and so when they start growing up, and because it's such a niche industry, girls just don't really think about it all that much.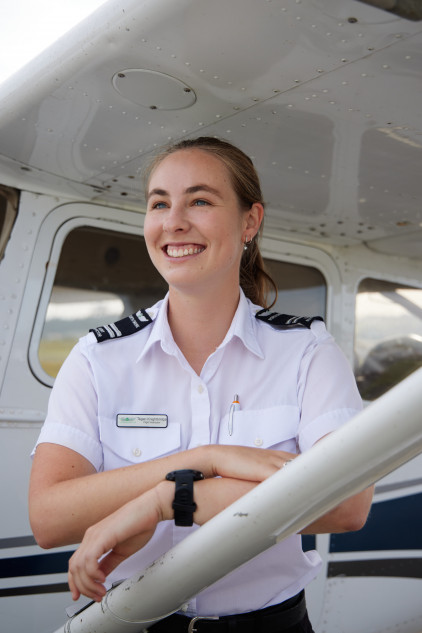 What was your experience getting into the industry being female?
Tegan: They're all pretty open with it - everyone's really encouraging. I didn't have any roadblocks or anything because I was a female which was really nice.
Would you say there were other battles instead that you faced when getting into aviation?
Tegan: Not really! It was smooth sailing which I have been lucky with. Everything's gone to plan.
Angela: I think the biggest one that impacted everyone was COVID - it set me back about a year. A major thing with aviation is you want to stay current - you don't want to take a break and lose that muscle memory and judgement that you build up. It took a few flights to get back into it.
Is there a role that we can all play to help in balancing the stigma?
Tegan: One thing that I wish I had seen more of growing up was aviation training at career evenings. There was nothing. It was just promoting universities. I just wish there'd been more people saying "hey, this is a really cool thing to do and it might interest you."
Angela: Leaning into that, there's this programme that we offer through NZQA that allows students to gain credits whilst training called Gateway - that's starting to get a little bit of rapport. But still because it's a gateway programme it gets brushed under the rug a little bit with high schools.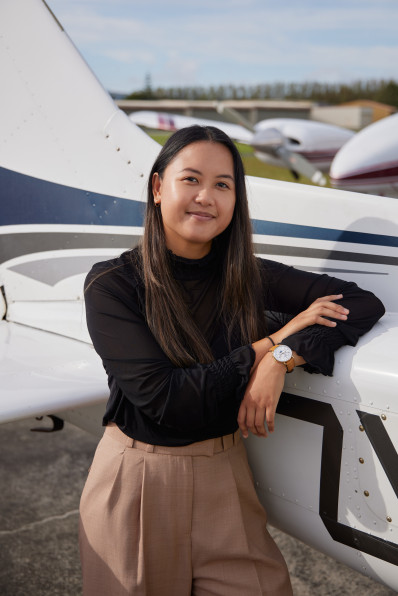 Would you say the stigma is decreasing over time or would you say it's stayed the same?
Tegan: I definitely think it's getting better. Even around here, there are way more women flying than I thought there would be but when I first got into it, I expected to be the only one. It's definitely not like that, there are a few other ladies around the club.
Angela: It's a good community around here and I think that's something that North Shore specifically is good at. I know a lot of other places still struggle with getting women in and I guess that's to do with the area. There are a lot of people here so we get more women.
Do you have any opinions on the recent 'Maverick' craze with Top Gun's second film release, would you say that this is good encouragement for females to want to be in aviation or the opposite?
Tegan: I have seen a bit of hype around on social media. I've never actually seen it [laughs]. I feel like I've seen enough on social media!
Angela: I did enjoy the one lady that they added in there [laughs].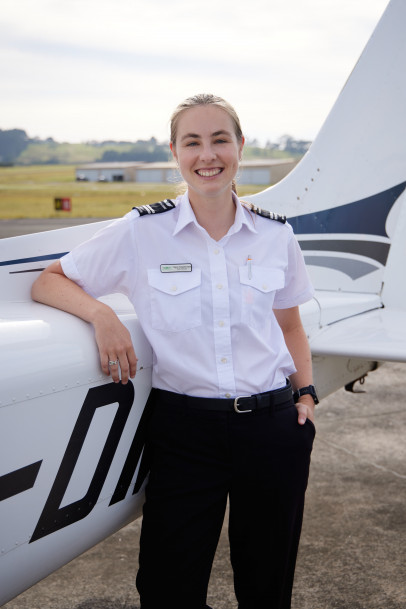 What's your advice for the women out there wanting to start in the industry? Where can they start?
Angela: Don't have any reservations about it - the best way to get into it is just to involve yourself and try to meet as many people as you can. That's something I believe aero clubs are good for is building a community and getting connections. There is also the 'New Zealand Association of Women in Aviation' which is also great at supporting women in Aviation.
Finally, tell us about NSAC? What services do you offer as a pilot here?
Tegan: The good thing about the Aero Club is that you can take your time to get your license - with Flight School they tend to push you through really fast. You can base your training on your budget and your availability. You can fly as little or as often as you like. Trial flights are a good way to get into it and I always recommend them because they give you a feel for the aircraft and whether or not you actually want to do it - although pretty much everyone that I've taken on trial flights absolutely loves it and says it's the best thing they've ever done. You can get your Private Pilot License (PPL) through us which is your first license, as well as your Commercial Pilot License (CPL), your aerobatics ratings, night ratings, and multi-engine instrument ratings. Pretty much everything you need.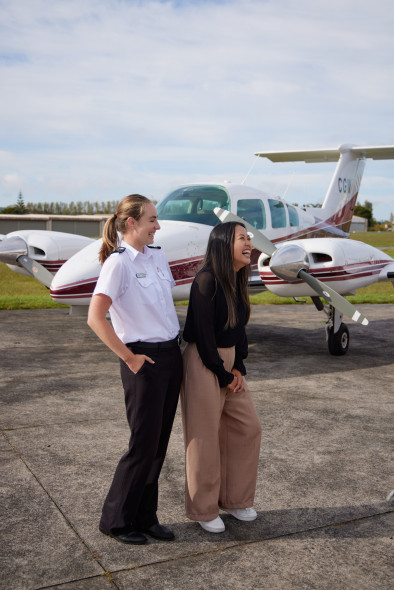 What can you expect when training here?
Tegan: You'll book in with an instructor and get a two-hour slot. You'll turn up here and depending on whether you've been signed off to do the pre-flight by yourself or not you'll go out and do that (basically just checking that the aircraft is safe to fly.) You'll then come back, do a briefing with the instructor on what the lesson is for the day, and then you'll head out into the aircraft to go and do the exercise, come back, do a debrief and then head home!
Find out more about flying at NSAC.CO.NZ