Five secret South Island gems to tick off this winter
Whether you're a thrill-seeker or a sightseer, there's no doubting the near-Utopian beauty of our very own backyard in winter. If you're up for some high-calibre, low-expense adventuring then make your way lickety-split to the Winter Wonderland that is our very own South Island - because we've compiled the top five destinations to tick off without abiding to the beaten track.

Lake Pukaki
Where: MacKenzie Basin, Canterbury, 7km from Twizel.


Why you should go: With its iconic Church of the Good Shepherd, neighbouring Lake Tekapo often steals the spotlight - but there's no denying that the azure Lake Pukaki is equally, if not even more, glorious. Boasting luminous teal waters and vistas of the monumental Mount Cook, it's the perfect spot for freedom camping, star gazing, or a nibble on the locally farmed Aoraki salmon.

Punakaiki Pancake Rocks
Where: Punakaiki, West Coast, Buller District.


Why you should go: Most travellers are lured to the wild West Coast by the impressive Fox and Franz Joseph glaciers. But 30 million years of seismic action has achieved an awe-inspiring outcome in a formation just north of Punakaiki, dubbed the "Pancake Rocks". Take a 45min round trek to access these limestone marvels, and keep an eye out for Hectors dolphins playing on the shores nearby, and the grand "Ballroom Overhang" cliff up the road.

Devil's Punchbowl
Where: Arthur's Pass, Canterbury.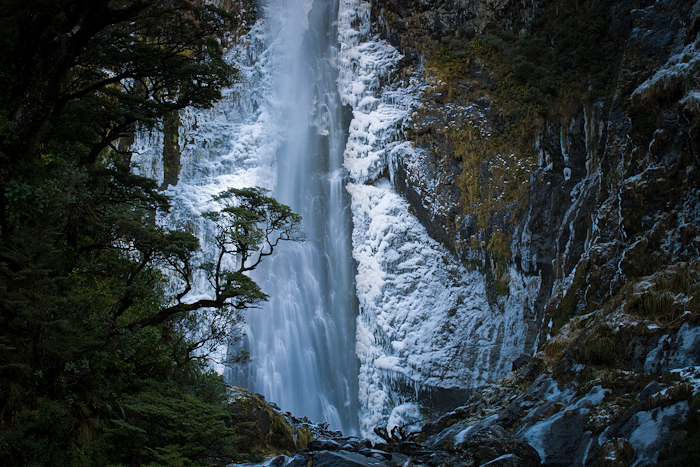 Why you should go: If you're wending your way across Arthur's pass, there's a worthy stop-off which is equally badass in its name and its topographic surrounds. Snowmelt cascades 131 metres down the Devils Punchbowl falls, and an hour's walk will bring you right up close to the action.

Wanaka Blue Pools
Where: Mt Aspiring National Park, 8km from Makarora


Why you should go: Forget #thatwanakatree, even more picture-perfect terrain is just around the corner at the Blue Pools. Here you'll find glacial water abundant with trout and criss-crossed with swing bridges.

Nugget point
Where: Cailtins Coastal Area, Otago.
Why you should go: Nugget point is the opportunity to see seal colonies, penguins and sea-birds thriving in a dramatic landscape, named after an incredibly delicious food. If that isn't alluring enough, Nugget Point is also home to an impressively ancient lighthouse and some of the most spectacular sunrise viewing in the country.
Photo credit: National Geographic, Punakaiki.co.nz, BlazePress, Go Rentals, Kevin Bowie.