Pacifico Brings Mexican Street Artist Saner To Auckland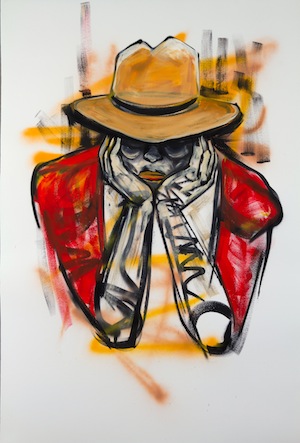 Ask yourself, how many times have to been to a Mexican restaurant lately?
All things Mexican have exploded in our popular culture recently. Whether it's architecture, fashion, homewares, design, art or food, Mexican culture, colour and style is on the rise, as Kiwis learn more about Mexico and its peoples. So the timing was perfect for Mexican beer
Pacifico
to bring a truly authentic Mexican artist to New Zealand.
Edgar SANER Flores
is at the forefront of contemporary art in Mexico and around the world. He uses a mix of mediums to portray personal and social commentary. All are bold, dynamic, comic, expressive, symbolic and use elements of Mexican popular traditions, such as heroes and demons in subtly subversive ways. As well as the exhibition, Saner painted a live art installation 17 metres up! The Saner exhibition was brought together by Pacifico, a full flavoured, pilsner style Mexican beer. It's clean, fresh and 4.4% ABV. Made from the choicest hops, barley, yeast and water from the springs of Mazatlan, it's a smooth, outstanding, distinctive tasting beer. Pacifico is currently available either on Premise in restaurants nationwide, such as Mexico, and Off Premise in a 6-pack from stores such as Glengarry and Liquor King.
Click here to visit Saner's website and here to check out the latest updates on his blog. Then visit Eventfinder here for information about his installation in Auckland.
Words by Steven Fernandez.