Nine of the world's best swimming pools
Saltwater, sunshine and swims, a winning summer combination! Without these as a regular occurrence in our working week a lot of us are left feeling a little lost, hence why winter can be a real downer on our spirits.
In a therapeutic mission to bring us closer to the luxe life of holidays; we've curated nine of the best swimming pools the world has to offer:
Pamukkale, Turkey
Located in the south west of Turkey, these calcium-rich hot springs are utterly idyllic. Not only does the water have purifying abilities, the remote location means chances are you'll have these all to yourself! Be sure to pack a picnic of fresh Turkish cuisine, our hearts couldn't be happier.
---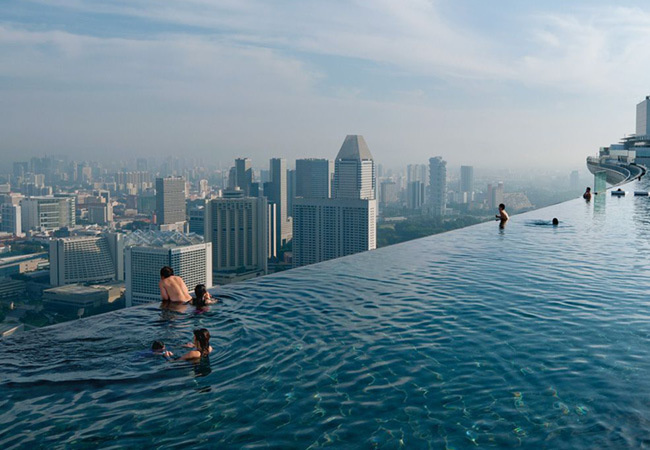 Marina Bay Sands Resort, Singapore
Swim on top of the world with this cascading infinity pool. The world's largest rooftop pool offers views from 57 levels high, you won't find a more picturesque spot. Accompanied with poolside loungers and palm trees, you'll find us sipping decadent cocktails whilst basking in the sunshine.
---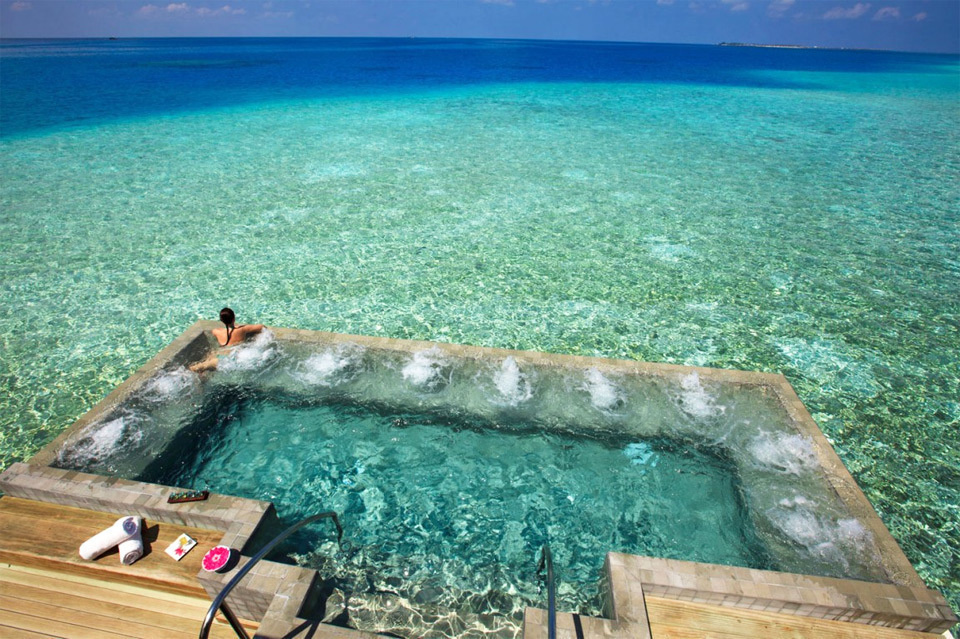 Velassaru Resort, Maldives
A pool isn't exactly necessary when the crystal clear ocean of the Maldives is at your doorstep, but we'll take it anyway. This plunge pool allows for an invigorating dip; the serenity is endless.
---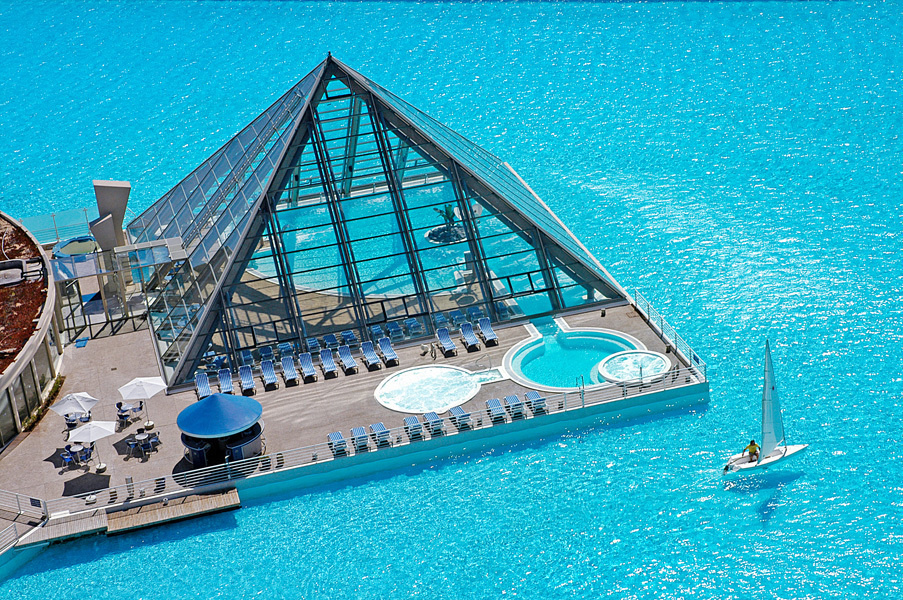 San Alfonso del Mar Seawater Pool, Chile
With 66 million gallons of water, the world's largest outdoor pool is so exponential you can sail a boat in it! If saltwater is your remedy, then this is your pool.
---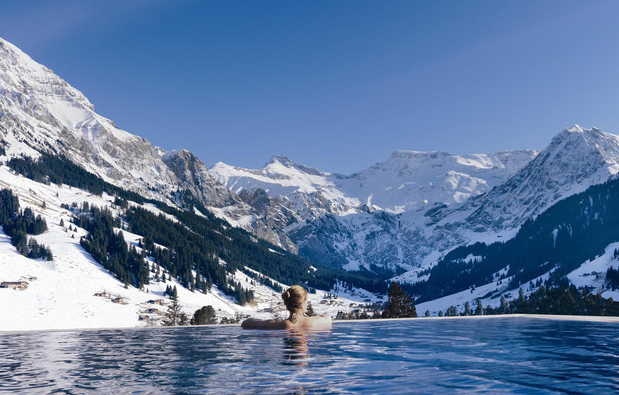 The Cambrian, Switzerland
The Cambrian is a Swiss wellness retreat meaning massages, meditation and fine food are at your fingertips. This pool-size spa overlooks the luxurious snowy mountains making it the perfect therapeutic getaway.
---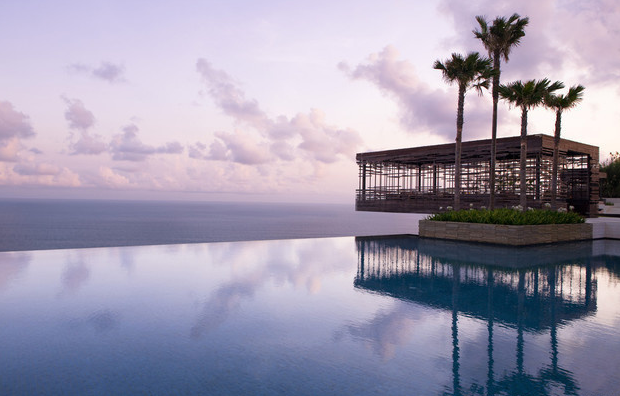 Alila Uluwatu resort, Bali
Poised on an elevated plateau sweeping down to the ocean, this infinity pool is nothing less than picturesque. Gaze at the myriad of hues as you watch the infamous Balinese sunsets pool-side, or from the comfort of your private villa.
---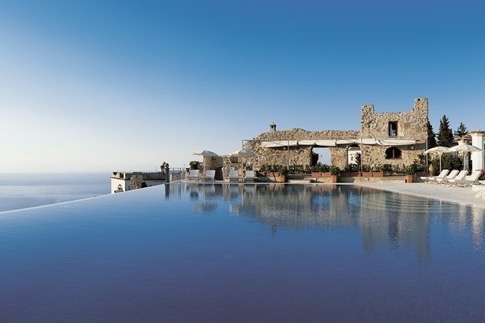 Hotel Caruso, Italy
The beautiful Amalfi Coast will forever hold a place in your heart after trying the authenticity of Southern Italian pizza. And with a glass of vino and this pool at arm's reach, we're not sure if we could ever leave!
---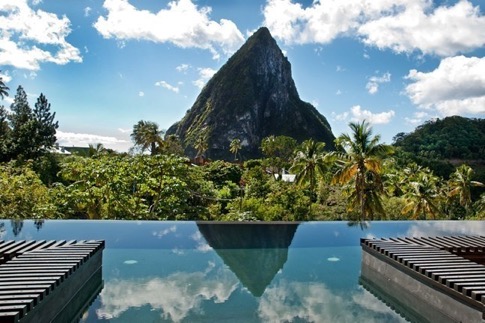 Boucan by Hotel Chocolat, St. Lucia
Set high amongst the rainforest in St. Lucia lies this perfect combo of luxury and style. This is the place for every chocolate-lover out there, the pool overlooks fresh cocoa-groves as the fresh aroma fills the air. Dangerous to say the least! Not sure if we'll be squeezing into our skinny jeans after this vacay.
---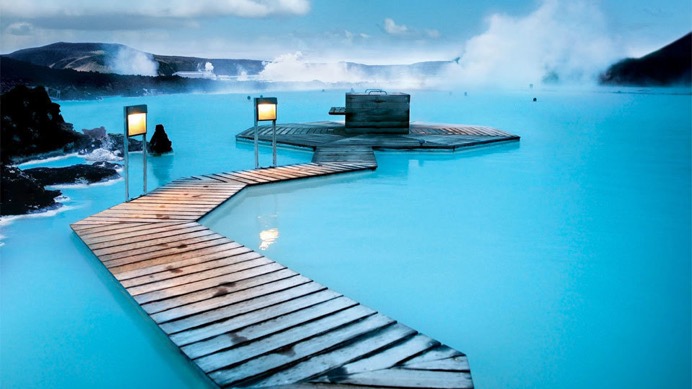 Blue Lagoon Geothermal Resort pool, Iceland
The warm waters of Iceland's famous blue lagoon are rich in minerals, with strong healing abilities. The soothing atmosphere welcomes everyone needing a little rejuvenation in their busy lives (which is most of us as the winter weather creeps up)