Meet Scandinavian sweetheart, Matilda Djerf
From model to muse to mum of her Instagram-official dog Rufus, Matilda Djerf really does seem to balance it all - seamlessly. And with her ethical and easy-on-the-eyes brand Djerf Avenue filling up our feeds and hearts simultaneously, world domination comes in the form of a Swedish delight with big hair, big dreams and an even bigger heart. Take a step into Miss Matilda's Scandi daydream of a life and get to know the Instagram IT girl of 2023.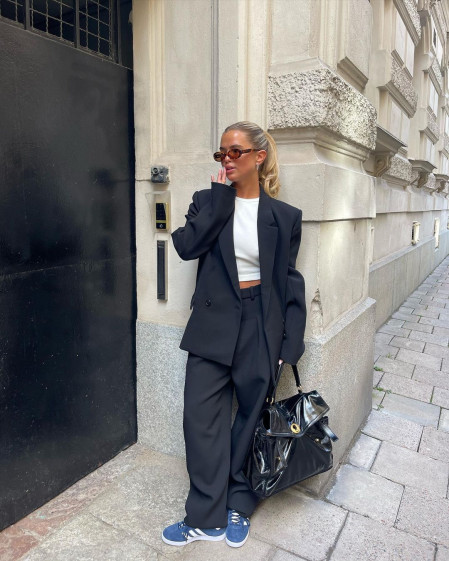 Djerf Avenue is obviously your baby and you've grown it from the ground up. What was your inspiration behind the brand and is it what you expected it to be when you founded it three years ago?
I mean, I will say that when we started Djerf Avenue three years ago, we never in our wildest dreams thought it would be what it is today. I feel like people always say that but we really thought it would be a side hustle, a passion project, so I'm super grateful that it's turned into what it has today. The inspiration for it was a lot of things. The selfish reason was that I wanted to create items that I was missing in my closet - not going to lie about that. But I also did a few modelling jobs before I started Djerf Avenue and I realised on these shoots how crazy the industry is. You sit in a make-up chair for three hours and then you wear your size clothing but they clip it in so it fits perfectly and then they retouch the photos. There's just so much that goes into it that the customer doesn't see. I really wanted to create a brand where what you see online is what you get when you receive your order.
Djerf Avenue is not only produced ethically but showcases pieces that will stand the test of time, playing a small but crucial part in the clothing crisis. What made you passionate about sustainability in the fashion world?
I think, for me, it's been really important to create items that are not just trend pieces that die out after a season. I really wanted to create pieces that you can wear year after year, season after season. I wanted to make items that are easy to match with the clothing pieces that already exist in your wardrobe. There are too many brands out there that just produce trend pieces that end up in a second hand shop after one wear - it's just insane! We really wanted to make something that was the direct opposite of that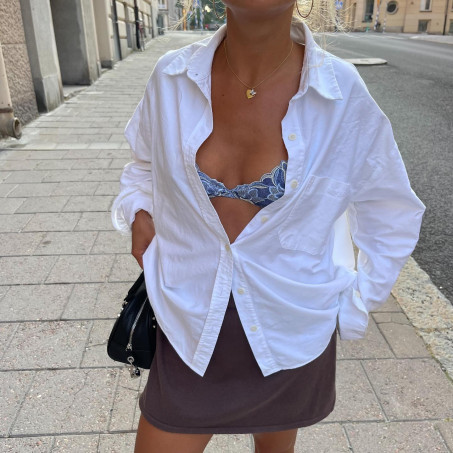 Your label is renowned for having an incredibly inclusive size range, showcasing pieces from XXS to XXL. How important do you think it is to have a large range of size options to choose from when online shopping?
I think it's just a given. It's 2022! I want Djerf Avenue to reflect the world outside and that's that. We're not there yet. I want to expand the sizes even more - we're in the process of introducing XXXL. In a dream world, I would produce all sizes for every single person out there but, as a still relatively small brand, we never want to produce stuff that won't be sold. That's the bottom line. We never want to overproduce. But back to the sizing, it's 2022 - it should be a given. That's the way the world looks. When people go onto djerfavenue.com, I want them to feel seen, safe and represented.
While I'm sure it's hard to narrow down your entire collection to a few items, if you had to pick your three favourite Djerf Avenue pieces, what would they be?
If I look at my closet, the items that I wear the most are definitely our Breezy Shirts. I wear the white Breezy Shirt every week. I was just on a trip in Italy and I didn't pack a lot but I did pack the white Breezy Shirt and I created so many outfits with it. It's just such a timeless piece. Then our Forever Blazer! I love an oversized blazer - it's a must in my closet. Then, we are releasing a new pair of jeans in November that have more of a relaxed fit. I've been wearing them all summer and all fall. So, it's those three!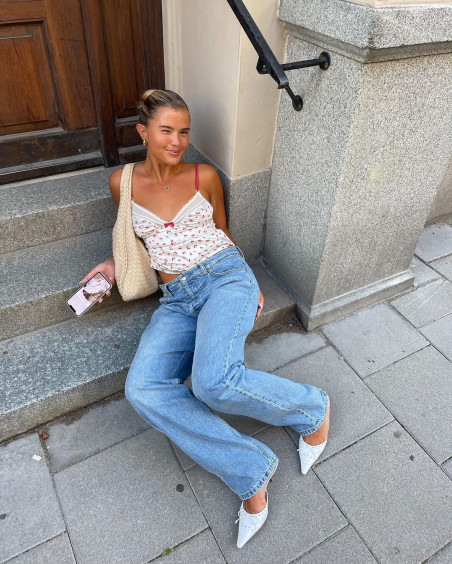 Your style is a mix of ready-to-wear basics, statement pieces and vintage finds that all come together effortlessly. What is your mantra when it comes to outfit curation?
I think, for me, it's really important that I'm always comfortable. If I'm comfortable, I'm confident. So, rather than going for something super uncomfortable and trendy, I love dressing comfortably and then adding a pair of vintage heels to make it more spicy or jewellery to dress it up a little bit. First and foremost is always comfort for me.
Who are your three biggest style influences and how have they impacted your style over the years?
That's a really difficult one. I feel like the cliché answer is, and it's true, one of them is definitely my mom. She's always dressed really nicely and stayed true to her style. Having a woman in your life who really is unapologetically herself and wears things that she loves is so inspiring. I remember she would go to parties and she'd wear a T-shirt and a pair of jeans and dress it up really nicely while everyone was wearing crazy dresses. I think that's really inspired me to prioritise myself and not care about the 'rules' of fashion. Nowadays, I will say our customers really inspire me! I think it's really fun to see how our customers style our pieces. They style them in ways that make me go, 'why did I never think of this?' That's really cool and it inspires new items as well. That's only two but all of our customers can make up three!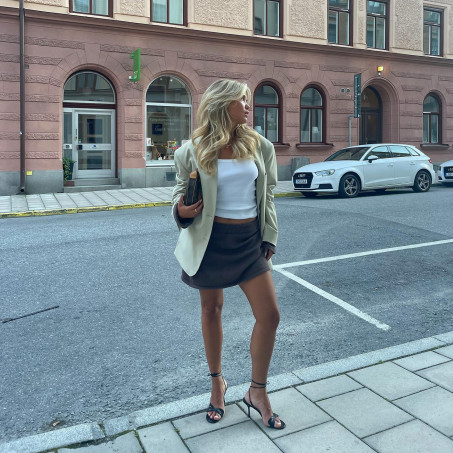 Your wardrobe holds some pretty incredible vintage pieces, such as La Perla slips and Giuseppe Zanotti heels. What are your go-to vintage stores and what advice can you give for a successful day out second-hand shopping?
That is a hard one. She's now my dear friend and her name is Julia, but she runs an Instagram called The Millennial Decorator. She always helps me find the best vintage shoes. So, shout out to her - I love her! Then I always find great vintage stuff on Etsy. It's a little random but I find really really good stuff. I found a pair of Dior heels that are my absolute favourite heels ever and a bunch of other stuff as well. I think with vintage, for me, it's still shopping so you never want to buy stuff that you'll only wear once - that's a waste. But there's more room to be a little more crazy with vintage finds. The fun thing about vintage is finding items that are really unique and really special. So looking at material, looking at the quality and then making sure you'll wear it more than one time. Not the best advice but hey! Vintage shopping in-store can be a nightmare so you have to have patience. You can't have a bad day, you need to be on it!
When it comes to what's in and what's out, how can you tell if a style is a quick trend or timeless?
I think that, for me, I never really look at what's trending. Obviously, sometimes you're affected by a trend without really realising you are because you see it everywhere and then just want to be a part of it. But I think trend pieces are items that have a really short lifespan. You can kind of see it. Some items that are trendy you can see and know that you'll only get one wear out of it. I feel like, for me, those are trend items. Then, obviously, there are some trend items that are more classic that stand the test of time. An oversized blazer is super trendy right now and that's a classic piece!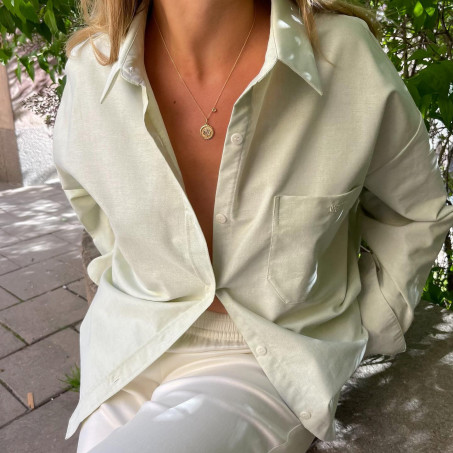 From setting hair trends to setting fashion trends, you've become what many people are now calling the European it-girl. What does it feel like to be coined that phrase?
Scary! I have realised that with a big following comes big responsibility. Some people will see you as a role model and someone to look up to. The biggest thing for me is that I want to be a safe space for people. The term 'it-girl' scares me because, when I was growing up, the it-girls were really problematic. That's not what I want to promote. I hope nowadays the term 'it-girl' has a better ring to it and a better meaning than it did before. Obviously, I'm so grateful to be able to reach out to people and inspire people in the way that I apparently do. I never thought I would, in all transparency.
You've obviously dominated the fashion world as well as the social media sphere. What's next for Matilda Djerf?
That's a big question! I think, for me right now, Djerf Avenue is my baby. I love Djerf Avenue! We're celebrating our three-year birthday on December 6th this year and we're only getting started. There's so many bigger things coming for Djerf Avenue so that's where I want to put my focus. A lot of fun projects are coming up!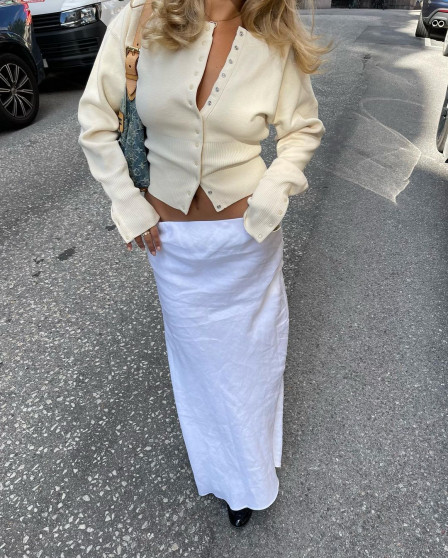 Quick Fire Questions: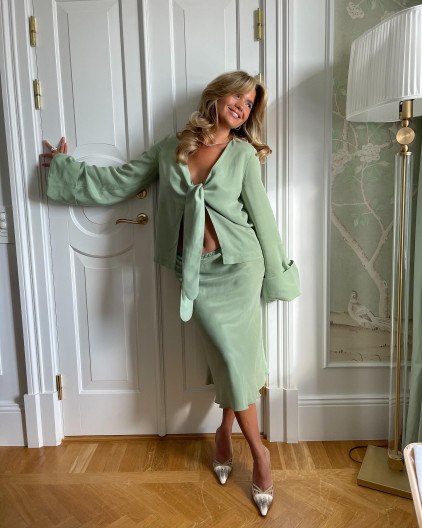 Summer or winter?
Summer
Your go-to coffee order?
A vanilla latte or an iced vanilla matcha
Night out on the town or a movie night in?
Movie night in unless it's a dinner and cocktails night out!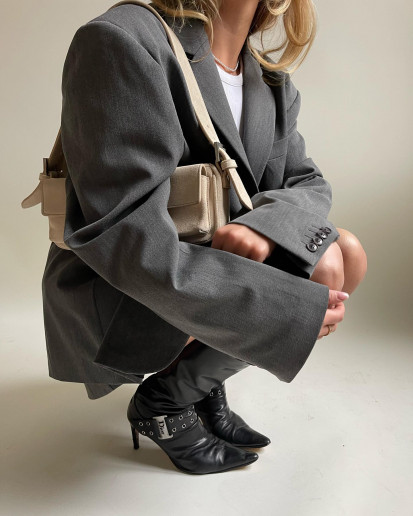 Pineapple on pizza?
Yes - so good!
Savoury or sweet?
Depends on my mood but more often savoury
City or country?
Also depends on my mood! I love the city but I'm also a country girl. I love the quietness of nature and I need it to recharge.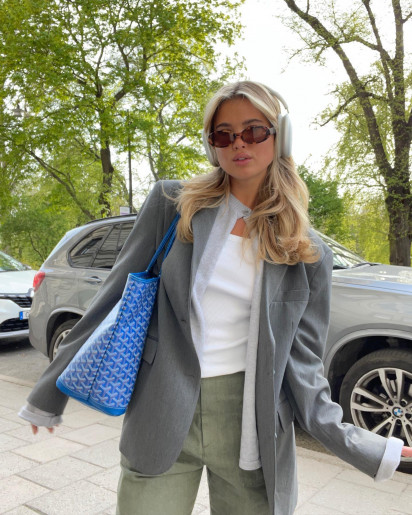 Your go-to perfume?
I don't wear perfume!
If Rufus was a girl, what would you have called her?
I have no clue! But we did originally call him Rico!
Books or movies?
Books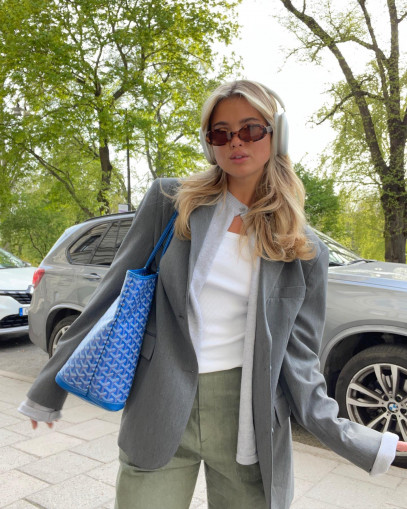 What series are you currently watching?
Chesapeake Shores and Grey's Anatomy
If you could go to dinner with anyone, dead or alive, who would it be?
Taylor Swift
Your go-to song to put you in a good mood?
I feel like I'm up and down with songs but right now it's Bad Bunny and his song 'Ojitos Lindos' - it puts me in a really good mood.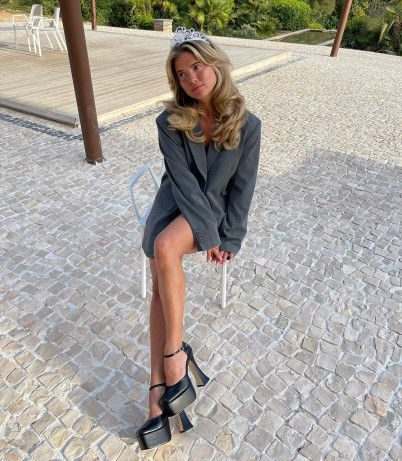 Heels or sneakers?
Heels
Your go-to dessert?
Right now it's tiramisu
All image credit via @matildadjerf or @djerfavenue