The latest issue of Remix U.S.A has arrived in New Zealand!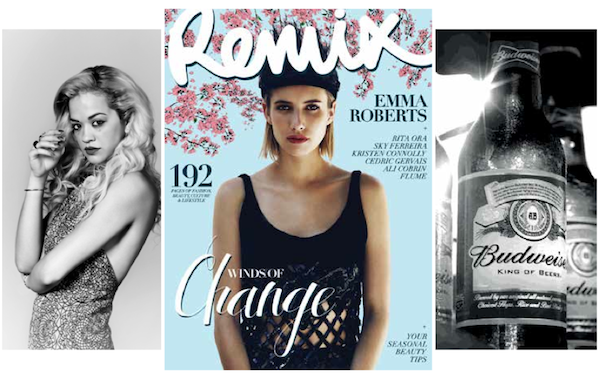 For the first time ever, we are bringing our international edition of
Remix
down under, releasing our latest issue in New Zealand as a limited edition collector's item! The latest U.S.A edition of
Remix
, currently on sale across the United States and Europe, features cover star
Emma Roberts
, singers
Sky Ferreira
and
Rita Ora
, DJs
Cedric Gervais
and
Flume
, actresses
Ali Cobrin
and
Kristen Connolly
, plus nearly 200 pages of the latest fashion, beauty, lifestyle and culture inspiration... from around the globe! Made in America, the international edition of
Remix
is an entirely new magazine you haven't seen before. Now you can get your hands on it thanks to our friends at
Budweiser
, who were also behind the first Los Angeles stop for the
Budweiser Made In America Festival
this year. Curated by hip-hop legend
Jay Z
, BMIA in Los Angeles this year featured
Kanye West
, I
magine Dragons
,
John Mayer
,
Iggy Azalea
and Rita Ora (who is also in our U.S.A edition of
Remix
!). Our publisher Tim Phin will be at BMIA in Los Angeles this week, keep an eye out for his review of the concert coming soon online Then to celebrate the release of our U.S.A edition of
Remix
in New Zealand and Budweiser's support of all things musical,
we're giving away a Budweiser guitar valued at $249.
All you have to do is 'Like' the Facebook field below and tell us your favourite piece of American culture - a television show, food, art, fashion, music, anything! You must be 18 years or older to enter. Winner will be drawn Monday 22nd September. Then look out for the U.S.A edition of
Remix
in selected bookstores nationwide, sold together with our Spring Issue 83 of
Remix.
You can also buy
Remix
U.S.A as a standalone copy through our online store
here
.