In New York with Winnie Harlow
From high school outcast to global 'it' girl, Canadian model Winnie Harlow is one of fashion's most formidable new forces. Born Chantelle Brown-Young, the 24-year-old was diagnosed with vitiligo at age four, an incurable skin pigmentation that causes colourless patches to develop on the body. Having walked Victoria's secret, shot the cover of sports illustrated and become the face of Tommy Hilfiger all in the last 12 months, her journey is lighting the path for others and changing the face of beauty. Winnie spoke with Steven Fernandez in New York about her remarkably rapid ascendance to fashion royalty.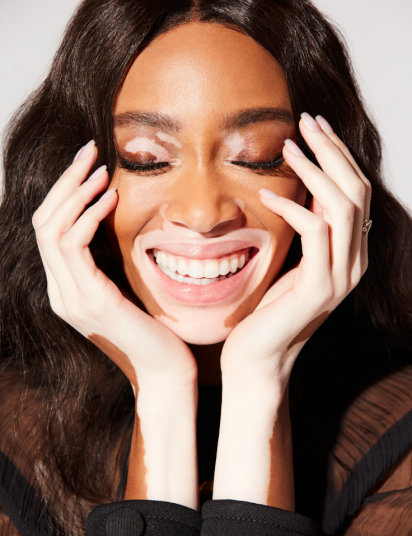 It feels like every other day you're on a plane, in a new city. Where is home for you now, and what's a normal day like for you?
Home for me is New York now, I moved there last year. And a normal day for me - what's normal? A lot of flights is normal for me. I try to make time to always get a massage; especially when you fly so much, your muscles get very tired. I feel like it's very important to practice self-care and make sure that your muscles and your body are functioning well.
When you're doing a shoot, giving those fierce, amazing looks down the camera, does your mind race with all the different things going on in your life, or do you get into a zone where everything shuts off?
Everything definitely shuts off, especially when it comes to runway. When it comes to shoots, I'm more in the moment and just enjoying the time, getting to know new people. But during runway, everything shuts off, even the moment shuts off. It's kind of just like, 'don't fall, don't fall, don't fall'.
What do you think makes the perfect photograph?
I think the perfect team. When you have hair and makeup that you're familiar with, a team that you're familiar with, an amazing photographer, an amazing group of people coming together to make art, that's what's going to make an amazing photo.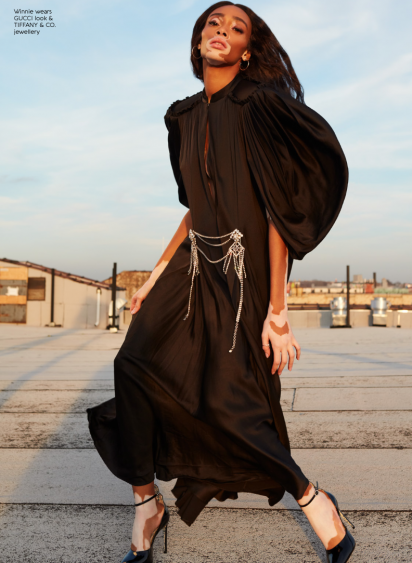 Our previous cover star was Tyra Banks, who reached out to you to be on America's next top model. What was it like getting that tap from Tyra way back in the beginning, and do you still have a relationship with her now after the show?
I actually didn't get a message from her because I didn't know her. I was contacted by producers - well I wasn't, my sister was. She had a fanpage for me on Facebook, and they reached out to her because they thought it was an official page, but luckily it was my sister!
The other parallel that you share with Tyra Banks is your major record for being a sports illustrated swimsuit cover star, and really breaking boundaries in that role. Tell us what being on the cover of sports illustrated means to you?
I feel like shooting for Sports Illustrated is such an iconic moment. There have been so many special moments in my career so far; doing these covers, walking for Victoria's Secret, walking these shows. I'm really honoured that people see something in me and want to utilise my role in the industry by opening doors of inclusivity.
When you look back on all of these incredible things that you've done in your career so far, what stands out as a real 'pinch yourself' moment?
Definitely Victoria's Secret, for sure. That entire day was so long, but so amazing from start to finish. I think I slept for about three hours the night before. Obviously I had my friends, my family, everyone in town, so I was organising everything; hotel rooms, getting everything sorted. I was trying to get myself ready for the show with not much sleep, but got there in the morning and got to hair and makeup. We were all there together, all day; it was just like a big sleepover party backstage. All these girls in our robes, getting glam, chatting, and getting to spend time with each other. Obviously all of us travel and work so much, so it's just amazing when we all get to spend time together. It was a lot of fun
And I bet when the whole thing was over, it felt like it went with a snap of a finger, like a whirlwind?
Yeah, the whole time I was so scared, then I had two looks, so after the first walk I was like 'thank God I get to do this again'. I would've been so devastated if I only got to walk one time; it's definitely something you do once, then you're like 'I can't wait for the next time'.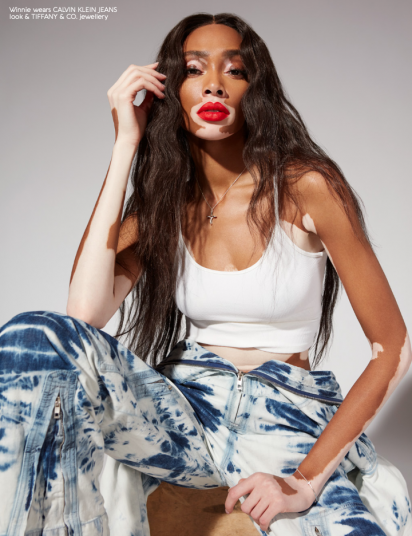 Tell me about the experience of working with Beyoncé. There's such an aura and mystique around her genius. What's it like to be chosen by her and to work with her on lemonade?
It was amazing. I had never met her before, so it was insane to even get the call to say she wanted me for a body of her work. Knowing that Beyoncé knows of your existence is enough; like that's a major goal. So that was amazing. Since then they have reached out to me when they know they're going to be in the same city, asked if I've want to come to shows. I went to her New Year's and her Oscars' party this year, so I've had good amounts of Beyoncé in my life, good doses. I listen to her music a lot, but it's amazing when I do get to see her and party and have fun. It's an honour that she wanted me for her body of work. It's something that was so personal and so close to her heart. Knowing that she wanted me for that was very special.
Who are your role models?
I'd definitely say Beyoncé. I always say this and always cross my fingers that the Beyhive don't come after me, but I didn't grow up a Beyoncé fan. I knew her music but I wasn't a diehard Beyoncé fan. The older I got the more I enjoyed her music, and as I got older I really enjoyed all her old bodies of work. Then meeting her for Lemonade turned me into her number one fan. Just her energy, her work ethic, everything about her; her light. She just radiates. Definitely a diehard Beyoncé fan. And honestly, my friends in the industry inspire me so much. From Luka Sabbat, Gigi, Bella; a lot of the people that I work with. Watching their work ethic as well, all of us learning from each other because we're all so young. Getting to see how each of us manoeuvres around the difficulties that the rest of the world doesn't even get to see is amazing to me. My friends in the industry definitely inspire me a lot.
You famously said you don't consider yourself a role model, because you're just being you. Tell me a little bit more about what you mean by that.
I know the actual definition of a role model is someone to be looked up to. Actually, let me just Google the definition of role model while I talk to you... OK it's defined as a person looked to by others as an example to be imitated. I don't think anyone should be an example to be imitated. I like to think that I can inspire people, because I myself am inspired by others. But I don't like the term 'role model' because I feel like it puts human beings on a pedestal that no one should be on. Everyone makes mistakes, everyone has their bad days.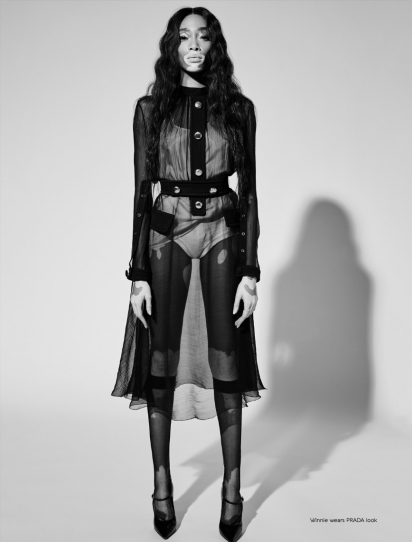 When are those moments where you feel like an inspiration? When does that feeling manifest or when do you experience it?
I always love having fan interactions when someone actually is like - 'I was really scared growing up about going to the beach and wearing swimsuits, because I have freckles all over my body, and I saw you one day and you gave me so much confidence'. I love hearing that, because going throughout my everyday life, I'm just living as another human being. I don't think about the fact I might be inspiring people. Sometimes I'm just going and getting some McDonalds, like everybody else! To hear that is really amazing to me. It gives me the push to keep going.
What is your definition of beauty?
This is my least favourite question, ever, in an interview. I believe that no one should be asked what their definition of beauty is, because it really doesn't matter. You should figure out what your definition of beauty is for you, and never look back. Don't ask anyone. If we were all born on an island by ourselves, with no other person to look to, our own definition of beauty would be ourselves. I believe you should just live in that mentality - oh and ask yourself, what would Beyoncé would do?
Do you feel like the fashion industry is making the right steps towards embracing diversity and celebrating beauty? Or do you think there's still a long way to go?
I think there's always room for improvement. There's not one seat at the table for everyone. Diversity isn't one person; there's more seats at the table that need to be taken. You have to count your blessings and your achievements everyday, so I am very proud looking back on the past history of fashion and the entertainment industry, compared to the present. But of course, there's still a lot of progress to be made.
What are your go-to beauty essentials? Any Winnie Harlow essentials that you won't leave the house without?
Right now I'm trying the Lumière body lotion, and I really like it. When I went to LA, I actually got a massage at the Lumière Spa, because I had all this burn from the Bahamas. I think it's really helped rejuvenate my skin. I expected a lot more damage, but I think the lotion had a lot to do with it. I also really love the Image Skincare Overnight Retinol Masque; that's bomb. And literally anything from Georgina, she's amazing; she does my facials for me sometimes. She had given me her products around Victoria's Secret, and of course a lot of people gave me their products, but a few of hers really stood out.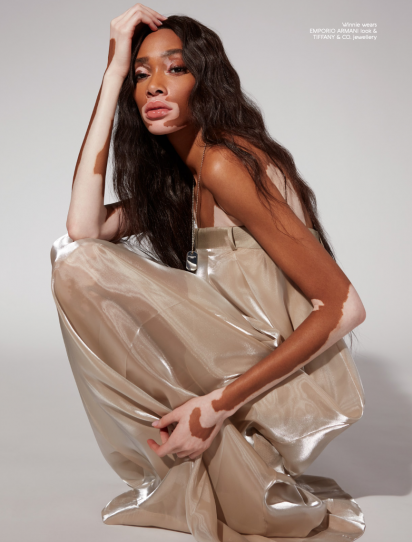 When you have a day off, what do you do in your free time?
When I don't have work I like to travel to tropical climates. I'm actually taking my mum and my sister to the Bahamas soon. I am of Caribbean descent; I'm Jamaican. A lot of Jamaicans know that our parents and grandparents usually only go to Jamaica for vacation. I want my mum to experience another tropical place and vibe out. So yeah, going to Jamaica, going to Miami, going to different warm places.
Have you ever been to New Zealand?
I've never been to New Zealand. I've been to Australia, I've been to Sydney and Melbourne. I need to come soon, before your winter starts. I'd love it.
What is something people don't know about you, or would be surprised to know?
I think there are two things people would be surprised to know. I've been telling people this recently; they thought I was hiding it, but I've just never really said it. I'm terrified of flights, which is hilarious because it's all I do. Flying is one of my biggest fears, as well as drowning. I can't swim. I try to have a glass of champagne, knock out, and just sleep for the whole flight.
If you could say anything to your 12-year-old self, what would it be?
I always loved school and I love to learn. I actually took French classes when I got out of school, right before my career started kicking off, and I want to go back and take more lessons. I love learning, I think education is so important. If I could go back and tell anything to my 12-year-old self, it would be that education is important, but learning in the world is equally as important.