In Conversation with 'The Tooth Parlour's' Kahu Jones
When it comes to self-expression and personalization in 2023 the world is quite literally your oyster. Just like decorating our homes, the rise of decorating your body is at an all-time high. Whether piercings, tattoos, a new hair colour or all of the above, Gen Z's in particular are wearing their personal aesthetic on their sleeves for the whole world to see. While the tooth gem phenomenon was popular back in the early 2000s, sported by Hollywood heavyweights and fashion trailblazers, they're back with vengeance and we believe they might just take out 2023's top spot for the most popular personalisation procedure. If you don't believe us, or have no idea what we're talking about, we sat down with Kahu Jones, owner of Auckland's most sought-after tooth gem spot The Tooth Parlour to discuss what's involved with getting a crystal smile, how long they last and her professional trend predictions.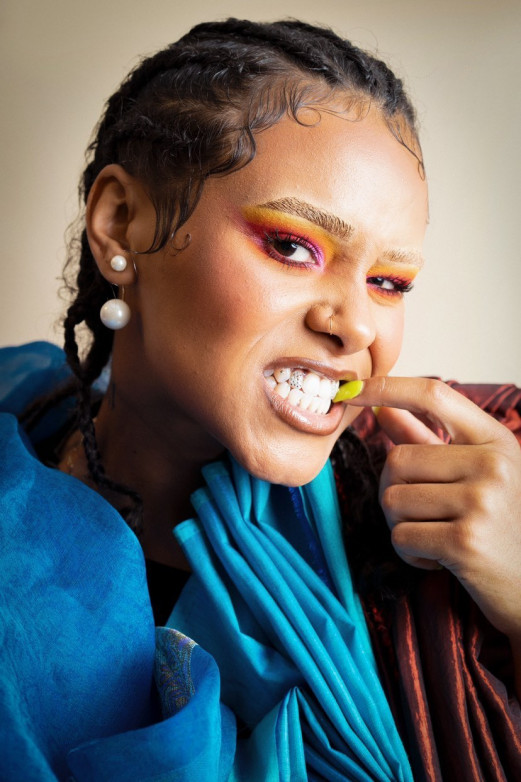 Via @the_tooth_parlour
How did you get into the tooth gem business?
Some years back, I noticed celebrities starting to get tooth gems and I wanted some for myself. I then realised that there was an opportunity here in NZ as nowhere was offering a decent range, only the medium-sized clear gems. So I completed my studies and went from there.
For someone who doesn't know what tooth gems are, what are they and what is the process of applying one?
Tooth gems can be Swarovski gems, diamonds or solid gold pieces that are temporarily placed on the surface of the tooth the same way that braces are.
Do you see any 2023 trends on the rise for tooth gems?
It's forever growing with new styles coming out often. Grills and permanent gold teeth are on the rise too here in NZ. The plus side of gems is that, unlike grills, you don't have to take them out when sleeping or eating and unlike permanents, you don't have to have your tooth shaved down (even then they aren't guaranteed to hold).
What's the most popular gem people usually get?
That's hard because there are so many options and every client usually gets something unique. Anywhere from one gem to a large set or something from the gold selection. The clear gems and gold caps are probably the two most popular out of all of the choices though.
What does the future hold for you and your business? Hopes, dreams, goals?
I'm so happy with how it has grown here in NZ. My goal is to franchise it over the ditch, in Australia.
For anyone wanting to get bedazzled, what are the steps they need to do and how do they get in contact?
Send us a message! You can find us at @the_tooth_parlour on Instagram or thetoothparlour@gmail.com for any enquiries.
How long does a tooth gem usually last?
It really all depends on the placement and aftercare. If followed correctly you can expect the gem to last on average a couple of months or longer. I've had clients still holding their gems for over a year.
What is your favourite tooth design you've ever done?
My favourite set would have to be the set I did here, on Ria. With the smaller-sized 'ab' gems across the bottom of her top teeth accompanied by the pink hearts on her canines. I have done heaps of memorable sets though!
Do you see tooth gems in the same lane of personal expression like getting a piercing or tattoo?
Yes, I definitely do! That's what partly drove me was offering another opportunity for one to express themselves and their unique style. There are so many options, something for everyone.
How do they feel on the tooth?
At first, you will notice them but after a few hours you won't notice them anymore and they will feel completely comfortable.