In Conversation with Remix's Summer Cover Star Madelyn Cline
Sitting knees up in a cosy green sweater against the classic Californian sunset outside her window, Madelyn was relaxing in her room at a vineyard AirBnb in Paso Roble, the night before a friend's wedding. It was 4pm when our Zoom started, and I could see the sun was already setting in that rushed Autumnal fashion, but the conversation was just getting started. The 24-year-old screen siren was quick to candidly chat about everything; from her imposter syndrome while working with Hollywood's royalty in new film Glass Onion, to how many times she's been in love. In fact, as far as cover interviews go, this one-on-one with Netflix's rising star was as good as it gets. When I say one-on-one, I mean it. No publicists listening in ready to deflect, no strict cut-off time, no boundaries… just Madelyn and I on opposite sides of the screen… and world.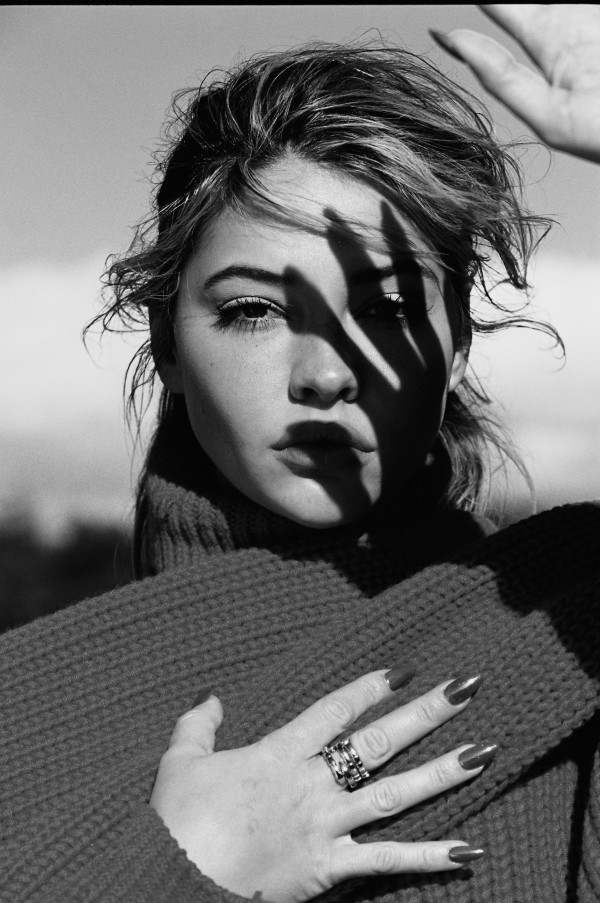 That background looks beautiful Madelyn, where are you right now?
I am up in Paso Robles which is about three and a half hours outside of LA up North. We're attending a wedding. We weren't able to get here for the early festivities but we're here for the rehearsal dinner tonight and it's beautiful and we're in this little AirBnb and we can see vineyards. I'm quite happy about it [laughs].
Oh you have a fun weekend ahead, don't you?
I do! It's nice. We are on this insane press tour for Glass Onion so it's always nice to take a few days, tell everyone I'm going MIA for a few days and just turn my phone off.
Do you love to disconnect like that?
I love it. I do. I love being a little bit unaccounted for and I do love going off the grid for a bit and kind of clearing my head. I feel like with social media and phones - I don't know if you feel this way - but sometimes it all gets incredibly loud and my mind is already incredibly loud as it is so it's so nice to just turn it off.
Funny you say that - I was going to ask you if you had no obligations and nowhere to be, what would you do?
Interestingly, my ideal day off is not sleeping in, getting up early - I did it today and it felt so wonderful. I went on a little hike with one of my dogs and had a cup of coffee. You know those mazes? They're like meditation mazes, I don't know what they're called. We went up and did that. I think after that, maybe I'd come back, do a little bit of yoga, get lunch with friends or something. Shopping… maybe some retail therapy. I don't know, maybe go paddle boarding or swim if it's warm enough. Maybe do a little bit of wine-tasting. Have dinner in, get cosy and watch a show or a movie.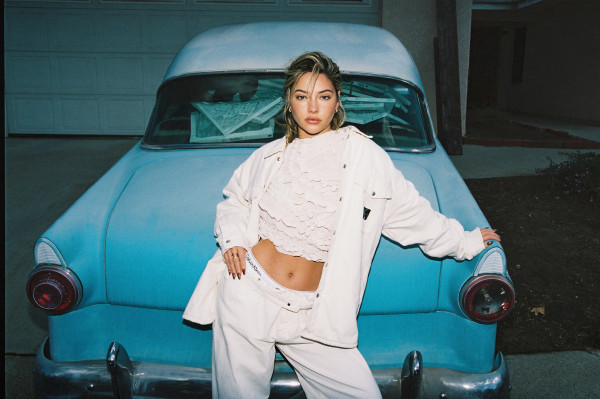 What have you been watching lately?
Well, I haven't been so stoked about a show in such a long time. I'm so invested! It's the original Game of Thrones. I watched House of Dragon when it came out and I was so obsessed with it that I decided to watch the original series. I just started season five so I'm in the thick of it and I'm obsessed with it and it's heavy. It kind of weighs on you but it's just so good - I can't stop watching.
Do you think you'd ever want to do a period piece like that?
Yeah, I think so! I think it would be really fun.. When you think of a period piece, that's kind of the poster child for the period genre. It's so good. But I would. Because of House of Dragon, I'm obsessed with the Targaryens and the family lineage. After I watch it, I might even try to read the books.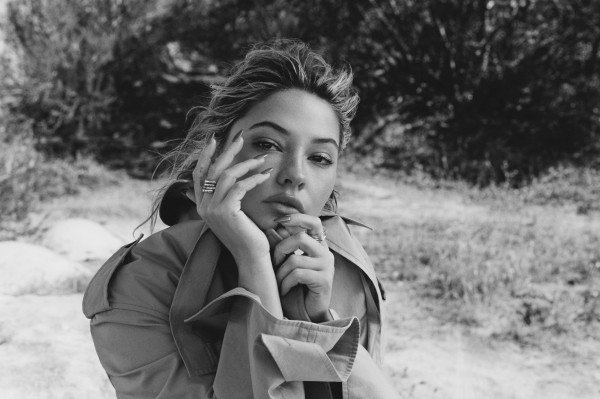 Do you have time to read books?
[Laughs]. Probably not! But I would definitely try! I remember when Game of Thrones first came out - I must've been about fourteen - and I figured out it was based on the books. I went and bought the first book for myself and I just couldn't get into it. Now that I have a super deep interest in it, I'd probably try it. I have the attention span of a pea so I would really do my best but I don't know.
I find it's hard to do the reverse and go back to the books after watching the screen version. It's tricky right?
It is tricky. I used to be a huge reader. I would always have my nose in a book and I guess that my attention span and my ability to concentrate on one thing, sitting down and shutting everything off and just concentrating on a book - I feel like I can't do that anymore which is really frustrating. I do love a good old philosophy book or self- help book but I would get through a page and realise I have not focused on anything I've read because I'm thinking of ten other things.
It's impossible to focus on a book these days right? Especially with things like TikTok that have infiltrated our ability to concentrate for long periods of time.
I think it definitely has something to do with it. Look, I'm not a scientist and I have no actual knowledge of it but I feel like now we're becoming so accustomed to short forms of media and thirty seconds of information. I feel like our attention span has shortened without us realising. Yeah, I think it has something to do with it for sure.
What was your favourite book growing up?
I had a couple! Growing up, I was really into fiction and fantasy and escapism. I remember just pouring myself over the Harry Potter series. I waited to read it and then I finally started and I read all the books over Christmas break which wasn't very long. But I would finish half a book in a day. I was so invested in it so that was a big one for me. I loved the Percy Jackson series - I was obsessed. I really loved mythology when I was younger. In high school, one of my favourites of all time was Fahrenheit 451 - it was so good. It was required reading, they made everyone read it, but I loved that book. I actually reread it recently and it was so interesting. The things that he wrote about - at the time I think it was the 50s or 60s - are so crazy. He talks about a TV being the size of a wall and now Samsung has a TV called 'The Wall'. It's so fascinating. That was one of my favourite books growing up. And I loved The Giver - that one made me cry. The Book Thief made me cry. I loved my books growing up. I read so much.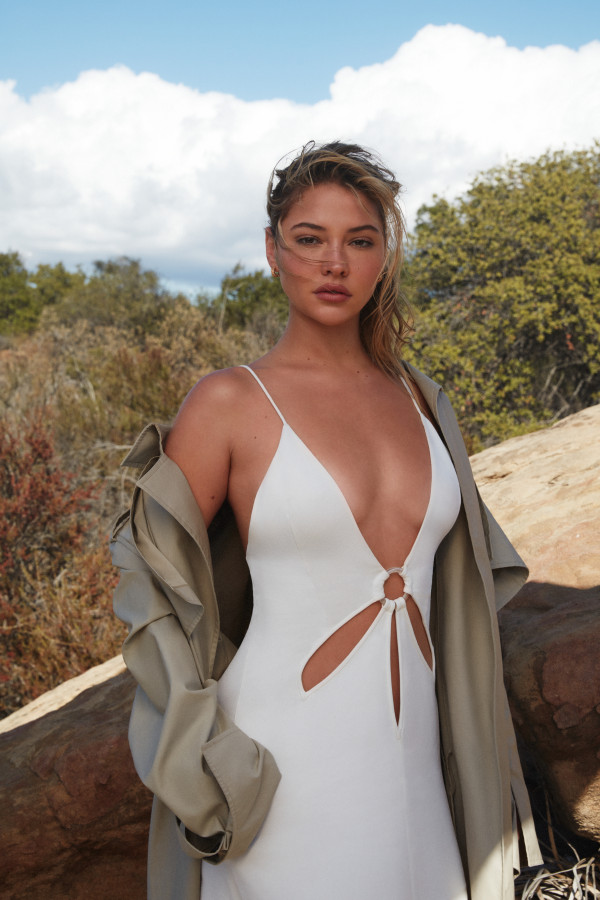 How did you enjoy doing our cover shoot?
I love Dennis! He was the best. He did my very first spec shoot and still to this day I think he's my favourite photographer. He's just so funny too, we had such a fun time. We were shooting at his house where he has a studio set up. We did a couple of shots there and went and explored other locations. We actually went out to the desert! I love his spontaneity.
Speaking of being out on location, You've been to some really cool places when filming the Netflix hit series Outer Banks series and new film Glass Onion. What's been your favourite?
Greece for Glass Onion! That was the best. And then the craziest spot would be where we shot the third season of Outer Banks which I can't say... That one takes the cake for craziest. But Greece was just so magical. The energy was so spiritual. I remember driving on the highway from Athens to Porto Heli when I first got there and I remember looking at the mountains and thinking 'I sort of feel like I'm on the 405 right now.' Going up and over into the valley, it's kind of similar. The water is crystal clear. On one of the first days, we were shooting on a yacht and I remember someone yelling out 'Dolphins' and we ran to the balcony and on either side there were these dolphins jumping alongside and swimming with us for a good 45 minutes. We all looked at each other like 'wow, we're kicking off the next three months together, how magical is this and it was!' It was really, really special.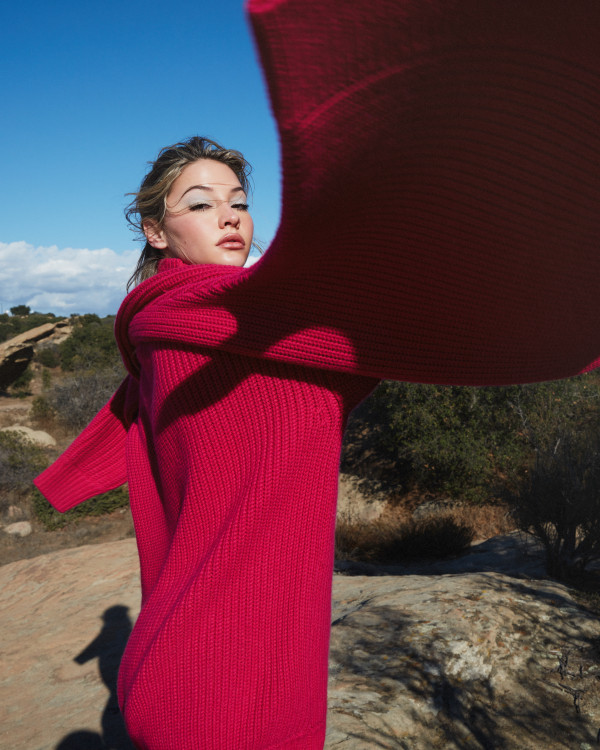 How did your character Whiskey in Glass Onion compare to Sarah Cameron in Outer Banks? Was it a really different journey for you?
For sure. They are different, two separate people. I will say what's really cool about both of those characters that I had the joy of experiencing as I went on that journey with them was that things going on in life - whether it be anxiety, insecurity or things going on around them - for both characters, it all all felt kind of serendipitous. I think that there were certain things going on with me personally that were weirdly specific and informative of what I felt like was exactly where I needed to go with the character. I was so nervous to play Whiskey opposite the Glass Onion cast because I was surrounded by all these really masterful actors and actors I've grown up watching. I was like, 'what the f*** am I going to do? Should I even be here?'
Ah, classic Imposter Syndrome…
Oh imposter syndrome at its finest. It was funny because I felt like a fish out of water. With Whiskey being the plus one and girlfriend of Dave Bautista's character, Duke, there were things that were informative about feeling like a fish out of water with her too. Especially because I imagined Whiskey being the same age as me. I felt like there was a lot that I could pull from myself. We're definitely not the same person but I felt like I had a finger on the pulse of who Whiskey was and there were things that were affecting me in the world around me that were really specific and that I could steal from. But both characters I feel very lucky to have played.
What was it like working with the likes of Daniel Craig and Kate Hudson? Does this kind of calibre feel like a normal day at work now?
No, not at all! There's no part of that that feels normal. We're on this press tour together at the moment and I still get a little bit starstruck. I'll always be in awe of them. They're wonderful humans and they're wonderful actors which makes me even more awestruck. Having gotten to work with them, getting to know them more and seeing what wonderful people they are. I would get to work everyday and be like, 'how did I get here? Who even let me in?' I'm so lucky to have done it because I was able to watch what they do, you know? Watch them do what they do best. That was the most wonderful thing ever - to see how they move around in that space. I just tried to learn and observe as much as I could. I don't think that will be what I consider to be the norm. I'm still very much awestruck by them and feel so lucky. This movie spoiled me for sure.
Who would be your dream co-star?
OMG, I don't know! No, that's way too hard...
How about your top five then?
Ok, ok. I think it would be so fun to work with Matthew McConaughey - he's so cool. I have a massive girl crush on Florence Pugh. I love Jessica Chastain - she's awesome. I think Pedro Pascal is so cool too. God, this is hard. I love Viola Davis! Honestly, the list just goes on. There are so many incredible actors who are just so good at what they do. Everything they do, they just make it so visceral and delicious.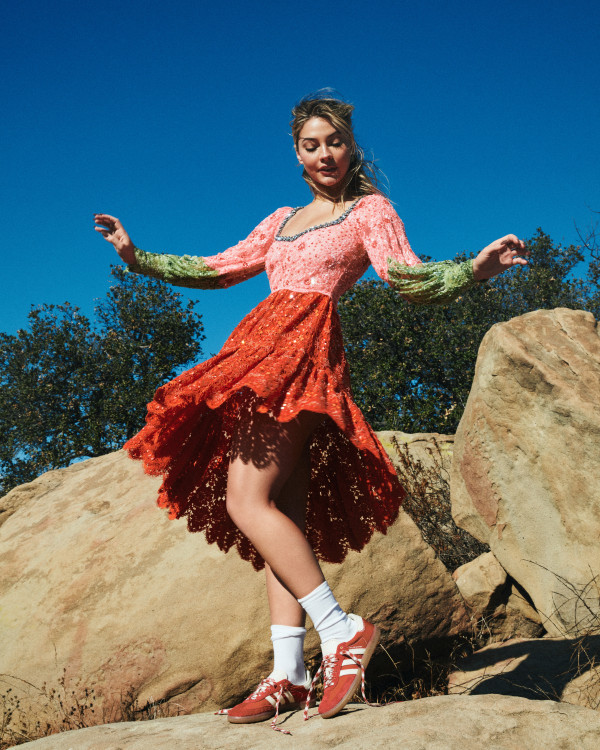 I feel like you look so at ease on the red carpet… are you?
No! Oh god no [laughs]. I wish I could be. Red carpets are very much sensory overload. I get very flustered - it's always at its peak when I'm first getting there and I'm around the corner and I can see the whole production and everyone there. My heart is beating out of its chest. But, once I get there and I see people that I know, it's a little better. But 'at ease' is the biggest compliment ever, thank you.
Do you enjoy the fashion element to red carpets events?
I just love playing dress-up! I love putting on a really beautiful dress that I would probably never wear otherwise and getting my hair and makeup done. I love the process of 'glam' because that is right up there with the actual event and sometimes more fun. Now that I've been going to events for a while, I have found amazing people who do my hair and makeup who I love. I've gotten to know them closely and I've gotten to work with them so much. Now, it's more of a girls night! Everybody comes over and we drink champagne or lemon drop martinis, we play music and have a good time.
The best part is always the pre-drinks!
It really is! It's always the best. It's so much fun the night before and the morning of, hanging up your dress and watching yourself transform. It's very cool. The saddest thing is when I have to return everything…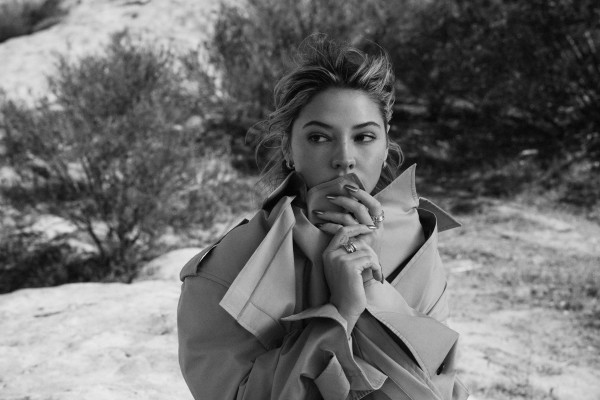 Do you have a favourite designer you love to work with?
Yes! I've worn Versace consistently now for a few years. I just adore Versace and I love Donatella. I am so excited to keep wearing the dresses, they're all so sexy and big statements. I am very excited with the relationship I've built with them.
You're originally from Charleston, South Carolina, which is where Outer Banks is set. How did your childhood differ from Sarah's? I take it you didn't have the dramatic family dynamic and treasure to hunt…
[Laughs] I think Sarah's family doesn't really fall apart, at least from her point of view, until the series takes off, which is when she's around sixteen. But before then, it's implied that Sarah had a pretty normal relationship with her dad and an incredibly close one. I had the same. I was very close to my parents, I'm an only child. I was also homeschooled growing up as well so I was very close to my parents but I had a very normal upbringing. I grew up outside of Charleston and my parents still live there. My house is across the street from the church, we were friendly with our neighbours and very much had a quiet and wholesome life. I think Sarah was probably the same way but Sarah is incredibly well-off. So, there were socio-economic differences at play but, besides that, there was a lot I could pull from myself. Outer Banks being set in Charleston meant I really felt a sense of home and in my comfort zone. That's one thing when you're shooting on location, you can feel very uneasy sometimes because you're not around your friends or family. I happened to be only 30 minutes from my family and the cast clicked really well and really quickly. But yea, mine and Sarah's differences begin when Sarah's dad becomes murderous [Laughs].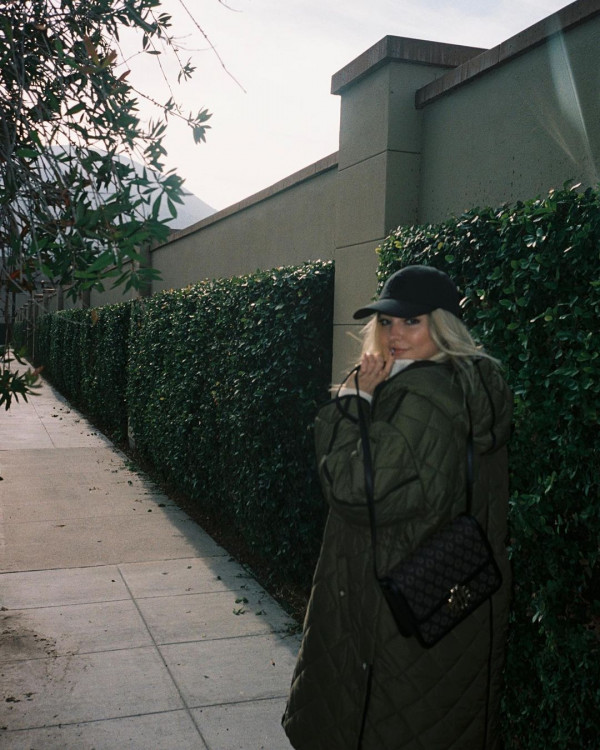 @madelyncline
I should hope so! You mentioned you have a great connection with your Outer Banks castmates which is clear to see your chemistry together, you've also grown up together while filming… What's one of your favourite memories?
This is from when we were first hanging out and we were first getting to know everybody - this will always be a stand out for me. Me being from Charleston, I was so excited to play tour guide with everyone who had been cast. I couldn't wait to take everyone to this place. I was just so excited because I knew the place and I couldn't wait to hang out with everyone. It was the week before we were supposed to start shooting - May 5th - and in my brain I was like, 'it's just another Wednesday' Everyone wanted to get tacos and I knew a great place to get tacos called Taco Boy and it was downtown. We get there and it's packed. There's not a single seat and it's super chaotic. Everyone was super hungry, it wasn't working out and I started stressing out. So, I suggested another Taco Boy right down the road. In my mind, because I'm from Charleston, it doesn't matter if it's thirty minutes or whatever. I thought they really wanted to go to Taco Boy so I'm trying to make this happen. So, we're driving down, it's a thirty-minute drive and everyone is getting really mad saying, 'where are you taking us?' So, we finally get there and, again, it's popping. So, I asked the waitress,'what the hell is going on with all the Taco Boys in Charleston? Is there a special event tonight?' and she was like, 'yeah, it's Cinco de Mayo.' I felt so dumb! And everyone was like, 'yeah, that was why we wanted tacos!' It was a really funny experience. It was one of my first times with everyone all together and I really wanted to be friends with everybody and show them where I'm from. Of course, in my brain, I was completely oblivious to why everyone wanted tacos in the first palace. I was blissfully unaware.
GET TO KNOW the real Madelyn…
What meal did you eat once and still dream of?
Orange pie. It's not a meal but it's a dessert. It's a dish we had in Greece and I still dream of it.
Describe your actual bedtime routine…
On most days, I wash my face, brush my teeth and put on my serums, moisturisers and nighttime oils. Other days, my nighttime routine is to crawl into bed before doing any of that and watch my shows and fall asleep in my makeup with a snack in hand or something. Depends what version of myself you're asking for.
Right now, what gets you out of bed in the morning? What brings you joy?
So much! I feel incredibly blessed right now. There's so much that fills me with 'joie de vivre' and I feel very lucky to have that. Other days, what gets me out of bed in the morning is knowing that, if I keep snoozing my alarm, I'm going to stay in bed until noon or 1 pm and be mad that I've slept in so late. So, it's kind of the same as the last question. It depends what version of myself is there that day.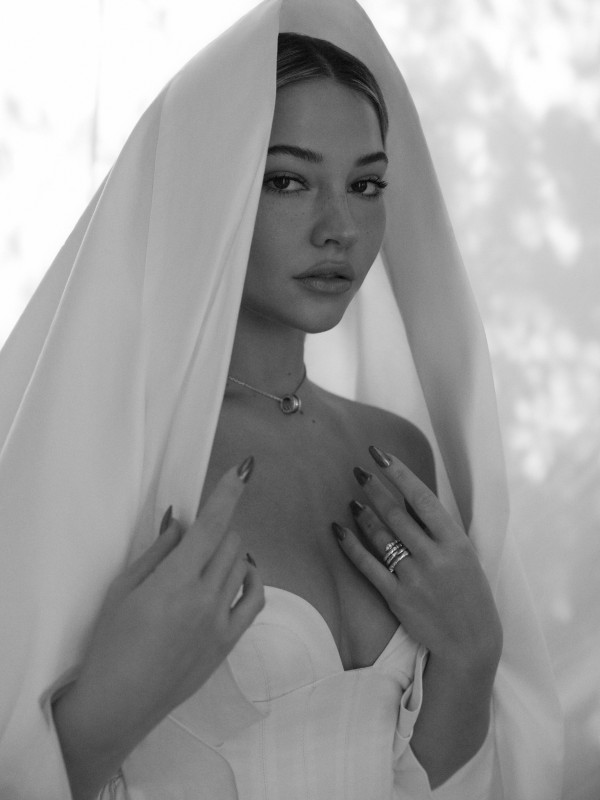 What's your favourite thing in your house right now?
I just got some really great incense and I love to burn incense all the time. I found a great little store near where I live that I didn't know was there and they have the most amazing collection of incense, candles and crystals. But yeah, right now I'm really stoked about all of the dope incense I just bought. Random right?
What's your favourite piece of clothing you own?
I have this killer black leather duster coat - one of the long ones - by the brand LM and they are based in Paris. I just feel like a leather coat of any sort is just such a great staple in a wardrobe. Especially now that it's getting cold and I can wear it again - I'm so thrilled about it.
If you could only follow one account on social media, who would it be?
I feel like I would follow some sort of meme page like @shitheadsteve. That's all I need. At the end of the day, all I wanna do is just mindlessly scroll and laugh.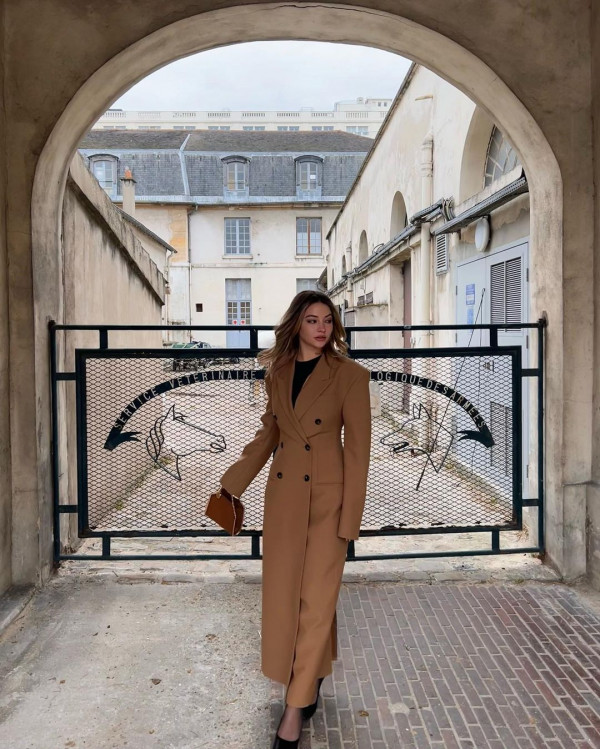 @madelyncline
How many times have you been in love?
I'd say three times. And each one has been different.
How do you know when you're in love?
Oh boy. It's so funny because the first time it happened, I don't think I even knew I was in love because it was my first puppy love kind of experience in high school. I don't think I was even aware, I just knew I felt funny. I just felt special. The initial signs are obviously that giddiness and the butterflies. But even after that, there's even deeper feelings where I feel completely at ease and comfortable and so full of love. I especially know that I'm in love when I feel that they know me better than anyone and they're my best friend. And even if you're infuriated with them you just love them so much. It's so complex. I don't know if I've ever been asked that question before…
This is the celebration edition of Remix Magazine, how do you like to celebrate?
I like to celebrate with a group of my closest friends and do a dinner or a movie night or even go on a little group trip somewhere for the weekend. Drink wine, get cosy, make cider. I love taking time and having special moments with my close inner circle.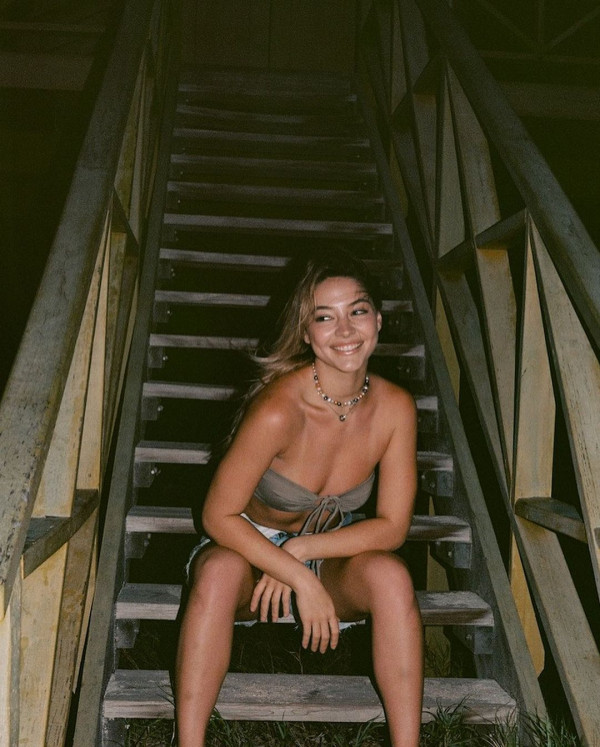 @madelyncline

Do you prefer wine over a cocktail?
I would say so. Liquor Maddie is fun but very unpredictable. I don't know which one I'm going to get that night. I'm also such a house rat. I usually just like to chill and take it very easy.
How will you be spending NYE this year?
I don't know. I was thinking of doing a party maybe. It's funny, the last few New Years Eves, well last year was spent in LA, but the ones before that, New Years Eve was always spent at home with my parents watching the New Years Eve Special. We would watch until the ball dropped and then we would go to bed. We never really celebrated New Year's Eve. On New Year's Eve we would cook cabbage, black eyed peas and ham which was supposed to be a good luck meal for the year and then we would watch the ball drop. It was always a very mellow holiday but I don't know what I'm going to do this year. It would be nice to see some snow somewhere maybe. Maybe we'll bring out liquor Maddie!
Is that your nickname? Maddie?
Yeah, that's something my parents started. People who have met me and who haven't known me for long, they just take to calling me Maddie and I've always just gone with it. But I really love my name Madelyn. People also call me Mads and people also call me Sarah [laughs].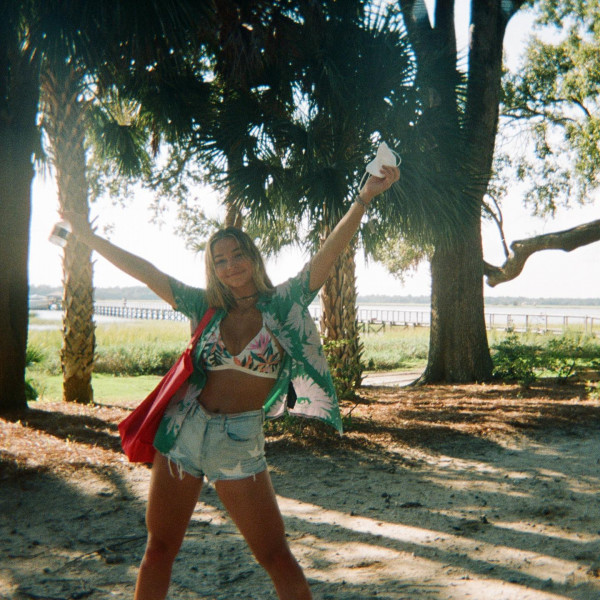 @madelyncline
That must feel weird. Strange that people can't distinguish between an actor and their character. Do you get that a lot?
I do! I've kind of started making it a point to not recognise or respond to it. My name is Maddie, guys!
Have you had any other bizarre fan situations?
When I was in Serbia shooting the interiors for Glass Onion, funny enough, at the same time, Odessa A'zion and Drew Starkey - who plays my brother on Outer Banks - were shooting Hellraiser for Hulu. It was crazy because we were all in Belgrade at the same time. I moved from the hotel that I was originally in so I could stay in the same hotel as them and I guess people got word of it. It wasn't just us, it was also Brandon Flynn and the rest of the Hellraiser cast - they had quite a good cast and were well-known. Because of all of us being in that hotel at the same time, people started gathering out front. There would be crowds waiting there constantly around the clock. So, I ended up having to sneak in and out through the garage and one day they figured it out and one of our producers on Glass Onion, he was driving me home from the restaurant where we had dinner with the cast. He drove me to the garage, they literally ran down and chased us and then we tried to go to a different entrance and they kept following us and chasing us. It was madness. I couldn't believe it was happening but it was very funny.
Isn't that sensational that your fan base stretches to Serbia?
I couldn't believe it. When we were there shooting, Outer banks had just been released. When I pulled up Netflix on my hotel TV, it was number one in Serbia for a few weeks. I was shocked because, first of all, I couldn't believe I was in Serbia and, second of all, I couldn't believe the series had that kind of reach.
Do you think it will ever feel normal to be scrolling Netflix and see your face?
It's kind of funny now. Now that I think about it, I'm like, 'okay yeah.' It's still pretty nuts. I will be scrolling through Netflix and I'll see my face or someone from our cast's face and I think, 'oh, that's right. We work here.'