Adventurous active breaks in Aotearoa
Kiwis are an adventurous bunch – even when on holiday - and while sometimes lying around with a book is what we need, other times an adrenaline-laden endorphin boost is just the ticket. In fact, before the global pandemic, research from Booking.com showed that being physically active while travelling is one of the motivations to travel for nearly half of Kiwi travellers (46%)*.
After months cooped up indoors, many of us are thinking about how they can get out and stretch their legs – especially with summer on the horizon. Luckily, Kiwis are being proactively encouraged to explore their own backyard and New Zealand's wild landscapes serve as the ultimate outdoor gym. From challenging great walks to snowy mountains built for skiing and snowboarding, Aotearoa has it all.
To help Kiwis get moving, Booking.com shares its top five active breaks in New Zealand and its recommendations on where to stay in each location. Booking.com is also offering an incentive to customers who had to cancel their booking as a result of travel restrictions. Customers who rebook their original cancelled property will receive 15% cashback after their stay.
Mountain biking the Old Ghost Road, West Coast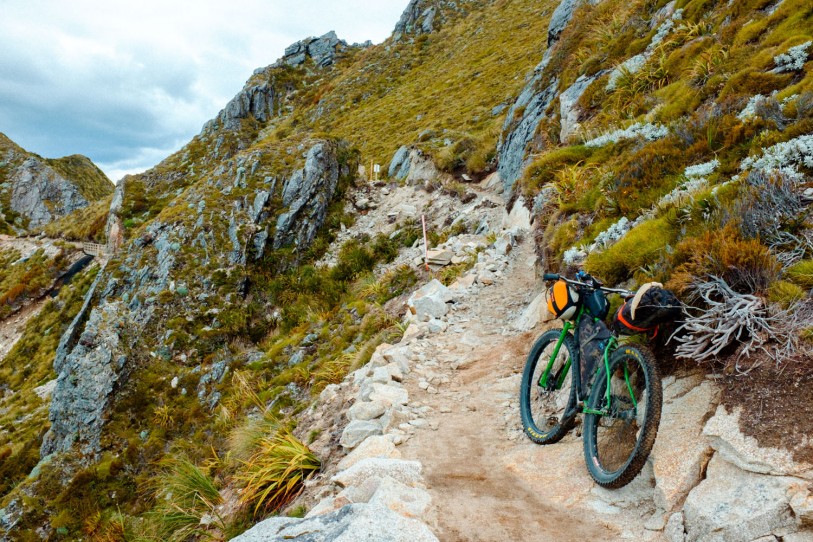 The Old Ghost Road is an 85km-long adventure through native forest, river flats and forgotten valleys on the South Island's West Coast. Originally a gold miners' road, the trail connects the old dray road in the Lyell (Upper Buller Gorge) to the mighty Mokihinui River in the north. The road gets its name from the five ghost towns that populate its route. So if the tricky terrain doesn't get your heart pumping, the spirits of old miners certainly will. This is a fitness break for the brave!
Where to stay: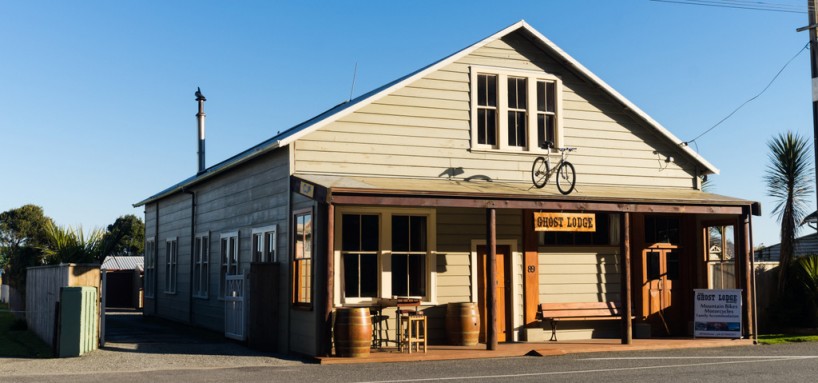 At the end of your journey, you'll want somewhere comfortable in Seddonville to recover. Despite its eerie name, The Ghost Lodge's beautiful French doors will let the sunlight in to chase the ghouls away. Beautiful and fully equipped with all the amenities for a cosy stay, you'll be feeling rested and ready to go again in no time.
Hiking the Tongariro Alpine Crossing, Tongariro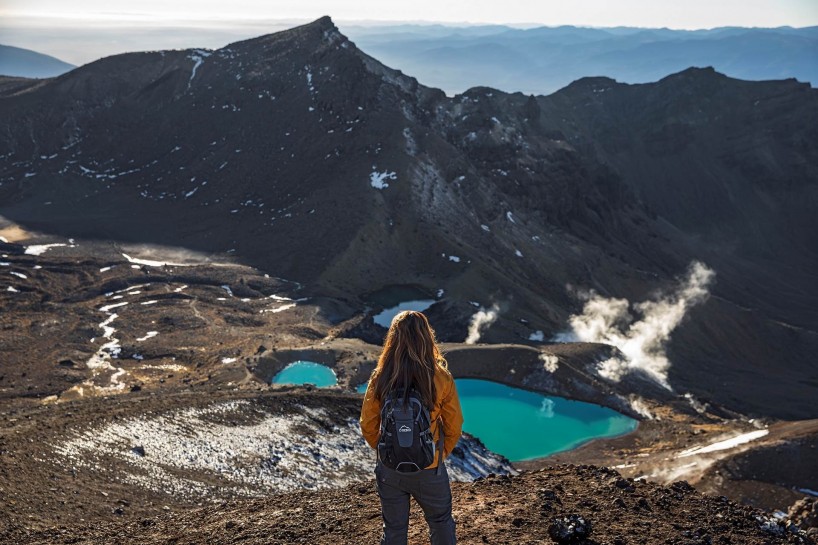 New Zealand's Great Walks are known as such for good reason. But the multi-day hikes, as stunning as they are, won't be for everyone. Happily, some can be accessed as day walks, including the Tongariro Alpine Crossing. No matter what your fitness level, the Tongariro Alpine Crossing will get your lungs working without leaving you gasping for air. The six-eight hour hike showcases New Zealand in its varied beauty – from the perfectly shaped Mount Ngauruhoe (famous for featuring as "Mount Doom" in Peter Jackson's Lord of the Rings films), the vivid Red Crater and the luminous Emerald Lakes.
Where to stay: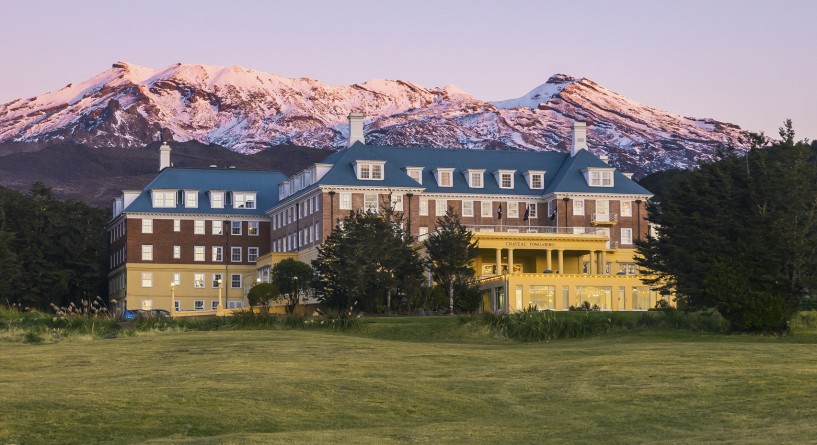 You'll want a good night's sleep before your early morning start. For something of a treat, why not stay at the Chateau Tongariro Hotel? As well as dazzling views of Mount Ngauruhoe, the Chateau offers an on-site 9-hole golf course and a cinema within its grand interiors. To ensure you start the hike with plenty of calories to burn off, why not enjoy the delights of one of the delicious high teas? You won't regret it.
Kayaking the Abel Tasman, Tasman region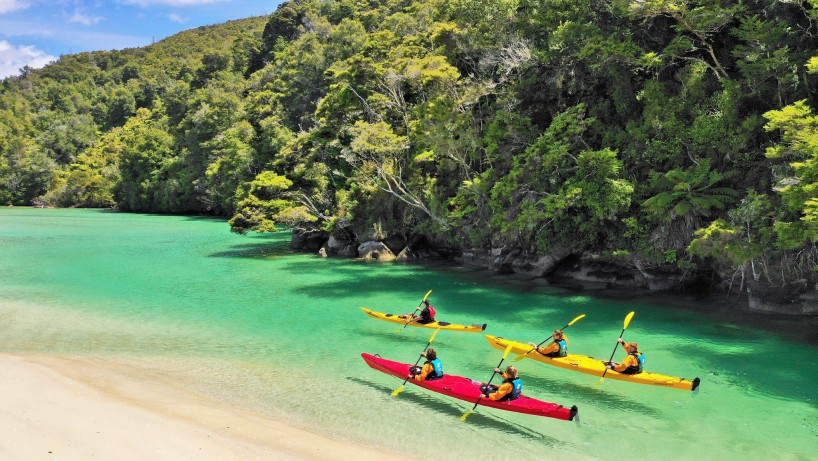 Why enjoy the Abel Tasman by foot when you can enjoy it by kayak? Glide through glassy waters along this world-famous granite coast for a fitness break unlike any other. Guaranteed to work-out your arms and abs, you'll end your experience more than summer-ready and with day-trip and multi-trip options, there will be options no matter how much time you have off work.
Where to stay: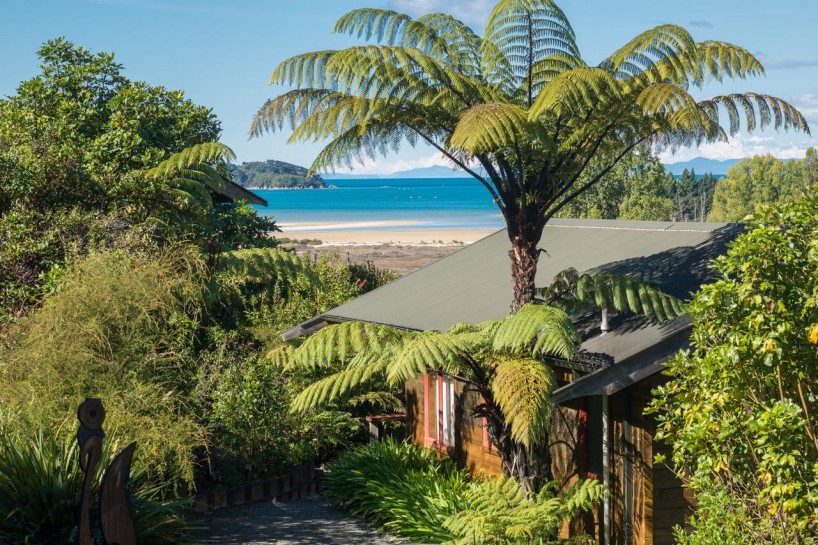 Located just five minutes away from the Abel Tasman National Park and the beach in Marahau, the beautiful Ocean View Chalets are nestled among native bush. The self-contained chalets offer panoramic sea views and everything you need to either prepare or recover from a busy day of kayaking. A buffet breakfast is also available on-site.


Sand-boarding at Ninety Mile Beach, Bay of Islands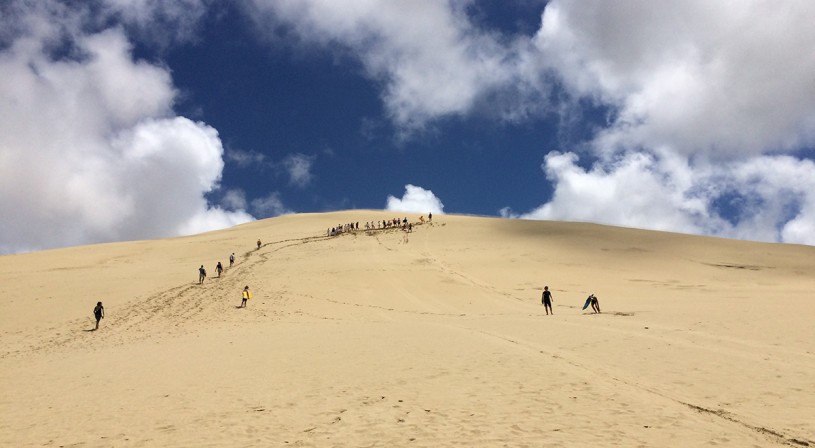 For a fitness activity with a difference look no further than Ninety Mile Beach. As part of Fullers GreatSights Cape Reinga and Ninety Mile Beach Day Tour, you can enjoy a coach ride to the iconic Cape Reinga Lighthouse (where, according to Maori legend, spirits depart New Zealand for their journey home to Hawaiki) as well as boarding down the enormous sand dunes at Ninety Mile Beach. Clambering up these enormous dunes will give your legs a serious work-out before settling in for your comfy coach journey back to Paihia in the Bay of Islands.
Where to stay: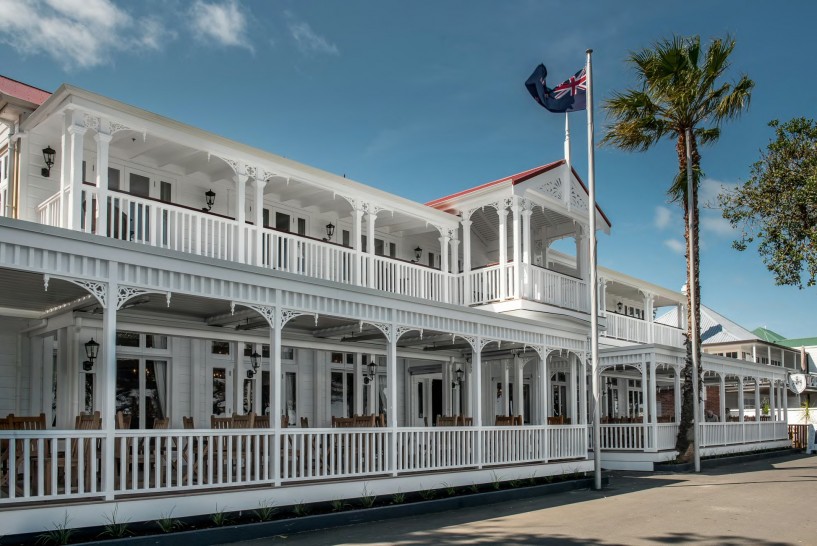 Refreshing rascals and reprobates since 1827, historic The Duke of Marlborough Hotel is known across New Zealand. Located in romantic Russell, just a quick ferry ride across from Paihia, The Duke offers waterfront views and delicious food from its on-site restaurant. This unique accommodation is truly a treat for anyone who stays there.


Surfing in Raglan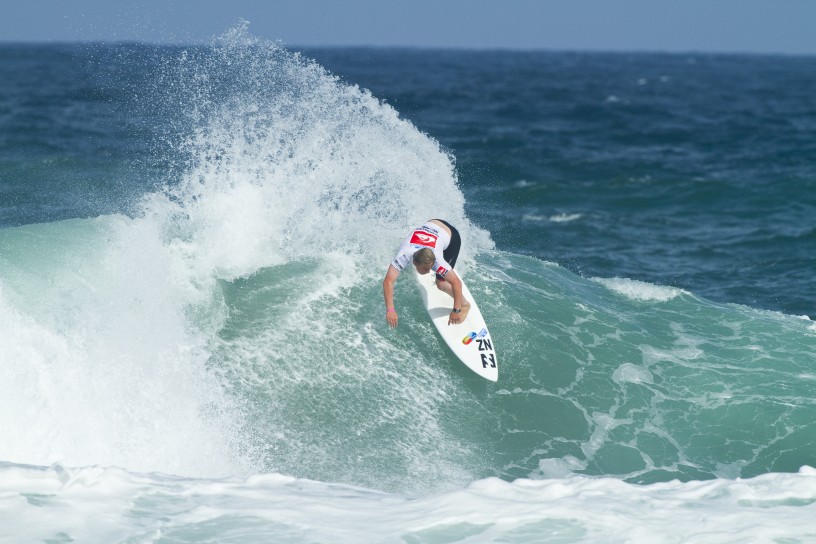 New Zealand has an abundance of surf-spots, but nowhere offers the same laid-back, hippy-dippy vibe as Raglan. Its constant swell means it offers the most consistent experience in New Zealand, and the popularity of the town means there is always something to after the tide comes in. From coffee shops to fashion boutiques to gig venues, Raglan offers fun as well as fitness.
Where to stay: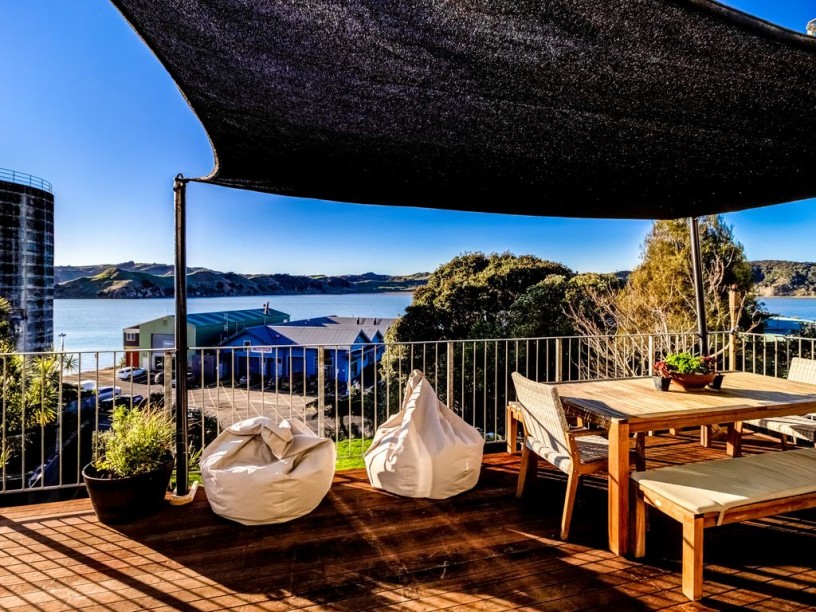 Located on Lily Street, Journey's End is a three-bedroom apartment complete with free bikes, a bar and a spa. Snuggle down in a beanbag to enjoy the ocean views from the property's beautiful wooden deck or enjoy some dinner at the on-site restaurant before heading out to enjoy Raglan – New Zealand's surf mecca.