A Warm Winter Dish To Enjoy With A Whisky
Words by Lauren Matthews of
The Kitchen Collective.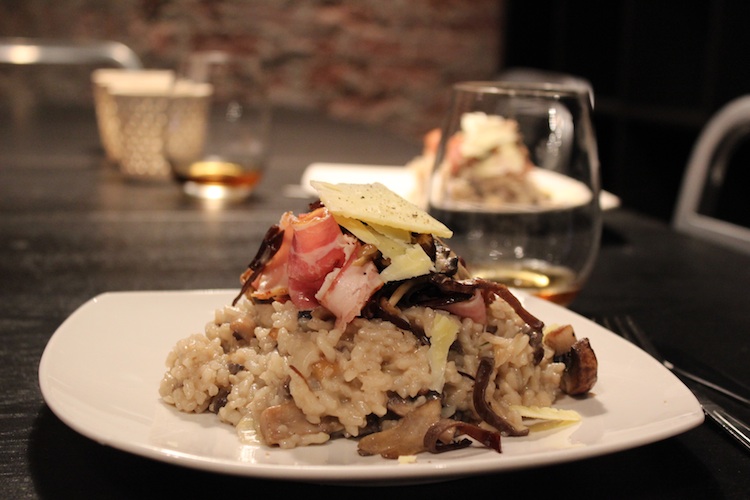 Noticed the temperature has dropped and it's getting a wee bit colder out there? Whether you're venturing away or having a 'stay-cation' over the long weekend, here's a recipe I whipped up that matches perfectly with a glass of your favourite whiskey. Born in the 15
th
century in regions of Ireland and Scotland, Whiskey has now firmly found its home in North America and Japan. It generally has a lot of body and strong flavours, meaning it stands up well to bold dishes; in particular smoky flavours such as cured meats, or the earthiness of mushrooms. It will even hold its own against the pungent aroma and taste of truffles. I've created a recipe to pair with your favourite whiskey – wild mushroom and prosciutto risotto. As we all now know; mushrooms and whiskey are great friends!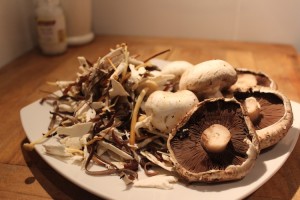 Wild Mushroom Risotto
1 cup of aborio rice 3 cups of chicken stock (vege stock if you're a vego) 1 onion – diced 4 cloves of garlic – minced Splash of dry white wine (more for drinking) 4 or 5 Portobello mushrooms A good handful of wild mushrooms (available from good produce stores) 1/2 cup of grated parmesan (more for garnish) 2 knobs of butter A few sprigs of thyme Prosciutto (optional – I just use some to layer on top of the risotto) In a deep, large fry pan heat a glug of olive oil on a medium to low heat. Soften your onions for about ten minutes with a pinch of salt until translucent. Add garlic and stir for a further minute. Add rice and brown gently for about 5 minutes. Then turn the heat up high and add the wine, letting it burn off and evaporate. While you soften the onions put your stock into a pot and bring to a simmer. By doing this, each time you add a ladle of stock to the rice, it won't bring down the temperature, meaning that it will cook faster. With your pan still on a high/medium heat add ladles of stock one at a time allowing the stock to absorb. This should take about 20 to 30 minutes. It's a bit of a waiting game, and you really can't walk away, so make sure you've got your wine topped up. You can tell visually when your risotto is cooked. Each grain of rice will become fully white, and no longer have a transparent edge. But your best bet to knowing if it's al dente is by tasting it, of course. As your risotto is near cooked, chop the Portobello mushrooms into chunky pieces and add to the pot, the risotto will start to absorb them, turning it a lovely dark colour. Once your risotto is perfectly cooked, take it off the heat. Add butter and Parmesan, season well, stir though and cover with tin foil. While your risotto is absorbing all the cheesy and buttery goodness, get a fry pan on a high heat. Sauté the wild mushrooms in a dry pan along with the thyme. After a few minutes the mushrooms will start to smell nutty and fragrant. At this stage take them off the heat, and add a small knob of butter to make them glossy. To serve, plate the risotto first. I then layer mine with the prosciutto and top generously with the sautéed wild mushrooms. Garnish with extra Parmesan and serve alongside neat whiskey.