Who wore it best at Festival de Cannes
The iconic film festival, Festival de Cannes is here, celebrating its 70th anniversary - where celebrities flock to the French Riviera draped in only the finest of garments. We have seen a variety of fashion statements so far throughout the festival, ranging from silk to suits and off the shoulder gowns to something a little sultrier. Here are some of our favourite looks we've been tossing and turning over trying to tackle the tough decision of who wore it best.
Sleek and satin
Hailey Baldwin vs. Emily Ratajkowski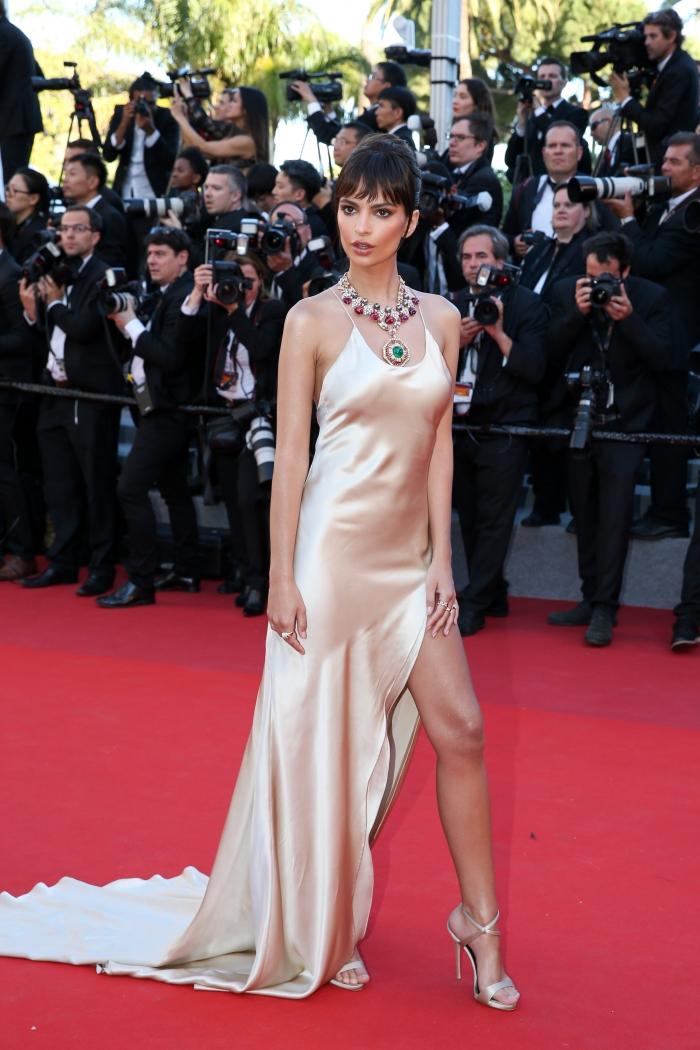 Hailey strutted in a bold deep purple dress embellished with a peplum touch, contrasting nicely with her blonde locks. The dress, custom made by Twinset reminds us of Cadbury's iconic wrapping - and looks just as delicious. Emily flaunted a sleek champagne coloured gown showing off just enough leg, paired with Bulgari jewellery. She creates a concoction of sexy and sophistication with her Audrey Hepburn inspired hair and her figure-hugging gown, slits and all.
It's a tough one, but we think Hailey Baldwin takes the win with her flattering and vibrant dress that makes her glow, literally.
The Sweetheart Neckline
Adriana Lima vs. Bella Hadid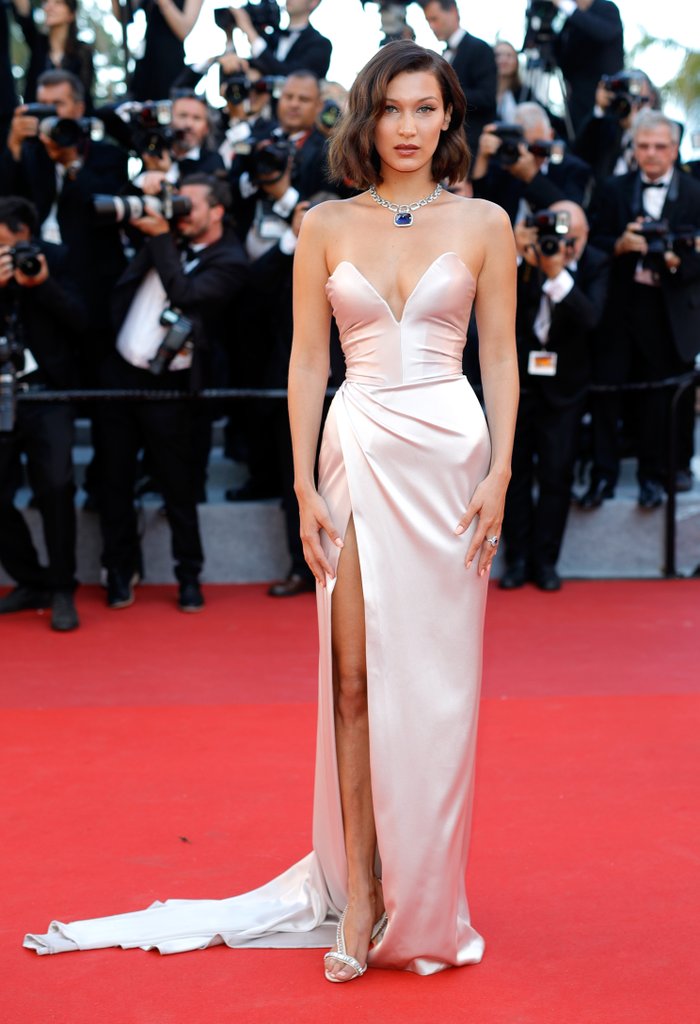 Adriana Lima looked radiant and fresh in a stunning white gown. The sweetheart neckline provides just enough room for her massive diamond choker for that extra dose of glamour.
Bella Hadid is flawless in her blushing pink gown highlighting her stunning figure. Bella's gown is a masterpiece by Alexandre Vauthier with a hip-high slit paired with Bulgari jewels.
Despite her slight wardrobe malfunction causing a little too much skin to be shown, Bella Hadid and her delicate glamour take the cake with this sweetheart neckline look.
All suited up
Robin Wright vs. Amyeline Valade
Robin Wright went for a sleek tailored suit by Stella McCartney, reaching the definition of 'smart'.
French model Amyeline Valade went for something different by rocking a Saint Laurent trouser suit in a dashing blue to match her eyes and earrings, with natural makeup and tousled locks.
We love Robin's addition to her suit- the cheetah print heels. This statement adds excitement to simplistic and smart look, which is why we'll have to grant Robin our trophy!
Off-the-shoulder
Gianna Simone vs. Lara Lieto
Gianna Simone dazzled in floaty, champagne gown, with a peachy tinge. The off the shoulder style makes her look like a princess, especially with the addition of jewels around her neck.
Adrien Brody laughs next to his stunning Lara Lieto in her beautiful sheer ' cinderella-esque' gown. We love this dress with its cheeky off-the-shoulder on only one side.
However, Gianna Simone's look is our favourite. The gorgeous colour of the dress and her romantic curls just can't be beaten.
Risqué
Coco Konig vs. Emily Ratajkowski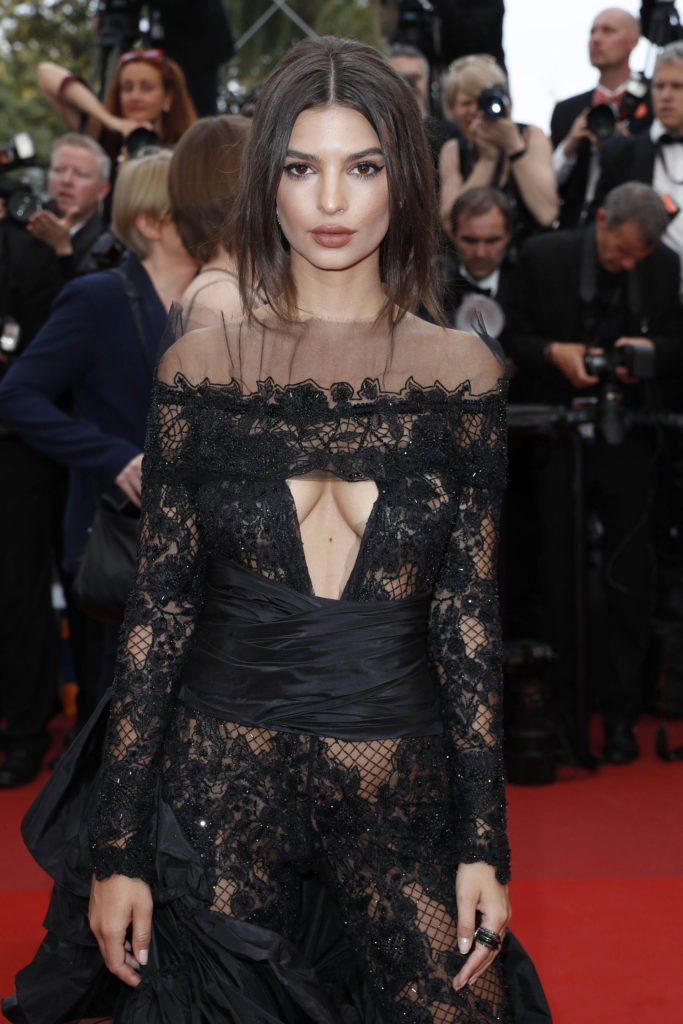 Coco Konig chose a beautiful dress with a hint of risqué. Her Ralph and Russo gown features sheer black and silver butterfly and floral embroidering with black briefs underneath.
Different to her usual glamorous look, Emily Ratajkowski wows us (once again) in a racy black off-the-shoulder catsuit, embellished with lace and tiered taffeta train wrapped around her waist.
Coco and her unique dress like something from a fairytale (although sultrier) has definitely got our vote for this one!
Image Credits: HawtCelebs, meltyFashion, Popsugar, RTL.fr, Madame Figaro, Vogue, Pure People, El Mundo, Getty Images, Pure People, Moe Jackson