When it comes to multi-faceted Gen Z'ers taking the world by storm, Fin Argus is one name to know. Expertly transitioning between music, fashion and acting, the rising star is inching closer and closer to generational royalty. Remix shot an exclusive editorial with Fin in Los Angeles for the spring edition wearing nothing but head-to-toe Gucci. As you'll see, the queer triple-threat is simply impossible to ignore.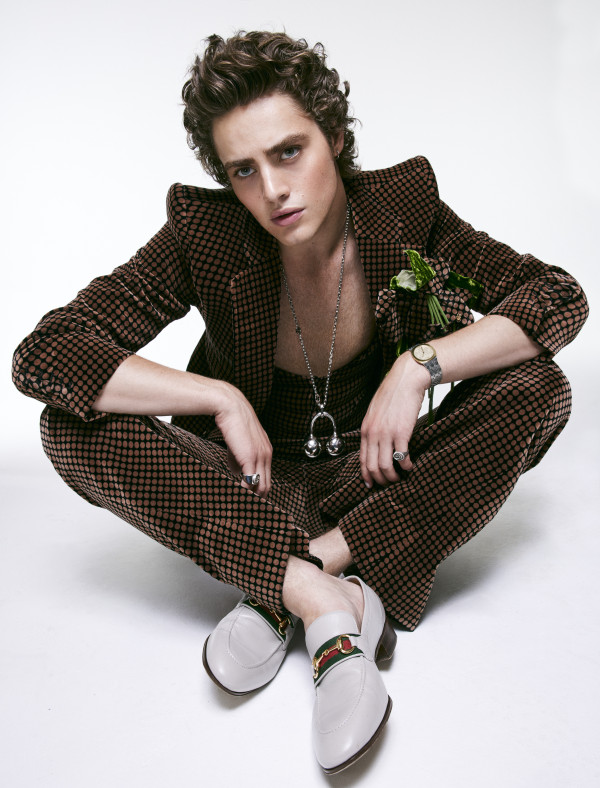 WE CAN SEE FROM THE SHOOT, YOU'RE A NATURAL IN FRONT OF THE LENS. DO YOU GO INTO THESE PROJECTS WITH A CERTAIN MINDSET OR IS IT JUST ABOUT BEING YOURSELF?
I'm just trying to have fun! I feel like over the past couple of years I've really come into myself and come into my queerness. I feel a lot more comfortable in my skin. I've given myself permission to express myself exactly the way I want to and, luckily, it seems to translate with all these really fun photo shoots that I have been lucky enough to be a part of. It's exciting to see these photos. It's a version of myself that is a lot more aligned with my truth. It's more fun for me but I also feel like the result is better. It's a win-win-win!
AND NOT TO MENTION SOMEONE LIKE NINO WHO IS SO FUN TO COLLABORATE WITH...
Yeah, Nino is amazing! He's a big part of that journey for me. We did a photoshoot together after Clouds came out for fun and it was the first time I really expressed myself the way I wanted to - with my clothes, with makeup. Nino is so supportive so whenever I get to shoot with him, it's such a joy.
WHAT DOES PRIDE MEAN TO YOU?
Pride to me is relaxing into my queerness. It's not so much an active thing as it is letting things settle. It's feeling at peace with my queerness.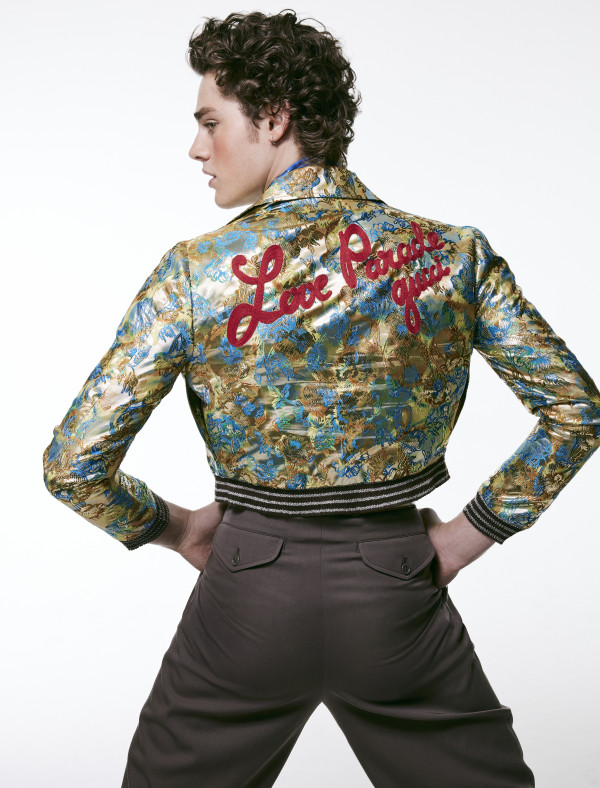 YOUR SHOW QUEER AS FOLK HAS BEEN A HUGE SUCCESS FOR YOU AND THE ENTIRE CAST. HOW DID THAT COME ABOUT AND WHAT WAS IT LIKE TO GET THE ROLE?
It was a dream come true. I started acting when I was 12 years old. I started doing professional TV and film work around 14. I've had a long journey where I have only ever played straight, cis, boy-next-door characters. Queer as Folk was a departure for me in many ways, careerwise but, simultaneously, it's a lot more aligned with who I am as a person and what I'm passionate about when it comes to media in general. What that is, is explicit and authentic storytelling. The thing that I loved about Queer as Folk when I first heard about this reimagining was that Stephen Dunn, our showrunner, did not want to pull any punches. He wanted it to be authentic and raw and messy. I can count on one hand the amount of shows where I actually see queer people depicted in that real, authentic way. I was thrilled that it was being made at all. It just so happened there was a character that made sense for me. I sent in a tape. It's actually a funny story. I knew Stephen prior to the show being made because we were actually neighbours. I would always see him walking his little chihuahua. One day, my partner at the time asked me to watch this movie called Closet Monster. I watched it, I loved it. I looked up the director and then went to his Instagram because I wanted to work with him so bad. I then realised it was my neighbour who I had seen and said good morning to everyday for the past two months. I didn't know this guy was a filmmaker! We ended up hanging out and then I showed him this music video that I was working on for a new song of mine that I'm going to put out later this year. It was unbeknownst to me very much in line with the character Mingus. Stephen asked me then and there if I would read for the show. I ended up making a tape and the rest is history
HOW DO YOU ENJOY THE PROCESS OF ACTING VERSUS MAKING MUSIC?
For me, music is my main creative outlet in which I can tell my own stories. Acting is a way for me to help other people tell their stories. Of course, I can put a lot of myself into whatever character I'm playing and tap into my own storytelling but, so far, I haven't been a part of acting projects where I really have much input into the creatives. Usually, it's me finding projects that I believe in and other people's stories that I want to help bring to life. That's the difference for me. Acting is telling other people's stories and music is telling my own, for now. But I also have been in the process of developing some acting stuff in which I have lots of creative input, so I am excited about that.
WHAT DO YOU LOVE MOST ABOUT GUCCI?
Gucci is just so effortlessly chic. Although it has this very nostalgic quality, it's still so modern.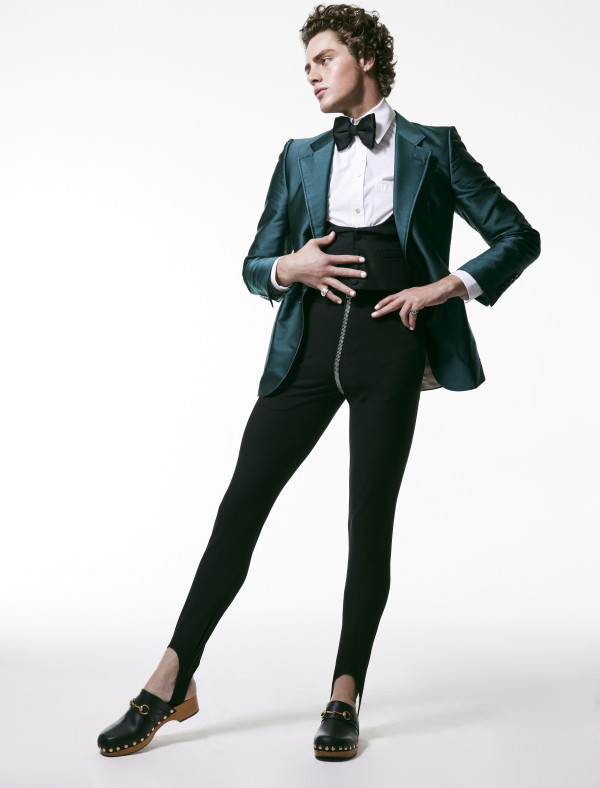 ANY FAVOURITE LOOKS FROM THE SHOOT?
The Hawaiian shirt look, for sure. I felt this homage to Leonardo DiCaprio in Romeo & Juliet. I feel like Gucci always has this sense of old Hollywood but makes it very modern and very chic. I've always wanted to do a spread with them, so this Remix shoot was a dream come true for me.
WHO DO YOU ADMIRE OR LOOK UP TO?
David Bowie for sure, he's a big one. That was one of the first examples of a fluid gender expression in mainstream media that I ever saw and I resonate with that as a gender queer person. Right now, I'm a huge fan of Kevin Abstract. I love what he's up to. He's part of the boy band Brockhampton and he's very explicitly gay. I love his music, he designs clothes. What I'm always drawn to is people who don't limit themselves to one avenue. I love people who are just being creative and manifesting that in different ways, because that's exactly how I feel. I just feel creative and it manifests through acting, through music. Also, I've just found myself way more interested in the fashion world so I can see that being a way in which I express myself, perhaps designing my own stuff. We shall see!
HOW DO YOU STAY GROUNDED? WHAT SORT OF THINGS DO YOU LIKE TO DO WITH YOUR FREE TIME?
This may be surprising, but I'm really a homebody. I stay at my little cottage in Laurel Canyon. I recharge in nature. Whether it's going on a hike or finding a creek to swim in, there's not a ton of that in LA but it's around. I always try to make an effort to spend time in nature because I know
that is what grounds me and what brings me the most joy. Going to the beach, surfing, skating, getting my body active and then allowing myself time at home to recharge alone.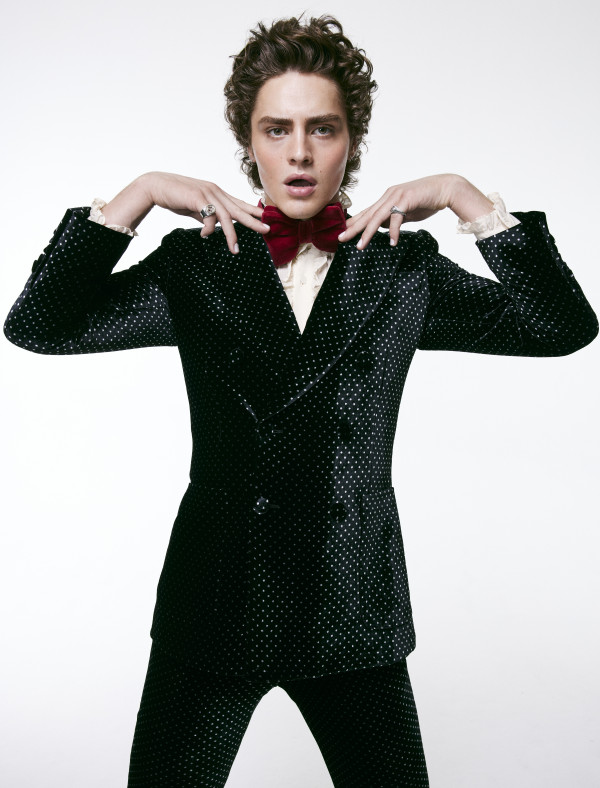 HAVE YOU EVER BEEN TO NEW ZEALAND? WHEN ARE YOU GOING TO VISIT US?
New Zealand has been number one on my list of places to visit for so long! You can ask anyone in my family and they'll tell you that I mean that. There's so many different types of terrains. You can go from a beach to a desert, to a volcano to mountains. It's just so cool! I want to go so bad!